Reading Time:
4
minutes
"It could get a little crazy up there at lunchtime. But it's only Wednesday so perhaps not. But you'll love the food and, my God, the view…"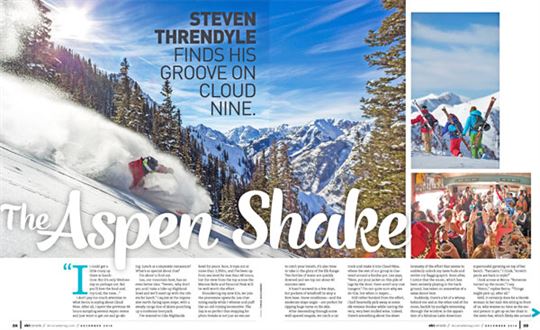 I don't pay too much attention to what Becca is saying about Cloud Nine. After all, I spent the previous 48 hours sampling several Aspen restos and just want to get out and go skiing. Lunch at a slopeside restaurant? What's so special about that?
I'm about to find out.
Lea, our mountain host, has an even better idea. "Steven, why don't you and I take a hike up Highland Bowl and we'll meet up with the others for lunch." I squint at the impressive north-facing open slope, with a steady conga line of skiers punching up a moderate bootpack.
I've wanted to hike Highlands Bowl for years. Sure, it tops out at more than 3,350m, and I've been up from sea level for less than 48 hours, but the view from the top across the Maroon Bells and Pyramid Peak will be well worth the effort.
Shouldering my new K2s, we join the procession upwards, Lea chattering easily while I wheeze and puff like an old mining locomotive. The day is so perfect that stopping for photo breaks is not just an excuse to catch your breath, it's also time to take in the glory of the Elk Range. Two bottles of water are quickly downed and we top out about 40 minutes later.
It hasn't snowed in a few days, but pockets of windbuff lie atop a firm base. Snow conditions—and the moderate slope angle—are perfect for ripping huge turns on fat skis.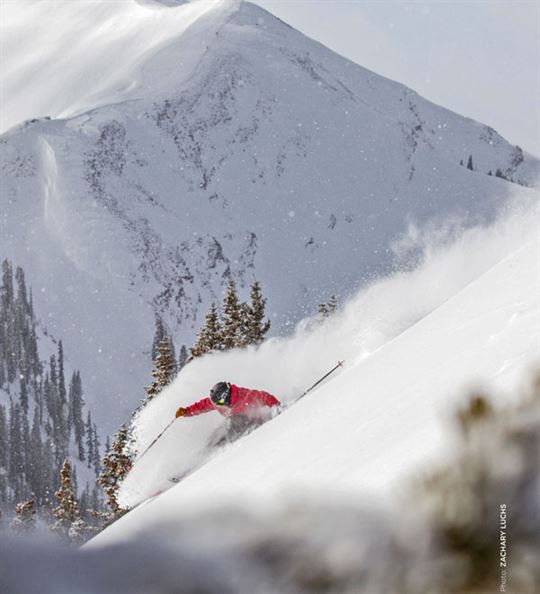 After descending through some well-spaced moguls, we catch a cat track and make it into Cloud Nine, where the rest of our group is clustered around a fondue pot. Lea says, "Here, put your jacket on this pile of logs by the door; there aren't any coat hangers." I'm not quite sure why we do this, but when in Aspen…
Still rather bonked from the effort, I half-heartedly pick away at some elk venison fondue while tasting the very, very best mulled wine. Indeed, there's something about the sheer intensity of the effort that seems to suddenly unlock my taste buds and revive my flagging spirit. Soon after, I notice that the music, which has been sedately playing in the background, has taken on somewhat of a salsa dance beat.
Suddenly, there's a bit of a whoop behind me and at the other end of the room, backlit by sunlight streaming through the window, is the apparition of a fabulous Latin American supermodel gyrating on top of her bench. "Fantastic," I think, "stretch pants are back in style!"
I look across at Becca. "Someone turned up the music," I say.
"Hmm," replies Becca. "Things might pick up, after all."
Well, it certainly does for a blonde woman in her mid-40s sitting in front of us, who wastes no time as the second person to get up on her chair in the resto-bar, which likely sits around 100 people, to shake her booty. And then the damnedest thing happens—a bottle of champagne appears. Who the hell orders champagne at lunch?
The next ten minutes pass in a blur as a continuous dance track gets louder and louder. More and more people are up on their chairs, and at one point I see that my arm is around Lea and I'm not interested in the $35 bowl of elk Stroganoff on the table behind me.
Halfway into an unbelievably catchy song called "I Don't Care, I Love It" ("You're from the '70s/But I'm a '90s bitch"), a second bottle of champagne appears at our table and is handed to Becca, who sheepishly looks around, shakes the daylights out of it and pops the cork, bubbly spewing like Didier Cuche winning the Hahnenkamm.
We're all standing on our seats now and champagne is dripping down the rafters onto the floor. Out of the corner of my eye I spot a stunningly beautiful Latin American family all on their chairs dancing and clapping. The kids know all the words. The song is insanely catchy, and everybody in the entire joint (this is a white-tablecloth place) is on benches and chairs, whooping and shrieking.
The deejay says he only has time for "one more" and it's "Just a city girl/Living in a lonely world…" That Journey song I once really liked in a cheesy sort of way, but it works the crowd into a lights-out catatonic frenzy. I sit down for a sec to grab my camera and the champagne is pooling around the butt of my pants, but I'm laughing crazily and pointing over at my buddy Ward, sort of like I imagine Raoul Duke and Doctor Gonzo doing at the height of the craziness in Fear and Loathing in Las Vegas.
It's now 2:55 (p.m., not a.m.) and the manager comes on the PA to tell everyone that it's time for the restaurant to close, and to make sure and "ski carefully down the mountain—the run will be patrolled." Ward and I grab a quick shot of espresso on the way out and are back into the beaming Aspen sunshine.
Outside, our guide Ted, who is currently on a mission with Chris Davenport to ski the hundred highest peaks in Colorado, directs us back to our skis and says, "There might be a couple of icy sections in the shade, so you'll want to slow down for that."
Ted, it turns out, has an A-list client base that includes the Koch brothers and the family of Mexican media magnate Carlos Slim. He will not be skiing with us tomorrow since he has a private tour booked with some guys from Goldman.
Back on the mountain, even in Aspen we're all skiers anyway—after all, the sport of skiing remains a great equalizer. "I don't care, I love it" earworms in my head as we let 'em run one more time.