Around the Bend – Arosa & Laax
---
On the road in Switzerland, you never know what adventures lie ahead.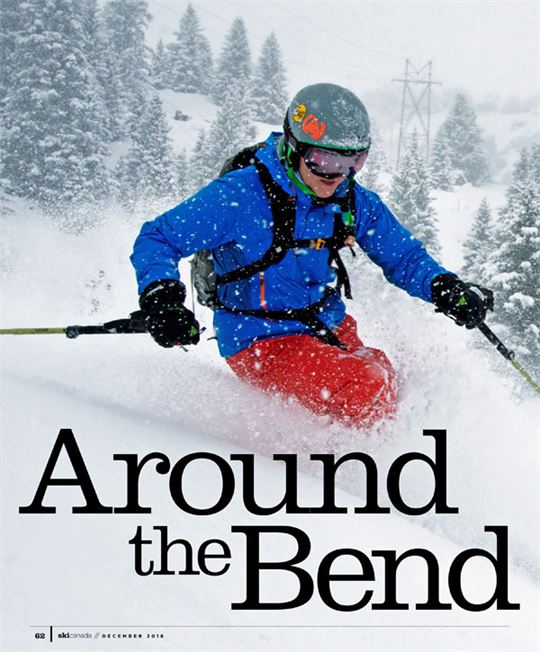 by IAIN MacMILLAN   Photos ADAM STEIN in December 2016 issue
After flipping through hundreds of photos on his Nikon's tiny screen, Adam, my Audi RS3 navigator, suddenly looks up and announces, "I don't feel so good!" The 28-km twisty-turny road up to Arosa from Chur, Switzerland's oldest city so we're told has 360 bends, curves and corners in it. No need to check the number's accuracy; this is Switzerland, and they're good with numbers. To help take his mind off his tummy, I upshift again and on a turn that's slightly less serpentine, zip around a farmer trailering his hay bales. Adam grabs the door handle.
On the outside of the slope for almost the entire ride, my road-trip buddy keeps commenting about what he sees beyond the edge of our narrow road and how "a guardrail here might have been nice—or at least a shoulder."
From Chur, it takes exactly 61 minutes for the train to reach the dead-end of the Schanfigg Valley and our destination, the town of Arosa, 1,800m. The Arosabahn, which starts its journey rolling up city streets, has been in regular train service since 1914. But with nearly 400 hp under the RS3's hood, I'm determined to beat it to town despite my old-school preference of a stick shift over using paddles on the wheel. I make a mental note: Adam's complexion has turned to grey.
"Here, have a Haribo," I offer as I open his window while on a road that takes us through another tidy little village of about 15 homes, a couple of immaculate barns and a chapel, all clinging to the steep mountainside.
"There's no way you could grow-up here and not be a skier," notes Adam. Apart from the buildings' floors, and the road, there are no other horizontal surfaces in these villages. "Playing soccer or hockey would be really difficult, I bet." I can't tell if he's joking.
The next village appears only 80 or 90 turns later when Adam blurts out: "There's the sad face again!" The "sad face" we keep seeing turns out to be road-speed radar at the entrance to most towns and villages which, with 100 per cent regularity, have been changing from a welcoming, electronic happy face to a sad face just as our red Audi passes the village limits. I glance below us and spot the train gaining speed just as I'm forced to brake and queue up behind a long caterpillar of cars led by an older Volvo with a big Ikea box on the roof. I throw in the towel. Train wins.
Just after the Arosabahn pulls into the train station, only a few metres away from Arosa's Weisshorn cable car, Adam and I are greeted at the edge of town by our first happy face.
AROSA- LENZERHEIDE

Recalling a past visit to St. Moritz, our drive through town presented scenes of a bustling healthy winter sports town with a history as a health and spa retreat that goes back 150 years; it appeared to accommodate as many non-skiers as skiers. While most of the hotels are built on steep south-facing slopes, sitting on the sunny and wide valley floor in a spectacular setting surrounded by jagged peaks are indoor and outdoor deluxe hockey rinks and numerous curling sheets.
Aside from Olympic-qualifying hockey, one of Arosa's biggest events is the annual IceSnow Football Championships, where rosters stacked with ex-national team members play slick games of soccer in this wintry setting. Visitors from around the globe also visit for flats, trotting and steeplechase horse racing, which takes place on (normally well-frozen) Obersee lake in the centre of town. The horsey-set was disappointed last January, however, when the event had to be cancelled given the weirdly warm winter that befell much of the Alps early in the season.
Every few days throughout the winter, Arosa hosts competitions and events from electronica, jazz and classical music to winter golf, ballooning and one of Europe's biggest Gay Ski Weeks. And through it all, ski racing at all disciplines, all levels, freeski comps and World Cup Ski Cross events distract visitors.
Reminiscent of Whistler Blackcomb's Peak 2 Peak Gondola, Arosa's new hook-up with its now-sister resort Lenzerheide two valleys over felt quite familiar. The Swiss version involves about half the length of rope and is done with two parallel but independent 150-passenger cable cars that make the 1.7-km journey with no support towers. To have skied both resorts before this impressive access lift was installed two years ago would have involved a lengthy trip returning down to Chur and then back up the valley to Lenzerheide. Now the connection is a few minutes, making your ski pass good on 45 lifts, 225 km of groomed slopes and seemingly endless off-piste whether you're a few metres from the corduroys or a kilometre or two down valley. Arosa skiers have effectively tripled their terrain as well as found north-facing aspects with wintry snow that are lacking on its sunny slopes.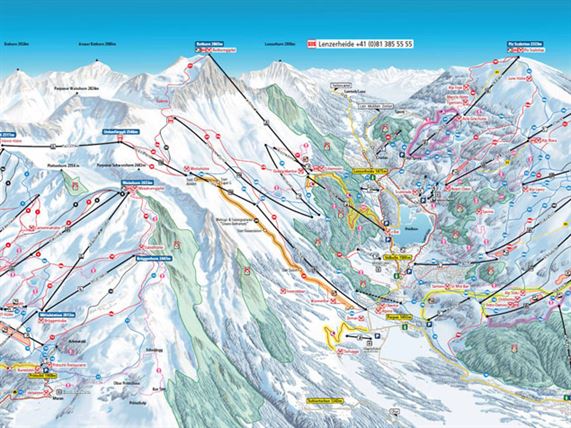 With too little new snow and too much sun, skiing over to Lenzerheide our first day became a speedy lost-and-found groomer-adventure for Adam and me. With so much above-alpine terrain (and some cut-runs at lower elevations), visiting intermediate and advanced skiers would find something new at Lenzerheide for weeks. And having a celeb like Roger Federer move into town hasn't hurt Lenzerheide's rep, either. A couple of years ago, he built himself a little chalet (and another for his parents) for about $20 million.
Lenzerheide's 1,653m vertical and overall size are impressive. And if skiing challenging stuff beyond the ropes is your scene, you'll find a lot less competition for it here than in an elbows-out freerider mecca like Verbier or St. Anton. Lenzerheide's Parpan Rothorn or tours that end up in Valbella and Churwalden (or back in Arosa, the Weisshorn) are just a few of the locals' favourite off-piste playgrounds. If we'd had more than a weekend, Adam and I would have hired a guide for the legendary skifari between Arosa and Lenzerheide.
Back at the Hotel Streiff wellness centre's co-ed showers at après-ski (when in Rome…), Adam and I chatted excitedly about the impending storm people had been warning us about. We did some terrain and route planning for the next day's powder, then on hearing bells we headed off to a yodelling concert at the Church of the Reformation for more Swiss culture.
Not at all like a Ricolo ad, their harmony was both haunting and heavenly. Red-vested men, always with their hands in their pockets, complemented women in folk dresses, aprons, embroidery and lace in the colours and style specific to the valley, and far less revealing than Austrian or Bavarian dirndl. Much to Adam's delight I sat in a pew beside three nuns, which seemed odd given we were in a very Protestant church. I wondered if they were thinking of converting for the music.
On leaving the church, the snow had begun. Big snow. Enormous flakes locking dendritic patterns into masses that sat on our hair and shoulders like Hollywood might fake. Almost on queue, a deafening cacophony of church bells throughout town began bonging, like a competition between steeples. Tomorrow was going to be divine.
I awoke the next morning to the boom-boom of avalanche control. But I could also hear slides happening even without a preceding dynamite-boom. Outside my window was nothing but white. Soon, we were wallowing through Utah-light powder up to our knees just getting to the Audi.
A few minutes later at the base of the Hornli Express gondola we were greeted by the yellow flashing avalanche light. (A good sign.) And our guide, Christoph—with his slalom skis. (A bad sign.) Then came the bad news. All upper lifts were closed and would be all day.
Euros often wouldn't think about venturing out onto the slopes unless it's sunny, so Christoph was happy to be with Canadians for a few hours as he tried to find us something satisfying. We spent the majority of our time doing laps off older lower lifts in or near trees and snow-fencing for perspective, while we all wished we had more pitch to appreciate the incredible, sometimes thigh-deep, snow.
As the day went on, the temperature rose. And rose again. By afternoon, our morning and mid-day turns were a distant memory as the Utah powder turned to Sierra cement. By nightfall, we were explaining to some nice Germans whom we met at dinner what a Pineapple Express was. They were explaining to us they'd never in their lives seen rain in January and particularly odd was tonight's wet was reaching elevations above 3,000m. It was time for the great Swiss road trip to move on.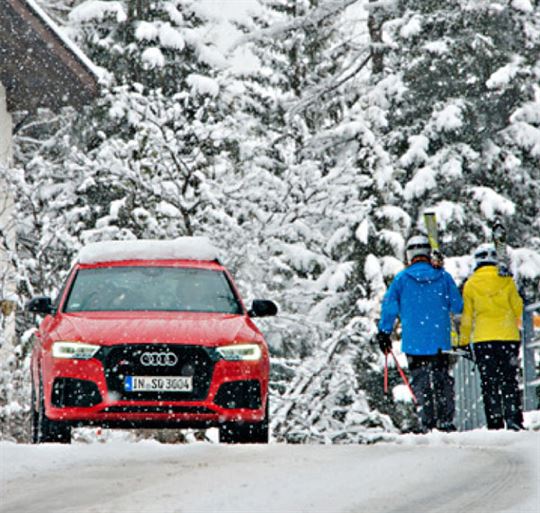 NEXT STOP: LAAX
After a night of rain, a strong Alpine sun began burning off the morning fog quickly as we headed out early for the hour-and-a-half zip to Laax. We were meeting one of Ski Canada's instruction editors and ski testers Matt Barnes, who was spending his winter in Switzerland teaching after exhausting his Canadian work permit. Unbeknownst to us, Matty was in the backseat of a police car after turning his car around in a tunnel when he realized he was going in the wrong direction. A 1,500-franc (about $2,000) indiscretion. When we all pulled into Laax, we were happier to see Matty than he was to see us.
It's obvious everywhere that Laax has worked energetically over the last decade or two to carve out a rep with the freestyle and freeride crowd. A massive freestyle investment with four terrain parks includes the world's largest permanently operated halfpipe. Our mid-week, non-school holiday visit no doubt would have appeared very different on the weekend, but the crowd was noticeable right away as was the presence of snowboarders, almost non-existent in some places in the Alps.
Not surprisingly, Laax's events aren't alpine racing but freestyle and freeride focused. The Laax Open snowboarding comp has been run annually for nearly 30 years, with last year's slopestyle and halfpipe prize money totalling half-a million U.S. dollars. Laax also hosts the European Freeski Open as well as several National Freeski Opens for specific countries like the U.K. and Netherlands. Even groms have their own event calendar with the Iceripper Rookie Fest and FSA MiniShred. It must be quite the sight to watch the little ones get swallowed up by the monster pipe.
Not that one skis laps top-to-bottom on an equally wide layout like Laax's, but its vertical drop at 1,918m is impressive (the largest in North America, Revelstoke, by comparison is 1,713m). Twenty-eight lifts support 235 km of groomed slopes plus a big open alpine terrain, almost all of which is skiable—had we not arrived just as the rain had turned to a frigid freeze-up. That said, we were commending the groomers all day who'd managed to quickly get most of the pistes into excellent shape, making Adam from Montreal and me from Toronto feel right at home. Still, we yearned for all this open freeride terrain to be covered in the snow of 24 hours earlier. Instead the storm's enormous dump had been eerily transformed by the subsequent rain, leaving a fascinating corrugated look to the surface—untouchable by skis until the slate was wiped clean by the next snowfall.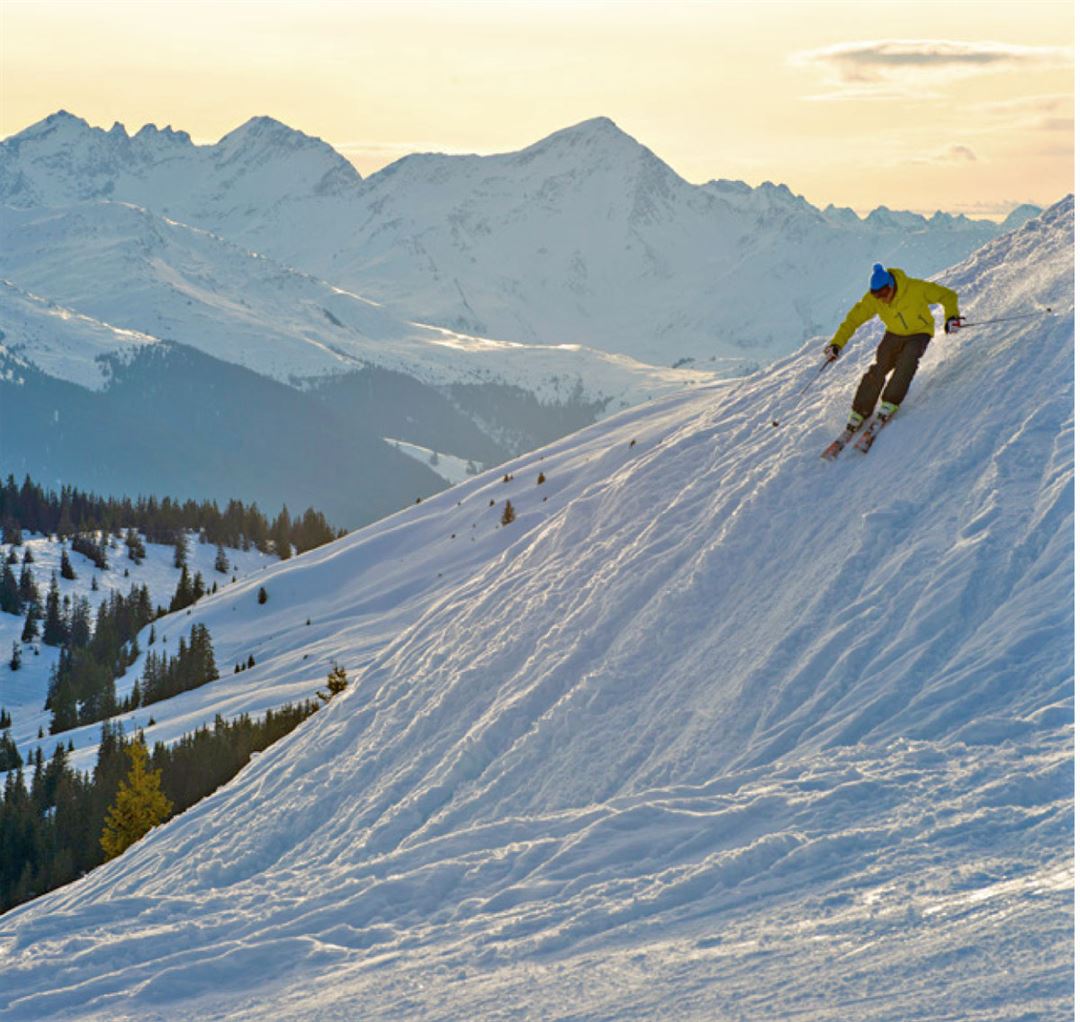 Our stay at Laax was in the unique Riders Palace, a hip neon-lit concrete and glass four-storey bunker offering dorm-room bunks, simple double rooms and a few suites. Deep underground lies Riders' infamous nightclub that goes off every weekend and throughout the year during special events. One of the country's wildest music and dance venues, it sees national and international talent throughout the season. We could also appreciate the humour of a framed poster in the breakfast room above announcing another David Hasselhoff concert tour.

The Palace's bar (as opposed to nightclub) had only a handful of quiet 30-somethings, mostly Americans, on a similar quest looking for off-piste powder. Like the resort, the place appeared to be in recovery mode.

Next to the Riders Palace, appropriately, is the Freestyle Academy. If you have teens or 20-somethings in the family who are making your holiday decisions, you might be yanked in Laax's direction simply because of this scene. For those who haven't injured themselves enough yet to retire, they'll love this place. A 1,200-square-metre training facility awaits: trampolines, a skate bowl and microramp, a Snowflex practice slope, three jumps with landing airbag, bouldering wall and so on. Courses, clinics and camps are held all winter, with semi-pros hanging out to be Snapchatted and Instagrammed.

Even though Matty, Adam and I vary in age widely, all three of us debated launching ourselves into the landscape but then weighed the odds that at least one of us would end up at the clinic. We decided instead to ride the gondola and then hike up more into the alpine for a long fondue dinner in a creaky old wooden chalet—followed by a nice, safe 20-minute toboggan ride home in the pitch-dark.

2017 Readers' Trip info:
james@thevacationstation.com

Tags: Arosa-Lenzerheide, Europe, Featured, Freestyle Academy, Laax, Riders Palace, Switzerland