---
Across Canadian ski country there are plenty of examples of offspring following in their parents' tracks – must be in the blood.
BY STEVEN THRENDYLE
Rowdy country rocker Hank Williams Jr. once wrote a song called "Family Tradition" that described the wild-child lifestyle he led as the living heir to one of the most infamous music legends of the 1950s. Whether parents are musicians, actors, firemen, cops, doctors, teachers or lawyers (okay, maybe not), many children are favourably influenced by the professional role models set by their folks. And the ski industry is no different as these families illustrate.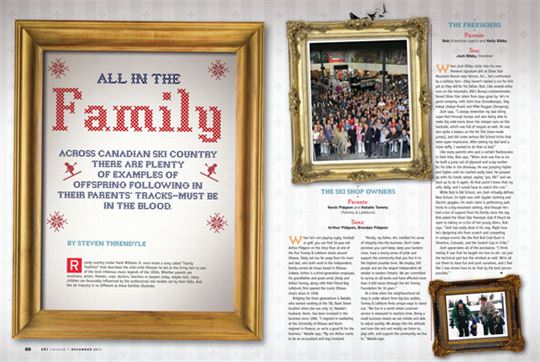 THE SKI SHOP OWNERS
Parents: Kevin Pidgeon and Natalie Tommy
(Tommy & Lefebvre)
Sons: Arthur  Pidgeon, Brendan Pidgeon
When he's not playing rugby, football or golf, you can find 16-year-old Arthur Pidgeon on the shop floor at one of the five Tommy & Lefebvre stores around Ottawa, likely not too far away from his mum and dad, who both work in the independent, family-owned ski shops based in Ottawa. Indeed, Arthur is a third-generation employee, his grandfather and great-uncle (Andy and Arthur Tommy, along with their friend Reg Lefebvre) first opened the iconic shop's doors in 1958.
Bridging the three generations is Natalie, who started working at the T&L Bank Street location when she was only 12. Natalie's husband, Kevin, has been involved in the business since 1986. "I majored in marketing at the University of Ottawa and Kevin majored in finance, so we're a good fit for the business," Natalie says. "My son Arthur wants to be an accountant and stay involved.
"Mostly, my father, Art, instilled his sense of integrity into the business. Don't make promises you can't keep, keep your bankers close, have a strong sense of pride and support the community that you live in to the highest possible level. We employ 300 people and are the largest independent ski retailer in eastern Ontario. We are committed to racing on all levels and have affected more than 9,000 racers through the Art Tommy Foundation for 16 years."
At a time when the neighbourhood ski shop is under attack from big-box outlets, Tommy & Lefebvre finds unique ways to stand out. "We live in a world where customer service is measured in reaction time. Being a small business means we are nimble and able to adjust quickly. We always hire the attitude and train the rest and mostly we listen to, play with, and support the community we live in," Natalie says.
THE FREESKIERS
Parents: Bob (freestyle coach) and Kelly Bibby
Son: Josh Bibby, freeskier
When Josh Bibby clicks into his new Moment signature skis at Silver Star Mountain Resort near Vernon, B.C., he's confronted by a solitary fact—they haven't named a run for him yet as they did for his father, Bob. Like several other runs on the mountain, Bib's Bumps commemorates famed Silver Star skiers from days gone by. He's in good company, with John Gow (Gowabunga), Dag Aabye (Aabye Road) and Mike Duggan (Doognog).
Josh says, "I always remember my dad skiing super-fast through bumps and also being able to make big wide turns down the steeper runs on the backside, which was full of moguls as well. He was also quite a badass on the Air Site [man-made jumps], and did some serious Old School tricks that were super-impressive. After seeing my dad land a triple daffy, I wanted to do that so bad."
Like many parents who spot a certain fearlessness in their kids, Bob says, "When Josh was five or six he built a jump out of plywood and scrap lumber for his bike in the driveway. He was jumping higher and higher until he crashed really hard. He jumped up with his hands raised, saying "yes, OK!" and ran back up to do it again. At that point I knew that my wife, Kelly, and I would have to watch this one."
While Bob is Old School, son Josh virtually defines New School. In tight now with Spyder clothing and Electric goggles, his main claim is performing park tricks in a big-mountain setting. And though he's had a ton of support from his family since the day Bob asked the Silver Star freestyle club if they'd be open to taking on a trio of hot young skiers, Bob says, "Josh has really done it his way. Right now, he's designing skis from scratch and competing in unique events like the Red Bull Cold Rush in Silverton, Colorado, and the Swatch Cup in Chile."
Josh appreciates all of the assistance. "I think mainly it was that he taught me how to ski; not just the technical part but the mindset as well. We're all out there to have fun and push ourselves, and I feel like I was shown how to do that by the best person possible."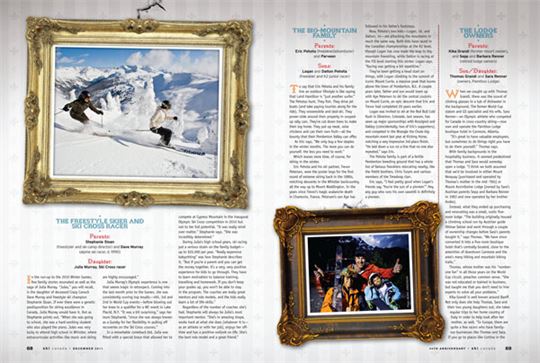 THE FREESTYLE SKIER AND SKI CROSS RACER
Parents: Stephanie Sloan (freestyler and ski camp director and Dave Murray (alpine ski racer, d. 1990 )
Daughter: Julia Murray Ski Cross racer
In the run-up to the 2010 Winter Games, few family stories resonated as well as the saga of Julia Murray. "Jules," you will recall, is the daughter of deceased Crazy Canuck Dave Murray and freestyle ski champion Stephanie Sloan. If ever there were a genetic predisposition for skiing excellence in Canada, Julia Murray would have it. But as Stephanie points out, "When she was going to school, she was a hard-working student who also played the piano. Jules was very lucky to attend high school in Whistler, where extracurricular activities like music and skiing are highly encouraged."
Julia Murray's Olympic experience is one that seems tragic in retrospect. Coming into the last month prior to the Games, she was consistently scoring top results—4th, 3rd and 2nd in World Cup events—before blowing out her knee in a qualifier for a WC event in Lake Placid, N.Y. "It was a bit surprising," says her mum Stephanie, "since she was always known as a Gumby for her flexibility in pulling off recoveries on the Ski Cross courses."
In a remarkable comeback bid, Julia was fitted with a special brace that allowed her to compete at Cypress Mountain in the inaugural Olympic Ski Cross competition in 2010 but not to her full potential. "It was really mind over matter," Stephanie says. "She was incredibly determined."
During Julia's high school years, ski racing put a serious strain on the family budget—up to $20,000 per year. "Really expensive babysitting" was how Stephanie describes it. "But if you're a parent and you can get the money together, it's a very, very positive experience for kids to go through. They have to learn motivation to balance training, travelling and homework. If you don't keep your grades up, you won't be able to stay in the program. The coaches are really great mentors and role models, and the kids really learn a lot of life-skills."
Regardless of the number of coaches she's had, Stephanie will always be Julia's most important mentor. "She's in amazing shape, works hard at what she does (whatever it is—as an athlete or with her job), enjoys her off-time and has a positive outlook on life. She's the best role model and a great friend."
THE BIG-MOUNTAIN FAMILY
Parents: Eric Pehota (freeskier/adventurer) and Parveen
Sons: Logan and Dalton Pehota (freeskier and K2 junior racer)
To say that Eric Pehota and his family live an outdoor lifestyle is like saying that Laird Hamilton is "just another surfer." The Pehotas hunt. They fish. They drive jet boats (and take paying tourists along for the ride). They snowmobile and sled-ski. They power-slide around their property in souped-up rally cars. They've cut down trees to make their log home. They put up meat, raise chickens and can their own fruit—all the bounty that their Pemberton Valley can offer.
As Eric says, "We only buy a few staples in the winter months. The more you can do yourself, the less you need to work."
Which leaves more time, of course, for skiing in the winter. Eric Pehota and his ski partner, Trevor Petersen, were the poster boys for the first round of extreme skiing back in the 1980s, notching descents in the Whistler backcountry, all the way up to Mount Waddington. In the years since Trevor's tragic avalanche death in Chamonix, France, Petersen's son Kye has followed in his father's footsteps.
Now, Pehota's two kids—Logan, 16, and Dalton, 14—are attacking the mountains in much the same way. Both kids have raced in the Canadian championships at the K2 level, though Logan has now made the leap to big-mountain freeskiing, while Dalton is racing at the FIS level starting this winter. Logan says, "Racing was getting a bit repetitive."
They've been getting a head start on things, with Logan climbing to the summit of iconic Mount Currie, a massive peak that looms above the town of Pemberton, B.C. A couple years later, father and son would team up with Kye Petersen to ski the central couloirs on Mount Currie, an epic descent that Eric and Trevor had completed 20 years earlier.
Logan was invited to ski at the Red Bull Cold Rush in Silverton, Colorado, last season, has sewn up major sponsorships with Rossignol and Oakley (coincidentally, two of Eric's supporters), and competed in the Wrangle the Chute big-mountain event last year at Kicking Horse, notching a very impressive 3rd-place finish. "He laid down a run on a line that no one else repeated," says Eric.
The Pehota family is part of a fertile Pemberton breeding ground that has a whole list of famous freeskiers relocating nearby, like the Pettit brothers, Chris Turpin and various members of the Treadway clan.
Eric says, "I feel pretty good when Logan's friends say, 'You're the son of a pioneer.' " Hey, any guy who runs his own sawmill is definitely a pioneer.
THE LODGE OWNERS
Parents: Kika Grandi (former resort owner), and Sepp and Barbara Renner (retired lodge owners)
Son/Daughter: Thomas Grandi and Sara Renner (owners, Paintbox Lodge)
When we caught up with Thomas Grandi, there was the sound of clinking glasses in a tub of dishwater in the background. The former World Cup slalom and GS specialist and his wife, Sara Renner—an Olympic athlete who competed for Canada in cross-country skiing—now own and operate the Paintbox Lodge boutique hotel in Canmore, Alberta.
"It's great to have valuable employees, but sometimes to do things right you have to do them yourself," Thomas says.
With family backgrounds in the hospitality business, it seemed predestined that Thomas and Sara would someday open a lodge. "I think we both assumed that we'd be involved in either Mount Norquay [purchased and operated by Thomas's mother in the mid -'90s] or Mount Assiniboine Lodge [owned by Sara's Austrian parents Sepp and Barbara Renner in 1983 and now operated by her brother Andre).
Instead, what they ended up purchasing and renovating was a small, rustic five-room lodge. "The building originally housed a climbing school run by Austrian guide Ottmar Setzer and went through a couple of ownership changes before Sara's parents bought it," says Thomas. "We have since converted it into a fi ve-room boutique hotel that's centrally located, close to the amenities of downtown Canmore and the area's many hiking and mountain biking trails."
Thomas, whose mother was his "number-one fan" in all those years on the World Cup circuit, preaches common sense. "She was not educated or trained in business, but taught me that you don't need to hire experts to solve all your problems."
Kika Grandi is well known around Banff. Not only does she help Thomas, Sara and their two young daughters out, she takes regular trips to her home country of Italy in order to help look after her mother, as well. "In Europe, there are quite a few racers who have family-run businesses like Thomas and Sara. If you go to places like Cortina in the Dolomites, you'll see businesses run by ski-racing families like the Ghedinas. The key to success in the tourism business is to be social and look after your customers."
When it comes to exuding enthusiasm for guests staying at the Paintbox Lodge, Thomas's best role model might be his recently retired father-in-law, Sepp Renner. Thomas says, "He's such a character, someone who really put his heart and soul into Assiniboine Lodge and who radiates this incredibly positive energy."
"Well, there's a lot more to do down in Canmore than there is at Assiniboine Lodge," Sepp replies. "Thomas and Sara don't need to be nearly as hands-on as Barbara and I were in terms of leading hikes and looking after people." Renner notes that he climbed Mount Assiniboine, a striking peak known as the "Matterhorn of the Rockies" 49 times during his climbing career, many times with clients. Thomas just has to finish washing the dishes.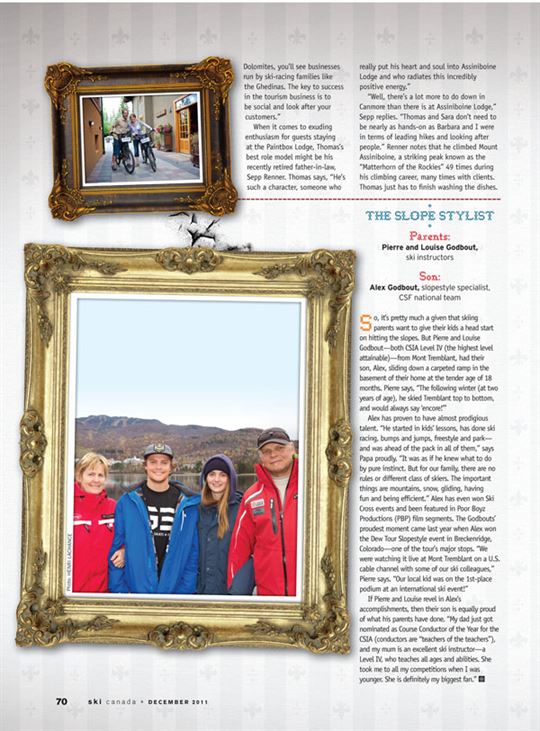 THE SLOPE STYLIST
Parents: Pierre and Louise Godbout, ski instructors
Son: Alex  Godbout, slopestyle specialist, CS national team
So, it's pretty much a given that skiing parents want to give their kids a head start on hitting the slopes. But Pierre and Louise Godbout—both CSIA Level IV (the highest level attainable)—from Mont Tremblant, had their son, Alex, sliding down a carpeted ramp in the basement of their home at the tender age of 18 months. Pierre says, "The following winter (at two years of age), he skied Tremblant top to bottom, and would always say 'encore!'"

Alex has proven to have almost prodigious talent. "He started in kids' lessons, has done ski racing, bumps and jumps, freestyle and park—and was ahead of the pack in all of them," says Papa proudly. "It was as if he knew what to do by pure instinct. But for our family, there are no rules or different class of skiers. The important things are mountains, snow, gliding, having fun and being efficient." Alex has even won Ski Cross events and been featured in Poor Boyz Productions (PBP) film segments. The Godbouts' proudest moment came last year when Alex won the Dew Tour Slopestyle event in Breckenridge, Colorado—one of the tour's major stops. "We were watching it live at Mont Tremblant on a U.S. cable channel with some of our ski colleagues," Pierre says. "Our local kid was on the 1st-place podium at an international ski event!"

If Pierre and Louise revel in Alex's accomplishments, then their son is equally proud of what his parents have done. "My dad just got nominated as Course Conductor of the Year for the CSIA (conductors are "teachers of the teachers"), and my mum is an excellent ski instructor—a Level IV, who teaches all ages and abilities. She took me to all my competitions when I was younger. She is definitely my biggest fan." ❄

Tags: Aabye Road, Alberta, Alex Godbout, Andy Tommy, Art Tommy Foundation, Arthur Tommy, B.C., Bib's Bumps, Bob Bibby, Canmore, Chris Turpin, Colorado, Crazy Canuck, Cypress Mountain, Dag Aabye, Dave Murray, Dew Tour Slopestyle, Doognog, Electric, Eric Pehota, Featured, Gowabunga, John Gow, Josh Bibby, Julia Murray, Kevin Pidgeon, Kika Grandi, Kye Petersen, Louise Godbout, Matterhorn of the Rockies, Mike Duggan, Moment skis, Mont-Tremblant, Mount Assiniboine Lodge, Mount Currie, Mount Norquay, Natalie Tommy, Oakley, Olympic Ski Cross, Ottmar Setzer, Paintbox Lodge, Pemberton, Pierre Godbout, Red Bull Cold Rush, Reg Lefebvre, Rossignol, Sara Renner, Sepp Renner, Silver Star Mountain Resort, Silverton, Spyder, Stephanie Sloan, Swatch Cup, Thomas Grandi, Tommy Lefebvre, Trevor Petersen, Wrangle the Chute