Reading Time:
2
minutes
Advertising rate card 2019/2020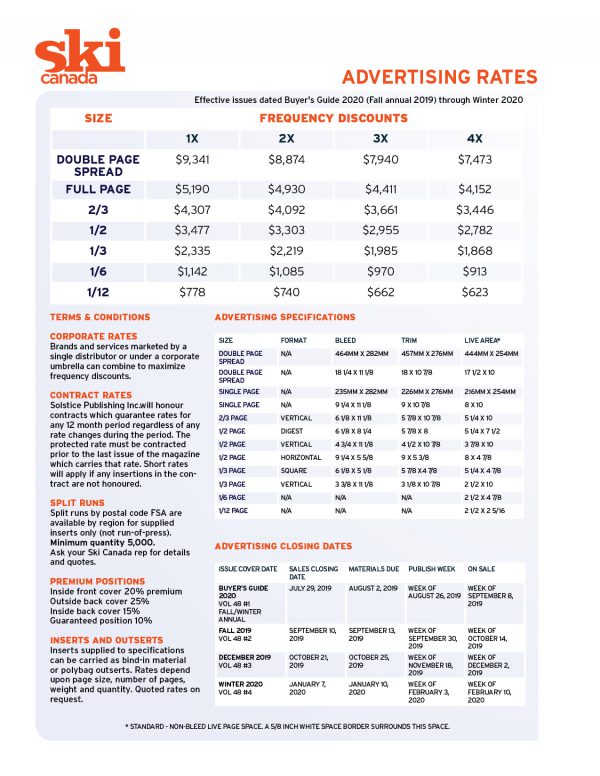 Publishing schedule, advertising closing and materials due click here
TERMS & CONDITIONS
CORPORATE RATES – Brands and services marketed by a single distributor or under a corporate umbrella can combine to maximize frequency discounts.
CONTRACT RATES – Solstice Publishing Inc.will honour contracts which guarantee rates for any 12 month period regardless of any rate changes during the period. The protected rate must be contracted prior to the last issue of the magazine which carries that rate. Short rates will apply if any insertions in the contract are not honoured.
SPLIT RUNS – Split runs by postal code FSA are available by region for supplied inserts only (not run-of-press).Minimum quantity 5,000.
Ask your Ski Canada rep for details and quotes.
PREMIUM POSITIONS – Inside front cover 20%premium * Outside back cover 25%
*Inside back cover 15% * Guaranteed position 10%
INSERTS AND OUTSERTS – Inserts supplied to
specifications can be carried as bind-in material or polybag outserts.Rates depend upon page size, number of pages and quantity.
Ask your Ski Canada rep for a quote for delivering your brochure to Ski Canada's readers..
TERMS OF PAYMENT – Agency Commission: 15%of gross billing allowed on space, colour and position charges.
Cash Discount: 2% of net within 15 days of invoice.
Interest Charges: 1.5% per month charged on invoices outstanding beyond 30 days.
Accounts payable at office of publication in Canadian dollars or equivalent funds at the rate of exchange prevailing at the time of payment.
Advertisers and advertising agencies agree that Solstice Publishing Inc.shall be under no liability for its failure to publish, for any reason,any advertisement. All contracts exceeding earned rate will be pro-rated,and all contracts not reaching earned rate will be short-rated. Publisher shall be entitled to payment as herein provided, upon having completed the printing of the advertising and having taken reasonable steps to see that the publication will be distributed.
Publisher may refuse any advertisement he deems unsuitable.
Advertiser and advertising agency will assume liability for all content (including text,representation and illustrations) of advertisements printed and also assume responsibility for any claim arising therefrom against the Publisher.
All advertising copy is subject to approval of the Publisher.
SOLSTICE PUBLISHING INCORPORATED
Head Office
47 Soho Square, Toronto, Ontario M5T 2Z2
Paul Green
phone:1-888-666-9754 (local 416-595-1252)
info@skicanadamag.com * www.skicanadamag.com
twitter.com/@skicanadamag * facebook.com/SkiCanadaMag
Sales & Promotions West
David Harkley
Phone: 604-894-3600
Fax: 604-894-3338
Email: dave@skicanadamag.com
Sales East
Pro Media Communications
Jeff Yamaguchi
Phone: 416-508-2382
Email: jeff@skicanadamag.com