Reading Time:
4
minutes
Jules Older, a former editor to a one-time competing publication, called a while ago to let me know that after some research, he decided I'm the longest-sitting ski magazine editor…in the world. After digesting this lump, I told a neighbour Doug Bennet, who for years was editor and later publisher of Masthead, an industry magazine for people who work in magazines. He confirmed that I'm also the longest-sitting editor of any magazine in Canada. Ugh. How did this happen!?
Apart from a couple of years as a managing editor here in the '80s, it's been a quarter century for me tapping away in my attic home office, while Ski Canada's unsung hero, my work-wife all that time, managing editor Anne Slade, continues to slave away in her basement. Using her flypaper memory, Slade fact-checks, rewrites, corrects grammar and still reminds me that "chairlift" is one word, "fall line is two," "bergschrund" has no umlaut and to "keep punctuation inside quotes." The days are long, the years are short.
It seems like yesterday I was starting back here at Ski Canada but the year's headlines now read quite historic. In 1994, Lucien Bouchard lost a leg to flesh-eating disease, while members of the Solar Temple cult in Quebec and Switzerland were killing themselves. Nelson Mandela won South Africa's first inter-racial election, Serbia was still pounding Sarajevo mercilessly and NATO took its first-ever, but too slow, combat action as more than 800,000 were dying in the Rwandan genocide. South of the border OJ Simpson was arrested, so was Tonya Harding, while we were entertained by Forrest Gump, The Lion King, Pulp Fiction and a new TV show called Friends.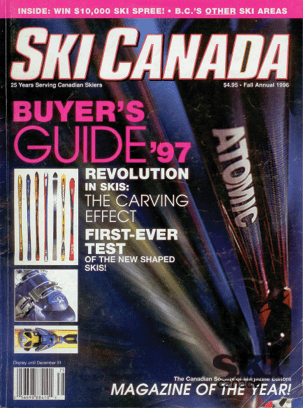 A few years earlier, publisher Paul Green had taken Ski Canada from the Maclean-Hunter empire and scattered the team to try working from home offices in Toronto, Quebec and B.C. As it turned out, keeping us separate has been key to both longevity of its staff as well as the magazine's financial success. Although lots of people now work from home offices, I'm always surprised why in 2019 so many businesses with definable workloads continue to think it's necessary to watch staff in work cubicles or at the water cooler. If a guy who's off the charts with online ADHD testing can be productive, surely anyone can get things done wearing yesterday's clothes and a dog in the corner.
That said, it's difficult to remember how we did get a magazine published in those pre-internet days: manually inputting features because writers' modems didn't connect (or exist), photographers shooting rolls of 36 slides, not 3,600 digital images like today. Couriers came to the door twice a day and fax paper was ordered by the box load. My first email address was a BBS with two incoming phone lines that I called into a couple of times a day to collect messages.
Although I remember going to a Canadian Society of Magazine Editors lunch for a lecture on a new concept called "the World Wide Web," my tablemates and I left thoroughly confused. (The internet is not what was predicted.) For nostalgia's sake I still have my 800-page 1994 Canadian Internet Handbook on the shelf with chapters like "Internet Electronic Mail" and "Tools for Knowledge and Information Highway Retrieval," as well as topics like "We Are So Confused!", "Can I Do Business on the Internet?" or the truly visionary "Advertising Doesn't Work on the Internet."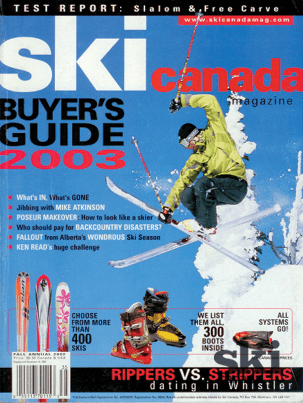 Meanwhile, on the slopes, Kneissl's Ergo and the new "parabolic" ski Elan SCX (or Sidecut Extreme) arrived, but these pioneers of shaped skis were finding it tough to get us to look beyond our long skinny boards or convince us that carving was fun. I liked my 203 cm Head TR18 GS skis that soared about 35 cm above my head; the stacked-up plates and platforms made me taller. I only appreciated big-shouldered Mobius onesies after they cycled through to the Retro bin, but I remember my impossible-to-pronounce-for-Americans Hors La Loi vest was de rigueur.
A 1994 Ski Canada ad for a Canadian Airlines Ski Week to Panorama was $635, and Austria, all-in, $1,111. The Youngs and Barkers owned Whistler, Charlie Locke hadn't yet sold Louise to RMR (or bought it back), the Weiders owned Blue Mountain, and Phillip Robinson and Daniel Corbier had ski weeks buzzing at Gray Rocks.
Before kids arrived in my ski backpack, I was pushing the limits by taking the dog up the chairlift for last run without asking permission. Neither of us, indeed no one, was wearing a helmet. Good times.
Manboy Ryan Stuart, Ski Canada's technical editor, who claims he's now in his 40s but looks like he's about to turn the big 3-0, is based in his spare room on Vancouver Island. He and I were musing recently while he was working from his stand-up desk and I was on my lie-down desk, "Sometimes I wonder if I need to 'grow up and get a real job'—but I could keep doing this forever so should I care what others think?"
The ski industry is full of Peter Pans and that's a good thing. The pay's no good but the fringe benefits keep us young; and as far as I'm concerned, our priorities are correct.
from the archives – Our First 40 Years