2023 Powder Buyer's Guide — Matchmaker
---
MATCHMAKER: HOW TO PICK YOUR SET-UP
The quest for powder begins with a crucial task: figuring out the right boot, binding and ski combination. Some boots won't work with some bindings. The right binding and boot combo will let you crush uphills. And matching both to the right ski will have you hooting and hollering through all sorts of conditions.
There are so many potential combinations it can feel like statistics class. We're here to help. There won't be much math, but it does involve a quiz. Don't worry, it's only one question.
What best describes your backcountry ambitions?
"If I can't get a lift to the top, I'm not going" — go to Freeride
"The 30-minute skin back to the resort is my weekend cardio" — go to Mostly Down
"The resort is only for powder days" — go to Up and Down
"Sitting sucks. I like to ski uphill" — go to Mostly Up
FREERIDE
You don't want to skin uphill, so skip the touring binding—a true alpine binding is safer and better. You may opt for a touring-capable boot for the comfort of the walk mode and grippier sole, which will come in handy on bootpacks. For a ski you want something versatile enough to handle a powder day, yesterday's fresh leftovers and week-old styrofoam.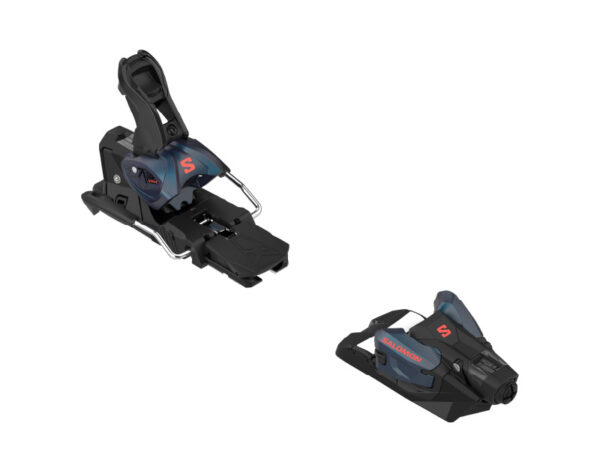 The Salomon Strive binding reflects the ski industry's changing mindset about how to best transfer power from boot to ski. For a long time it was all about height and leverage. That's still the case with on-piste skis, and their binding plates and system bindings. But for all-mountain and off-piste skiing there's a growing trend toward lowering a skier's centre of gravity. The Strive (and its sister, the Atomic Strive) takes this to new lows, particularly in the toepiece. Salomon says getting closer to the ski increases sensitivity and balance for better performance in off-piste conditions. The Strive comes in two models, a 14 DIN and the Strive MN with a 16 DIN. From $279; salomon.com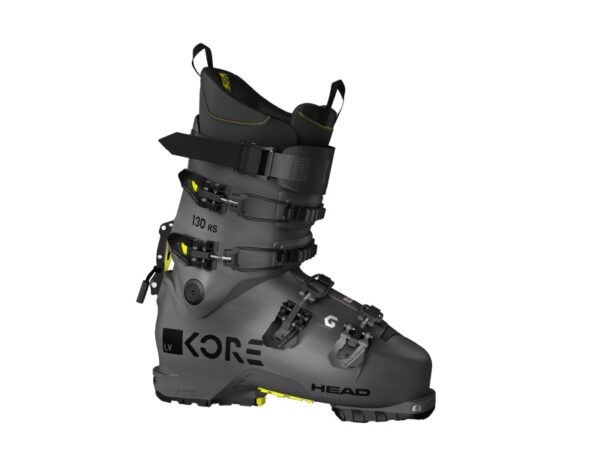 The Head Kore is still relatively light, about 1.6kg per boot, but has four buckles plus a power strap. It comes in several models with flexes up to 130—stiff enough for any mortal. The ski-hike lever releases the boot for a 53-degree range of motion and the sole is lugged and rubbery, ideal for negotiating slippery bootpacks and the walk to the car. $849; head.com

It's tempting to go fat for a freeride ski, but for versatility we think something between 100 and 105mm, like the Stöckli Stormrider 102, is ideal. It's wide enough to smear through tricky conditions and float in the deep, but narrow enough to hold an edge, even on ice. With two layers of Titanal and full-length plastic sidewalls for power and stability, and a light and rockered tip and tail for float and nimble handling, it's ready for a range of conditions. $1,609; stoeckli.ch
MOSTLY DOWN
Be honest: you'll probably use this setup as much at the resort for powder days as you will for actually earning your turns. So weight is insignificant compared to downhill performance.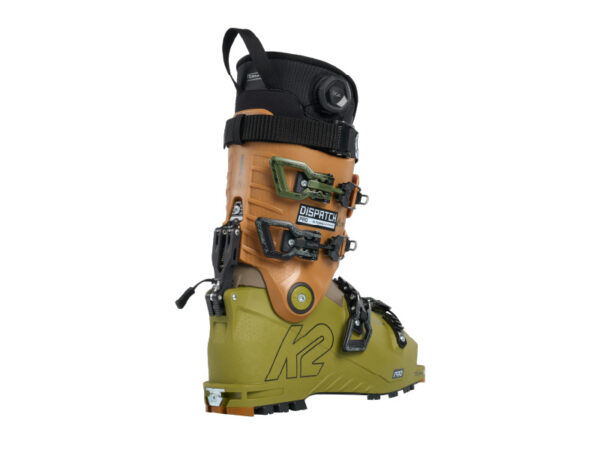 The K2 Dispatch may weigh about the same as the Head Kore featured in Freeride, but the Dispatch is oriented more for touring. Along with conventional buckles the Dispatch adds a BOA dial that cinches a cable hidden in the liner to snug it tight. This lets you loosen the shell for the skin up while keeping the foot secure in the liner to prevent blisters. From $800; k2skis.com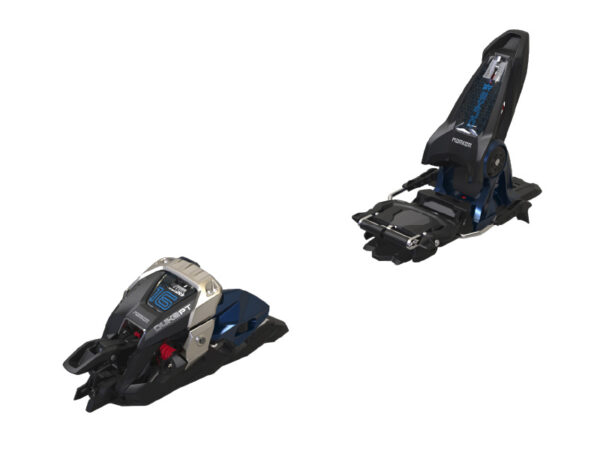 You could use what's called a frame binding, essentially a downhill binding on rods that releases at the heel for skinning. But they're heavy, cumbersome and the extra stand height this system creates isn't ideal. A better option is a hybrid that locks the boot down like an alpine binding for skiing and uses the toe pins for skinning. The Marker Duke PT and Salomon Shift are the standard in this category. For the up, part of the Duke's toepiece can be removed for lighter swing weight on the climb. From $850; marker.com
The Shift's toe just transforms: switch to walk mode and the DIN-style toe pulls back to expose tech pins. It's a little lighter overall. $650; salomon.com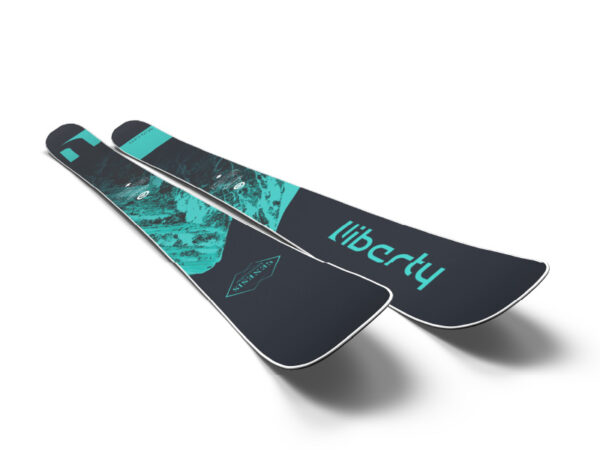 The ski is where you can ditch some weight. At 1.6kg, the Liberty Origin Backcountry is light enough you won't be complaining on the skin up, but it retains enough freeride performance that you won't be wishing for something else on resort days. The Backcountry and women's Genesis Backcountry are lighter than Liberty's normal Origin model thanks to their cores of aspen wood and carbon fibre. Liberty also flattened the tail for a longer effective edge in steep terrain and better skin compatibility. $1,181; libertyskis.com
UP & DOWN
Skiing at the resort is fun, but it's just training. When actually tagging summits, yo-yoing tree shots and exploring what's over the horizon, you are going to notice excess grams. It's time to cut weight, but not so much that you're left sketched out when in more consequential terrain or when the conditions get tricky.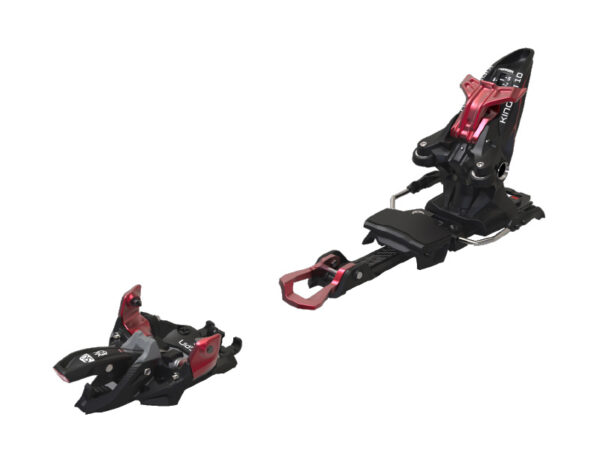 Examples of bindings that straddle this light/performance line are the Marker Kingpin and Fritschi Tecton 12. They have a heel that's similar to alpine bindings but attach to the toe with tech pins. It's a versatile mix that we've happily used for lapping the resort one day and trekking far into the backcountry the next. This season, Marker updated the Kingpin's toe to make it easier to step into. From $730; marker.net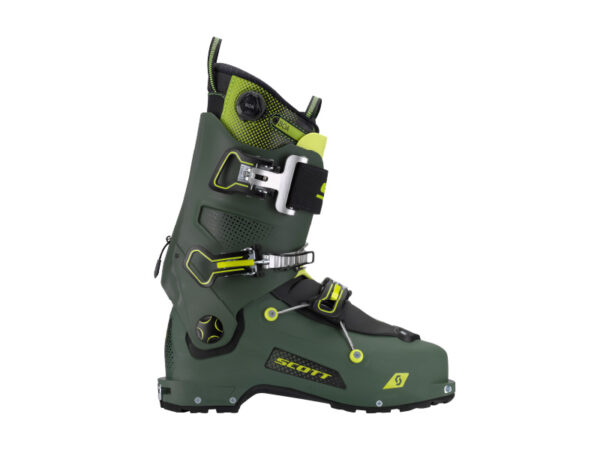 As a good compromise between the competing demands of up and down, the Scott Freeguide Carbon has three buckles and a 130 flex and still weighs less than 1.5kg per boot. Carbon fibres in the Grilamid shell keep things light while improving the responsive power transfer from boot to binding. The 101mm last is snug enough for a solid fit, and with a thermomouldable liner and BOA dial it will be comfortable all day. From $850; scottusa.com

That Goldilocks scenario also sums up the Dynafit Free 97, which weighs less than 1.5kg per ski and has a lively poplar and carbon stringer core, full sidewalls for power and a versatile shape. Skinning is easier with notches at the tip and tail for secure attachments. The flatter tail is helpful for digging in on kick turns and increasing skin contact. $800; dynafit.com
MOSTLY UP
It's simple. The faster you go up the more turns you'll get. In the race to cover distance and vertical, whether real or in your head, every gram counts. But you're still a skier first and you know shedding grams doesn't require the same sacrifices in comfort and downhill performance it used to.

The updated Salomon MTN skis are super light, but, unlike a lot of skis in this category, the 96 Carbon won't leave you wanting on powder days. It's still very light, but has enough width and rocker to make tricky, untracked snow manageable, as well as enough camber to carve in firmer conditions. From $700; salomon.com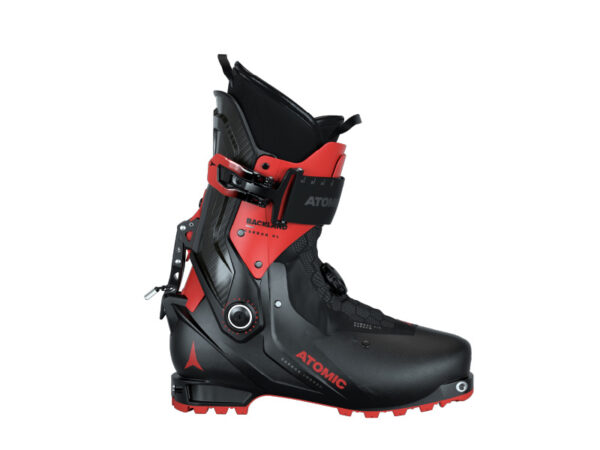 There are lighter boots than the Atomic Backland Carbon UL, but the Atomic's liner is comfier and has more cushioning than other boots in its weight class. Breathable zones in the liner and a waterproof shield keep feet drier. The 74-degree range of motion increases walkability, while three buckles and a carbon spine on the shell means they go down pretty nicely too. Take note: the short toe and minimal heel rand mean these boots are not compatible with hybrid touring bindings. $950; atomic.com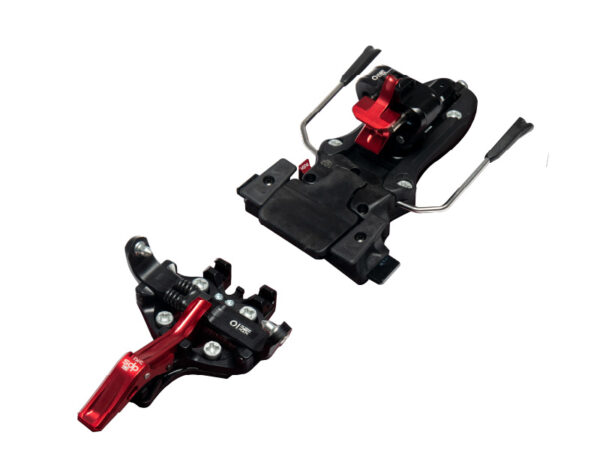 With only four micro-points of contact connecting boot to ski, it can take many turns to trust a tech binding. The DPS R10 should speed up the process. For starters there are reliable DIN release values (up to 10) on the heel, plus solid construction, despite a paltry weight of 300g. For the way up, the brake locks out of the way and a bumper guides the toe into place for easy attachment. $850; dpsskis.com

from Buyer's Guide 2023 – Vol 51 #2 • 2023 Powder Buyer's Guide

Tags: buyers guide