---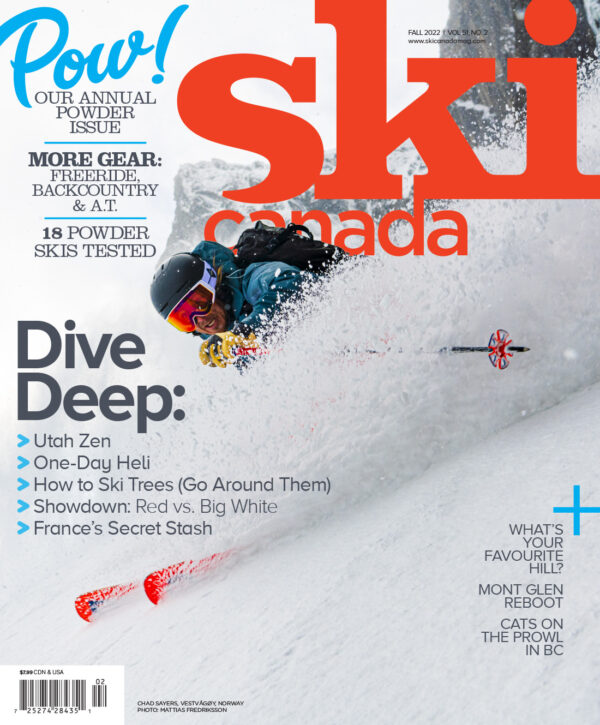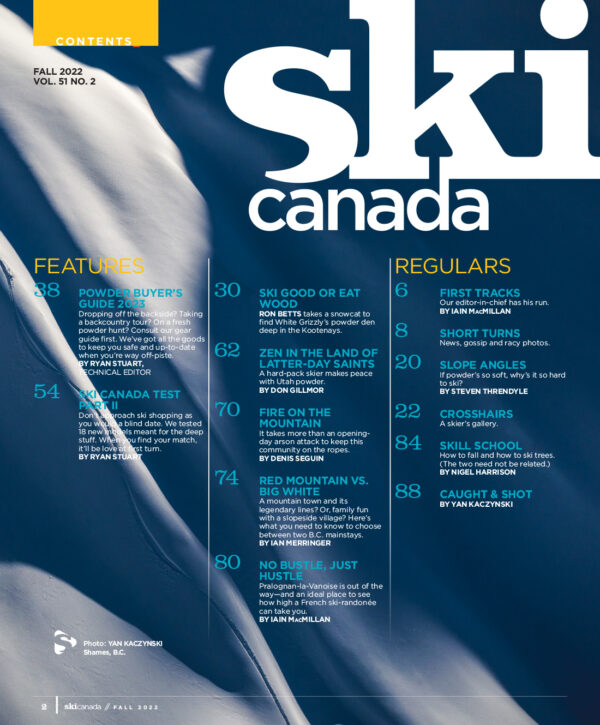 FEATURES

POWDER BUYER'S GUIDE 2023
Dropping off the backside? Taking a backcountry tour? On a fresh powder hunt? Consult our gear guide first. We've got all the goods to keep you safe and up-to-date when you're way off-piste.
BY RYAN STUART,
TECHNICAL EDITOR

SKI CANADA TEST PART II
Don't approach ski shopping as you would a blind date. We tested 18 new models meant for the deep stuff. When you find your match, it'll be love at first turn.
BY RYAN STUART

SKI GOOD OR EAT WOOD
RON BETTS takes a snowcat to find White Grizzly's powder den deep in the Kootenays.

ZEN IN THE LAND OF LATTER-DAY SAINTS
A hard-pack skier makes peace with Utah powder.
BY DON GILLMOR

FIRE ON THE MOUNTAIN
It takes more than an opening-day arson attack to keep this community on the ropes.
BY DENIS SEGUIN

RED MOUNTAIN VS. BIG WHITE
A mountain town and its legendary lines? Or, family fun with a slopeside village? Here's what you need to know to choose between two B.C. mainstays.
BY IAN MERRINGER

NO BUSTLE, JUST HUSTLE
Pralognan-la-Vanoise is out of the way—and an ideal place to see how high a French ski-randonée can take you.
BY IAIN MacMILLAN
REGULARS

FIRST TRACKS
Our editor-in-chief has his run.
BY IAIN MacMILLAN

SHORT TURNS
News, gossip and racy photos.

SLOPE ANGLES
If powder's so soft, why's it so hard to ski?
BY STEVEN THRENDYLE

CROSSHAIRS
A skier's gallery.

SKILL SCHOOL
How to fall and how to ski trees. (The two need not be related.)
BY NIGEL HARRISON

CAUGHT & SHOT
BY Yan Kaczynski