RYAN REPORT – New era for Whistler Ski and Snowboard festival
---
It started as an end of season contest to crown the best all around skiers and snowboards, slowly morphed into a community and arts celebration, looked like it might fade into oblivion and is now making a comeback. On January 15, Whistler Blackcomb announced that the World Ski and Snowboard Festival will return for a 23rd year.
"This event celebrates the best of what Whistler offers," said Pete Sonntag, Whistler Blackcomb's Chief Operating Officer. "It is unique and our new partnership with Gibbons Whistler allows us to continue to run this world-class festival for our community and our guests."
The 2018 WSSF, April 10 to 15, includes a return to its roots with the Saudan Couloir Ski Race Extreme and other on snow contests, the continuation of crowd favourites like the Olympus 72 hour Filmmaker Showdown, live music, and more.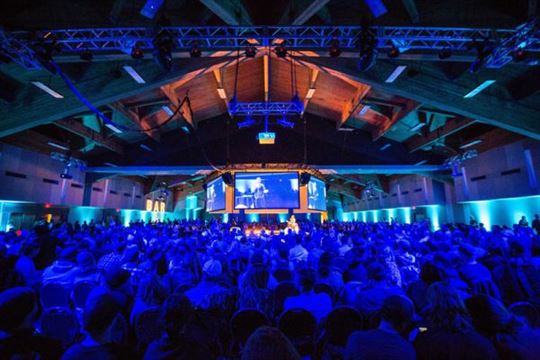 Even last month the future of the event was in question. Watermark Communications, the company that organized the festival for the last 19 years, stepped aside at the end of last year's event. This fall and early winter I made repeated inquiries without receiving any answers.

The January 15 announcement noted Gibbons Whistler has taken on the organizing roll for 2018 and beyond. Gibbons owns several bars and restaurants in Whistler, including some of the most well known establishments (Longhorn Saloon, Buffalo Bills, Tapley's Pub, the FireRock Lounge, Garfinkel's) and also organizes parties and events throughout the resort. They have big ski boots to fill.

Last year's festival was one of the best attended yet, with more than 10,000 people in Skier's Plaza to see the Fire & Ice big air show and hear the festival finale Busta Rhymes.

"The WSSF has deep roots in this community and we are pleased to be a part of the festival's revitalization," said Joey Gibbons, Chief Executive Officer of Gibbons Whistler. "This is only the start of a multi-year partnership and we are excited by the opportunity it presents."

For event information and schedule please visit www.wssf.com or on Facebook at https://www.facebook.com/WORLDSKISNOWBOARDFEST/

RYAN REPORT is a frequent web post by Ski Canada magazine's technical editor, Ryan Stuart.

Tags: Whistler, Whistler Ski and Snowboard Festival, WSSF