Reading Time:
5
minutes

Slide of the century
March 4 will be a somber date for anyone around Rogers Pass between Golden and Revelstoke, B.C. It was 100 years ago that Canada's worst avalanche disaster occurred, when only two of the 60 men working to clear an avalanche from the main CPR line survived a massive second slide from the opposite side of the valley. It was not long after the accident that the Connaught Tunnel was opened and the slide-prone Summit portion of the route over Rogers Pass was abandoned. Today there's a discovery area with trails on what was the original route that connected the country, and the Revelstoke Museum has plenty more to offer on the subject. Several events commemorating the tragedy will run in and around Revelstoke in January, March and August. More info: revelstokemuseum@telus.net and www.avalanche.ca
Fanning the flames
A lot of Canadians will have passed the flame by the time it gets to Vancouver for the opening ceremonies, but one athlete that Ski Canada was particularly smitten with was 91-year-old Peggy Austin. Between jugglers and fire-eaters, the ski champion of the 1930s was mobbed at her home hill when more than 1,000 people turned out for Tremblant's portion of the torch relay in early December. The Canadian champion missed her chance to compete at the Olympics because of the Second World War, but we're not surprised she still continues to follow in her father's stride by cross-country skiing. Austin is the daughter of one of Canada's most famous skiers, Herman "Jackrabbit" Johannsen.
The Winners' Circle
?Fast times at Alberta Alpine! This year's recipients of the BMO Ski Canada Award are Jenna McIntyre and Taylor Dawson. Racing out of the Lake Louise Ski Club, 13-year-old McIntyre was 2nd in K1 and 5th (in her first year) of K2. Taylor, 15, skis with the Fortress Alpine Ski Team on Atomic skis and is 2nd in Alberta overall points with both slalom and super-G titles. The BMO Ski Canada Award goes to various not-for-profit ski organizations, including promising young racers from across Canada. Interested recipients should contact their provincial ski associations. Funding is generated by BMO Ski Canada MasterCard holders: www.bmo.com/ski
NEW ON THE BOOKSHELF
To prepare you for all the wonderful culinary delights waiting in the Alps, Betty Bossi's The Swiss Cookbook will leave your tummy talking as you float through a culinary tour of Switzerland showcasing typical regional specialties. The Ski Canada Test Kitchen results weren't in by press time, but the pictures are mouth-watering, the classic and new cuisine recipes look simple, and substitutions are suggested. (If your local supermarket is low on freshwater Swiss crayfish, for instance, you can substitute any prawns to make Crayfish with Lukewarm Ratatouille.) But the range of Swiss fare is enormous, from Tête de Moine with Walnut Pesto to Sbrinz Crisps and Benedictine Hotpot from Einsiedeln Abbey to Zug Kirsch Cubes. No surprises how neat and organized the cookbook is, fully indexed by recipe as well as by course and geographic region. A good trip planner, too! Order through Switzerland Tourism, CHF 37; www.myswitzerland.com.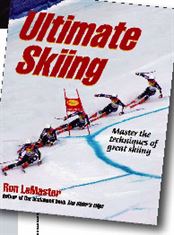 It's not surprising that Ultimate Skiing is beyond a self-help book in the traditional sense, its author Ron LeMaster is an engineer, ski coach, instructor, lecturer and technical consultant to the U.S. Ski Team. Especially for ski pros, its 205 pages provide fascinating insight into the inner workings of our sport. Anyone who wants to learn about the details of skiing and ski technique will find it all here illustrated with literally hundreds of diagrams, amazing photomontages—and a surprising number of typos. As a bonus, there are several chapters on all-mountain skiing in special conditions, as well as an entire chapter on boots and boot set-up. US$23.95 ($21.95 e-book); www.humankinetics.com
—Martin Olson
GEAR & GADGETS

From Caledon, Ontario, to Spruce Meadows, Alberta, the Canadian horsey set already know the benefits of Winter Woolies, but interestingly, the Canadian ski scene has been quietly catching on. These made-in-Canada baselayers use a substantial insulating fabric, but remain lightweight and hug the body without restricting. An innovative waistline controls the heli-belly and the flat, stretchy seams offer a smooth ride, as comfortable on a chairlift as they are at après ski with a sweater. $12-130; Order online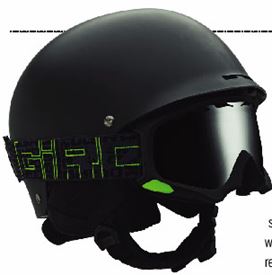 » Giro's enormous collection of helmet and goggle models and colours may range from the conservative to the terrain park, but protection and comfort is key in all. New this season, the low-profile Revolver helmet ($100) has just enough brim and attitude with an Interior Goggle Channel to make room for some skookum eyewear like The Station goggle ($120), which has a wide-open field of vision and uses fog-resistant injection moulding.
Winter winners
If you missed the YouTube launch and didn't enter, the prizes were indeed something to dream about: a free winter of skiing, staying and playing at Sun Peaks (see last issue) or a three-month road trip up and down eastern B.C.'s Powder Highway, all expenses included. The latter included free accommodations, meal vouchers, an SUV, gas card, lift tickets at Red Mountain, Kicking Horse, Revelstoke, Kimberley, Fernie, Panorama and Whitewater, and 15—yes, 15!—days of heli- and cat-skiing in the Kootenays. It also showed some interesting stats, given that the marketing approach was mostly online, about who was available to play the ultimate ski bum: 70% male, okay, but only 15% were in the 25- to 34-year-old age group (as opposed to 33% aged between 35-44, 30% 45-54 and 12% 55-64). Nevertheless, all you can do now is go cry in your chili since you've missed out: the Kootenay's newest citizen Chris Tatsuno of Snowmass, Colorado (top), and Sun Peaks party boy Brazilian Thiago Lucena (bottom) have already arrived in their winter wonderlands—perhaps they're looking for buddies.