---
Buying a ski made just for you is easier and more affordable than ever. And while it may seem like a realm for those who know exactly what they want, it's even more valuable for those who don't.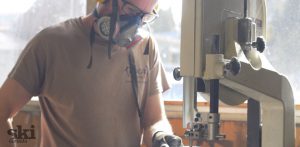 "The skier who will benefit most from a custom ski is the one who has one aspect of their skiing that they struggle with," says Caleb Weinberg, the co-founder of ROMP Skis, a custom skimaker in Crested Butte, Colorado. "We can make the ski so that it helps with carving, or floating in powder, whatever the specific trouble spot." Intermediate to advanced skiers will get the most out of a personalized build, he figures.
Several companies offer the option, including Deviation and, in Canada, Prior and Kindred, as well as off-the-rack. And brands like ROMP and Wagner make custom skis almost exclusively. ROMP prices range from about C$1,400–$1,900.
The process is simple and only requires a customer to know a little about his or her own skiing. For instance, at ROMP it begins with a phone interview with a ski builder about where you ski, how you ski, what you struggle with and where you want your skiing to go. After 15 to 20 minutes of talking about yourself, the interview comes to a close with the hardest decision of all: graphics.

Typically, there are designs to choose from and an option to work with personalized graphics. Prior skis might have the most creative graphics department. Every year the Whistler-based company holds an artwork contest to decide what graphics will grace next year's skis. Artists from the Sea to Sky region send in submissions and then Prior's staff and a public voting system decide.
At Prior shoppers can buy skis off the shelf or customize to whatever extent they want, including everything from model, topsheet and base graphics, shape and stiffness. The hand-built, customized skis cost about the same as other high-end sticks.
While some custom ski companies will build skis to a customers exact specifications, ROMP prefers to work with nine tried and tested shapes and then play with variables to tweak performance to individual wants and needs.
"We believe in our shapes," Weinberg explains. "Making a one-mm adjustment can drastically change how a ski performs."
The difference is twofold.
"Owning a pair of Prior boards is like being part of a club," says Matt Dussault, marketing manager at Prior. "Other owners come up and talk to you. That doesn't happen when you buy a ski off the rack."
More important, they'll help you ski better, too.
"The most satisfying thing for us is when we hear back from customers that the ski does exactly what they wanted it to do," Weinberg says. "It's great to hear that people are finding awesome success."

Tags: alpine skis, custom skis, Deviation, Kindred, Prior, ROMP, Wagner