Reading Time:
10
minutes
Who's the best?
How to choose between North America's two mega ski resorts.
BY LESLIE WOIT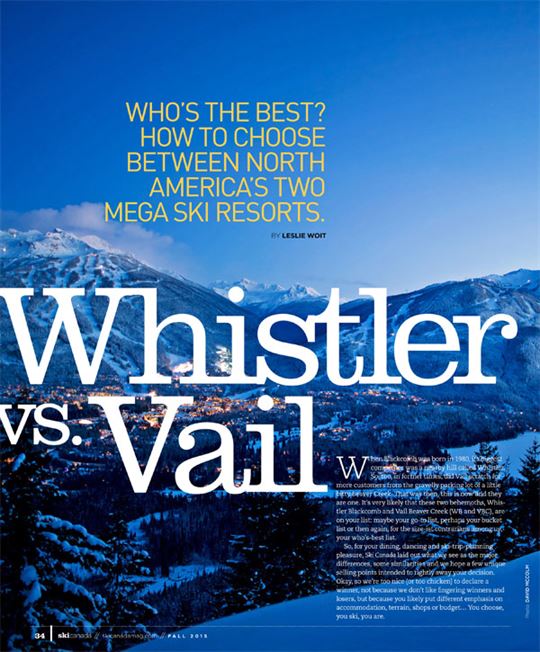 When Blackcomb was born in 1980, its biggest competitor was a nearby hill called Whistler. So, too, in former times, did Vail scratch for more customers from the gravelly parking lot of a little bitty Beaver Creek. That was then, this is now and they are one. It's very likely that these two behemoths, Whistler Blackcomb and Vail Beaver Creek (WB and VBC), are on your list: maybe your go-to list, perhaps your bucket list or then again, for the size-ist contrarians among us, your who's-best list.
So, for your dining, dancing and ski-trip-planning pleasure, Ski Canada laid out what we see as the major differences, some similarities and we hope a few unique selling points intended to rightly sway your decision. Okay, so we're too nice (or too chicken) to declare a winner, not because we don't like fingering winners and losers, but because you likely put different emphasis on accommodation, terrain, shops or budget… You choose, you ski, you are.
GETTING THERE
Eagle Airport to Beaver Creek: 40km/30min
Denver International to Vail: 190km/2hr
Vancouver International Airport to Whistler: 135km/2hr
Verdict: Any time you save flying into Vail/Eagle, you lose on changing planes in Chicago or wherever. We prefer direct flight to Van and the knockout scenery up the Sea-to-Sky highway. Spectacular views of B.C.'s rugged coastline, waterfalls, temperate rainforests and glacial peaks beat the brown, dry rolling hills of what the Americans call "The Rockies".
FREE TREATS
Yummy and still warm chocolate chip cookies are handed out free each day at 3:00 p.m. at the base of Beaver Creek. Imagine the dirtbags-with-munchies scene if they tried that at the base of Blackcomb—even if Whistler has banned "smoking."
TAGLINES
Vail: "Like nothing on earth."
WB: Hmm, we couldn't exactly find one.
Verdict: Thumbs-up to WB for sparing millions of marketing brain cells better spent on "research" at Merlin's happy hour.
SNOB APPEAL
North: The thwop factor of Whistler Heli-Skiing's 173 glaciers and 475 runs over 175,000 hectares of heli-delivered, high-alpine heaven is tough to beat.
South: For those whose martinis tinkle to the tune of De Beers carats on crystal, the Game Creek Club is the private on-mountain lunch club of choice. Membership will set you back US$42,000 plus annual dues of $2,410. That's not skiing, that's just lunch, then you pay extra to actually eat it. Includes a reciprocity program at Beano's Cabin (like Game Creek, it's open to non-members for dinner and is vaut le détour), Allie's Cabin and Zach's Cabin, the other jewels in the holy crown of Vail's swank lunch clubs.
SHOW ME THE MONEY
Then add 25 per cent. In just two years, the crazy Canuck loonie has downhilled from nearly par to below 75 cents on the greenback. This is the lowest exchange in nearly a decade.
Verdict: Ouch, eh!
THE VIEW
Vail's old Rocky Mountains are contoured, well-weathered and long-aged, but not exactly orgasmic. When the clouds finally part above B.C.'s Coast Mountains, we're talking total peaky pleasure.
SEEKING WORLD ATTENTION
Vail Beaver Creek made a splash with the 2015 World Alpine Championships. Even if Lindsey Vonn flubbed the skiing-fast part, it was the third time VBC has held the event to wide applause.
Big O-cred goes to WB for hosting the alpine, nordic and sliding events for the 2010 Olympic and Paralympic Winter Games.
Vail's most recent addition to the party scene is the six times a season on-mountain DJ/nightclub experience with red carpet and sparkly Kardashian-wear.
WB has been partying at the World Ski & Snowboard Festival each April for 20 years now, a multiday and endless night lineup of bands, arts and alpine fun.
CAN YOU BREAK A 50?
WB retains a Commonwealth-visitor's sense of modesty, with 15 per cent good enough for polite appreciation.
The new normal of "auto-suggesting" tips of 25 per cent makes our eyes bug out.
TERRAIN TUSSLES
WB claims more than 3,300 hectares of skiable terrain and 1,565 vertical metres, two side-by-each mountains, more than 200 named runs, three glaciers, 37 lifts and 16 alpine bowls. Steeps and tough stuff are Whistler's winning hands.
Vail (front, back, up and down) claims more than 2,100 hectares of skiable terrain, 1,050 metres of vertical and 195 runs. The Front Side is home to wide, long runs; it touts "the most groomed terrain on the planet." Seven Back Bowls span seven miles, and there's wide-open intermediate skiing over Sun Up and Sun Down, China and Teacup bowls, all the way out to Siberia and Inner and Outer Mongolia. No wonder nearly two-thirds of Americans don't own passports.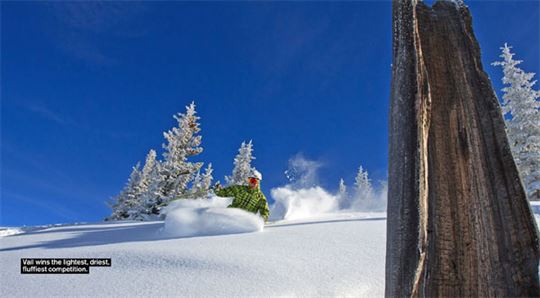 BEDHEADS
Whistler Blackcomb has 10,000 bedrooms, more than 24 hotels, plus townhomes, condos, B&Bs and chalets. While both areas boast a swank Four Seasons Hotel, promising top-drawer service for high-net-worth winter lovers seeking cosseting getaway time from their Forest Hill paper trails, Vail wipes the floor when it comes to posh digs, from the Ritz-Carlton and Solaris to the atmospheric Sonnenalp and beyond. At the other end of the scale, the last "cheap" motel in Vail was torn down several years ago. Dirtbags will favour B.C.'s best, including the HI-Whistler Hostel.
ART
Three cheers for Emily Carr at WB's new Audain Art Museum. Vail's Colorado Ski & Snowboard Museum and numerous private galleries are only the beginning: the town's public art collection includes 45 works from paintings, sculptures, murals and playground components to site-integrated art.
FEELS LIKE…
Vail faux Tirol vs. WB's vrai Intrawest samie-sameness. Take your pick.
FREERIDING
Vail may be known for blower powder (its gated itinerary includes a gentle classic like the Minturn Mile or the less-gentle and cliffy East Vail Chutes), but Whistler ranks among the world's biggies such as Verbier, La Grave and St. Anton for freeride.
WHO'S ON THE LIFT
In Vail: Powder-and-sun-seekers Lev, the fancy-cut diamond merchant; Melissa, Sonja, Lauren, Bethanee on a Centurion-fuelled gals weekend with their pals Fendi, Pucci and Henry Winston; Leslie's dentist from Yonge and Eglinton because his wife won't go anywhere else.
In Whistler: Powder-seekers Anders from Sweden, Gord from the sawmill in Pemberton, Xi from a mobile app start-up in West Van.
ACHILLES' HEEL
WB: Snow vs. rain. With an annual average snowfall of 1,165cm, WB tops Vail's 899 cm by more than two metres. But Vail's precipitation comes exclusively in frozen form—a big advantage. And somehow in that wonderful stat the sun shines more than 300 days per year at Vail.
Vail: Look up—all is lovely. Look down—the Eyesore-70, the highway that runs through the Vail Valley. Skiing on the frontside of Vail rocks a decidedly urban aesthetic. Beaver Creek doesn't suffer the same aesthetic issue, but unlike the Whistler/Blackcomb combo, it remains an unconnected if short drive from Vail skiing.
SHOPPING
Two hundred-plus shops scattered throughout Whistler's pedestrian village hawking apparel, jewellry, ski equipment and T-shirts out the wazoo. That all becomes tat 'n' wallpaper in comparison to Vail's palace of beautiful things, Gorsuch. Ugly name for such a stunningly beautiful storehouse of clothing and chaletwares made of linen, cashmere, wool and fur. Mmm, Gorsuch makes us feel warm all over.
HOMEMADE HOOCH
Check out Vail Brewing Company and the new Vail 10th Mountain Distillery and Tasting Bar: "We're ski bums who make liquor. What could be better than that?"
Whistler Brewing Company is 25 years old and counting (though a lot has been brewed in not-so-near Kamloops, we hear). There's also the Brewhouse/High Mountain Brewing Company and Howe Sound Brewing out of Squamish. You won't go thirsty in either town.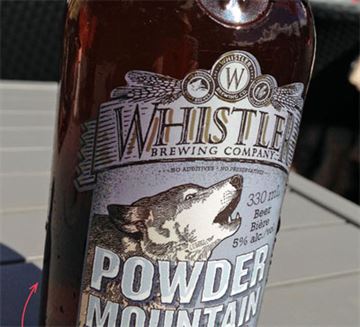 LOCALS 
Vail claims a population of 5,300, though most locals sleep, eat and buy their medical marijuana in nearby Avon (pop. 6,500). And Avonites are the lucky ones; barely English-speaking South and Central American housekeepers and other behind-the-scenes staff are bussed in from communities up to an hour away.
Resort Municipality of Whistler is home to more than 10,000 permanent residents—explorers, entrepreneurs, artists, athletes and loads of barely English-speaking Aussies. Dirtbags live in the community, which of course makes for a more vibrant one.
IT STARTED LIKE THIS…
Vail Ski Resort was founded by Pete Seibert and local rancher Earl Eaton in 1962. Seibert served in the U.S. Army's 10th Mountain Division during World War II, which trained at Camp Hale, near Vail. During ski trooper training, he bivouacked on Vail Mountain and identified it as an ideal ski mountain. Seibert, with other former 10th Mountain Division members, returned after the war keen on opening a ski resort. The rest is Rocky Mountain history.
In 1960, a group of Vancouver businessmen, led by Franz Wilhelmsen, formed Garibaldi Lifts Limited with the aim of developing an alpine ski area on London Mountain—later renamed Whistler Mountain. Their dream: to host the 1968 Olympic Games. Whistler Mountain officially opened for skiing in 1966, while Blackcomb Mountain opened in 1980. Nancy Greene and Al Raine were instrumental in its development. In 1997 Whistler and Blackcomb merged to create one of the biggest mountain resort companies in the world. In 2010, Whistler finally realized its competitive dream when it co-hosted the 2010 Olympic and Paralympic Games.
LIFT OFF
Number of lifts: VBC 55, WB 37.
Since 2008, WB's Peak 2 Peak Gondola, aka the Eat 2 Eat, has bookended two restaurants, Steeps and Christine's (renovated in the summer, hurrah). The destination gondola delivers 4.4 km of high-aerial frisson, showcasing the flanks of Whistler and Blackcomb mountains, the greater Coast Mountain Range and, come spring, the occasional bear.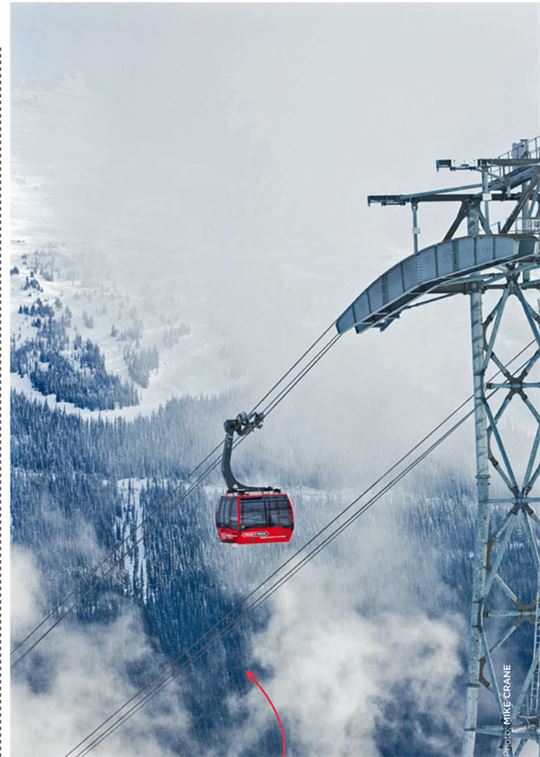 IS IT THE SIZE?
Vail claims it's the single largest resort in the U.S. (This season, Park City plus Canyons connection puts paid to that one.) WB is certainly the largest in Canada, unless you count Mike Wiegele's 5,000 sq km heli-stash. Superlatives aside, Vail is big. Whistler is big. Big is good.
OR IS IT THE LENGTH?
WB ski season stretches from November to May, as well as offering summer glacier skiing.
CELEBS
Vail: Tiger has flown the coop, of course, but Lindsey Vonn is a long-time local. Visiting lumes are endless and with way bigger PR machines than those of Whistlerites, like: Michelle Obama and kidlettes, Jay-Z, Al Gore, Justin Timberlake, Cameron Diaz, Bradgelina, The Donald…
WB: From Uma to Paris, Branson to Cruise and back, Whistler attracts its share of famous faces. Seal likes to club here, Gene Simmons blows kisses and Chelsea Handler collects material. Keep your eyes open for other visitors, including Queen Latifah, Jack Black, Cindy Crawford, Hugh Jackman, Heidi Klum, Arnold Schwarzenegger, Kevin Costner, Bill Gates, HRHs Prince Charles and Princes William and Harry…and homies Ross Rebagliati, Steve Podborski, Rob Boyd, Marielle Thompson, Simon D'Artois, Dan Treadway, Eric and Logan Pehota, Eric Hjorleifson, Britt and Michael Janyk, Hugo Harrison, Ashleigh McIvor…
PASS PARTOUTS
WB Mountain Collective: 11 mountains, two days each at Alta Snowbird, Aspen Snowmass, Jackson Hole, Mammoth, Ski Banff-Lake Louise-Sunshine, Squaw Valley-Alpine Meadows, Sun Valley, Thredbo, Valle Nevado in Chile, Hakuba Valley in Japan and Whistler Blackcomb. New partners for the 2015-16 season include Stowe and Taos. Plus there are lodging deals and 50 per cent off all additional days at Collective destinations. Plan early! The early-bird offer last spring sold out at $379, while the next block of passes released in August went for $399.
Vail Epic Pass: 22 mountains and a savings of up to 30 per cent off single-day lift ticket pricing. The pass provides unlimited access to Vail, Beaver Creek, Breckenridge, Keystone and Arapahoe Basin in Colorado; Canyons and Park City in Utah; and Heavenly, Northstar and Kirkwood in Lake Tahoe. It includes five free consecutive days at Niseko, Japan, as well as up to five free consecutive days at Les Trois Vallées, France, and Verbier, Switzerland. US$769. EpicPass.com
Après
An epic Whistler day turns to night at favourites like Dubh Linn Gate, GLC, Merlin's, the Longhorn, then pours into Buffalo Bill's, Garfinkel's, Maxx Fish and MoeJoe's…before really going downhill at Tommy Africa's.
A lot more silver foxes buy rounds in Vail than Whistler's younger wallets can, with Bart & Yeti's serving intoxicating spirits longer than anywhere. Samana Lounge, Altitude, Red Lion are a few of our favourites. Vail has a Garfinkel's too (no relation) and of course the licenced Turtle Bus—something that Whistler wishes it had.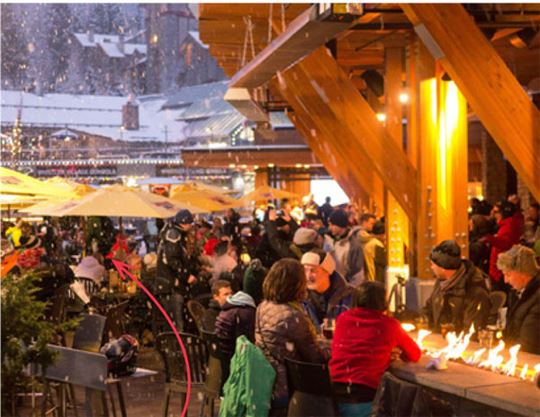 RESTOS
Most celebrated nosheries:
Vail: Nobu Matsuhisa does a great line in beautiful people and a lovely lobster with wasabi pepper and king crab tempura. Pull out the stops and order Omakase, $175 per person, the most complete way to experience the essence of Nobu Matsuhisa's dishes. Or perch at the bar for a bowl of edamame, a Gardener's Cocktail of Hendrick's, ginger, lime, serrano peppers and cilantro, and a selfie with Lindsey Vonn, often seen in the small cubby off the glassy dining room.
WB: Araxi features regional cuisine based on local, sustainable ingredients prepared by James Walt, one of Canada's leading chefs. Take home Araxi's cookbook and have a stab at re-creating wild seafood delights and steaks seared on the high-temp infrared grill. (About the same odds as re-creating Araxi's interesting-people vibe of international skiers slash well-heeled-and-lubed winos in your own home.)
Notable noshes:
WB: Try Sushi Village for the buzzy atmosphere, terrific sushi and legendary sake margaritas. Sidecut at Four Seasons serves fine Canadian prime steak aged 40 days with custom rubs. Stonesedge does creative pub fare such as falafel bites with spicy ancho barbecue sauce and bacon-strawed Caesars. For brekkie, Gone Bakery is a latte-laced Whistler classic.
Vail:  Elway's Colorado steakhouse is named for former Denver Bronco quarterback John Elway. Go to Montauk Seafood Grill for a blowout in a shell. And for an old-school Jaegerschnitzel moment head for Pepi's, of Austrian ski pioneer Pepi Gramshammer fame (who still welcomes guests to his hotel at the splendid age of 83).
On-mountain eats
WB offers 17 in total, yet none get close to the standard of on-mountain food available at Vail Beaver Creek. Opened last winter, The 10th is Vail's newest sit down, a ski-in/ski-out restaurant overlooking the Gore Range. Step out of your boots and into some slippers to enjoy a French-dip sandwich or a pot pie, cozy up to the bar, or take a nighttime ride on Gondola One for dinner atop Vail Mountain. Also: Bistro Fourteen, Mid-Vail, Wildwood, Buffalo's, Two Elk and Larkspur at the base of Golden Peak.