Reading Time:
12
minutes
Got ski pass confusion? So do we!
With so many collective passes vying for both the local- and holiday-skier markets this season, most people are flummoxed by the fine print. There are so many challenging choices and mystifying marketing materials, not to mention the need to plan months ahead to benefit from early-bird price points. But one thing is certain: the simple era of season pass versus day tickets has given way to multi-resort combos that include south of the border and, indeed, worldwide access.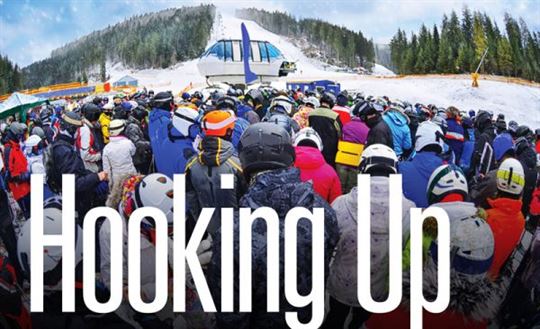 Over the past decade resorts have been forming alliances, with each season more convoluted than before, trying to get us to ski at a wider variety of venues—first in the U.S. and now increasingly in Canada. Number one on everyone's mind is Vail Resorts' monopolistic march over the mountain map with its ever-expanding Epic Pass, notching up 65 resorts and counting. And just when we're all starting to get our heads around the boggling benefits of rival gangs, such as the Powder Alliance and Mountain Collective, along comes stiffer competition with the creation this year of the Ikon Pass.
With 26 mostly U.S. resorts in its portfolio, Ikon is making inroads into Canada, too, focusing on prolific Ontario skiers by offering full-season dibs at Blue Mountain and Quebec's Tremblant, plus seven free days at Revelstoke, Lake Louise, Sunshine and Norquay. Epic's response has been to carry on expanding across North America, its Canadian tentacles spreading from season skiing at wholly owned Whistler to extra days at the Resorts of the Canadian Rockies (RCR): Fernie, Kimberley, Kicking Horse, Nakiska, and Quebec's Stoneham and Mont-Sainte-Anne.
Is this a game-changer that could gradually turn us all, not just weekend warriors, into season-passholders? Despite the risk of reducing pass revenue with the new lower prices, ski areas are hoping more of us will make a bigger commitment. Their expectation: extra income from longer-haul travellers spending prolifically on accommodation, lessons, food and entertainment at a range of resorts.
In the wintry wake of this collective pass trend, resorts have had to decide whether they want to hook up with sometimes strange bedfellows or market to the public directly. But these spiderwebs are not a static situation. Telluride recently decamped from the Mountain Collective to join Epic Pass, and this June, the Washington ski area Stevens Pass came under the Epic umbrella but still retains its status within the Powder Alliance. Expect continuing mutinies and mergers.
Although sometimes feeling forgotten in all the hype, local loyalists will still buy the same familiar season pass or resort card for their downhill doorstep, but may benefit from heightened rivalry among pass marketers. Destinations are increasingly offering über early-bird deals for season skiers. You have to be on the ball, though: early-purchase deadlines are typically in the spring for the following season, with deals such as $789 (adult 19-64) up to April 30 this year for B.C.'s staunchly independent Red Mountain (the summer rate is $889 until October 1 after which it jumps to $1,089). A bonus last season was the ability to use the 2018-19 pass right away for the last two weeks of 2017-18 corn snow and slush bumps.
Resorts of the Canadian Rockies typically ends its early-bird sales June 23, followed by a fall sale into October before regular pricing resumes. Sun Peaks extends early pricing until June 30, throwing in free nordic skiing, a free lesson and discounted buddy passes for $899. This goes up $100 from July to October 8 and thereafter stays at $1,349. And most resorts offer affordable discount cards, such as Louise Plus, which can make skiing about half the day rates.
The only thing local skiers might feel price envy for are resorts fully embraced by Epic or Ikon this winter. Tremblant's adult season pass, for example, has plummeted more than $500 since becoming Ikon-ic. But like unlimited gym memberships, the result of lower pass prices means the company has to sell more passes to receive the same revenue—fine if everyone is spread out over the week, the month, the season; not so good when it's been snowing days before a sunny Saturday and masses overwhelm a resort.
Some resorts are doing well enough solo. "Our current business model is working well and delivering consistent year-over-year growth," says Sun Peaks's CMO Aidan Kelly. "Continuing to be independent has allowed us to beat to our own drum and make resort-specific decisions that improve the experience for our guests." But like any savvy marketer, Kelly is keeping an eye on industry trends and possible opportunities for the future. Others are emulating the collectives. Panorama, for instance, has just expanded its reciprocal deals for season passholders to include Cardrona and Mt. Ruapehu in New Zealand, and Kiroro, Japan.
For those with no allegiance to a particular hill, affordable and flexible collective passes are being touted as the latest stay-cation accessory. This winter, pass-pushers want you to feel Season Pass FOMO—not a question of whether to buy a pass, but which season pass best suits your needs.
''prices are typically advertised in U.S. dollars, also subject to…extra charges, up to six per cent, from bank and credit card exchange rate fees ''
One thing the marketers haven't addressed is currency conversion since prices are typically advertised in U.S. dollars, subject to off-putting exchange rate fluctuations for Canadians and extra charges, up to six per cent, from bank and credit card exchange rate fees. Until resorts start analyzing data about the uptake and usage of collective passes versus home-hill season passes, however, no one yet knows whether all the headlining hype is working to persuade more skiers to buy a pass let alone take more trips and venture farther afield to destination resorts.
Let's begin by analyzing the current Epic Pass (epicpass.com) since it started this collective contest and, now comprising 65 resorts in eight countries, is the biggest with most of its resorts close to major city-based ski populations. If you count all of its global partners, it covers more than 59,000 skiable hectares compared to Ikon's 25,782. As well as its U.S. and Canadian portfolio, far-flung members include Hakuba Valley's nine resorts in Japan, Perisher, Australia, and 30 Euro resorts. Great for marketing wow power, but surely only a tiny percentage of pass purchasers actually get the chance to notch up multiple resorts during the same season.
Since 2008, Epic has been challenging season-pass pricing everywhere by coming in originally at US$600, a price point that has gradually risen to US$899, approximately C$1,211, this winter for early birds. Prices, even for Canadian resorts, are irritatingly only offered in U.S. dollars, so Canadians have to do future math at time of purchase. Early-bird rates rise around US$40 after Labour Day and there's a November deadline for all Epic Pass purchases, forcing a pre-season decision on where to ski in the months ahead.
Regular Whistlerites are riding high, as mothership Vail Resorts now offers them a WB unlimited pass for US$985 (or roughly C$1,289 according to Whistler's website in mid-July using their suggested exchange rate, but TD's exchange rate on the same day was closer to $1,325. With most credit cards charging a foreign exchange rate of 2.5 per cent, the rate creeps up to $1,358—plus tax. Nevertheless, the rate still compares favourably to roughly C$2,000 before Vail bought the Canadian Crown jewels). Curiously, at US$899, the full Epic Pass is cheaper but includes Whistler, along with 19 other ski areas and free days at 46 additional resorts.. Both passes list unique "benefits" but some skiers may find them negligible. (A passholder would have to eat, drink and shop more than $575 of Vail Resorts' food, beverages and products before the math of a 20 per cent discount kicks in.) Other Epic options include the Epic Local Pass (10 days at Whistler, season at 10 U.S. resorts and limited restrictions at five others), Epic 7-Day (seven days at Whistler, seven at RCR and seven at various U.S. resorts) or Epic 4-Day (same deal but four days). There are also five- and 10-day EDGE cards for Canadian and Washington State residents.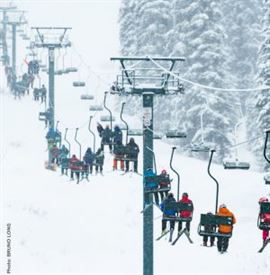 Although most Canadian skiers are weekend warriors at their closest hill, some who travel farther afield to ski now ponder purchasing the Epic Pass in order to include Whistler, RCR resorts in B.C., Alberta and Quebec, the U.S. and Europe on their ski schedule. A week or two at Whistler, all seven free days at RCR resorts and maybe a foray into Colorado, Utah or even France would definitely make it pay, especially if bought at early-bird pricing. Europeans who favour long-haul holidays could consider it, too, using the benefits in 30 Euro resorts—including Les Trois Vallées, Skirama Dolomiti, Verbier and St. Anton—and indulging in a fortnight in Canada or the U.S.
Telluride is particularly tempting now, with new direct flights into Montrose Airport from hubs like Chicago, Salt Lake City, Dallas, Denver, Charlotte, Phoenix, San Francisco, New York and Los Angeles, making it more accessible. "I believe the skier is the big winner in the competitive pass market," says Telluride CEO Bill Jensen. He anticipates a transformational tipping point over the next couple of seasons with destination skiers all tending toward collective passes, swapping loyalties each season depending on which resorts are on their radar. And he warns isolated resorts that future survival may depend on allying with Epic or Ikon: "You'll see these two passes battle literally for the entire ski market." The result will be lots of lucrative deals for pass purchasers. For example, this season Epic sweeteners include six buddy passes for early birds (before May 15) and a 40-per-cent discount for Canadian military veterans and dependents.
With the Ikon Pass (ikonpass.com), Eastern Canadians in particular benefit with unlimited season-long skiing at Mont Tremblant in Quebec and Ontario's Blue Mountain. It accesses 10 additional U.S. resorts, justifying a jaunt to Steamboat, Deer Valley, Winter Park, Squaw Valley Alpine Meadows, Mammoth Mountain, Big Bear, June Mountain, Stratton or Snowshoe Mountain, and various days at other U.S. partners. Priced like Epic (although kids' passes are cheaper with Ikon), there are also seven free days at Banff's SkiBig3 and Revelstoke. Ikon Base Pass includes fewer U.S. resorts and some blackout dates. In sync with Epic, prices are only available in U.S. dollars online, with the, now-expired, Ikon pass early-bird rate coming in at roughly $940—when converted from the significantly cheaper sounding US$699, now US$899 since May. No news yet of further price hikes or capping.
Ikon is attractive to wandering Westerners, too, especially those able to notch all 14 free days at Revy and the SkiBig3 resorts of Sunshine, Lake Louise and Mt. Norquay, with the bonus of storm-chasing stay-cations at Tremblant, Alta Snowbird, Big Sky, Aspen Snowmass and Jackson Hole among others.
As well as not being so close to big metropolitan areas, Ikon resorts are notable for their individuality, according to Erik Forsell, CMO of Alterra Mountain Company that started the Ikon Pass: "Whether it's the western experience of Steamboat, the culinary finesse of Deer Valley, the majestic views of Banff or the ruggedness of Jackson Hole, we have a wide range on the map and also in resorts' personalities." Forsell says collective season passes enable skiers of every level to be brand agnostic, curating adventurous experiences—and, with volatile storm patterns, follow the snow. Extra bonus: early booking privileges with CMH Heli-Skiing.
Tour operators are monitoring the ski pass wars carefully, too. James Voorend owns The Vacation Station (thevacationstation.com), which customizes North American, European and New Zealand ski trips, including the Ski Canada Readers' Trips. "We think the advent of the Ikon Pass is great since it includes local resorts such as Blue Mountain. Most of our clients combine at least one long trip per winter with visits to the local Ontario resort, so this will be helpful for them." Voorend also expects to see a resulting reduction in single-resort, season-pass purchases.
***********************************************************************
Although the collective pass market may look like a two-horse race between Epic and Ikon, skiers still have other options in the Powder Alliance and Mountain Collective.
Powder Alliance (powderalliance.com) is the simplest code to crack: buy a season pass at any member resort (Castle Mountain, Marmot Basin, Silver Star and Whitewater in Canada; China Peak, Loveland, Monarch Mountain, Mountain High, Mt. Hood Skibowl, Schweitzer, Sierra-at-Tahoe, Stevens Pass, Sugar Bowl, Timberline, Angel Fire, Arizona Snowbowl, Bogus Basin and Bridger Bowl in the U.S.; Kiroro, Japan; and La Parva, Chile) and you can get three days of free skiing at each of the other 19 members. Encompassing 14,400 skiable hectares, it targets the dedicated season-pass skier who likes to indulge in side trips—although no one is quite sure how much of a market that actually is. Since membership is free, it's an extra wow factor that could be useful for someone who travels to Colorado, California, Idaho or farther afield for work, family or play. Its edge: extra value and variety.
The Mountain Collective (mountaincollective.com) includes two days each at 16 resorts for US$429 (roughly $578), making it cost-effective by day five. Resorts included in Canada are Sunshine, Lake Louise and Revelstoke. In the U.S. there are 11 options (Jackson Hole, Aspen, Sun Valley, Snowbasin, Snowbird, Alta, Squaw Valley Alpine Meadows, Mammoth, Sugarbush, Big Sky, Taos) and three Down Under, plus partnerships with Chamonix, Japan's Niseko United and Valle Nevado, Chile. No blackout dates, bonus days, lodging deals and 50 per cent off further tickets add to its flexible affordability. Jenevieve LeBlanc, media and marketing supervisor for SkiBig3, calls it a "secret society for ski enthusiasts," embracing more than 22,472 hectares.
With continuing collective competition leading to dollar-saving deals and constantly changing resort rosters, it's worth researching regularly to keep up to speed. For example, discounted passes for millennials at several U.S. ski areas could soon spread to Canada. Deftly dubbed Drifters by Mt. Snow and six other resorts within The Peak Pass, this 19-29 age group is also getting a break at Brighton, Stratton, Taos, Sunday River, Loon and Sugarloaf. And Angel Fire, New Mexico, has started a new trend in offering teachers $99 season passes.
If you are going to choose a collective pass this season, take note of the extra lodging, retail and restaurant perks but do your research carefully and ask yourself: Is the pass appropriate for me?
GOING IT ALONE
Many Canadian ski hills are holding off on membership to collectives, including local favourites such as Pass Powderkeg, Alberta; Bromont, Quebec; and Brimacombe, Ontario; plus all other resorts in Ontario except Blue Mountain; all resorts in Quebec except Tremblant; and all resorts in Atlantic Canada, Saskatchewan, Yukon and Manitoba. Notably absent, too, are some of Canada's top players: Panorama, Red Mountain, Big White, Apex, Mt. Washington and Sun Peaks.
Big White is proudly independent and putting locals first. "From Big White's point of view, we are prepared to stand on the sidelines and watch how other consortiums for ticket programs settle in the marketplace," says Michael Ballingall. "We have learned and watched over the years how those on attractive joint season pass programs visit other resorts… Big White has an enormous season passholder base and our first obligation is to ensure that we have enough space on the mountain, space in restaurants and resort infrastructure that allows for a comfortable day on the mountain."
As part of the CWSAA Reciprocal Resort Program, most passholders in Western Canada already receive 25 per cent off day tickets at Big White, among other resorts. Early-bird season passes bought before October 1 are half the price of those bought after November 23.
ONE STOP SHOP
Both Epic and Ikon are sold in U.S. dollars. However, Ikon Pass can be purchased in Canadian dollars through tour operators such as Skican, Merit Travel and The Vacation Station, whether or not you book accommodation. Skican is putting together a mountain matrix with different scenarios spelling out savings with either Epic and Ikon. Last spring, one Californian skier told Skican president Karen Nasmith, while hobnobbing on a Heavenly chairlift, that it was the "golden age of skiing." "If you have the means and time to take a few ski trips each winter, these passes are perfect," says Nasmith. "In his case, he'll take advantage of unlimited skiing at his local resort in addition to visiting two other participating resorts—getting more than his money's worth."
THE NUMBERS GAME
Resort marketers would rather have their fingernails pulled out than give out actual numbers of passes, but as a public company, Vail Resorts has to be up front with some figures. Early-season Epic Pass sales up to May 30, 2017, for instance, increased 10 per cent over 2016 and a further 12 per cent over the same period this year, despite new competition from Ikon. Vail Resorts expects to flog more than 750,000 Epic Passes this fiscal year in 50 U.S. states and 104 countries, but won't itemize how many are sold in Canada.
EPIC PASS (owned by Vail Resorts)
Epic Pass: (all US dollars) adult $899 (from Labour Day to November),
child $469; 65 resorts, no restrictions
Epic Local: adult $669, child $359, teen $549; 27 resorts,
peak restrictions
Epic 7-Day: adult $669, child $359; 25 resorts, 7 days no restrictions
Epic 4-Day: adult $439, child $239; 25 resorts, 4 days no restrictions
Military Pass: $99 adult/child; 18 resorts
Whistler Blackcomb * Stevens Pass * Vail * Beaver Creek * Breckenridge * Keystone * Crested Butte * Heavenly * Kirkwood * Park City * Stowe * Afton Alps * Wilmot Mountain * Mt. Brighton * Okemo * Mt. Sunapee * Perisher, Australia
Epic Partners:
Resorts of the Canadian Rockies: 7 days in total at any mix of the RCR resorts (Fernie, Kicking Horse, Kimberley, Nakiska, Stoneham and Mont-Sainte-Anne)
Telluride: 7 days for Epic Passholders
Hakuba Valley, Japan: 5 days total at any mix of the nine resorts.
Europe: 30 resorts in the following regions—Les Trois Vallées, Paradiski and Tignes-Val d'Isère in France (6 days), Skirama Dolomiti Adamello Brenta in Italy (3 days), Les 4 Vallées (Verbier) in Switzerland (5 days), and the Arlberg (St Anton) in Austria (3 days)
IKON PASS
Ikon Pass: (all US dollars) adult $999, teen $819, child $549, under 4 $29; unlimited access to 12 destinations owned by Alterra Mountain Company plus 7 days and 7-days combined at 13 other destinations, no blackout dates
Ikon Base Pass: adult $699, teen $579, child $399, under 4 $29; unlimited access to 10 destinations plus 5 days and 5-days combined at 15 destinations, with blackout dates
Discounts for military and college students.
Alterra Mountain Company Destinations: Tremblant * Blue Mountain * Squaw Valley Alpine Meadows * Mammoth * Big Bear * June Mountain * Steamboat * Winter Park * Stratton * Snowshoe * Deer Valley * CMH (only priority winter booking privileges)
Solitude Mountain Resort, Utah: Alterra was in the process of acquiring at presstime
Ikon Pass Partners:
Revelstoke (7 days Ikon Pass; 5 days Ikon Base Pass)
SkiBig3: Lake Louise, Sunshine Village, Mt. Norquay (7 days Ikon Pass; 5 days Ikon Base Pass)
Aspen Snowmass * Alta Snowbird * Jackson Hole * Big Sky * Sugarbush * Loon Mountain * Sunday River * Sugarloaf * Killington * Eldora * Copper Mountain * Thredbo, Australia
MOUNTAIN COLLECTIVE
Adults: US$429, kids 12 & under US$99; 2 days at each resort and a bonus 3rd day at your choice of resort; no blackout days; 50% off additional days; limited time sale
Additional benefits: 2 days each at Valle Nevado, Chile; Chamonix, France; and Niseko United, Japan
Sunshine * Lake Louise * Revelstoke * Alta * Aspen Snowmass * Big Sky * Jackson Hole * Mammoth * Snowbird * Squaw Valley * Alpine Meadows * Sugarbush * Coronet Peak/The Remarkables, NZ * Snowbasin * Sun Valley * Taos * Thredbo, Australia
POWDER ALLIANCE
Free with season pass at any member resort, and grants 3 non-holiday days at each of the other members.
Castle Mountain
Marmot Basin
SilverStar
Whitewater
Stevens Pass
Angel Fire
Arizona Snowbowl
Bogus Basin
Bridger Bowl
China Peak
Kiroro, Japan
La Parva, Chile
Loveland
Monarch Mountain
Mountain High
Mt. Hood Skibowl
Schweitzer
Sierra-at-Tahoe
Sugar Bowl
Timberline