Reading Time:
3
minutes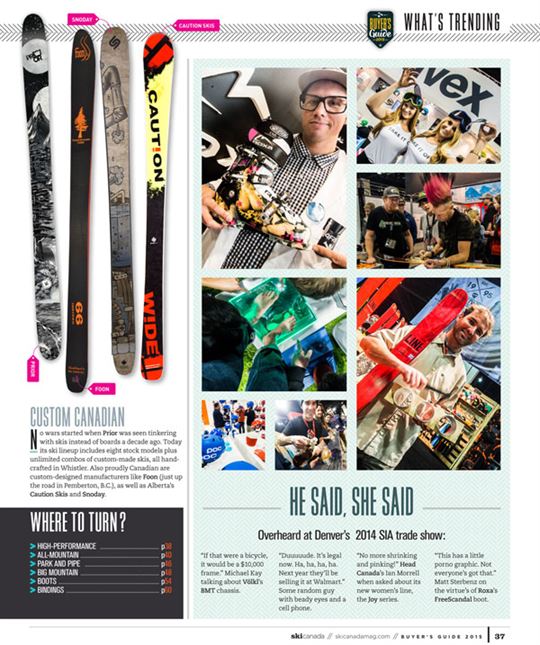 He said, she said
Overheard at Denver's  2014 SIA trade show:
"If that were a bicycle, it would be a $10,000 frame." Michael Kay talking about Völkl's BMT chassis.
"Duuuuude. It's legal now. Ha, ha, ha, ha. Next year they'll be selling it at Walmart." Some random guy with beady eyes and a cell phone.
"No more shrinking and pinking!" Head Canada's Ian Morrell when asked about its new women's line, the Joy series.
"This has a little porno graphic. Not everyone's got that." Matt Sterbenz on the virtue's of Roxa's FreeScandal boot.
Custom Canadian
No wars started when Prior was seen tinkering with skis instead of boards a decade ago. Today its ski lineup includes eight stock models plus unlimited combos of custom-made skis, all handcrafted in Whistler. Also proudly Canadian are custom-designed manufacturers like Foon (just up the road in Pemberton, B.C.), as well as Alberta's Caution Skis and Snoday.
Seth Stuff
While the skills may not be transferable, the technology behind Seth Morrison's infamous hard-charging descents is consumable. He helped develop K2's new Annex 118—Seth Morrison Pro Model, while Full Tilt reworked its classic shell with a stiffer tongue.
Forget the lineups
AT skiing has long been on the rise. The SIA saw eight-per-cent growth in the market. Keep an eye out for fitness skiing. Somewhat like ski running, imagine Vancouver's classic Grouse Grind, but done on lightweight skis with ripping descents at drive-to destinations near you. Fischer, Dynafit and others are moving into this market.
Reinvented AT interfaces
With the goal of increasing power transmission for the AT crowd, bootmaker Scarpa and binding manufacturer Ski Trab have teamed up with a new system that's said to offer a more alpine-like feel than traditional tech bindings.The wide-bodied (75mm wide base plate) and low-profiled (your boot sits 23mm above the ski) TR2 has a new-styled clamping heel with release values at 7-13 DIN, and pairs with Scarpa's burly four-buckle Spirit RS and three-buckle Spirit. Both get their DNA from the popular Maestrale series. Look for the limited release at specialty backcountry shops throughout North America.
Big on boots
Fischer upgrades its Vacuum Fit boot system with a two-zone (formerly there was just one) moulding process. The bifurcating system means compression zones and controls can be operated separately for the front and back of the boot. The result: higher mouldability making for better heel retention, and the ability to create a little more space and comfort for the forefoot. While the fitting system stays in the shops, consumers will bring back the results with better-fitting boots. Thirteen new boots come with Vacuum technology, including Fischer's best-selling 100mm-lasted Progressor 13 (130 flex) and the 11 (110 flex), and the women's Zephyr 110 and 80 flex boots, as well as the all-new Transalp tour-specific models.
Canadian carbon
G3's lineup goes carbon, and 90 per cent have a new, lighter-weight construction. Check out its Big Mountain Empire and Empress, its All-Mountain Districts and Cakes, and even its new backcountry pole selection. Come to think about it, it's only G3's skins and new Ion bindings that contain no carbon.
New threads
Atomic launches a full outdoor apparel lineup this season. Look for its Primaloft and breathable Pertex-branded combinations onslope this season.
Tour of duty
Melding its design expertise on both Nordic and Alpine disciplines, Fischer hits the touring crowd with its superlight Transalp series, from its hyperlight AlpAttack at 65mm underfoot to its 88mm model. More descent-centric skiers might look at its Hannibal 100 and 94 (according to waist widths) offerings. Throughout the line, Air Tec cores come rounded to reduce mass on the edges, while a Ti mounting plate underfoot and carbon stringers supply lightweight torsional rigidity.
Walk mode

Last season, sales of alpine/AT boots in North America were up 27 per cent in units sold. No doubt their non-slip, rockered soles, improved walkability, relative lightness and comfort are making them a hot choice among skiers—whether they hike past the gates or walk to their cars.