---
What's the latest in ski gear? Where's the sport heading?
When we take a step back and look around there are trends in motion, changing the landscape in ski width, media, sunglasses and head protection. Here's where you'll get educated, so on that first chairlift ride this winter you'll be the one geeking out on the latest and greatest.
BACKCOUNTRY-WORTHY BOARDS
Skiing beyond ski resort ropes may be what a lot of us want to do, but the reality is that most skiers still spend the majority of their time exploring within the patrolled boundary. In response, ski companies are making some wicked skis that can tackle both sides of the line with equal skill. They're light enough for the skin track, but powerful enough for carving groomers back to the lift at high speed. This may be the most active niche of the ski world. New entries include: K2 Wayback, Fischer Ranger, Rossignol Seek 7, Völkl VTA 108 and 98, Armada Tracer, Scott Sight, LibTech Wonderstick, G3 ROAMr 100 and Faction Prime.
THE IDEAL WIDTH
The hunt for the perfect width for the quiver-of-one ski continues to narrow. Better float even with a slimmer waistline means Whistler skiers who preferred 110mm a few years ago now opt for closer to 100mm today. Meanwhile, the reverse is true in the East. "The trend is for Ontario skiers to move out of the ski racing and carving ski mould to be more open to wider widths in skis," says Allan Chow, owner of Toronto's Sport Swap. Rather than something in the 70 to 80mm range, they're discovering that better construction means an extra 10mm underfoot only adds to the fun.
LIKE A BOOK COVER
When it comes to ski gear, judgment on first blush often tells the whole story. An exception: visor helmets. Some skiers think they look geeky, helicopter pilotish or at the minimum, way too Euro. Put one on though and the world becomes a better place. Anyone who wears glasses will appreciate how easily they fit over specs. And compared to goggles the visor is much easier to deploy, a boon for everyone, from seniors to parents to cellphone users. As well, there's no gap between helmet and goggle, so no ice-cream headache. It's possible to easily swap lenses on some models. And never again will goggles boing off the back. Even cost shouldn't be a hindrance: the sticker price may be more than most helmets or goggles, but is equal or even less than buying top-shelf versions of each individually. Bollé was one of the first to try this style of lid, introducing models in Europe six years ago. This year they bring their Backline Visor helmet to North America. The polycarbonate visor is shaped to fit most face shapes, and is removable for easy and quick adjustments to the conditions. If you're really looking to stand out check out Uvex's helmet 300, a visor helmet with some wild colour and shiny finishes. Salomon's new Driver Plus, Mirage for women and the Grom Visor for kids are the most conventional-looking option. Alpina and Head also sell visor helmets.
MONEY IS NO OBJECT
When a company sets out to design a new product, it usually starts with a price in mind. No matter the goal, it becomes the limiter on innovation and materials. That's changing. In the quest for the ultimate kit, companies are tossing this plan with the belief that skiers want and will pay for the best.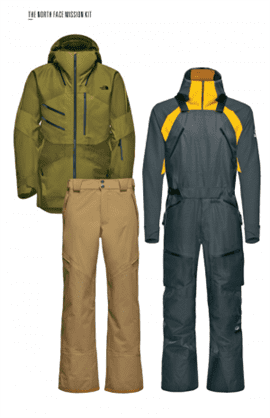 Take The North Face Mission Kit, an eight-piece collection of gear designed by polling its pro athletes for their must-have apparel features. The result, says TNF-sponsored Canadian freeskier Ian McIntosh, "is that it hugs the body, flows with my movement and fits like skin." Borrowing design from motorcycle racing, the jacket is cut to fit a skier in motion, rather than at rest. Price never entered into the equation. The result is the pinnacle Gore-Tex Fuse Form Brigandine 3L GTX Jacket and Pants.
Faction Skis had a similar design process with its new Prime family. The engineer's dream was to create a big-mountain-capable ski light enough to carry up a couloir. The Swiss-based company spent three years tinkering with shape and premium materials. The more than $1,200 ski sports a multidimensional sidecut and a special carbon fibre topsheet that uses less glue to save weight and beef up strength. The Prime 3.0 weighs 1.7 kg, several hundred grams less than most freeride skis of similar dimensions.
This is all old news to Stöckli. The high-end skimaker spends 12 days building each ski, manually passing it through 63 individual steps. That's about 25 more than most manufacturers—and done by artisans working on Swiss wages.
THE THIRD R
From source to resulting new product, the ski industry has lots of examples of recycling during production.
Atomic Revent Goggle Case
Atomic collects the off cuts from making ski boots and turns them into the goggle's hard case.
ROAMr elle 100
The liner is made from recycled plastic left over from making cars, while the shell is made from corn bio-plastic.
Shred Simplify Natural
Parts of the goggle are made with resin left over from making snowboards.
Bureo Ocean Collection Sunglasses THE YUCO
Melting Chilean fishing nets into sunglass frames keeps them out of the ocean and the landfill.
Patagonia Powslyaer Jacket and Pants
The first time Gore allowed recycled fabrics with its waterproof membrane.
ROTATION PROTECTION
The research shows that helmets do a good job of protecting from lacerations and slow-speed impacts. At high speeds the impact is often too violent for a lid to protect the brain enough, but a new crop of ski helmets is challenging these findings from the side. Most of the innovations are based on MIPS, Multidirectional Impact Protection System. Built into many of the top helmets from 45 brands including Giro, K2, Oakley, Smith and more, MIPS mimics the way cerebral fluid protects the brain from angled impacts, basically, allowing the brain to move around inside the skull. To achieve this, helmet makers add a slippery layer between the foam and the helmet shell, allowing the foam to cradle the skull and move within the shell. Helmet makers using MIPS technology claim this allows a little bit of movement, absorbing some of the impact during an angled collision. The gold standard for many years, MIPS is now being challenged by proprietary copycats. POC's SPIN system uses pods of silicon gel to deflect sheering forces in five new helmets, three race, one kids' and the more all-round Auric Cut ($260; pocsports.com). POC claims its system fits better, weighs less and absorbs more impacts than MIPS. Meanwhile, Salomon's new visor helmets use its 40EPS to absorb 30 per cent more impact than helmets without it.
SQUARE INSPIRATION
Six skiing inspired Instagram accounts to follow:

Ryan Creary @ryancreary

Robin O'Neil @robinoneil

Chris Davenport @steepskiing

Jerry of the Day @jerryoftheday

Candide Thovex @candidethovex

Ian McIntosh @ianmcintosh

And editor Iain! @skiiniain

Tags: alpine gear, backcountry, Buyer's Guide, helmets, ski gear, trending