---
Before cellphone bewitchment, liability fears and political correctness, skiers used to be a wild and crazy bunch.
The cardinal rule of ski vacations dawned on me one night as I was dancing (on a table) at Mont Tremblant's infamous nightspot Le P'tit Caribou. Nearby, a woman representing a certain ski resort, couldn't keep her hands off some guy she'd met at a pharmaceutical conference going on at the same time. "Ha-ha, aren't you married?" I quizzed. She just giggled. "Hey, what goes on the road, stays on the road." It would be several years before the Las Vegas Convention and Visitors Authority adopted a similar phrase as its advertising slogan.
"Après-ski" is what happens in those twelve hours between clicking out of your bindings and snapping awake to an incessant alarm. Like skiing a hidden glade choked with deep powder, every minute of après-ski yields exciting new scenarios, possibilities and, yes, all kinds of temptation and decisions that are made when "it seemed like a good idea at the time."
Isn't it funny how, despite a lack of cellphone cameras, years later we're able to recall exactly what happened, even find eyewitnesses who were there at "the scene of the crime." After the third or fourth retelling, whatever antics you might have participated in have transformed from fact to fiction to myth to legend.
Like any oral tradition though (so not looking at you, Facebook), narrators can be unreliable. It has not been an easy job to research these stories, although apparently a certain statute of limitations has reached the baby boomers, who are responsible for much of the ski world's infamy. Boys (and girls) have grown up to be men and women and sometimes risk-safety managers and resort CEOs. As previous indiscretions are laughed off, the Ski Canada readers here had no problem resurrecting some rowdy moments from the mists of time.
Off the slopes and, until now, off the record.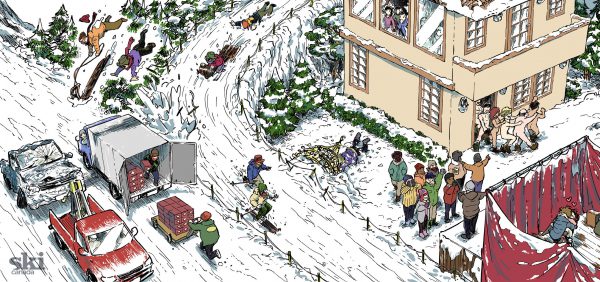 SUV TESTING AT LE MASSIF
Contributed by: Someone not associated with Rossignol, K2, Salomon, Elan, Blizzard or Völkl, Collingwood
There was that time back in the mid-2000s when the boys from a certain major ski company arrived at Le Massif in a brand-new SUV loaded up with test skis. If you've never been to Le Massif, you actually drive up the backside and arrive at the top of the resort and ski to the bottom near the shores of the St. Lawrence. There's a road to a small town at the base of the mountain, but after a serious après-ski session, the boys jumped into the truck and decided to take a shortcut down one of the ski runs. Well, no matter what you've seen in ads, turns out that even the best SUVs can't handle an icy ski hill, and they ended up "inverting" their sweet new ride hors piste, as they say en français.
"The tow truck dragged the SUV, or what was left of it, upside down all the way to the bottom of the mountain," our source told Ski Canada. "Of course, the vehicle was totalled, and the insurance wouldn't cover the damage because the accident didn't happen on an actual road." No word on whether the off-road racers are still working in the ski industry.
POACHING IN THE MOONLIGHT
As told by: Bett'r Not Tell, Kamloops
The winter of 1999-00 started on an ominous note: we were on the verge of Y2K, while some waited for the world to end, the Prince song was coming true and we were told to party like it was 1999. I was working at a nameless Okanagan resort when I got a late-night call from a friend to meet him, with my ski gear and a headlamp, at an undisclosed location (have I already said too much?). The long-anticipated opening of some new huge terrain was the next day and our midnight mission was to poach it. With the help of a snowmobile, which may or may not have been procured legally, with lights blacked out like something from Hogan's Heroes, we managed to put first tracks in bottomless snow, under a full moon, with a very select group of co-conspirators. Of course, as I have matured and worked my way up in the ski industry, I would never condone similar acts of subversive behaviour. However, that sweet memory of poaching moonlight pow is definitely all-time.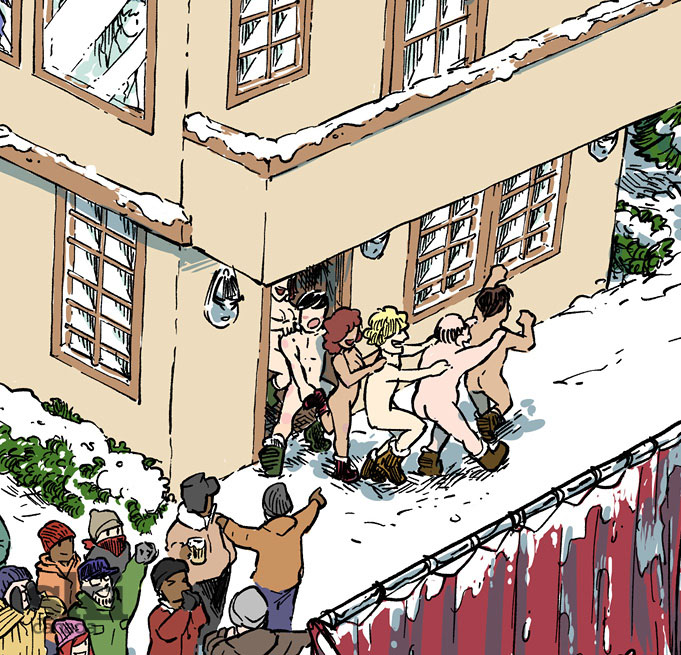 TOD MOUNTAIN'S WINNING STREAK
Contributed by: Jamie Doran, former Ski Canada ad rep, Ottawa
Streaking—the fad of "running naked through a public place as a prank or dare"—hit epidemic proportions in North America in 1973. That included Tod Mountain (now Sun Peaks) near Kamloops, B.C.—the resort where I spent two seasons after university learning how to ski big mountains and deep powder. The staff members in those years were a wild bunch—young Canadians from across the country (plus a few draft-dodging Americans) all there to have a good time. And we did.
The first streaks at Tod began simply enough but soon escalated. "Skin to win" was the cry. One group ran the entire length of Kamloops's Thompson Park Mall and into a waiting car much to the shock of busy Christmas shoppers. Instructor Derek W., wearing only a silver space blanket held on by goggles, skied Expo, the showcase run in front of the day lodge, and then slowly sauntered past the lift line. Any doubts that he was a natural redhead were definitively dispelled.
But the pièce de résistance occurred one Sunday afternoon. It would more accurately be described as a sit-in followed by a stroll rather than a streak. Three notorious staff members—Uncle Al, Neil S. and Mike M.—walked into the Bierstube where I bartended promptly at 3:00 p.m. as they always did and ordered their usual beer. This time, however, they wore nothing more than shoes, belts and mischievous smiles. I knew right away this was going to be a long shift. They sat down and proceeded to drink their beer as if nothing was out of the ordinary. At first their lack of clothing was unnoticed by the other staff and regulars as they rolled in, but that soon changed. Before long everyone began to shed their clothes, including me (I was stripped down when I went out to clear tables). Males first, but in the spirit of freedom and equality of the time, the women soon joined in.
As the numbers grew, someone came up with the brilliant idea of forming a conga line and wound it upstairs and through the dining room just as most of the ski-weekers were sitting down to dinner. The parents sat in shock, while the kids were sent downstairs only to gawk through the windows at the bacchanalian scene taking place in the Stube.
When the irate parents came down to gather them up and cover their eyes, one particularly angry father yelled out, "I'd sure like to meet the manager of this place."
Peter "Many Names," our fearless Ken Kesey-like leader and the GM of the resort, was standing right beside him. He turned and said, "That's me."
The man sputtered that he understood most of the naked participants were staff. "Why don't you DO something?" he said. "You should fire them all!"
Peter replied, "Do you want to ski tomorrow?"
That silenced him. Eventually the revelry ended when the beer ran out and, believe it or not, most of the ski-weekers stayed and were able to enjoy the rest of their holiday, although the staff got some pretty strange looks over the next few days. Luckily, most of them were not recognizable with their clothes on.
HEAD-BANGING AT SUNSHINE VILLAGE
Contributed by: A backcountry skier called to the bar, Canmore, Alberta
My story begins at après-ski in the Goat's Eye lounge at Sunshine, back in the pre-gondola '70s when the five km ski-out to the parking lot was narrow, icy and fast. Being high school students, "what could possibly go wrong?" meant drinking as many jugs of overpriced Molson Golden draught beer as possible before the 5:00 p.m. last call. At which point we staggered out to our skis, stomped into our bindings and clipped our safety before hollering, "Last one down is a rotten egg! The idea of a helmet was non-existent.
On a particularly sharp corner, Chuck straight-legged a shadowy mogul and flew off the trail. I have a lasting image of him rocketing between two tightly spaced trees. His skis traversed the tree trunks and stopped dead, at which point his bindings released him to the extent of his safety straps. He plummeted a good two metres to the forest floor, where he lay prostrate and very still. I tromped over to his limp body and berated him, "Chuck, it's getting dark. Let's go!"
After a few moments he regained consciousness and with a start, staggered out to the trail and put on his skis. We arrived at the parking lot at dusk and piled into Chuck's station wagon. The norm back in the day was, "if you're going to drink and drive, don't forget your car keys," so Chuck slid behind the wheel and drove. Half an hour later, he started mumbling to us: "What happened? Where are we?"
Of course, we were passed out in the passenger seats, the confused yammering of our concussed mate falling on deaf ears.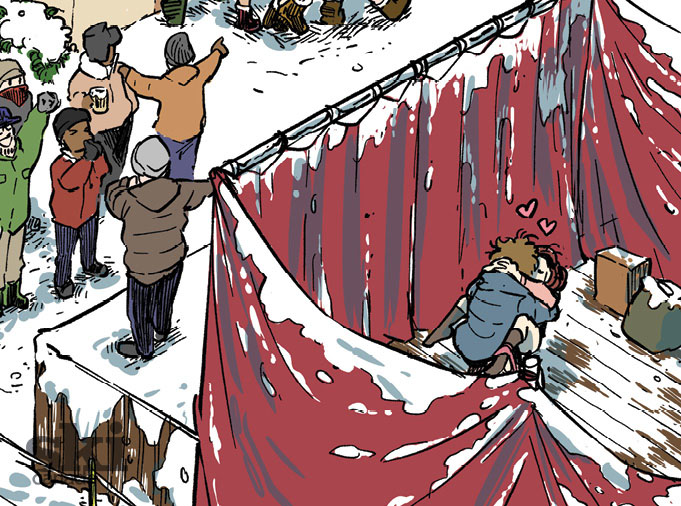 FREE LOVE AND FREESTYLE IN THE SEX-CRAZED '70s
Contributed by: Bob Jamieson, Kimberley, B.C.
I recall waking up on the edge of the road into Park City, Utah, after a party to end the hot-dog circuit event there in 1978. Cars and trucks rumbled past my head as I lay in a creek in the ditch with my ski boots still on. Yep, boots still on.
All I remember from the night before is playing poker and some guy loses and hops up on the table, drops his drawers and moons us all. Individually.
Oh, and the two hot-doggers who won the contest, best male and female, started shagging backstage while we were waiting for the awards ceremony to start. Someone pulled back the curtain on them and they just waved and continued with their horizontal folk dancing. They got a standing ovation.
–––––––
Editor's note: Decades before #vanlife became a thing, Bob Jamieson's 3,000-word "Me and Truck" appeared in print. Like Jack Kerouac's On the Road, the story inspired thousands of young men and women to "tune in and turn on" to ski resort life in the North American West.
SKI CANADA CORRESPONDENT SMELLS OPPORTUNITY
Contributed by: Grant Lamont, Whistler
My wingman Buckwheat (aka one-time Ski Canada writer John Colebourn) and I were working at the World Cup races in Lake Louise back in the '80s. I was driving the Swiss women for week one and the Swedish men for week two. Our fixer Reto had lined up sweet digs for the drivers at Deer Lodge and Buck was bunking with me, while expensing another room on the magazine's dime. That Ski Canada expense account funded our fun and our favourite fuels for the week.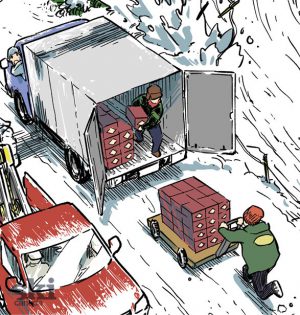 On the final day of racing, one of my athletes, Freddy Nyberg, went into the net in the super-G and banged himself up. After I got his clothing to him, my cellphone rang. Buck discovered three full pallets of beer were abandoned in the VIP and media room, so I made haste to the Post Hotel to meet him.
While I was getting into my van, I saw Jan Einar Thorsen and Atle Skaardal of the Norwegian ski team getting ready to go to Fernie for a Nor-Am race. I went over and told Atle about the beer and they jumped in their van and drove over. When we pulled up and they got a look at the volume of unclaimed suds, they pulled all their ski stuff out and filled their van with beer.
There was a big truck taking gates and some other stuff to Fernie, so they asked the guy to drop their gear at the mountain for them. We drove in tandem to Fernie and sold half the beer to town bars at 50 per cent off. We split the money 75/25 with the Norwegians; we got the bigger slice for our "discovery" while they got paid for "transportation."
We then shot off to Blue River with $3,500 cash and blew the wad heli-skiing four days with the proceeds.
–––––––
Editor's note: Rope-ducker and The Province reporter John Colebourn passed away November 2017. Alberta meat-packing baron and former Progressive Conservative party leader nominee Peter Pocklington once took a swing at the dogged reporter in an Edmonton parking lot.
SWINGING STAFF PARTY
Contributed by: J.P. Lodge, Alberta
It was "the most wonderful time of the year" at a Christmas bash held at a certain Fairmont Hotels property in the beautiful Rocky Mountains, when someone decided to, you know, "really get this party started." Climbing onto the fireplace mantel in a fancy rented log cabin posh enough to host British royalty, said partygoer—his identity still a secret (he might have been an off-season pipefitter)—decided to swing through the sky on the dining room's expensive chandelier. Except that the chandelier violently ripped out of the ceiling and came crashing down onto the guests who were rarely seen out of ski garb. Rather than terminate the festive mood, our source told Ski Canada, "that's when the party really began to take off. There's more that I could tell you but, um, this is a pretty small town." Rumour has it that the swashbuckling guest was offered Peter O'Toole's role in a re-make of My Favourite Year.
OF TARPS & TOBOGGANS
Contributed by: Anonymous, Times Two
I recall a party between Christmas and New Year's back in '85 or thereabouts in a big chalet at the base of the Cut Chair on Grouse Mountain. After consuming massive quantities of wine, beer and whisky, some people had the bright idea to drag two heavy rescue toboggans from the chalet all the way to the top of the Cut and then have a race back down to the chalet. They proved impossible to steer on the icy piste of man-made snow. One group plowed into some trees at the side after becoming airborne over a big hump. The other group managed to keep going, lost a few bodies on the way down, but then—hurtling along at terminal velocity as the end of the run approached—realized that there was no way of stopping the thing. Some folks bailed and the rest just rode it out, crashing into the trees and barriers at the bottom of the Cut. There were many injuries, including some broken bones, but, ah, nobody died.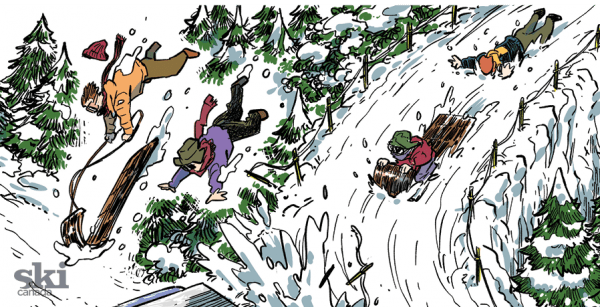 It was 3:00 a.m. in February 1988, and at least 10 of us staying at the University of British Columbia (UBC) ski cabin thought it would be a great idea to go tobogganing on the Dave Murray Downhill. Not being able to locate enough toboggans, we thought it best to haul a large blue tarp up the mountain so we could all ride together. Poor decision. On the steep hardpack, there were two key things we did not anticipate: a tarp slides very, very fast with a boatload of people on it; and, you cannot steer a tarp. After gaining considerable speed, our expressions of joy turned to fear as we blew past a turn in the run and ended up in a ditch, bodies piled on top of each other. The ones on the surface extracted those at depth, and thankfully only bruised, we hobbled back to the cabin for a nightcap.
–––––––
Editor's note: Both contributors kindly requested anonymity, however, both wear iron pinkie rings from UBC.

Tags: Featured