---
Panorama was a nice change of pace for Diana Coulter and her boys after nine years in India
by Diana Coulter; photos Evan Mitsui from 40th Anniversary issue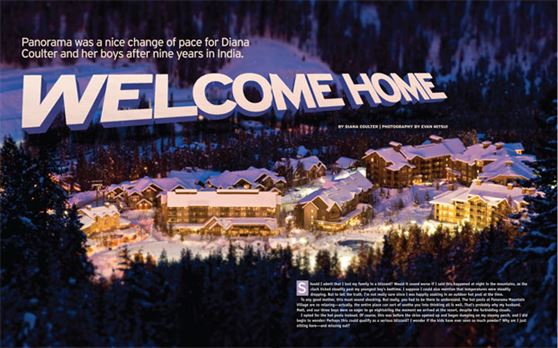 Should I admit that I lost my family in a blizzard? Would it sound worse if I said this happened at night in the mountains, as the clock ticked steadily past my youngest boy's bedtime. I suppose I should also mention that temperatures were steadily dropping. But to tell the truth, I'm not really sure since I was happily soaking in an outdoor hot pool at the time.
To any good mother, this must sound shocking. but really, you had to be there to understand. The hot pools at Panorama Mountain Village are so relaxing—actually, the entire place can sort of soothe you into thinking all's well. That's probably why my husband, Matt, and our three boys were so eager to go nightskiing the moment we arrived at the resort, despite the forbidding clouds.
I opted for the hot pools instead. Of course, this was before the skies opened up and began dumping on my steamy perch, and I did begin to wonder: perhaps this could qualify as a serious blizzard? I wonder if the kids have ever seen so much powder? Why am I just sitting here—and missing out?
***************************************************************************************************************************************************************
No need to worry, though. Not only could I catch glimpses of the lights still beaming down on nearby ski hills, but I could also hear the lifts humming and plenty of excited skiers cruising past. And sure enough, only moments after the hill finally closed that night, my boy gang could be heard above all others as they shoved each other into the billowy snowbanks. Best of all, the snow kept coming for hours, so the next morning we could experience it again—together.
I should explain that our family had recently returned from living in India for nine years. This is relevant because until now our idea of a ski holiday with the kids had, for years, involved the Himalayan Mountains, monkeys and machine-gun-toting lift attendants. Each year, during the equivalent of March break there (which is actually in February), we had gone to a ski resort called Gulmarg in Kashmir.
Gulmarg is in a war-torn part of India, where insurgents cross over from Pakistan and create havoc, and sometimes kill villagers and Indian army officers stationed there, but only when the mountain passes are open in the summer. However, we always felt perfectly safe with everything frozen over. And besides, there were lots of guys with guns just standing around
who were happy to help our kids with their ski gear. We also had access to some of the best backcountry skiing possible (without a helicopter) because French-built gondolas there now go up to a breathtaking 4,000 metres.
Suffice it to say, we were used to a somewhat different family ski experience. Imagine my children's sheer delight when they first saw Panorama. Ever since Rick Jensen and other investors took over the former Intrawest property, the place has billed itself as a Disney-like family ski destination. Certainly, the description fit perfectly as far as our gang was concerned.
Tucked between B.C.'s Rocky and Purcell mountain ranges, Panorama offers a dizzying array of activities that don't just involve skiing: movie nights, wagon rides, a dedicated tobogganing area, campfires, hot pool bingo, and jewellery-, soap- and candle-making—and, new this season—tubing! For adults, there are spa treatments, the country's best day heli-skiing, special lesson packages like "Women & Wine" and more. Every moment of each day seems to offer multiple options.
Yes, we were a long way from the après-ski scene at Gulmarg, which essentially involved going to bed early and trying to get warm before the power shut off. To us, Panorama was surreal at first sight.
We had been hearing about the place since moving to Calgary. While we had skied some weekends around Banff, we kept running into people who made a beeline straight to Panorama. This included our friends from Ontario, who opted to hop on the resort's daily shuttle bus directly from Calgary's airport. They never paused to say hello. Twice. They told us not to take it personally. It was the hassle-free hillside accommodation, they explained. The kids (and parents) were eager to get to the hot pools and do a little nightskiing, they said. It was a great holiday and they just wanted to spend every moment there.
So, for our first March break back in Canada, we decided to try Panorama. Since 2011 was already a record-breaking year for snowfall, we knew the spring skiing conditions were going to
be exceptional. Of course, there was also that small blizzard on our first night.
The next morning, when the clouds parted, we did wonder whether the place would now be crawling with crowds of child-toting people just like us. But much to our surprise, we never got snagged in lift lines. Even though there were plenty of snow-happy families, it always seemed easy to escape to a more remote part of the mountain where we could whisk straight onto a chairlift.
Our little party quickly branched out down Pano's massive vertical with its long, smooth cruisers; the place is best known and loved by groomer-aficionados (especially skiers from the East). But for those who love the steeps or deeps, Panorama also has slackcountry cred. With its former heli-ski terrain of chutes, bowls and glades in Taynton Bowl, and places like the Extreme Dream Zone or View of 1,000 Peaks (which delivers on its promise), there is no end of choices.
The baggy pant crowd also benefits from the space and never seems to hog the scene. Either they're off exploring the back bowls or enjoying the new Rockstar Terrain Park with its intermediate and expert jumps, rails, bumps, banked corners and rollers. The boys had fun taking quick blasts through the park.
We had no trouble wearing ourselves out our first day. And then doing it some more that night under a sky full of stars.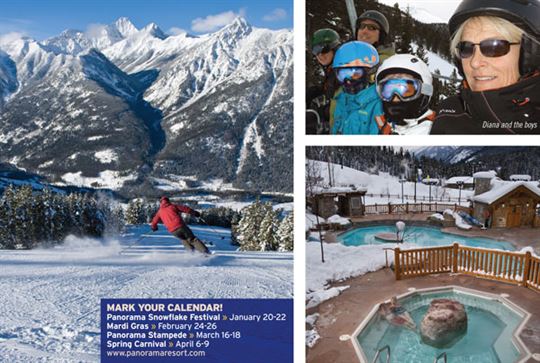 The next day we tried another new experience. Since our youngest was hesitant to take his first-ever ski lesson (and happily assumed that he knew everything from Mum and Dad's infrequent pointers), we all decided it was high time we took a lesson. Together.

Luckily for us, Jason Simpson, Panorama's ski school director, agreed to freshen up the skills of our motley family crew of mixed abilities. As we took turns demonstrating our abilities for him, Jason told us that families don't often choose to learn together. The scenario of using ski school for daycare while adults have couple time on the slopes (or maybe just a snooze) is the norm, but we had a blast and by the end of our hour, we skied off better than we'd started and with some great tips that we could actually remember.

That night, we celebrated. Rather than assembling our regular rushed pasta in the condo kitchen, we put our ski gear back on and rode the Mile One Quad chairlift to a tiny hut at its top. There, we watched others nightskiing while we dipped our fondue forks into bubbling cheese, followed later by chocolate. Needless to say, it was a big hit. If we had booked earlier, there's another popular hut at the mountain's summit where fondue is followed by runs down by torchlight. Good to know for next time.

The rest of our holiday flew by in this semi-dream-like manner. The kids were usually up at dawn and the first on the slopes, followed later by their coffee-soaked parents. It was comforting to know there wasn't anywhere in the well-planned village that the kids could really wander off. And guerrilla warfare wasn't going to break out, either.

By the end of our visit, the boys had settled on their favourite parts. My eldest loved the off-piste areas of Taynton Bowl. The youngest was definitely fond of fondue. And my middle guy learned from Jason's lesson that he defi nitely had an aptitude for ski racing, if only his parents would buck up and find him a program.

And what of Mum and Dad? Well, we were so relaxed from all the easy living, great skiing and perfectly worn-out children. We were thrilled not to have to worry that a wild monkey might
run off with our bag lunch, or that the lifts would grind to a stop each day at prayer time for an hour or more. We did miss our gun-toting buddies, though. They were so great at encouraging our kids to gear up quickly. ❄

Tags: 000 Peaks, B.C., BC, Extreme Dream Zone, Featured, Gulmarg in Kashmir, Himalayan Mountains, India, Jason Simpson, Mile One Quad, Panorama, Purcell Mountains, Rick Jensen, Rockstar Terrain Park, Rocky Mountains, Taynton Bowl, View of 1