Reading Time:
10
minutes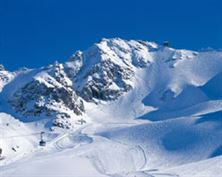 Pounding music, hoarse yells, diminishing inhibitions and a crush of costumed but not heavily clad flesh beggar the senses. Per Jonsson, pro rider, is sporting a short dress, shaved legs, stubby pink fingernails and an inane grin as he attempts to maintain balance with the help of twin beers and the shoulders of two virtually interchangeable chalet girls from the U.K. It's Beach Night at the Pub Mont Fort—after 25 or 30 or however many years, still the defining scene-setter for the ever-morphing mass of young foreigners who make the youthful pilgrimage to Verbier to define themselves—in their own eyes and, hopefully, in the eyes of their peers—as skiers of the mountain and personages of the village. Also the hangout for those who remained—some of whom look just a few years away from the retirement home. As the night wears on, events degenerate and it quickly becomes time to change the subject….
You'll have guessed that an article combining two wildly divergent ski resorts like Leukerbad and Verbier would employ some kind of "fire and ice" approach—compare and contrast—and you wouldn't be wrong. Where Leukerbad is modest and even defensive, Verbier is nothing if not assertive and boastful. Where Leukerbad is quiet and sedate, plus offers some of the most generous pricing I've seen in Switzerland, Verbier is unashamedly upscale in every category. And why not? For decades it has attracted not only ski bums and dirt bags, but famous freeriders, photographers and filmmakers, celebrity-tourists, the rich, the narcissistic, the plain curious, some who come to work and earn a living and actually stick around, and an enduring coterie of solid North American advanced to expert skiers who see Verbier as the pinnacle of skiing in the Alps.
Up on the mountain, where Leukerbad is compact (though by no means simplistic) in its terrain, Verbier is vast and immensely varied both on- and off-piste. That goes not merely for its objective size—94 lifts, 1,800 vertical metres of lift-serviced skiing and more if you descend to the valley floor—but for its intriguing and at times bewildering three-dimensionality. There are equally large or even bigger ski areas that, because they consist essentially of lifts rising to either side of one or two valleys, are easier to decipher. Verbier is a jumble of peaks and drainages—some of them completely hidden from view—going in all directions. Some peaks, like Mont Gele, offer multiple descents in three or four directions. A lifetime's worth of exploring.
One could barely cram lists of all Verbier's possibilities, its history and its personalities into one story, let alone begin to describe the experiences. Instead I'll limit myself to three vignettes, experiences during last April's visit with three very different locals or near-locals—which show three of Verbier's many faces.
***************************************
Marie-Claire
A tall, slim lady with a large backpack strolls into the lobby of the Hotel Rotonde, the solidly bourgeois three-star establishment well-situated on the main road between Verbier's most raucous fleshpots and its main access lift. Marie-Claire is a veteran mountain guide who looks over the "American" (me) with an angled smirk. As soon as we start up the mountain, it's clear that a lot at Verbier has changed in the 11 seasons since I was here last with Ski Canada editor Iain MacMillan. Phenomenal new lifts—quad and six-seat chairlifts as well as high-speed gondolas—rise hither and yon. There's a fast new gondola from the valley bottom at Le Chable, which knocks out the steep ascent of tight switchbacks to Verbier, making it an obvious choice for day-skiers and a good alternative for budget-minded destination visitors as well. As we ride higher and transit to farther lifts, we find the pistes wide and groomed to perfection.
With a lot of good skiers about and not that much new snow, Marie-Claire's preference today would have been to slap on skins and go far from the lifts and other skiers. But since much of the crew is on alpine bindings, she opts to show us some classic routes accessible off lifts, with solid bootpacks winnowing the skier-traffic. We ride first the monstrously large Jumbo cable car to the Col des Gentianes, then the smaller peak cable car onto Mont Fort, at 3,300+ metres Verbier's highest lift-serviced point. There's a steep mogul face down the front side. But even heading in the opposite direction, toward Mont Fort's famous Back Side, we still find various bizarrely inept guided skiers skidding and sideslipping and even snowplowing along the entry traverse (which rolls away to big cliffs below). After a few turns, Marie-Claire veers away from this absurd gong show—such crowds sometimes being one of the downsides of Verbier's enduring fame—and gestures toward a steep boot back onto a ridge.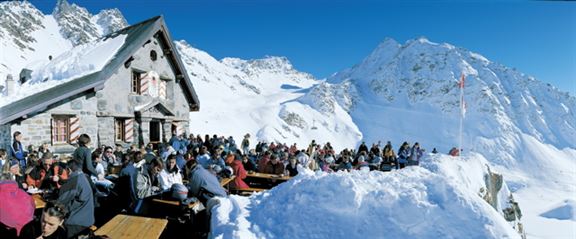 Wonderfully, marvellously, 15 minutes of effort yield an empty glacier covered in perhaps 20 cm of fresh if slightly heavy and moist powder: the Glacier du Face Nord de Mont Fort. Great turns, followed by more veering (though no more walking) lead to a longer, steeper pitch, and we're at Lac de Cleuson. This dramatic reservoir is part of a stunningly intricate hydroelectric mechanism involving dozens of dams, diversions plus hundreds of kilometres of gallery bored through the rock to move water from remote alpine valleys to the most advantageous position for producing electricity. Very impressive—perhaps a larger-scale manifestation of the mentality that produces the world's finest watches. We skate, pole and glide along a narrow trail above the lake, then ski down beside the enormous concrete face of the dam to Tortin.
Two lift rides bring us to Chassoure above Lac des Vaux, and to a series of traverses, sidesteps and bootpacks to first one, then a second tight col. Several classic and locally famous descents start from this area: Rock Garden, Hidden Valley, various routes into Vallon d'Arby, which contains a marked ski route, plus one couloir I've wanted to ski for 20 years. The Swedish ski bums call it Bakka Kakka (Bake a Cake), semi-local long-time expats say the real name is Couloir du Vallon d'Arby, but Marie-Claire, the real local, said it's the Couloir Menton. Whatever it's called, the Three Names Couloir offers 700 vertical metres of straight fall line from a narrow col onto a vast apron, much of it at around 40 degrees, generally shaded—and in full view of the gaping crowds down on the ski route. Tough to beat.
Today, sadly, rather than a triumphant fast descent in powder, it's a disappointing and somewhat arduous series of zigzags around clumps of rocks, patches of crust, zones of refrozen death cookies and, at times, grim hop-turns through unavoidable instances of same. The run-out is just plain hard snow—which in contrast seems heavenly. My right-place, right-time homily from Leukerbad comes to mind. Great terrain, wrong day. Next time, perhaps. As we glide through the pleasant larch and spruce woods of the Vallon d'Arby, it's clear the snow is simply falling apart with today's low heavy cloud trapping heat and humidity. We ride lifts to Savoleyres, the ridgetop that reconnects to Verbier, have a pleasant lunch of pasta and salad, and ski out to town in a mixture of snow, graupel and drizzle. April can bring anything.
Jonas
Alert readers will remember the appearance of Jonas Delogne in numerous past stories about exploring the Alps: Zermatt, Courmayeur, the Val d'Anniviers and others. This freerider extraordinaire, former ski-jumper, ex-Calgarian and sometime pro skier who regularly appears in magazine photos got hooked on Verbier in his late teens. He subsequently settled in a tiny village in the Val de Bagnes below town. It's now the base from which he spends winters skiing in Verbier and around the world, and his summers operating a construction company that renovates chalets for wealthy foreigners. Jonas, in other words, has got it dialled.
Martin Soderqvist and the pro riders having departed, I spend the second half of my week in Verbier exploiting Jonas's kind hospitality. Verbier for sure is unique, one of the foremost skiing villages in the Alps, but the wider valley has an ambience having nothing to do with skiing. It's unmistakably Swiss-French, dwellings and hotels leaning toward faded stucco and French-style shutters and rooflines far more than German-style chalets. The grass was a dazzling green and horses were grazing in a small pasture next to Jonas's apartment building. The village of Le Chable is very sleepy, with at best three restaurants and a couple of pubs. Expats like Jonas and his Finnish roommates were tending to hang out at Le Rosbeef, a small tavern that offers simple and cheap meals and is run by an expatriate Brit.
Jonas, being busy with a combination of photo shoots and preparing for summer work, was only able to meet and ski with me once. I knew he wanted to show me a side of Verbier from his standpoint—that of the veteran expat with eight seasons under his belt. Over the years he and his close friends, like photographer Yves Garneau, have explored and discovered routes around Verbier that make even phenomenal descents like the Three Names Couloir seem both tame and unimaginative by comparison. This late in the season, unfortunately, many of Jonas's favourite haunts were either crappy snow or inaccessible. But not all. More snow had been coming down in weird squalls and flurries over the past couple of days, the terrain being only listlessly skied by decreasing numbers of tourists and ruinously hungover, partied-out ski bums.
A huge, hidden north-facing bowl to looker's right of the Col des Gentianes cable car has long drawn ski bums and off-piste warriors. Its steep (though short) bootpack earned the nickname Stairway to Heaven. Later the more veteran expats gave it the derisive moniker Stairway to Sweden for its ever-teeming presence of ever-changing Scandinavian ski bums. Jonas curls his lip in disgust at this scene, but he loves a lower, shorter run that ironically sees far less traffic. The expats simply call it Highway. Easy to reach from the same traverse, today it held about 25 cm of dense but eminently skiable powder, its smoothness and lack of bumps making it pleasant even in the poor light.
Way over to our right, those following the marked (but never groomed) ski route to Tortin were pounding, flailing and cartwheeling over fields of ice bumps, all but invisible in the murky light. It's inexplicable to me why the resort still refuses to groom the only two marked connections from Verbier to the rest of the vast lift system stretching from Tortin all the way to Nendaz and Veysonnaz—terrain that makes up half of the trumpeted 4 Vallées system.
No matter. Next up was one of Jonas's daily jaunts: Mont Gele, the sharply pointed 3,000-metre peak above Attelas, served by an aging and charmingly bizarre single-cabin cable car. It's low in capacity and quick to generate a lineup during good conditions, but the clear benefit is sharply limited traffic that prevents Mont Gele from being churned into bumps on the first morning after a storm. From the peak Jonas traversed at full speed along a knife-edged ridge, then walked fast around and over some rocks, then traversed again above cliffs and over bumps as casually as skiing a blue piste.
I was struggling somewhat, partly at my sudden placement on some pretty wild and unfamiliar terrain, partly from not knowing how high the exposures might be (many weren't high at all—but I couldn't tell at the time). Suddenly I felt like one of the hapless punters I'd sniggered at the day before. It's all relative, I guess. This was the backyard of Jonas, a fellow who over the years had soared to a higher plane of skiing, one that I'll never attain. At one point we had to crawl over naked rock around an outcrop, my smooth alpine boot soles skidding and slipping jarringly, and I briefly wondered if I'd see my wife, Laurie, again. That's another dimension of Verbier: contemptuous of weakness, unforgiving of mistakes up on the mountain.
At last we were at the objective: the infamous Banana Couloir, one of Verbier's premier off-piste descents. There was a solid 30 cm of powder blown in, and the turns were simply phenomenal. I skied down the guts, and all the effort and stomach-tightening were cast aside and forgotten. Jonas opted for some intricate set of offset mini-couloirs linked by mandatory airs. He skied fast, with casual confidence and a strong but supple physicality, like strolling across the kitchen to the living room sofa, a man in complete command of the terrain, his skis, his body and his mind.
These were nice runs, but I knew Jonas was just scratching the surface of his vast knowledge. He'd long regaled me with stories of truly consequential descents like Bec des Etagnes, Bec des Rosses and various secret couloirs and faces spilling off Verbier's many lateral ridges, descents that remain unnamed and unmentionable in print. For me, they would have to remain stories—either until next time, or perhaps forever. For Jonas, they're home.
Jean-Marc
Finally, a spring-like day after weeks of almost continuously stormy weather. My friend Jean-Marc Wyss, a true Valaisian who lives in a house on the wine-growing hillsides above the Rhone River below the ski resort of Crans-Montana, pulls into the parking lot in Le Chable. "Hey, buddy!" Jean-Marc cries. "I brought you some of that local white wine you love so much." Valais not only produces nice vintages of well-known grapes, its vintners also grow varietals that are rare and even unique to the region. I especially love the Petite Arvine and the Amigne—a grape known since Roman times but today grown on just a few dozen hectares worldwide.
But "Jim", as he calls himself, is here not to compare oenological understanding, but for one last big skiing day. We've decided to explore the outer reaches of the enormous 4 Vallées lift system. Jim hurtles maniacally down the pistes above Verbier on his long race skis, me skidding wildly on my fat boards with touring bindings, their edges trashed from 20 straight skiing days in variable conditions, in a futile attempt to stay on his tail.
Delightfully, there's been enough of a melt-freeze to promise corn snow on certain sunny exposures, and so the day becomes one of charging down pistes until we see a likely slope off the pistes, banging off a lap or two, then continuing. We find that Rock Garden, perhaps Verbier's classic powder descent for entry-level off-piste skiers, is virtually empty today. Perhaps because far fewer skiers know what corn snow is. Rock Garden is the first real corn snow of the year, and it's superb from top to bottom. After three weeks of nearly continuous powder skiing around the Alps, this feels almost better than powder: that one inch of semi-melted, slurpee-like gelled water-ice over a base that the sun and the cold night have rendered smoother than any grooming machine could.
With grins on our faces, we blast back onto the piste and glide past Tortin, ride the new high-speed chairlift from Siviez onto the Greppon Blanc and in doing so enter an older, more traditional skiing zone. The area stretching from Siviez to Veysonnaz and Thyon (if you have time and the right lift pass, you can even connect by bus to the remote resort of Evolene) just doesn't get the ultra-rich clientele, the crazed freeriders or the mass of skier-visits—nor, it seems, the cash flows to fund the fanciest facilities. Yes, one has to ride some T-bars. But what delightful terrain one finds—huge open snowfields, far less naked rock—and so much less travelled than the Mont Fort area. No visit to Verbier is complete without some exploration of these outer reaches—especially at times when the core terrain around Mont Fort and Mont Gele is skied out, crowded or hard bumps.
The afternoon becomes a series of T-bar rides and hurtling descents of beautifully groomed, sun-softened pistes or corn-snow slopes off the pistes. Our greatest descent is found not with a guide, nor through insider tips, but merely through good old keeping our eyes open and checking it out. Veering rightward off a T-bar above Thyon, we find lovely and solidly steep slopes of terrific corn snow running through naturally spaced stands of mountain pine. Jim and I each pick a personal fall-line corridor and stay in touch through our whoops of delight. We're miles from Verbier, gazing down at the Rhone Valley stretching westward, its villages, cities, freeways and airports like tiny perfect models in a child's playroom. We can see Crans-Montana and Jim's home slopes. It's almost achingly wonderful. Too soon it's time to go—back to Verbier for the night, back home to Canada and back to the non-skiing life.