---
ANDREW FINDLAY headed to Northern Escape Heli-Skiing in his search for pristine powder in a pineapple express season.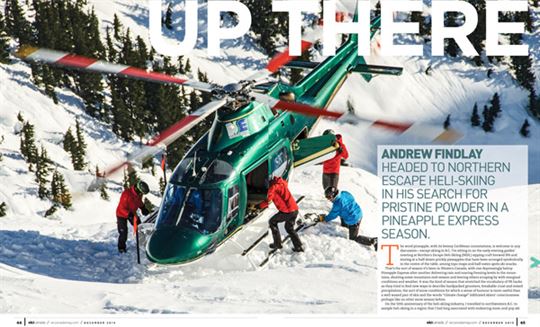 The word pineapple, with its breezy Caribbean connotations, is welcome in any discussion—except skiing in B.C. I'm sitting in on the early evening guides' meeting at Northern Escape Heli-Skiing (NEH,) sipping craft-brewed IPA and staring at a half-dozen prickly pineapples that have been arranged symbolically in the centre of the table, among topo maps and half-eaten après ski snacks.
That's the sort of season it's been in Western Canada [ed. note: this article was written about the writer's experience in the 2014/2015 ski season], with one depressingly balmy Pineapple Express after another delivering rain and soaring freezing levels to the mountains, shutting some mountains mid-season and leaving others scraping by with marginal conditions and weather. It was the kind of season that stretched the vocabulary of PR hacks as they tried to find new ways to describe hardpacked groomers, breakable crust and mixed precipitation; the sort of snow conditions for which a sense of humour is more useful than a well waxed pair of skis and the words "climate change" infiltrated skiers' consciousness perhaps like no other snow season before.
On the 50th anniversary of the heli-skiing industry, I travelled to northwestern B.C. to sample heli-skiing in a region that I had long associated with endearing mom-and-pop ski hills like Hudson Bay Mountain, above Smithers, and Shames Mountain west of Terrace. NEH is based a few hundred metres from the Skeena River, a river of renown proportions when it comes to steelhead fly-fishing. However, the Skeena Mountains, which rise on either side of the Skeena, are obscure in the realm of skiing, lacking the iconic appeal of the Bugaboos, Selkirks, Monashees and Cariboos.
A week before my mid-February trip, Terrace made national headlines because of a snowstorm that dumped nearly two metres of snow at sea level. Then the freezing level spiked. Par for the course for my ski season so far. Now a warm breeze gusts and water drips audibly from the roof of the guides' hut. The phrase "very little overnight recovery" catches my attention in the conversation. It has nothing to do with drinking too much, or hangovers. In guide-speak, it means overnight temperatures aren't dropping low enough to firm up the snow, and below a certain elevation and on sunny aspects conditions are going isothermal—code for "barely skiable." The upshot? Go high and aim for north-facing features. Thankfully we're heli-sking, not ski touring.
The next morning, I tramp out from my room at the Yellow Cedar Lodge to the helipad with a couple of my skiing partners for the day. One of them is Kevin, a 60-year-old hydrologist from Steamboat Springs, Colorado, whose daughter won this heli-skiing trip in an online contest and then graciously gifted it to him. The other is the entrepreneur who invented the Boa lace system and also a Coloradoan who coincidentally was once a neighbour and acquaintance of the hydrologist before relocating to California.
We load into the Koala chopper, one of the only such sleek and fast helicopters in use in B.C.'s heli-skiing sector. Before long we gain altitude above the Skeena River, a braided waterway punctuated by sandbars and side channels. NEH's terrain is split into four main quadrants bisected by the Kitsumkalum and Skeena rivers. We're headed to the zone dubbed, optimistically, The Promised Land, with guide Mikey Olsthoorn and Yvan Sabourin. We have two factors in our favour: low avalanche hazard and bluebird visibility.
We touch down atop a run called Sleeping Beauty Bowl and huddle while the Koala departs in a cloud of spinning snow to collect the second group back at the lodge.
"These are the shiniest conditions I've seen all season," Sabourin says, referring to the melt-freeze alpine conditions that literally shine in the morning sun.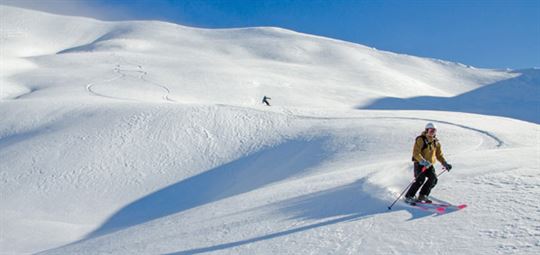 Luckily the temps have been cool enough in the alpine to preserve slivers of dust on crust between the hard pan that has yet to corn up in the morning. Sabourin manages to thread the needle for our first run, mining the terrain for the right aspects holding cold powder snow. The conditions are fast; the light, ankle-deep powder barely allows us to scrub speed as we charge down the 600-vertical-metre run to warm up the legs. It's one of those days, with unlimited visibility and rock-solid stability, that allows heli-skiers to rack up some serious vertical—and expense if a rider exceeds the daily average of roughly 4,400 metres that's included in a classic week-long package.
I'm also pleasantly surprised by the snow. It's far from blower, magazine-cover quality, but decent considering the sound of water dripping from Yellow Cedar Lodge's gutters that I listened to while drifting off to sleep last night. And besides, I'm extremely easy to please when it comes to skiing. Corn, crust—supporting and non-supporting—cream, groomers, edge-able hardpack and powder, I will find a way to have fun on pretty much anything other than blue ice.
The year 2015, which many heli-skiing operators chalked up as one of the worst seasons for snow and weather in recent memory, had a lot of people talking about climate change. For those in the snow business, there seems to be more uncertainty around the very commodity that has made B.C. heli-skiing such a globally coveted experience—light powder snow.
"For quite a few years now, operators have been talking about the changes they are seeing with glaciation, annual snowfalls, winter temperatures, flight conditions and other weather occurrences, and that dialogue is ongoing," says Ian Tomm, executive director of HeliCat Canada, an organization based in Revelstoke that represents the interests of Western Canada's heli- and snowcat-skiing sector. "We are living in a period when 'best ever' winters are possible, but as that possibility increases so does the possibility of tough winters like what we saw last year."
Next up is a short blast down Sleeping Beauty Ridge, where again Sabourin manages to pluck a few pieces of ripe fruit from an otherwise barren tree. Clear skies and concrete stability allow for playful skiing, popping micro cornices and using the wind rolls and scoops for banked high-speed turns. At this latitude of northern B.C. the treeline sits low, at 1,000 metres or less, making the Skeena Mountains seem higher than they are in reality. The peaks top out at around 2,200 metres, while Yellow Cedar Lodge sits at 60 metres, barely above sea level and a short stroll from the banks of the Skeena.
John Forrest, owner of Northern Escape Heli-Skiing, is an Edmonton-born entrepreneur who worked first as a ski guide before cutting his business teeth at the age of 22 by launching a cat-skiing operation in the Kootenays. He calls it a financial loser but a great learning experience. From there he headed north to work at Last Frontier Heliskiing and eventually took an interest in the company, which he sold after 13 years.
"It was time for me to do something on my own. I wanted somewhere that had good terrain and was easy to access," he says about the search that led him to the Skeena Mountains, adding that European guests can leave home in the morning and be having dinner at the lodge that evening.
He skied with his first guests in 2004, and today operates three helicopters with capacity for 28 clients at a time. Last year Forrest added cat-skiing to the program, a bad-weather contingency for days when choppers are grounded but snowcats can still shuttle skiers to the powder skiing.
By day's end Kevin's and my legs are begging for a hot tub and après-ski beverages after bagging the vertical equivalent of Mt. Everest in skiing. Not epic quality, but that's the beauty of a helicopter—for those who can afford the luxury, it's a sports car of the sky that can more often than not deliver you to where the snow is light and it swirls from the tails of your skis in spindrifts of white. If a bad winter frustrates guides, reinforces the notion that our winter climate is not what it used to be and occasionally leaves a client feeling shortchanged, it doesn't seem to be hampering bookings. In mid-February, when I skied with NEH on the heels of a Pineapple Express, Forrest says he was already 60 per cent sold out for the 2015-16 season.
"The weather cannot be controlled and thus you get what you get. Mother Nature rules. Generally it's awesome skiing, sometimes it's not great and sometimes it even sucks," Forrest says philosophically. "However, it's always great to be out in the mountains skiing in amazingly wild places with friends and family."
As skiers, our only option is optimism.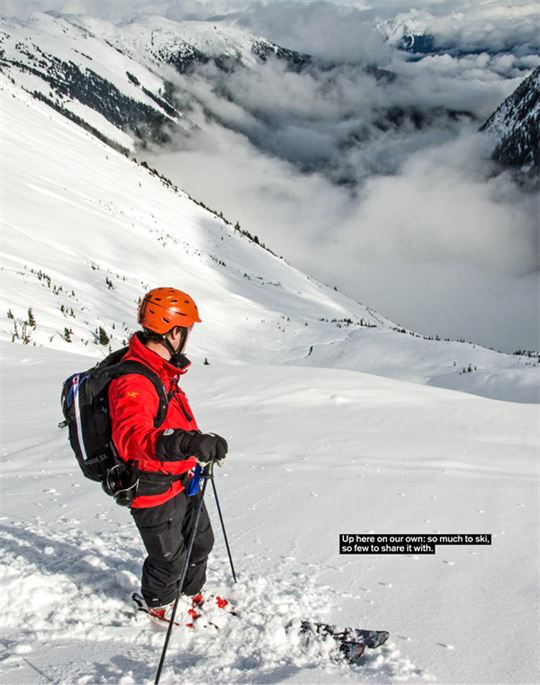 Tags: BC, British Columbia, heli-snowcat skiing, Helicat Canada, Northern Escape Heli-Skiing, Yellow Cedar Lodge