---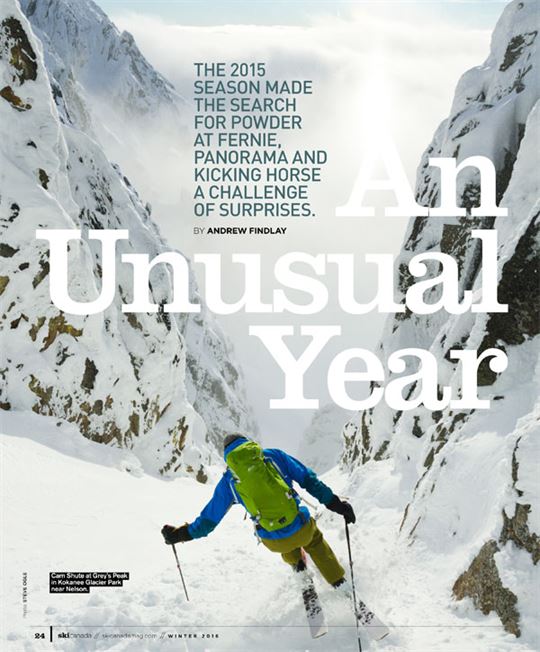 There's something wrong. We're a day into a Powder Highway road trip and so far there's been no powder—or even a whiff of marijuana. I'm travelling with a handful of skiers, among them an American from Telluride, Colorado, the U.S. state that recently legalized pot. He's upset by the lack of Kootenay-ness in our Kootenay road trip so far.
The name "Powder Highway" emerged from a clever branding exercise. To be fair, if you had to bank on skiing powder anywhere in the world, your money couldn't be more safely wagered than in south-central B.C., where moisture-laden weather systems conspire with the Monashee, Selkirk, Purcell and Rocky mountains to make skiers happy.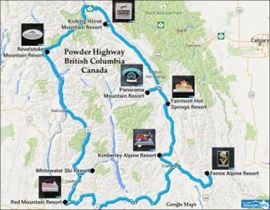 Nature pays particular attention to the southeastern corner of B.C., where Fernie is found for instance. As winter weather-fronts march east from the Pacific Ocean, they first unload on the rugged Coast Range, and by the time these systems hit the Columbia Mountains, they have recharged with moisture from big interior lakes like Okanagan and Shuswap. Snow falls again, this time in dreamy, fluffy, feather-light quantities.
Fernie overlooks the charming town of the same name, tucked into the Lizard Range. It's a magical piece of geology that lies in the snowiest part of the Canadian Rockies. Here, where the craggy range sits perpendicular to the normal north-south axis of the Rockies, intense local weather systems recirculate over the mountains often dumping coastal quantities of snow. However, there are no guarantees, especially last season; it's weather, after all. Sometimes you win, sometimes you lose.
We had risen early this morning at Fernie Alpine Resort for First Tracks, the program that many now offer to allow early access to the goods. It was raining lightly, so American wisely inquired, "Don't you usually go for the First Tracks experience when there's powder?"
Two hours later we're riding up the Timber Chair, sitting next to Robin Siggers. The sound of edges scraping on firm snow below is an audible indicator that so far on this three-resort tour of the Powder Highway, which includes Fernie, Panorama and Kicking Horse, I'm losing in the 2015 powder sweepstakes. Snow is always best when felt, not heard.
"The conditions suck right now," says Siggers, oddly cheerful.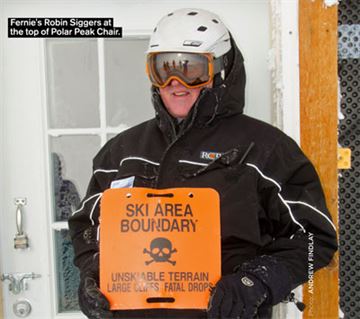 This guy loves skiing. As operations manager, he probably bags more days on snow than an airline pilot logs hours in the air. He loves skiing so much that he's out here today, on his day off, even with conditions sucking, shredding like a 25-year-old. It says a lot about the mountain.
Siggers, who grew up in Vancouver skiing Whistler, discovered Fernie in the early 1980s when that delicious term "Powder Highway" wasn't even a twinkle in someone's eye, and escaped Whistler before it inevitably became the scene that it is today. He never left Fernie.
I follow Siggers as we rip some groomers, then make our way over to the Polar Chair, a recent addition to the resort's uphill capacity and inbounds terrain to the tune of 100 extra hectares. Wind whips sideways, scouring the slope below us. We offload, then grope our way down the steep, smooth and edgy lift-line run in flat light and fog. A bumpy traverse leads across to a spine of trees overlooking Lizard Bowl.
Siggers heads to a gap in the fencing next to a sign that says Corner Pocket, a spicy little couloir that squeezes through a pinch in the cliffs before fanning into wide-open Lizard, one of the resort's five bowls. A fixed rope is available for people to use for a sideslipping body rappel. Siggers drops in and, holding the rope, executes a sideslipping abseil to where the chute opens up. He releases the rope and after a trio of tight jump turns, exits the couloir then waits for me in the lee of a vertical limestone cliff that trims the bowl. I opt against the rope and pop jump turns skier's left of the rubber tires that are waiting to catch an unsuspecting edge, placed there to help the precipitous opening hold snow. This wind-polished entrance gets my adrenaline pumping.
Skiers like Siggers are smart—they go to where the goods are. Fernie's terrain always delivers, but the powder goods are hard to find today in this season of bad snow, so we lap some bowl runs in the flat light and hard snow and eventually retreat to the Griz Bar at the base, which claims the title "#1 Ski Bar in Canada," an honour no doubt awarded after vigorous and impartial scientific study. We assemble at a wooden table as long as three shuffleboards stacked end-to-end and polished smooth from decades of après-ski pints and elbows. And, Siggers tells us, it's also been polished by a long-time local female who celebrated her 50th birthday by sliding naked along this very same beer-soaked table. I grimace at the thought, then raise my pint. The American does the same.
******************************************************************************************
The next evening it's snowing as our van winds up the road headed for Panorama. American is happy. So am I. Fluffy flakes sparkle in the headlights. When we pull into the Panorama central check-in, I start to feel the flutter of a minor powder stoke, a sensation that's been hard to come by this season. Ten cm have already accumulated on the parked cars, and after check-in our gang convenes around the bar at Monticola, where our non-skiing bartender Adam mixes up a round of Italian Gunfights, a house cocktail special.
The next morning, I'm sitting next to Snow School Director Jason Simpson, swinging my skis, excited to snack on some powder. The chalkboard at the bottom of the lift said 12 cm of fresh. Simpson takes us straight to the goods on the backside, Taynton Bowl, a swath of black-diamond terrain that was opened in 2001 and seriously raised the bar for Panorama. After a brief bootpack and sidestep along the ridge, we stop next to a sign that reads Donny B's, a long run with a roughly thousand metre vertical drop that pays tribute to one of Panorama's favourite sons and Ski Canada's long-time instruction editor Don Bilodeau.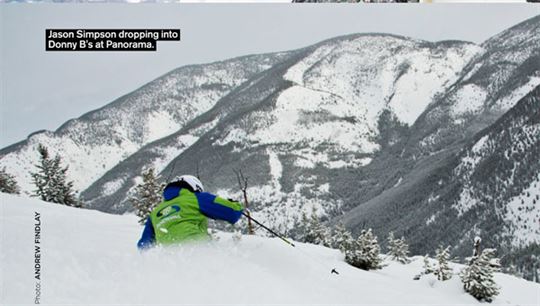 "Don Bilodeau was a mentor of mine. He and his wife ran a privately owned ski school at Panorama for 25 years," Simpson tells me, before pushing over the lip.
Donny B's offers up some playful terrain, gamy and steep at the top but with soft and forgiving moguls to help check speed. Few have ventured this way so far today. The fresh snow is light and deliciously low density, the kind that scrubs little speed from your downhill trajectory. I snake through glades skier's right, finding untouched snow, then arc a hard left turn when tightly spaced trees force me back into the guts of Donny B's. So pumped am I to be skiing powder that even after a semi-full day of skiing, followed by an early-evening fondue feast at the Elkhorn Cabin, I'm champing for a little more. I decide to do a few laps of nightskiing on the Mile 1 Express, then regroup with the others at Monticola—again.
************************************************************************************
With four days on the Powder Highway now, legs are feeling fit and acclimatized when we arrive in Golden, where the Kicking Horse River tumbles into the Columbia. Somehow the snow that fell on Panorama skipped its Columbia Valley cousin Kicking Horse Resort. That night, stars sparkle as I poach my limbs in the Palliser Lodge Jacuzzi. The next morning, we ride up the Golden Eagle Express gondola, with Big Mountain Guide Steve Fisk. Our eyes scan the bony ridges that cut the Dogtooth Range and divide Kicking Horse into four main zones of downhill fun. Top-to-bottoms at Kicking Horse are legendary. Stack a few of these 1,260-metre verticals back-to-back and you'll be feeling it.
I love place names. They usually tell a story, or allude to a life well—or at least memorably—lived. Back in 1858 a horse gave the boots to an explorer on the Great Divide back, giving Kicking Horse Pass its name. In the 1990s, skiers with vision gazed up at the rugged Dogtooth Range and dreamt of a ski resort that would match the impressive topography of these Purcell peaks above the town of Golden, laying the foundation for Kicking Horse Resort. It's been 15 years since the first lifts cranked up at KHR, transforming what was then a mom-and-pop local hill into an internationally renowned ski destination.
Kicking Horse never fails to get me excited, even in the absence of fresh powder. Perhaps it's the view from the Eagle's Eye restaurant at the top of the gondola, looking west at the Matternhorn-esque spire of Mt. Sir Donald. Or the scene that unfolds below as you ride up the gondola, the Columbia River more than 1,600 vertical metres below and snaking northward against a backdrop of endless Rocky Mountain summits. But really it's about the skiing, all 1,100 stunning hectares of it.
"People who are new to this mountain sometimes struggle to find their way around. That's why they hire me," Fisk says, while we amble off the gondola and head over to the map for an area overview. For a skier of my taste, the topography of the Dogtooth Range is tantalizing. A series of three ridges plunge down from the Dogtooth Range crest, dividing the terrain naturally into four prominent features: Crystal Bowl, Bowl Over, Feuz Bowl and Super Bowl. Together these bowls offer a tasty selection of wide gullies, steep pencil-thin couloirs, benevolent open basins and rolling groomers that will test your stamina and leave your thighs feeling like rubber by the time you etch turns for 1,260 vertical metres all the way down to the ski racks outside Peaks Grill.
Fisk has an idea. He's off. American and I follow. We execute speed-check turns down the icy cat track, blasted from the flanks of Ridge, that deteriorates into a trail with clothesline-height fir branches and compressions that could explode Erik Guay's knees. After desperate survival skiing, the trail spits us atop the steep snout of the ridge. This is one of the places Fisk and his friends go to find powder when it's been days since the last storm. A glade opens below, lightly tracked. Avenues in the forest beckon, barely wide enough to permit a skier or two. American and I fan out in search of lines that require a minimum of high-speed tree dodging. It's not pretty. Moments of blissful powder are fleeting between squelches of sun-warmed chop. Fisk is a Level IV instructor and coach who makes today's testy snow conditions appear pedestrian.
Twenty minutes and a gondola ride later we're back at the summit. After pre-jumping a little camel bump on the cat track toward T2, we kick out of bindings and shoulder our skis. Fisk, our earnest guide, gives us a quick bootpacking lesson before embarking on the well-stomped trail to T2. American looks at him with an expression that says, "Hey kid, I've been skiing since you were in diapers."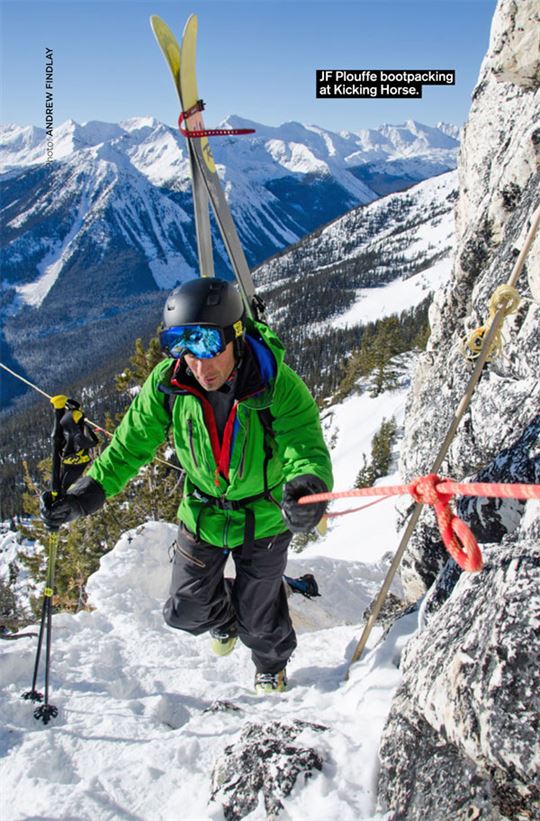 From T2 we attack the mellow summit bowl in as few turns as possible, then ease into Evil Empire, a couloir that bisects the north ridge of T2. Jump turns at the top give way to lazy looping arcs as I entertain myself on a wind scoop skier's right. Here and there exposed shale and quartzite serve as geological prompts telling me to turn. American and I are puffing when we regroup with Fisk on the flats below.
Next up is Terminator. There's no disputing it; unless you're logging a lot of back-to-back days on the boards, Terminator is a long, relentlessly bumpy abomination designed by Satan himself and it will terminate your legs—full stop.
"#&$@#* I hate moguls," American says.
Halfway down, every fibre of my thigh muscles begs for mercy, but there is none. I'm a skiing masochist so I enjoy the pain. Relief comes only when we follow Fisk onto the wide-open groomer that funnels back to the Eagle Express base.
It's been a good week, in spite of the record-stingy winter. American seems content, though he feels slightly cheated out of the lack of powder—and pot. The biggest surprise was that Panorama, known for its long, cruisy groomers, came up the unlikely winner in our Powder Highway sweepstakes. But once you ski in this part of the world, it's hard to forget. Just ask Robin Siggers. He discovered Fernie three decades ago and never left.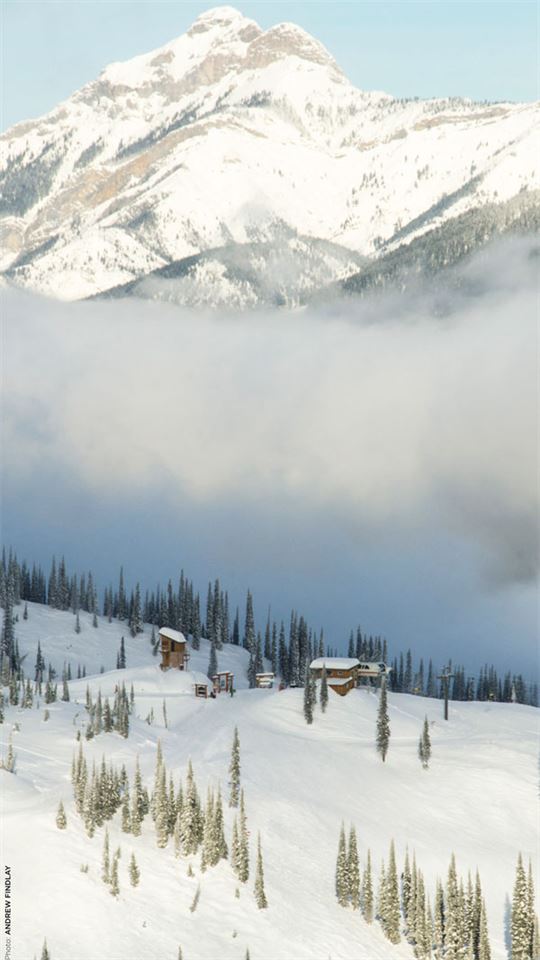 Tags: abseil, Donny B.'s, Fernie, Griz Bar, Kicking Horse, Lizard Bowl, Panorama, Polar Chair, powder, Powder Highway