---
A week in the Alps for GEORGE KOCH allowed time to explore both Lech and Engelberg.
Winding towards my beloved Arlberg region of Austria on a bright March afternoon, running my eyes far up and across terrain I'd been dying to ski for the first time in a dozen years, I couldn't pick out a single untouched pocket of powder. The rippling treeless flanks of the Albona above Stuben were tracked to a degree that would have been unimaginable on my last visit, let alone when I roamed the area as a 20-year-old ski bum. As our taxi shot out from the snowsheds of the craggy Flexenpass near Zürs, another of the swank villages that make up Austria's largest interconnected ski region, I could see the previous week's powder tracks welded solid by melt-freeze cycles. I had spent more than 200 ski days on previous visits scouring the Arlberg from St. Anton's Rendl area miles south clear to the farthest lifts north of Lech. I was resigned; there'd be no powder on this visit.
Yet, within 90 minutes of meeting our guide, Daniel Schwartz, at Lech's venerable Rüfikopf cable car the next morning, my friends and I were swooshing down settled north-facing powder two valleys beyond anything I'd skied in all my previous Arlberg explorations. I laughed at myself. The skiing was magical and the adventuring that I've always considered intrinsic to off-piste skiing exhilarating. Had we timed our arrival to the last dump, we would merely have repeated past descents. Instead, after a one-valley traverse and a 45-minute ascent by skins, we were exploring a giant new valley, the Bockbachtal, that would take us to a taxi pickup more than 20 km from Lech.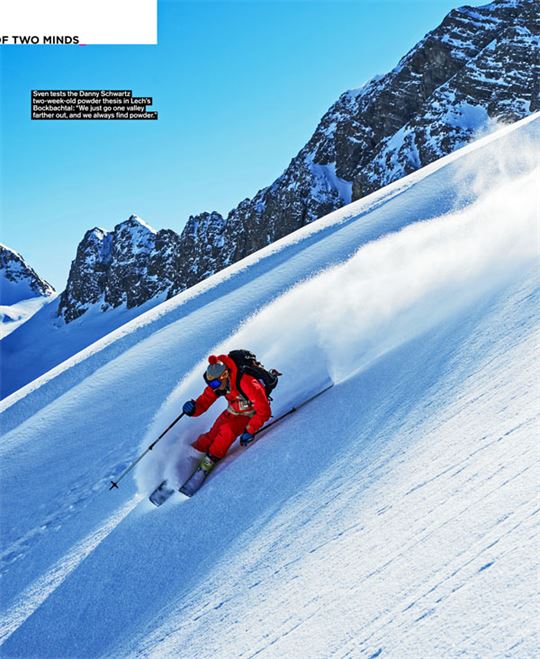 "The Arlberg was always big for off-piste skiing, but nowadays there are even more freeriders," explained Danny in the Austrian-accented German that always warms my heart. Compared to High German, Austrian is slightly analogous to the drawl of southern Americans. The Austrians also take a pointedly more laid-back approach to life than their more serious, more rule-following German rivals to the north. "But even today, not very many freeriders really like to walk uphill," continued young Danny, still in his 20s and just a few seasons into life as a ski guide. "So when it hasn't snowed in a while, we just go one valley farther out, or one more, and we always find powder."
The Bockbachtal wasn't better, steeper or longer than much of the Arlberg's voluminous roster of backsides and side-valleys. It was simply great. And, critically, it was north-facing. Meaning no melt-freeze crust. Daniel artfully farmed the valley's terrain, leading us on additional uphill traverses, bootpacks and short skin ascents to transform one descent into a series of beautiful powder runs, turning the valley's 1,300 metres of absolute vertical into 2,000+ vertical metres of skiing.
The exit trail passed above some impressive rollaways plunging into a gorge with a rushing creek, the icy and bumpy track seeming particularly slick above the highest drops. Soon we were safely in fragrant woods on a snow-covered logging road, and not long after that we came upon an endearing little square-timbered, slate-roofed cabin. There were no other guests, and just one young woman working solo. I thought we'd be lucky to get old bread and yesterday's soup, but the plucky Tyrolean set about preparing a separate Austrian speciality for each member in our group: Danny and me, photographer Martin Söderqvist, pro rider Sven Brunso, Nicole Trinker who works in the Lech tourism office, and her friend Moritz Bender.
Martin smacked his lips as he ordered his favourite, Kaiserschmarrn, a weird-sounding though delicious concoction that starts with a very fluffy, thick kind of pancake containing raisins, which is cut up and refried, coated with icing sugar and served with wild cranberry preserves. I went for the Tiroler G'röstel, a pan hash with onions, crispy fried potatoes and coarse double-smoked bacon chunks. The Fräulein served up the best example of this genre in my 35 years of visiting Austria.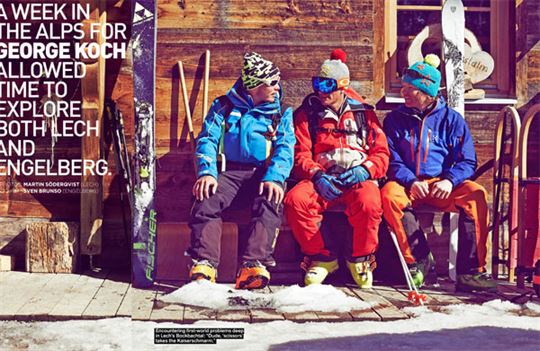 The taxi ride back was shorter than the aforementioned 20 km as we were able to jump back into our skis in Warth. This long-obscure village had quietly expanded to 10 major lifts and, pointedly, last year was joined to Lech's lift system by an ultra-sleek two-way gondola, making Warth truly part of the Arlberg.
The effects on Lech are profound. The connection virtually doubles the Lech region's skiing and multiplies the options for Lech-based skiers, which previously consisted of the mainly gentle slopes around Lech proper or the high alpine terrain around Zürs. Warth has miles of great intermediate cruising in a huge arc around the three-peak massif of the Karhorn, which in turn holds giant slopes of off-piste terrain. All-in-all, an incredible addition and following our big off-piste morning, it was fun to race along well-groomed, sun-softened pistes back to Lech.
That evening we headed for drinks, dinner and revelry in the Schneggarei, one of Lech's hottest spots catering to a younger and (for Lech) non-traditional crowd of freeriders and hipsters from around Europe. For decades, Lech was a chi-chi resort of quietly high-end hotels, upscale boutiques and ultra-wealthy though largely noncommittal skiers strolling about in Bogner suits and fur coats. The town is evolving, I thought to myself, recalling that during the day I'd noticed dozens of youngish couples decked out in the complete freeride panoply, from ABS packs and fat skis to touring boots.
Though dark and woody, the Schneggarei's décor was an arresting sum of equal parts hay-barn, Euro-postmodern and funk. The cuisine also was seemingly selected to surprise. My dinner was comprised entirely of Austrian-raised, organic ingredients—but the end products were a succulent ribeye steak, green beans and a baked potato. All preceded by rounds of cocktails that could have been drawn up in Chicago or New York. While the singular terrain of the Arlberg will never change, much is new in Lech.
After a couple more great days with Danny exploring some diabolically hidden cirques angling off more popular off-piste routes, it was time for a piste day. Moritz, Nicole, Sven, Martin and I again rode the Rüfikopf cable car, but this time hurtled down perfect corduroy toward Zürs. The miles-long groomies were almost as exhilarating for carving as the previous days' powder. An intermediate could roam the Arlberg for days with hardly a lift or piste needing to be repeated, generating similar feelings of exploration and discovery to those going off-piste. After banging off virtually every piste in Zürs, we headed up and through the notch of the famous Madloch and onto one of Austria's most formidable pistes. The 900 vertical metres of north-facing, cold corduroy were memorable.
Our four jam-packed skiing days had barely scratched the Arlberg's surface. We loaded up our taxi with a heavy heart and gazed in longing at terrain we would have loved to hit as we made our way to the village of Langen, where we hopped aboard a Switzerland-bound intercity train.
*************************************************************************************************************
Train transfers in Zurich and Lucerne behind us, we rode a charming little narrow-gauge railway up a long, dark valley. End station: Engelberg. A quick scan of the village map in the train station indicated that our hotel, the Spannort, was just a couple of hundred metres away, so we rolled our wheelie bags through the darkness in the hotel's general direction.Before we knew it, we had deposited our gear in the ski room, boots set out to dry on the heated racks, and were sitting in the hotel's family lounge with owner Stefan Brunqvist and his friend Geny Hess. "Our lounge bar works on the honour system," Stefan explained proudly as he showed us a liquor cabinet crammed with fine Scotches, ports and brandies. "You take what you need and write down your name." Nice.
"When you come to Engelberg, your objective must be to ski the Galtiberg," explained Geny through his bushy beard. In addition to having a long career as a wine merchant, Geny for decades was on the Engelberg lift company's board of directors. And he's a famous ski instructor and off-piste explorer who in the 1960s became the first person to ski the notorious, northeast-facing, 2,000-vertical-metre Galtiberg, with its three mandatory make-or-die traverses. He also pioneered numerous other tricky routes. The term "character" seemed to have been coined for this always-smiling, good-humoured yet accomplished bon vivant.
As he filled our wineglasses from the bottle of Amigne de Vetroz he had brought over for Stefan to try—it's an obscure white varietal from the mostly French-speaking Canton Valais that has been grown since the time of the Roman Emperor Claudius—I asked Geny what lifetime descent he was most proud of. "None of them," he replied without hesitation. "What I am most proud of is teaching and guiding off-piste for 35 years and never having a single accident or injury." A formidable accomplishment indeed in Engelberg's cliff-riddled, high-consequence terrain. We would be some of Geny's last clients, for he was retiring just days after our visit.
Stefan, meanwhile, told us about how his family had taken over the Spannort Hotel and Restaurant, one of Engelberg's oldest hotels, well-known for decades for its great though affordable traditional cooking. The hotel had gone somewhat to seed, and the Brunqvists set about carefully restoring it. "Our approach has been to preserve the traditional Swiss hand-carved wooden timbers and panelling, while adding some modernist Swedish design touches, high-quality urban-style furnishings, some surprises like folk art, plus excellent modern beds and baths," explained Stefan as he savoured Geny's Amigne. "And ensuring the kitchen continued to be first-rate was key, as our local reputation depends on it." Stefan would prove that last point throughout our stay.
The next morning in the main gondola terminal we met Geny and Christoph Bissig, the mountain's grizzled head of snow safety, whose New Zealand more than Swiss-accented English spoke of his many seasons working at Kiwi ski fields. A fearsome gale was pummelling the mountains and the lifts were closed, though running. No matter. "Follow me, mates," said Christoph, leading us through some serpentine concrete corridors, and on up we went. Engelberg's unbelievable terrain, with its 2,000 metres of lift-serviced vertical, unfolded around us.
Where the Arlberg has a grandiose sweep and breadth creating a terrain matrix with hundreds of descents, Engelberg is breathtaking in its verticality. Gigantic black cliff-walls pile upon slopes, cradle high glaciers, frame sweeping valleys and interrupt otherwise pleasant descents with mandatory traverses. Gondolas, cable cars and chairlifts scale this monumental geological architecture, puny and rickety-looking though solid in reality. Tiny-seeming pistes snake through the tortuous jumble. Square kilometres of off-piste terrain roll along in plain view. The lifts spread out, then converge once more, pointing toward the end-goal: the 3,238-metre-high Titlis. It's scaled by the famous "Rotair," a cable car with round cabins that rotate a full 360 degrees during the ascent.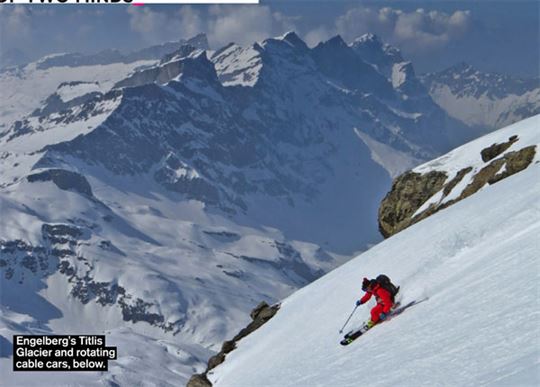 Through swirling cloudbanks and blowing snow we could glimpse massive slopes cradled in a giant amphitheatre formed by three giant terrain features: the Laubersgrat, the Titlis and the Reissend Nollen. There was a dusting of new snow, and both Christoph and Geny thought it would be worth trying a couple of the classic, easy-to-access off-piste runs: the Steinberg below the Titlis glacier, and Stäubli below the Jochstock chairlift.

Our game became sniffing like truffle-snufflers for the narrow ribbons of chalky and very carvable winter snow—some even overlain with a bit of blown-in fresh—snaking amid the huge fields of harsh sastrugi. When we succeeded, the turns were good and even great. When we didn't, well… Christoph and Geny tried their very best, but there was no overcoming Mother Nature. The Galtiberg was out. Its giant opening convex slope was a sastrugi-strewn horror show rolling away to giant cliffs, fatally unforgiving of any skiing error.

As our four-day visit rolled onward, the sunshine returned, we set aside our normal fixation on hardcore 10-hour days of adventuring and contented ourselves with carving the pistes, commencing après ski at a decent hour and enjoying the evenings. The pistes were often great, well-groomed and lightly travelled, winter snow in the mornings, with lower slopes softening into corn after mid-day. Each afternoon we stopped in at the old Untertrübsee Hut sitting beside the main piste running to the valley floor.

We also explored Engelberg itself, a very pleasant village of Victorian Era and older structures. Its stately Benedictine monastery, Engelberg Abbey, was founded in 1120 and was rebuilt in the Baroque style in the early 1700s. The monastery continues to operate a Käserei, turning out a hand-ladled soft cheese. Perhaps fittingly, the village's bars are not as crazed or frenetic as Verbier's or Chamonix's, making it possible to sit over a few quiet rounds of beer or brandy.

Having scratched my way across (or merely viewed) terrain that, in good snow, could make for some of the best skiing of my life, I left Engelberg intent on returning. The hourly trains and good connections to Zurich meant that we were able to spend our last night in the Spannort, rising early and riding directly to Zurich's international airport. When I do return to Engelberg, Geny will no longer be officially guiding, but I'm sure we two old curmudgeons will make an attempt on the Galtiberg at last.

Tags: Arlberg, Austria, Bockbachtal, Engelberg, Europe, Galtiberg, Lech