---
WRITTEN BY RON BETTS  *  TEST CO-ORDINATOR DYLAN SIGGERS  *  PHOTOS BY HENRY GEORGI  *  from Winter 2014 issue
The Fernie Freeride Team proudly announces the arrival 

of some favourites from the twintip toybox.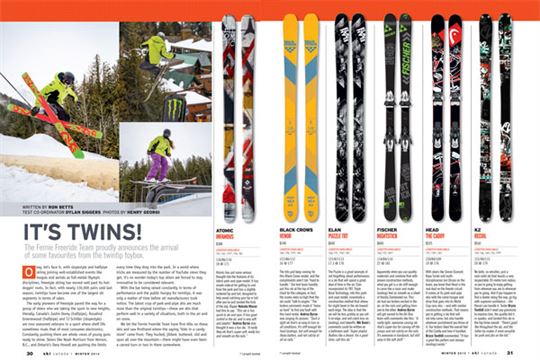 Okay, let's face it, with slopestyle and halfpipe skiing joining well-established events like moguls and aerials as full-medal Olympic disciplines, freestyle skiing has moved well past its hot-doggin' roots. In fact, with nearly 130,000 pairs sold last season, twintips have become one of the largest ski segments in terms of sales.
The early pioneers of freestyle paved the way for a group of skiers who are taking the sport to new heights, literally. Canada's Justin Dorey (halfpipe), Rosalind Groenewoud (halfpipe) and TJ Schiller (slopestyle) are now seasoned veterans in a sport where shelf life sometimes rivals that of most consumer electronics. Constantly pushing them are whole crews of young guns ready to shine. Skiers like Noah Morrison from Vernon, B.C., and Ontario's Dara Howell are pushing the limits every time they drop into the park. In a world where tricks are measured by the number of YouTube views they get, it's no wonder today's top skiers are forced to stay innovative to be considered relevant.
With the bar being raised constantly in terms of performance and the public hungry for twintips, it was only a matter of time before ski manufacturers took notice. The latest crop of park-and-pipe skis are much more than the original twintips—these are skis that perform well in a variety of situations, both in the air and on snow.
We let the Fernie Freeride Team have first dibs on these skis and saw firsthand where the saying "kids in a candy store" came from. They hucked, jibbed, buttered, slid and spun all over the mountain—there might have even been a carved turn or two in there somewhere.
ATOMIC INFAMOUS
LENGTHS AVAILABLE: 151, 161, 171*, 176, 181  *  116/86/116  *  18 @ 171  *  $388
Atomic has put some serious thought into the features of its latest park-and-pipe model. It has ample sidecut for getting to and from the park and has a slightly rockered tip and tail, designed to help avoid catching your tip or tail after you've just landed the trick of the day. Ripper Nakoda Mason had this to say: "This ski is fun, quick to ski and spin. It has good control in the air, and is very soft and playful." Andrea Byrne also thought it was a fun ski: "A really flexy ski that's super-soft, really fun and smooth on the rails."
BLACK CROWS VENOR
LENGTHS AVAILABLE: 165, 170, 177*, 181  *  121/86/112  *  16 @ 177  *  $749
The hits just keep coming for this Black Crows model, and the compliments aren't too "hard to handle." Our test team handily put this ski at the top of the chart for the category; in fact, the scores were so high that the ski could "talk to angels." The testers comments made it "twice as hard" to find any fault with this hard rocker. Andrea Byrne was singing its praises: "Such a light ski that's so easy to turn in all conditions. It's stiff enough for hard landings, but soft enough for those butters, and not catchy at all on rails."
 ELAN PUZZLE TBT
LENGTHS AVAILABLE: 166, 171, 176*, 181  *  121/87/113  *  17.3 @ 176  *  $600
The Puzzle is a great example of not forgetting about performance in a ski that will spend a great deal of time in the air. Elan incorporated its TBT, Triple Base Technology, into this park-and-pipe model, essentially a construction method that allows for slight bevel in the ski toward each edge. The idea is that the ski will be less grabby as you roll it on edge, and will catch less on landings and takeoffs. Nik Dunn's comments could be written on a bathroom wall:"Super playful. Butters like a dream. For a good time, call this ski."
FISCHER NIGHTSTICK
LENGTHS AVAILABLE: 163, 172, 181*  *  114/84/114  *  22 @ 181  *  $600
Apparently when you use quality materials and combine that with proven construction methods, what you get is a ski stiff enough to carve like a racer and make landings feel as smooth as a sheet of freshly Zambonied ice. This ski had our testers excited in the air, on the rails and getting from one to the other. Andrea Byrne will get named to the All-Star team with comments like this: "A really light, awesome carving ski that's super-fun for carving off the jumps and not catchy on the rails. It's awesome in hardpack, but still easy in the soft stuff."
HEAD THE CADDY
LENGTHS AVAILABLE: 171, 176*, 181  *  120/84/109  *  19 @ 176  *  $525
With skiers like Simon Dumont, Kaya Turski and multi-disciplinarian Jon Olsson on the team, you know that Head is the real deal on the freeski circuit. It comes at its park-and-pipe skis with the same hunger and drive that goes into its World Cup race skis—and with similar construction methods. That means you're getting a ski that will not only carve, but also handle whatever punishment you throw at it. Our testers liked the overall feel of the Caddy and how it handled. Bryce Toothill commented,"It has a good flex pattern and stomps landings easily."
K2 RECOIL
LENGTHS AVAILABLE: 159, 164, 169, 174, 179*  *  121/90/115  *  20 @ 179  *  $550
No bells, no whistles, just a rock-solid ski that boasts a very respectable 20-metre turn radius, so you're going to enjoy getting from wherever you are to wherever you're going. And if you happen to find a booter along the way, go big with supreme confidence—the Recoil can handle it. Tester Bryce Toothill didn't need any gimmicks to impress him, the quality did it in spades, and landed this ski in the top three overall: "There's good flex throughout the ski, and the fatter tip makes it more versatile for park and jibs on the hill."
KÄSTLE XX80 COLBY
LENGTHS AVAILABLE: 160, 170, 180*  *  111/80/111  *  20 @ 180  *  $599
Kästle skis have been around since the 1920s and you know that in all that time they've figured out a thing or two about making a quality ski. The manufacturer has partnered with X-Games athlete Colby James West to come up with its freestyle/freeski lineup. Dylan Siggers took the Colby out for a run and had this to say: "The tip rocker is good off-piste. Edge hold isn't its strongest characteristic when skiing groomers but otherwise a good all-mountain ski."
LINE FUTURE SPIN
LENGTHS AVAILABLE: 167, 174, 181*  *  112/86/109  *  21 @ 181  *  $500
The Future Spin was a stellar performer on the groomed, loved the soft snow and really shone when it was time to McFly. Our test team commented more than once on the versatility of this ski, saying it really could do it all. When it came time to give them up, all our testers wanted to get "Back to the Future" Spin, especially Dylan Siggers, who probably wasn't born when the movie came out: "Very poppy and fun. It makes me want to spin into the future! A light, awesome and classic Line. It's super-fun, with perfect sidecut and great graphics, too."
SALOMON SUSPECT RLD
LENGTHS AVAILABLE: 151, 161, 171, 176*, 181  *  122/86/115  *  18.5 @ 176  *  $579
If it weren't for Salomon deciding to take a chance on Mike Douglas and Steve Fearing's idea for twintip skis in 1997, we might all be on snowboards or, heaven forbid, snowblades. Luckily, the 1080 was born and Salomon athletes like JP Auclair and JF Cusson led the way, inventing new tricks daily and inspiring an entire generation of skiers. What that means is that Salomon has a great reputation and legacy to protect, and the Suspect does just that, according to Nik Dunn: "A responsive and super-fun ski. It's stable and great to land on, and also butters very well."
VÖLKL LEDGE
LENGTHS AVAILABLE: 147, 155, 163, 171*, 179*  *  112/85/112  *  23.4 @ 179  *  $400
With the Ledge, Völkl comes to the table with a well-built ski that includes a solid wood core for great stability in landings and excellent pop from one turn to the next. Some of our test team found the tail of this ski a bit softer than they would have liked, while others loved it for easy butters. Overall, testers found it to be a playful ski that was well suited to the park. Here is Erik Zuffa's take: "The soft tail makes for insane butters. This ski held up great through all snow types. A really fun ski!"
* Length tested
SKI CANADA TWINTIP TEAM
Tester Bios 
1. Personal ski or sponsored ski brand?
2. Where did you start skiing?
3. Favourite skier of any era?
4. If you could ride a double chair with one person, alive or dead, who would it be?
5. Would you rather wear a downhill race suit every day or be a monoskier?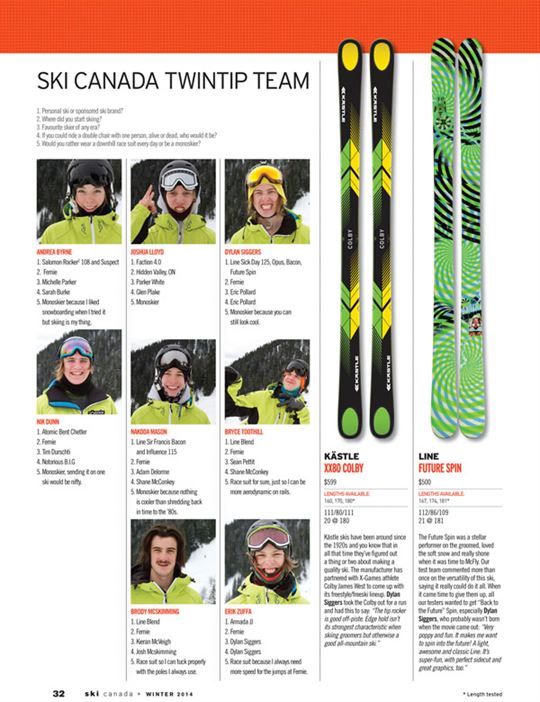 ANDREA BYRNE
1. Salomon Rocker2 108 and Suspect
2.  Fernie
3. Michelle Parker
4. Sarah Burke
5. Monoskier because I liked snowboarding when I tried it but skiing is my thing.
NIK DUNN
1. Atomic Bent Chetler
2. Fernie
3. Tim Durschti
4. Notorious B.I.G
5. Monoskier, sending it on one ski would be nifty.
JOSHUA LLOYD
1. Faction 4.0
2. Hidden Valley, ON
3. Parker White
4. Glen Plake
5. Monoskier
NAKODA MASON
1. Line Sir Francis Bacon and Influence 115
2. Fernie
3. Adam Delorme
4. Shane McConkey
5. Monoskier because nothing is cooler than shredding back in time to the '80s.
 BRODY McSKIMMING
1. Line Blend
2. Fernie
3. Kieran McVeigh
4. Josh Mcskimming
5. Race suit so I can tuck properly with the poles I always use.
DYLAN SIGGERS
1. Line Sick Day 125, Opus, Bacon, Future Spin
2. Fernie
3. Eric Pollard
4. Eric Pollard
5. Monoskier because you can still look cool.
BRYCE TOOTHILL
1. Line Blend
2. Fernie
3. Sean Pettit
4. Shane McConkey
5. Race suit for sure, just so I can be more aerodynamic on rails.
ERIK ZUFFA
1. Armada JJ
2. Fernie
3. Dylan Siggers
4. Dylan Siggers
5. Race suit because I always need more speed for the jumps at Fernie.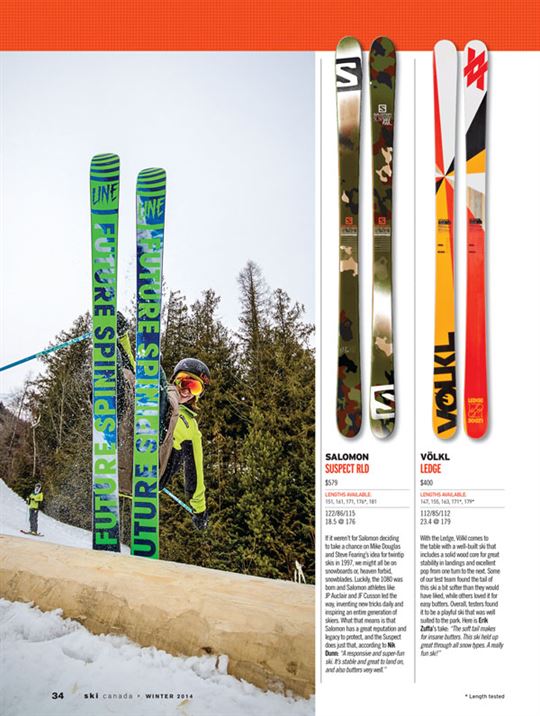 * Length tested
---
Tags: Atomic Infamous, Black Crows Venor, Elan Puzzle TBT, Fernie, Fernie Freeride Team, Fischer Nightstick, freestyle, Halfpipe, Head The Caddy, K2 Recoil, Kastle XX80 Colby, Line Future Spin, Park & Pipe, Salomon Suspect RLD, ski test, slopestyle, twintips, Volkl Ledge