---
Ski Canada procured the services of Fernie's best park rats to test some of this season's hottest twintips.
written by Ron Betts * twintips test co-ordinator Dylan Siggers * photos Henry Georgi * in Winter 2013 issue
Don't let your snowboarding buddies tell you they "saved" our sport by influencing us with terrain parks and later twintips. Skiers have been throwing down tricks, and recording them, since caveman times.
Skiing was, and will continue to be, an amazing way to express athleticism and individuality—it never stopped being cool. But, like any sport, time and advances in technology help to push the level to new heights, and no matter how impressed we are by today's ski stars, in 10, 20 or 50 years we'll look at current tricks as if they were spread eagles or daffies.
One change in skis that truly has offered a new direction over the last decade or so, both literally and figuratively, is the twin, and that's what our young team tested at Fernie for this issue.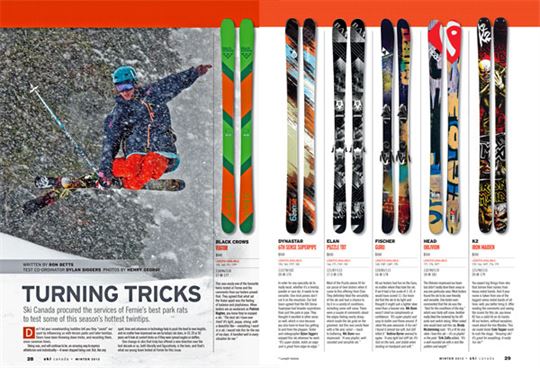 BLACK CROWS VIATOR
$649 *
LENGTHS AVAILABLE:
155, 165, 171, 177*  *
sidecut: 118/86/114 * turn radius: 17 @ 177
This was easily one of the favourite twins tested at Fernie and the comments from our testers proved that. They agreed that what set the Viator apart was the feeling of balance and playfulness. When testers are as exuberant as Patrick Hughes, you know they've enjoyed a ski: "The best ski I have ever tried! It's light, poppy, strong, with a beautiful flex—everything I want in a ski. I would ride this for the rest of my days. It handled well in every situation for me."
DYNASTAR 6TH SENSE SUPERPIPE
$550 *
LENGTHS AVAILABLE:
155, 165, 175*, 182  *
sidecut: 112/78/102 * turn radius: 20 @ 175
In order for any specialty ski to really excel, whether it's a twintip, powder or race ski, it needs to be versatile. One-trick ponies don't cut it on the mountain. Our test team agreed that the 6th Sense Superpipe had broader aspirations than just the park or pipe. They thought it excelled in other areas as well, which is nice because you also have to have fun getting to and from the playpen. Tester and videographer Dylan Siggers enjoyed this ski wherever he went: "It's super-stable, holds an edge and is great from edge-to-edge."
ELAN PUZZLE TBT
$650 *
LENGTHS AVAILABLE:
166, 171, 176*, 181  *
sidecut: 121/87/113 * turn radius: 17.3 @ 176
Most of the Puzzle pieces fit for our posse of twin testers when it came to this offering from Elan. They definitely liked the versatility of the ski and had a chance to try it in a variety of conditions, including some soft snow. There were a couple of comments about the edges feeling overly sharp, which made the ski grab on the groomed, but this was easily fixed with a file and, voila!—back to buttering. Nik Dunn was impressed: "A very playful, well-rounded and versatile ski."
FISCHER GURU
$500 *
LENGTHS AVAILABLE:
148, 158*, 168*, 178  *
sidecut: 120/85/113 * turn radius: 16 @ 178
All our testers had fun on the Guru, no matter where they took the ski. If we'd had a fun scale of 1-10, it would have scored 11. Our team did find the ski to be light and thought it might suit a lighter skier more than a heavier one. Nik Dunn wasn't short on compliments or confidence: "It's super-playful and easy to butter and throw around. It skied the pow awesome. A fun ski! I found it almost too soft, but still killed it." Andrea Byrne seemed to agree: "A very light but stiff ski. It's fast on the rails, and stable when landing on hardpack and soft."
HEAD OBLIVION
$550 *
LENGTHS AVAILABLE:
171, 176, 181*  *
sidecut: 132/90/119 * turn radius: 18 @ 181
The Oblivion impressed our team but didn't really blow them away in any one particular area. Most testers found the ski to be user-friendly and versatile. One tester even commented that the ski was the "best for the conditions of the day," which was fairly soft snow. Another really liked the rockered tip for off-piste and switch skiing. When asked who would best suit this ski, Brody Mcskimming said: "It's a fit for any skier. I love this ski—it's so playful in the park." Erik Zuffa added, "It's a well-rounded ski with a nice flex pattern and weight."
K2 IRON MAIDEN
$550 *
LENGTHS AVAILABLE:
159, 164, 169*, 174, 179  *
sidecut: 121/90/115 * turn radius: 20 @ 179
You expect big things from skis that borrow their names from heavy metal bands. And if your name is taken from one of the biggest arena metal bands of all time, well, you better bring it. After reading the comments and seeing the scores for this ski, you know K2 has a solid hit on its hands. All our testers, without exception, raved about the Iron Maiden. This ski made tester Cole Tepper want to rush the stage: "Amazing ski! It's great for everything. A really fun ski!"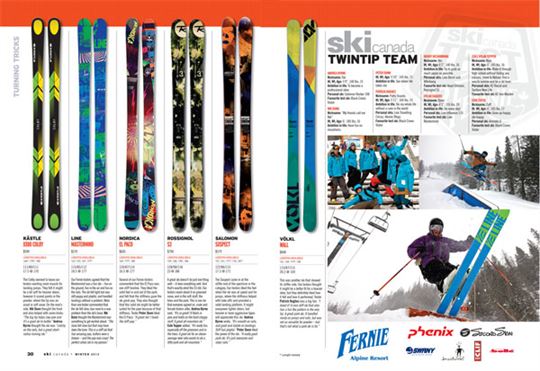 KÄSTLE XX80 COLBY
$599 *
LENGTHS AVAILABLE:
160*, 170*, 180  *
sidecut: 111/80/111 * turn radius: 17.5 @ 170
 The Colby seemed to leave our testers wanting more muscle for landing jumps. They felt it might be a bit soft for heavier skiers, however it scored points in the powder, where the tip was an asset in soft snow. On the men's side, Nik Dunn thought the front end also helped with some tricks: "The big tip helps slay pow and it's a good ski to butter." Andrea Byrne thought the ski was "catchy on the rails, but a great short-radius turning ski."
 LINE MASTERMIND
$370 *
LENGTHS AVAILABLE:
147, 157, 167, 177*  *
sidecut: 115/85/112 * turn radius: 18.5 @ 177
Our Fernie testers agreed that the Mastermind was a fun ski—fun on the ground, fun in the air and fun on the rails. The ski felt light but was still poppy and playful, and handled landings without a problem. More than one tester commented that the ski felt slow, due more to a wax problem than the ski's base. Nik Dunn thought the Mastermind was something to get excited about: "The base felt slow but that may have been the tune. This is a stiff ski that has amazing pop, butters were a breeze—and the pop was crazy! The perfect urban ski in my opinion."
NORDICA EL PACO
$605 *
LENGTHS AVAILABLE:
169, 177*, 185  *
sidecut: 124/87/114 * turn radius: 16.5 @ 177
Several of our Fernie testers commented that the El Paco was one stiff hombre. They liked the solid feel in and out of the park, and felt that the stiffness gave the ski great pop. They also thought that this solid ski might be better suited for the pipe because of that stiffness. Tester Peter Dunn liked the El Paco: "A great ski! I loved the stiff pop."
 ROSSIGNOL S3
$700 *
LENGTHS AVAILABLE:
159, 168, 178*, 186  *
sidecut: 128/98/118 * turn radius: 23 @ 186
 A great ski doesn't do just one thing well—it does everything well. And that's exactly what the S3 did. Our testers raved about it on groomed snow, and in the soft stuff, the trees and the park. This is one ski that everyone agreed on, male and female testers alike. Andrea Byrne said, "It's so great! It floats in pow and holds on the hard choppy stuff. A great all-mountain ski." Cole Tepper added, "It's really fun, especially off the groomers and in the trees. A good ski for an above-average skier who wants to ski a little park and all-mountain."
SALOMON SUSPECT
$579 *
LENGTHS AVAILABLE:
151, 161, 171*, 176, 181*  *
sidecut: 122/86/115 * turn radius: 17.3 @ 171
 The Suspect came in at the stiffer end of the spectrum in the category. Our testers liked the feel when the ski was at speed and for jumps, where the stiffness helped with take-offs and provided a solid landing platform. It might overpower lighter skiers, but heavier or more aggressive types will appreciate this ski. Andrea Byrne wrote, "It's smooth on rails, and good and stable on landings. Stiff but playful." Peter Dunn liked the power of the ski: "A really good park ski. It's just awesome and slays rails."
VÖLKL WALL
$600 *
LENGTHS AVAILABLE:
161, 169, 177*, 185  *
sidecut: 115/87/115 * turn radius: 20.2 @ 169
 This was another ski that showed its stiffer side. Our testers thought it might be a better fit for a heavier skier, but they definitely liked how it felt and how it performed. Tester Patrick Hughes was a big fan: "I loved it! A nice stiff ski that also has a fun flex pattern in the very tip. A great park ski. It handled nicely on jumps and rails, but was not as versatile for powder—but that's not what a park ski is for."
  Twintip Team
ANDREA BYRNE
Nickname: Dre
Ht, Wt, Age: 5'9", 140 lbs, 15
Ambition in life: To become a professional skier.
Personal ski: Salomon Rocker 108
Favourite test ski: Black Crows Viator
NIK DUNN
Nickname: "My friends call me Nik"
Ht, Wt, Age: 6', 185 lbs, 16
Ambition in life: Have fun on mountains.
PETER DUNN
Ht, Wt, Age: 5'10", 145 lbs, 13
Ambition in life: See where life takes me.
PATRICK HUGHES
Nickname: Patty Snacks
Ht, Wt, Age: 5'11", 160 lbs, 15
Ambition in life: Ski my whole life without a care in the world.
Personal skis: Line Travelling Circus, Atomic Blogs
Favourite test ski: Black Crows Viator
BRODY MCSKIMMING
Nickname: Bro
Ht, Wt, Age: 6'1", 140 lbs, 16
Ambition in life: Try to grab as much japan as possible.
Personal skis: Line Blend and Afterbang
Favourite test ski: Head Oblivion, Rossignol S3
DYLAN SIGGERS
Nickname: Dylon
Ht, Wt, Age: 6'1", 155 lbs, 19
Ambition in life: Ski every day!
Personal ski: Line Influence 115
Favourite test ski: Line Mastermind
COLE DYLAN TEPPER
Nickname: Nips
Ht, Wt, Age: 6', 145 lbs, 16
Ambition in life: Make it through high school without failing any classes, move to Nelson, find a way to survive and be a ski bum.
Personal skis: K2 Recoil and Surface New Life
Favourite test ski: K2 Iron Maiden
ERIK ZUFFA
Nickname: Zuff
Ht, Wt, Age: 6', 165 lbs, 17
Ambition in life: Grow up happy, die happy.
Personal ski: Armada JJ
Favourite test ski: Black Crows Viator
---
Tags: BLACK CROWS VIATOR, Dylan Siggers, DYNASTAR 6TH SENSE SUPERPIPE, Elan Puzzle TBT, FISCHER GURU, Head Oblivion, K2 IRON MAIDEN, Kastle XX80 Colby, LINE MASTERMIND, NORDICA EL PACO, Park & Pipe, Rossignol S3, SALOMON SUSPECT, Ski Canada Test, ski test, ski tests, twintips, VÖLKL WALL