Reading Time:
2
minutes
I'm a bib man. Not because I spill down my front all the time, but because I hate snow down my pants. I'm talking bib ski pants, obviously. And while they may seem a little old school, I'm not alone. Those that have seen the light prefer not to expose butt crack ever again. The higher rise keeps drafts, gaps and snow down the pants to an infrequency that regular style ski pants can't touch.
And when it comes to bibs it's hard to beat Trew's Trewth Bib . The better bib pant was the company's first product back in 2008. Inspired by the deep snow synonymous with their Mount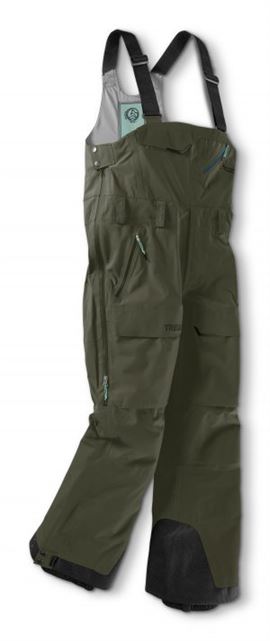 Hood backyard, the pants were cut high to keep out the snow, rugged so they lasted multiple seasons and loaded with pockets, cause there are never enough. They were also very colourful.
The latter is the only thing that's changed in the latest iteration of the bib. The five colour choices are all pretty conservative.
I tested out the durability of the 80 Denier fabric with an early season telemark turn right into a rock. The pant had just a small scuff, while blood gushed from my knee. Late day soppy snow was no match for the weather shedding Dermizax 3L waterproof-breathable membrane, a similar construction and performance to Gore Tex. The crotch zip is well placed. There's plenty of venting and more pockets than I had granola bars, wallet, money, hat, neck tube and phone to stash.
But what I liked most about these pants was the fit. A curved seam line and loose but not baggy waist allowed them to sit comfortable whether I was standing tall or bent double in a tuck. The adjustable suspenders dialled in the fit. I found the suspenders slipped off my shoulders if I wore them over a mid layer, but against a wool base they behaved much better. Bonus: my wife approves of the Goldilocks style: not too baggy, not too skinny, just right.
After two days of ripping in the Trewth Bib they've bumped my older pair out of my closet.
RYAN REPORT is a frequent web post by Ski Canada magazine's technical editor, Ryan Stuart.