---
For 75 years, the Queen of the Laurentians has drawn skiers from near and far.
_By OAKLAND ROSS

You don't have a ski mask?" local ski guide Jacques Gaudreau—a.k.a. Coco—said when he met me at the top of the Express Gondola at Tremblant's wind-blown summit.
"No."
"Nothing to cover your face?"
"No." Well, goggles, of course. As for my hands, I was sporting an inadequate pair of gloves, when I should really have been wearing mitts. Two pairs.
It was negative 30 but felt a good deal colder. According to a frigid-weather guide produced by Environment Canada, at that temperature, and with a 15-kph wind, exposed skin starts to freeze in about five minutes.
Coco just stared at me. Ontarians, he must have been thinking, what planet are they from? Then he shrugged.
"Okay," he said. "We'll just have to keep an eye on it."
About halfway down the north face of the mountain, Coco stopped. I pulled up beside him. He narrowed his eyes and examined my face, exposed as it was to the wind and cold.
"Your face is white," he said. "You have frostbite."
Frostnip, I was told later, is when your skin turns white; it's still frostbite but not as severe as frozen skin that's turned black.
Needless to say, unlike Captain Scott of the Antarctic, I survived. At La Fourchette du Diable, the small lodge at the north-side base, I was able to purchase a mask and a pair of mitts. After that, my frostbite problems were pretty much solved. Granted, the cold was still extreme. Although the temperatures moderated a little during the days that followed, the weather remained severe.
As for the skiing, though, it was great.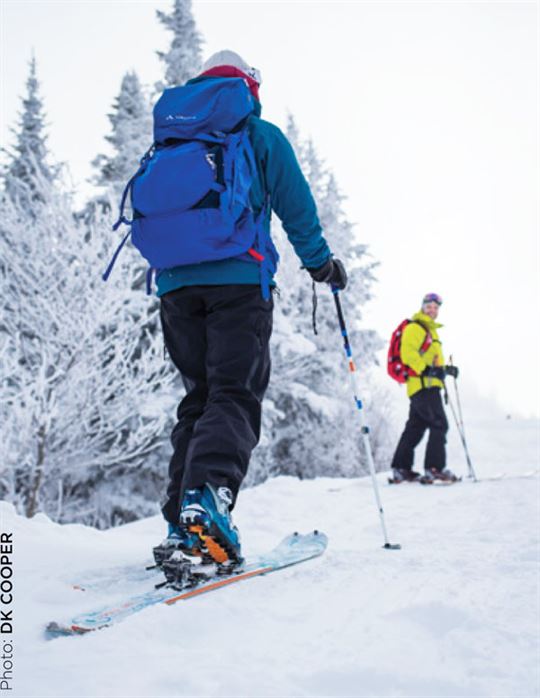 It's the silence I love the best.
At 7:30 in the morning, on a long cruiser called Lowell Thomas, I could hear nothing at all, because there was nothing at all to hear. There was just that free, floating sense of flight you get from a long series of pitches and rolls, all covered by about 10 cm of fresh, untracked powder billowing downward through a deciduous forest. It was my second day on the mountain, and things were going a lot more smoothly than they had the previous morning.
It was a frigid Saturday morning in January; it had been snowing all night, and it was still snowing. Just ahead of me, Coco was leading the way again down the venerable Laurentian mountainside, part of Tremblant's version of "First Tracks," the ritual that grants exclusive early-morning sliding rights to people who are also willing to brave the early – morning temperatures for untracked slopes.
The result, especially on a morning such as this—blessed by lots of soft new snow, with plenty more to come—easily justified the cost of a room or bed in the slopeside village below, assuming an additional justification were needed. After all, you have to sleep somewhere and the perks of First Tracks are significant. That being so, it made good sense to spend those horizontal hours at Tremblant, the famous Quebec winter resort that last season celebrated its 75th anniversary as a place to ski (or shop, or dine, or party).
Let's face it. For many of the wintertime pilgrims who journey to Tremblant, skiing is not the point anyway.
The resort's contemporary allure is not wholly a matter of vertical drop and frozen H2O, man- or God-made. For many visitors, Tremblant's appeal lies elsewhere. A woman I met one evening at La Forge Bar & GrillL near the gondola base, pithily encapsulated the essence of that appeal. She glanced up from her drink.
Formerly from Ontario, my new friend said she and her husband (where was he…?) now make their home in Boston. They had both driven all the way up from Massachusetts to spend several days at this, the doyenne of eastern North American ski resorts, overlooking a frozen Lac-Ouimet at a six-hour northbound remove from Beantown. Never mind that the trip took them within easy detouring distance of a bevy of New Hampshire or Vermont ski areas. They skipped them all. Why?
"That's simple," said the woman. "It's the après ski."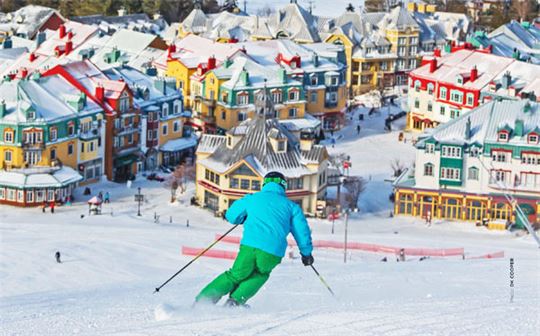 Or it is nowadays. It wasn't always.
Bought by real estate developer Intrawest in 1991, the once rustic ski resort established in 1939 by an American named Joe Ryan quickly became home to an upscale collection of hostelries, restaurants, bars and high-end retail outlets all housed in a Quebecois-flavoured mélange of pedestrian malls, stone staircases and gabled structures that are a sort of Intrawest trademark. The village at Tremblant is possibly the most pleasing example of the phenomenon, and some people travel here from considerable distances with no intention of ever donning a pair of ski or snowboard boots, much less donning a neoprene-and-fleece facemask at the summit. It is, as the woman formerly from Ontario so succinctly put it, the après ski.
Restaurants and pubs range from Coco Pazzo ("progressive Italian") to raclette and fondue at La Savoie. The winding network of pedestrian passages that criss-crosses the village is never busier than at night, something Tremblant's American founder probably never imagined when the resort began operation more than seven decades ago with just one lodge.
Here are some statistics that illustrate the difference in scale between Mont Tremblant as it was at its inception, and the vastly more built-up ski area of today. When it opened for the first time in 1939, the resort boasted a single lift that involved 1,280m of cable and was capable of handling 250 skiers an hour. Today, the resort's two gondolas and five high-speed quad chairs, among various other lifting devices, can jointly elevate more than 27,000 skiers (and a few snowboarders) per hour. That's more than a hundred-fold increase in heft compared to the Tremblant of old.
As for other facilities, the original Tremblant consisted of six skiable runs and a single lodge. Its modern-day counterpart boasts nearly 100 runs, roughly 50 per cent of them rated as expert, all careening downward toward a concentration of creature comforts—eateries, hotels, spas, shops, even a large casino—that has no nordic equal from Boston to the Alberta-B.C. border.
And the skiing is very good, as visitors from Ontario know better than almost anybody. These days, on a typical winter weekend, skiers at Tremblant will include a larger contingent from Ottawa than from Montreal, for instance. Both cities are located less than two hours away by car. On the other hand, by far the biggest group of destination skiers come from the Greater Toronto Area.
And no wonder. Quebec's premier winter resort is no Whistler Blackcomb, of course, but with a vertical drop of 645m and four different skiable faces, not to mention 14 lifts, it can compete.
************************************************************************************************
Partway down Lowell Thomas, I followed Coco to the right, along a slender trail called Tunnel, bordered by pine trees on both sides. We soon swung left onto a steep roller coaster of a ride called La Griffe, which eventually brought us to Tremblant's north-side base at the foot of the Expo chairlift. It was snowy and cold—about minus 20, with a wind chill that probably made it feel about 10 degrees colder.
Which was nothing.
For one thing, I was finally dressed for the elements. The trick, of course, is to keep every last square millimetre of your anatomy insulated and covered. Even then, on freezing weekends such as mine, you will still find yourself needing periodic warming sessions—boots off, a hot chocolate on the table and a wood-burning stove nearby. Here's a tip: the best on-mountain spot to escape from the cold at Tremblant is La Refuge, a spartan yet cozy log cabin perched a short drop down a run called Tiguidou on the east face of the mountain, known as the warmer-sounding Versant Soleil.
La Refuge is also a good place to reflect on the ski runs of your youth. I grew up skiing in southern Ontario. Apart from the occasional cold spell, that meant three things above all others—a long wait for the lift, followed by a short trip up and a short trip down. Tremblant was the first big ski area I ever encountered, and I'll never forget a succession of annual spring-break skiing adventures I shared with a bunch of friends from my tiny perfect ski club northwest of Toronto, all equally starved for what we then regarded as Tremblant's unlimited elevation and variety, not to mention its exotic Gallic air. We would camp out at Jeff's grandparents' place in Montreal—while les grands-parents were in Florida for the winter—and drive up to Tremblant in the very early morning to ski our little Ontario hearts out all day long before repairing to Montreal after the lifts closed. I won't lie: we also made forays to Mont Orford in the Eastern Townships and even to Jay Peak, just across the Vermont border. But it's Tremblant I remember best from those trips, and it was not because of the après ski. It was because of the ski.
In the old days, a trip to Tremblant from my neck of southern Ontario was not exactly a venture to be undertaken on a whim. First, you had a six-hour drive to Montreal, by which time you would still be three hours at least (these were pre-expressway days) from the big mountain in the Laurentians. But that was then. These days, Porter Airlines flies from the Billy Bishop Airport in downtown Toronto straight to…well, not exactly straight to Tremblant—but close enough. The hour-long flight terminates at a former military base in the Quebec municipality of La Macaza, which is a 45-minute drive from Mont Tremblant itself.
"It's faster to get to Tremblant [from Toronto] than to drive to Blue Mountain in Collingwood," claims Serge Larivière, 49, who nowadays is a co-owner of the grandly named Mont-Tremblant International Airport, which is not your standard, garden-variety travel facility.
Shortly after my arrival, on a cold, sunny afternoon in January, a fellow passenger realized—too late, you might have thought—that she had left her cell phone on the Porter aircraft, which by this time was taxiing away from the terminal for takeoff. At just about any other airport on the continent, that cell phone would have been digital toast, but not so at Tremblant. Larivière himself got on the radio with the pilot, and before long the aircraft was roaring back toward the lofty, pine-log structure that is the unique terminal here, and a very appreciative young woman soon had her phone back. Being from Toronto, she wouldn't divulge her name, but she couldn't disguise her relief.
There's a free shuttle service from the rustic airport to Tremblant itself, so that—if everything breaks your way—you could conceivably be swaying aboard the Express Gondola toward the summit of Tremblant about two hours, give or take, from the time your plane is airborne above Toronto.
And if you forget to pack a ski mask and a warm pair of mittens, they're available on-hill at Tremblant.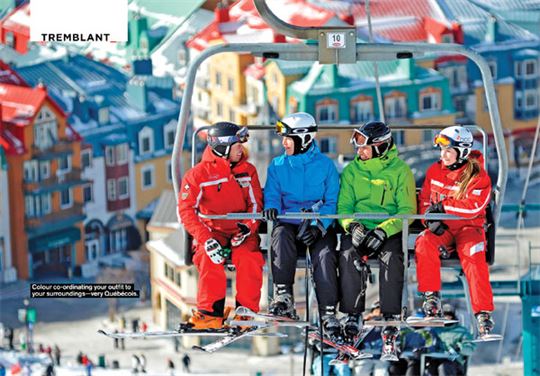 ---
Tags: La Forge, La Griffe, La Savoie, Laurentians, Lowell Thomas, Mont-Tremblant, Porter Airlines, Québec, Tremblant, Versant Soleil