---
Mike and Andy made a pact to ski at least one day every month. Nine years later there's no end in sight.
By Ryan Stuart    Photos Mike and Andy Traslin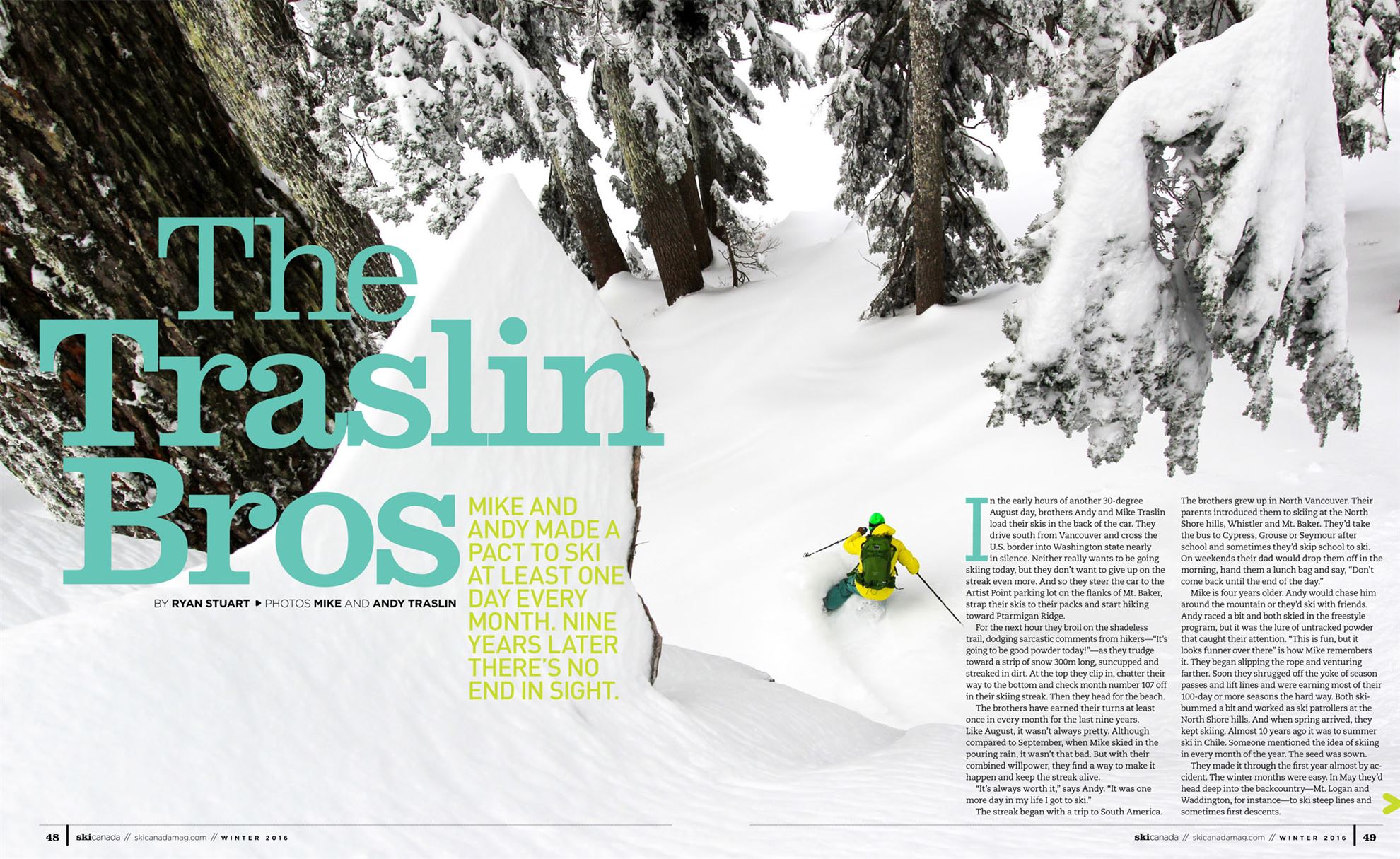 In the early hours of another 30-degree August day, brothers Andy and Mike Traslin load their skis in the back of the car. They drive south from Vancouver and cross the U.S. border into Washington state nearly in silence. Neither really wants to be going skiing today, but they don't want to give up on the streak even more. And so they steer the car to the Artist Point parking lot on the flanks of Mt. Baker, strap their skis to their packs and start hiking toward Ptarmigan Ridge.
For the next hour they broil on the shadeless trail, dodging sarcastic comments from hikers—"It's going to be good powder today!"—as they trudge toward a strip of snow 300m long, suncupped and streaked in dirt. At the top they clip in, chatter their way to the bottom and check month number 107 off in their skiing streak. Then they head for the beach.
The brothers have earned their turns at least once in every month for the last nine years. Like August, it wasn't always pretty. Although compared to September, when Mike skied in the pouring rain, it wasn't that bad. But with their combined willpower, they find a way to make it happen and keep the streak alive.
"It's always worth it," says Andy. "It was one more day in my life I got to ski."
The streak began with a trip to South America. The brothers grew up in North Vancouver. Their parents introduced them to skiing at the North Shore hills, Whistler and Mt. Baker. They'd take the bus to Cypress, Grouse or Seymour after school and sometimes they'd skip school to ski. On weekends their dad would drop them off in the morning, hand them a lunch bag and say, "Don't come back until the end of the day."
Mike is four years older. Andy would chase him around the mountain or they'd ski with friends. Andy raced a bit and both skied in the freestyle program, but it was the lure of untracked powder that caught their attention. "This is fun, but it looks funner over there" is how Mike remembers it. They began slipping the rope and venturing farther. Soon they shrugged off the yoke of season passes and lift lines and were earning most of their 100-day or more seasons the hard way. Both ski-bummed a bit and worked as ski patrollers at the North Shore hills. And when spring arrived, they kept skiing. Almost 10 years ago it was to summer ski in Chile. Someone mentioned the idea of skiing in every month of the year. The seed was sown.
They made it through the first year almost by accident. The winter months were easy. In May they'd head deep into the backcountry—Mt. Logan and Waddington, for instance—to ski steep lines and sometimes first descents.
"I'm really into steep skiing, climbing what you ski," says Andy. "Spring is the best time for it."
In big winters Seymour or Cypress might shade snow into July. And there's always Baker. "I would be working on a construction-site roof and there's Mt. Baker all covered in snow," says Mike. "I know I could be there this weekend. It's only two hours away."
That only leaves September and then it's snowing again. One year became two, then four. Slowly the quest for year-round turns changed. "It's become part of our lives. It's just what we do," says Andy, now 40. "As a kid, August would roll around and I just couldn't wait to ski. Now I realize I can ski whenever I want. It fills that void."
And it fulfills their lust for adventure. Both brothers love to travel. Adding a new trail, a new peak, a new mountain range or, better yet, a new country spiced up the routine.
"We do hikes we'd never do otherwise, knowing there's snow at the end," says Mike, 44. "It helps keep it fresh and keep us motivated." They've travelled to five continents to earn their turns and the goal is to ski on all seven.
They don't always ski together. Back in North America, Andy ganged up with an underground group of year-round skiers and volcano baggers in Oregon and Washington. "We're not the only ones doing it, but we've definitely taken it to an extreme," he admits.
While they never struggle to ski the first six months of the year, ignoring all the other distractions of summer for sweating over a few crappy turns can be hard. But their effort is often rewarded. They've scored powder turns every month of the year and at least once when it was totally unexpected.
In 2012 one of their sponsors wanted to shoot a video of the brothers doing what they do. In July Mike and Andy took a film crew up to Mt. Baker. "Everyone wanted to be somewhere else, doing something else," remembers Mike. Motivation was at an all-time low, but they camped out and went to bed expecting rock-hard suncups the next day. Instead it snowed 10 cm overnight. The skiing was shockingly good. "Everyone was like, 'Wow, this is July?'" he says.
Another year they left their June ski until dangerously late in the month. They didn't have a choice but to leave Vancouver in the pouring rain. When they got to Baker the sun appeared. They made a first descent of the North Face. "It was amazing and what made it even better was that I had no expectations," says Andy. "You don't know until you go."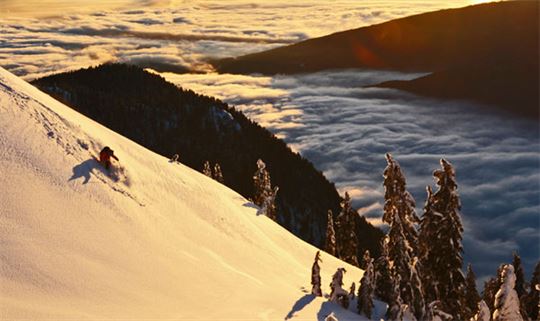 Of course, there have also been brutal days, like the time Andy hiked through the rain to a 150m patch of slush. He forgot to lock down the heels of his alpine touring bindings. On the first turn he faceplanted.
They now try to schedule their monthly ski as early in the month as possible. "When you leave it too late, you start to get nervous," says Mike. "You're thinking, 'Oh, crap, am I going to make it?'"
Last summer Mother Nature almost spoiled the party. A warm and dry winter shuttered Mt. Baker and the North Shore ski hills mid-season. By June, finding turns was getting tough. "It was brutal," says Mike. They had just passed the 100-month milestone. It would have been easy to quit. That's when the brotherly love came into play.
"Andy can be really grumpy," says Mike.
"Luckily we don't work together," adds Andy.
Like any brothers, the Traslin boys don't always get along. Their personalities can clash: Mike is cautious and Andy likes to push it. But they share a passion for skiing. A partner in crime is key to their streak's longevity, says Andy. "This year Mike's motivation to keep going really helped me push through."

Both agree that solo they would have quit a long time ago. "It can be hard to find someone to ski with in August when it's 30 degrees out or it's September and it's raining," says Andy. "Mike's committed, just like I am."

But as Mike insists, "I don't want to do it for the sake of the record. That would lose the fun factor." Instead he says they do it because, even when it's a pain in the butt, it's always worth it—even if they're sometimes embarrassed to tell their friends and co-workers how they spent the July long weekend.

Andy and Mike work as safety officers on construction sites. The flexible shifts give them ample time to go skiing. Both are single.

"If I had a wife and kids, it would become more challenging," says Mike. "We met a guy with a family who was doing the year-round-turns thing. He said he had to sneak out of family gatherings to get his turns. I thought I had it bad."

So how much longer can they keep the streak alive? With the fall months out of the way, up to May 2016, month 116, looks easy. After that, who knows.

"Streaks are meant to be broken," says Andy. "There's a good chance one of us will get injured. Even a car breaking down could end it. But until then we'll keep going. Why bother stopping?"

Tags: Andy Traslin, Mike Traslin, Mt. Baker