These Boots Were Made for Skiing
---
The ski world is growing up and
it all starts with your on-slope
connection—those weapons that
buckle onto your feet.
This season's trends include extending the
toe pocket—and moving lasts north of 100—
without loss of performance and, as no small
benefit, with added warmth. Manufacturers
mitigate the space increase with added control
via an array of technologies. Lange says its
3-D scanning has done the trick, Rossignol
has focused on heel retention, Tecnica
employs a quick pump and release air bladder,
while Nordica cranks on its 45-degree buckle.
And what about comfort? Beyond bigger
toe space, Fischer's revolutionary Vacuum Fit
system leaps beyond heat-mouldable liners
and into a new domain: thermo-vacuum-fitted outers where the entire shell—cuff
and all—gets a custom fit. Sure, we've all
seen the big-air pictures. But what about
those landings? Check out the variety of heel
and toe protectors, such as the redesigned
SPK featuring Salomon's Cushioning System
(SCS); Nordica's dual shock absorber in its
Hell & Back series; and Atomic's aptly named
Shockilla technology, to name but a few.
Perhaps the biggest push in the industry was
best summed up by Lange's European Marketing
Director Stephano Trentin Sozza, who says
"sidecountry is the future of skiing in the post-carve
world." Just about every manufacturer
now has a boot. Look for some of the most
interesting innovations, including lighter shells,
fast-changing hike/ski modes and grippy soles.
Technological advances come in the form of
carbon cuffs, lightweight plastics and lots of
attention to detail. These are making boots,
particularly for the slackers—slackcountry
skiers, that is—lighter so they can get in more
skiing and hiking. But wait a minute, Sozza
must be right. No matter where or what you
ski, a lighter boot that's more comfortable to
hike and ski in, and is safer walking on ice, is
something we can all get excited about.
Big foot, big performance
According to Tecnica, the days of cramming your feet into performance boots are over. It's opened up some real estate underfoot by employing its quick-customizing Air Shell Technology in the Demon, Viva, Phoenix and Free Mountain lines. The nifty air bladder that fits between the shell and inner liner has been upgraded this season, now with a single back-of-the-boot inflation/deflation button. And as part of the comfort program, the Demon, Viva and Phoenix lines now come in a 100-mm last for improved comfort, which Tecnica touts as a no-sacrifice performance-race-inspired boot. The trick: a new, two-mm-wider liner. And for the well endowed, there's the three-buckle Phoenix Max that, through expandable gaps in the outer fabric of the liner, adjusts between a 100- and 104-mm last.
Straight as a Fire Arrow
Nordica has the packaging down on its
frontside series this winter. The Fire Arrow
F1 coalesces a progressively flexed three-component
structure (shell-cuff-tongue) with
optimal rebound characteristics, progressive
flex and stiffness—all measured under the
company's new Dynamic Performance Code
(DPC) parameters. The middle buckle comes on
a 45-degree angle for greater instep hold, while
things have opened up for the toes, improving
blood circulation. Fit can be customized by
adding lateral inserts. And dang, it's one nice-looking
boot to boot, whether on men or
women, especially when matched with Nordica's
Fire Arrow ski series.
Custom Impact
Frontside skiers looking to update their four-buckle
boots will want to check out Salomon's
Impact (for men) and Idol (for women). The
series flex index ranges between 75 and 120,
with the women's models sporting faux fur liners
and the men's best offering double canting and
custom-fit liners. Metatarsal comfort comes from
Salomon's patented Kaprolene, a heat-malleable
material that customizes to your foot anywhere
between a 100- and 106-mm last. Custom Shell
has been available in these models since 2009-
10, but this year Salomon has optimized stance
and cuff for a more progressive flex, which can
be stiffened by an index of 10 by turning the
optional Energyzer screw.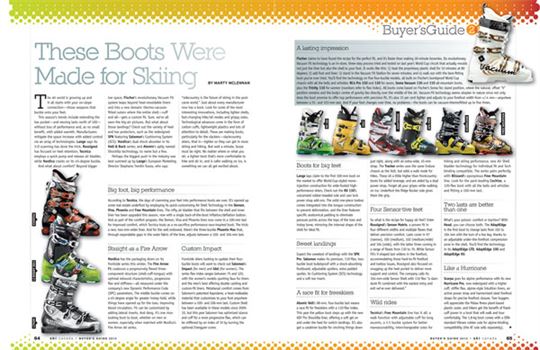 A lasting impression
Fischer claims to have found the recipe for the perfect fit, and it's faster than making 30-minute brownies. Its revolutionary Vacuum Fit technology is an in-store, three-step process tried and tested on last year's World Cup circuit that actually moulds not just the liner but also the shell to your foot. It works like this: 1) heat the proprietary plastic shell for 10 minutes at 80 degrees; 2) add foot and liner; 3) stand in the Vacuum Fit Station for seven minutes; and 4) walk out with the best-fitting boot you've ever tried. You'll find the technology on five four-buckle models, all built on Fischer's bombproof World Cup chassis with all the bells and whistles: RC4 Pro 150 and 130 for racers, Soma Vacuum 130 and 110 all-mountain boots, plus the Trinity 110 for women (numbers refer to flex index). All boots come based on Fischer's Soma-Tec stand position, where the natural, offset "V" position remains and the body's centre of gravity lies directly over the middle of the ski. Vacuum-Fit technology seems utopian in nature since not only does the boot promise to offer top performance with precision fit, it's also 15 per cent lighter and adjusts to your forefoot width from +/-4 mm—anywhere between a 91- and 103-mm last. And if your foot changes over time, no problemo—the boots can be vacuum-thermofitted up to five times.
Boots for big feet
Lange lays claim to the first 100-mm boot on
the market to offer World-Cup-styled mono-injection
construction for wide-footed high-performance
skiers. Check out the RX 130's
vulcanized rubber-treaded sole and cam lock
power strap add-ons. The solid one-piece toebox
comes integrated into the tongue construction
to prevent deformation, and the liner features
specific anatomical padding to eliminate
pressure points across the tops of the toes and
instep bone, mirroring the internal shape of the
shell for ideal fit.
Sweet landings
Expect the sweetest of landings with the SPK
Pro. Salomon makes its premium, 110-flex, two-buckle
boot bulletproof with a shock-absorbing
footboard, adjustable spoilers, extra padded
spoiler, its Cushioning System (SCS) technology
and a soft toe insert.
A race fit for freeskiers
Atomic Volt's 98-mm, four-buckle last means
a race fit for freeskiers with a 110-flex index.
This year the yellow boot steps up with the new
ASY Pro Shockilla liner, offering a soft gel on
and under the heel for switch landings. It's also
got a carabiner buckle for cinching things down
just right, along with an extra-wide, 45-mm
strap. The Tracker series uses the same Endura
chassis as the Volt, but adds a walk mode for
hikes. These sit a little higher than frontcountry
boots for added leverage, and are aided by a dual
power strap. Forget all your gripes while walking
on ice. Underfoot the Ridge Rocker sole gives
them the grip.
Four Sensor-tive feet
So what is the recipe for happy ski feet? Enter
Rossignol's Sensor Matrix, a proven fit in
four different widths and multiple flexes that
deliver precision comfort. Lasts come in 97
(narrow), 100 (medium), 102 (medium/wide)
and 104 (wide), with the latter three coming in
a range of fl exes from 130 to 70. While Sensor
Fit's V-shaped last widens in the forefoot,
accommodating those hard-to-fit forefoot
and toebox issues, Rossignol also focused on
snugging up the heel pocket to deliver more
support and control. The company calls its
104-mm-wide Sensor Shell with 110 flex "a slam-dunk
fit combined with the easiest entry and
exit we've ever delivered."
Wild rides
Tecnica's Free Mountain line has it all: a
walk function with adjustable cuff for long
ascents, a 3.5 buckle system for better
manoeuvrability, interchangeable soles for
hiking and skiing performance, new Air Shell
bladder technology for individual fit and Tech
binding compatible. The series pairs perfectly
with Blizzard's eponymous Free Mountain
line. Look for the pack-leading Cochise, a
120-flex boot with all the bells and whistles
and fitting a 100-mm last.
Two lasts are better than one
What's your poison: comfort or traction? With
Head, you can choose both. The AdaptEdge
is the first boot to change lasts from 102 to
104 mm with the turn of a hex key, thanks to
an adjustable under-the-forefoot compression
zone in the shell. You'll find the technology
in its AdaptEdge LTD, AdaptEdge 100 and
AdaptEdge 90.
Like a Hurricane
Scarpa goes for alpine performance with its new
Hurricane Pro, now redesigned with a higher
cuff, stiffer flex, alpine-style Intuition liners, an
active power strap and harmonized steel forefoot
straps for precise forefoot closure. Tree huggers
will appreciate the Pebax Rnew plant-based
plastic outer, and hikers get the benefit of fixed-cuff
power in a boot that will walk and tour
comfortably. The 1.8-kg boot comes with a DIN-standard
Vibram rubber sole for alpine-binding
compatibility (the AT sole sells separately).
Freeride four
This year's four-boot PowerFrame Freeride
series (Delirium 130, Asylum 120, Mystic 120
and the women's Azula110) boasts Garmont's
unique High Overlap design for improved
downhill performance and touring mobility.
It's called the PowerFrame for good reason:
it cradles the foot and lower leg comfortably
and closely for race-boot response. As part
of the shell, it flexes cleanly eliminating all
possible energy-dissipating gaps. On the walk
back uphill the overlap rotates naturally out
of the way for easier hiking. And talk about
versatility. Quick-Change interchangeable soles
make these bombers compatible with the entire
trio of fixed-heel binding norms (ISO Alpine,
ISO Touring and Tech), so you'll never need
to fork out for another pair of boots. Double-injected
lower shells and cuffs enable better
foot mapping for sensitive areas of the 100-mm
lasted boot, while the overlap wraps for more
instant response. Garmont's thermoforming
liners didn't escape the redesign, so you can
expect top-of-the-line comfort and precision.
Add on three forward lean positions and super-sleek,
lightweight magnesium buckles, and
you've got a boot for all seasons and slopes.
A woman's Exclusive
With the women's Exclusive RX 100, Lange
continues its tradition of making high-performance
boots. This year a new 97-mm last
promises great heel hold and accurate mid-
and fore-foot hold. The design comes from the
company's new lasting approach using high-tech
3D imaging of more than 20,000 feet
from around the world, which the company
claims results in a last that accurately and
comfortably fits more feet. Built like Lange's
World Cup race boots, the low-cuffed, 100-flex,
mono-injection boot offers full down insulation
for additional warmth.
Race ready
Based on Didier Cuche's no-compromise vision
and built by its finest boot engineers, Head
claims that the Raptor B2 RD is the hardest,
toughest and fastest boot ever to set foot on
a racecourse. The stunning shell weighs in at,
until-now, unheard of flex indexes—160, 150
and 140. Racers looking for something a little
more forgiving can try the Raptor B3 RD,
sold at 140, 130 and 120. The Raptor 130 RS
(with flex indexes at 140, 130 and 120) offers
a slightly softer, wider last for lighter athletes
and exceptional skiers who look beyond
racing. And performance frontcountry skiers
looking to combine stiffness and comfort
can try on the Raptor 115 RS, perfect when
paired with a ski from the Supershape series.
The three stiffest boots all feature Spineflex
buckles, a concept with a constant closure
point for pressure-point-free foot wrapping.
A double power booster strap guarantees
better closure, and a tighter cuff improves the
dynamical response of the boot.
To Hell & Back
Those heading below the ropes need footwear
that offers comfort and stability, but also
masters wider skis and gnarly terrain stresses.
Enter Nordica's three-buckle Hell & Back
series that comes tested and true under the
company's Dynamic Performance Code (DPC),
which measures stiffness, progression and
rebound. Expect a grippy rubber sole for
walking on rocks, plus the added entry and
instep retention benefits of a middle 45-degree
buckle. The boot comes with the all-important
hike/ski cuff release mode handily placed
on the top buckle, and a dual-density shock
dampener under the heel for big hits. The
series comes in five versions, three for men and
a duo for women, and combine with the brand-new
Hell & Back ski lineup.
Quest for success
No doubt last season's unveiling of the three-buckle Quest line made
its mark in ski country. Salomon has updated its high-performing all-mountain
series with the 130-flex Quest 14 (last year's stiffest was
the Quest 12 at 120), beefed up by a Longer Pro Backbone and racing
spoiler for increased power transmission, and the Quest 10 for women
(100 flex). At the softer end of the index, Salomon has gone big with
the new Quest Access line, offering four new boots (a pair for both
men and women) with flex indexes between 60 and 80. All of the
Quest series come with the Ride & Hike technology and rubber soles.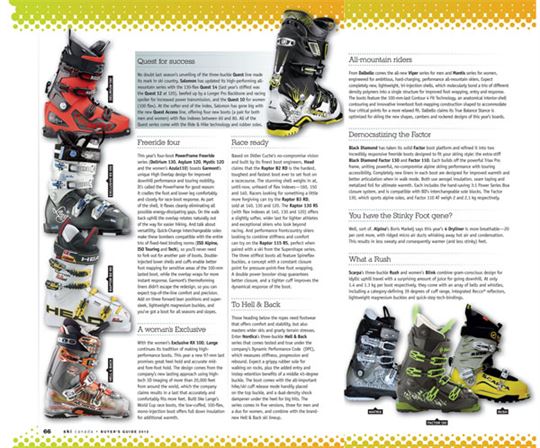 All-mountain riders
From Dalbello comes the all-new Viper series for men and Mantis series for women,
engineered for ambitious, hard-charging, performance all-mountain skiers. Expect
completely new, lightweight, tri-injection shells, which molecularly bond a trio of different
density polymers into a single structure for improved foot wrapping, entry and response.
The boots feature the 100-mm-last Contour 4 Fit Technology, an anatomical interior-shell
contouring and innovative innerboot foot-mapping construction shaped to accommodate
four critical points for a more relaxed fit. Dalbello claims its True Balance Stance is
optimized for skiing the new shapes, cambers and rockered designs of this year's boards.
Democratizing the Factor
Black Diamond has taken its solid Factor boot platform and refined it into two
incredibly responsive freeride boots designed to fit your skiing style: the extra-stiff
Black Diamond Factor 130 and Factor 110. Each builds off the powerful Triax Pro
frame, uniting powerful, no-compromise alpine skiing performance with touring
accessibility. Completely new liners in each boot are designed for improved warmth and
better articulation when in walk mode. Both use aerogel insulation, seam taping and
metalized foil for ultimate warmth. Each includes the hand-saving 3:1 Power Series Boa
closure system, and is compatible with BD's interchangeable sole blocks. The Factor
130, which sports alpine soles, and Factor 110 AT weigh 2 and 2.1 kg respectively.
You have the Stinky Foot gene?
Well, sort of. Alpina's Boris Markelj says this year's 4 Dryliner is more breathable—20
per cent more, with ridged micro air ducts whisking away hot air and condensation.
This results in less sweaty and consequently warmer (and less stinky) feet.
What a Rush
Scarpa's three-buckle Rush and women's Blink combine gram-conscious design for
idyllic uphill travel with a surprising amount of juice for going downhill. At only
1.4 and 1.3 kg per boot respectively, they come with an array of bells and whistles,
including a category-defining 39 degrees of cuff range, integrated Recco® reflectors,
lightweight magnesium buckles and quick-step tech-bindings.

Tags: Air Shell, Alpina, Alpina 4 Dryliner, alpine boots, ASY Pro Shockilla, Atomic, Atomic Endura, Atomic Ridge Rocker, Atomic Shockilla, Atomic Tracker, Atomic Volt, Black Diamond, Black Diamond Factor, Black Diamond Power Series Boa, Black Diamond Triax Pro, Boris Markelj, carabiner buckle, Contour 4 Fit Tecnology, Dalbello, Dalbello mantis, Dalbello Viper, DIN, DPC, Dynamic Performance Code, Energyzer, Fischer, Fischer RC4 Pro, Fischer Soma Vacuum, Fischer Vacuum Fit, fixed-cuff, flex, flex index, foot-mapping, forefoot, forward lean, freeskier, frontcountry, Head, Head AdaptEdge, heel pocket, innerboot, Intuition liners, Kaprolene, Lange, Lange RX 130, last, liner, magnesium buckles, Nordica, Nordica Fire Arrow, Nordica Hell & Back, Pebax Rnew, Rossignol, Rossignol Sensor matrix, Rossignol Sensor Shell, Salomon, Salomon Idol, Salomon Impact, Salomon SCS, Scarpa, Scarpa Blink, Scarpa Hurricane Pro, Scarpa Rush, shell, sidecountry, slackcountry, Soma-Tec, Stephano Trentin Sozza, Tecnica, Tecnica Air Shell Technology, Tecnica Cochise, Tecnica Demon, Tecnica Free Mountain, Tecnica Phoenix, Tecnica Phoenix Max, Tecnica Viva, three-buckle, toebox, True Balance Stance, Vibram, World Cup