The World According to Wiegele
---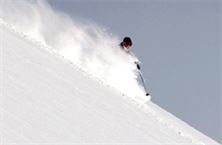 From the Spring 2006 issue
Three men are generally credited with inventing helicopter skiing: Hans Gmoser, Herb Bleuer and Mike Wiegele. Gmoser, founder and long-time head of Canadian Mountain Holidays (CMH), retired years ago and Bleuer, the quietest of the three, currently consults to snowcat skiing operators. So of the founding trio of a genre that profoundly changed skiing, only one continues to lead a heli-skiing company. Wiegele, then, is pretty much Mr. Heli-Ski in the flesh.
With a heli-skiing career stretching back 40 years, Wiegele is a storehouse of adventures, memories, anecdotes and practical wisdom. He could be forgiven for coasting through the crowning phase of his career. Yet, at 67, he remains unsatisfied with the way things are. Outspoken often to the point of pugnacity, his interests range far beyond skiing, and he's happily conversant in religion or politics. But it's the realm of skiing—his career, calling and business—that arouses his passion, and where he continues to push for improvement. It was a dazzling afternoon in late April, and six of us swooped joyfully in massive, terrain-swallowing turns down the rolling flanks of the Albreda Glacier. I was skiing with Bob Sayer, for years one of Wiegele's top guides, and three senior French mountain guide-examiners from Chamonix. We weren't in the deep pow most people associate with heli-skiing, but in ankle-deep spring corn snow. I'll take genuine smooth corn snow over powder any time—it's far harder to find. The skiing was so easy we could have racked up 40,000, 50,000, maybe even 60,000 vertical feet. There seemed to be no limit.
But we weren't here to chase records. It was the midst of Wiegele's annual, postseason safety update and guide training sessions. His operation at Blue River, B.C., north of Kamloops, the world's second-largest heli-skiing enterprise, was teeming with people intent on improving their skills or imparting their expertise. There was a team from Recco, which locates buried skiers and lost-in-the-woods souls lacking transceivers through radio echo location. There was an expert from Wiegele's native Austria demonstrating a new, mobile carbon-fibre-crevasse-rescue tripod. There were fellows from North Shore Search and Rescue in Vancouver, routinely called upon to find lost or injured skiers and snowboarders who try to descend off-piste from Vancouver's local ski areas. There was the Chamonix trio. And most significantly, there were about 30 trainee guides taking the Canadian Ski Guides Association's (CSGA) Level II courses and Level III refreshers, plus their half-dozen instructors and examiners.All of us, and all our gear, had been helicoptered up onto the Albreda Glacier for training and demonstrations under realistic conditions. Others might exploit their position as head of a heli-operation— Wiegele operates 11 helicopters, has 12 lead guides and enjoys access to almost 8,000 square kilometres—and just enjoy a final few spring skiing days with their best buddies in some private stash hidden in the Monashees. But Wiegele seems to revel in these training events. I watched him flitting between tasks, alternately making sure each session was running smoothly, watching to make sure that people were listening and learning, and absorbing new information himself.
Some of Wiegele's original guests have not only become multiple-repeat clients, they've spawned a second generation of heli-skiers. They're now in their 20s and 30s, so there'll be a third generation soon. And yet, jarringly for a man who's experienced so much success, Wiegele is concerned. "Our image—the heliskiing sector's—is not good," Wiegele tells me in typically blunt fashion. "Too many people see heli-skiing as dangerous."
But where some other operators imply that this perception is just that—not rooted in reality—Wiegele believes his industry has to do better. "We have responsibilities, commitments, obligations, it has to be to a high professional standard in all areas, in every segment, in every aspect," he says. "You have to ask yourself what is good: something that brings joy, happiness and security, and you have to protect that, and you need to assure yourself that what you're doing is within reasonable limits and is good for society as a whole. We have to strive to achieve that, but not stop there, we have to continuously research as things evolve and change."
Perhaps surprisingly in our post-modern world of leisure time, hedonism of every form and conspicuous wealth, Canadian heliskiing appears to be declining. Snowcat skiing continues to grow steadily, but Wiegele's competitors at CMH admit that heli-skiing's numbers have dropped for several years. Nobody knows if the ominous numbers are a trend or an anomaly, nor why it's happening.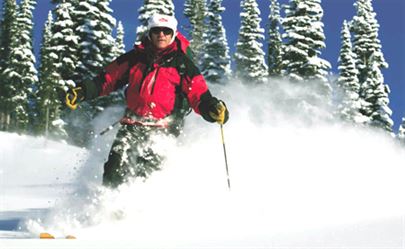 It's especially puzzling to me as a guy from money-spinning Alberta. While few could afford to heli-ski in the slumping '80s—or would admit it—Albertans have thrown financial caution to the wind. Everyone is spending, house prices seem to climb by $10,000 every week, airlines have direct flights to Vegas and you see Porsches all over downtown Calgary—in winter. Half the people I know in Calgary's business community go snowcat skiing. But hardly anyone seems to heli-ski. As Wiegele notes, a good friend of his who owns a prominent Calgary investment brokerage has had to swear to his wife never to heli-ski. Wiegele wonders how many similarly lost customers are out there.

Wiegele thinks he knows the cause: heliskiing's image as something extreme, combined with periodic fatal avalanches. One of his groups was in a fatal avalanche last year, his company's first such accident in eight seasons. Despite having a lifetime accident rate of just one every two-million skiing runs, it prompted extensive soul-searching. "We immediately re-examined ourselves, what we do, how we do it, every step leading up to it," says Wiegele.

Something that bothers Wiegele particularly is the way backcountry skiing is being promoted. "You have films of people jumping out of helicopters with skis on into the couloir," he says. "They deliberately set off avalanches and then ski entire mountain faces inside moving slides—then jump off a cliff." The results, in his view, are cohorts of young people who arrive at backcountry operations with a very aggressive mentality, yammering about the "steep 'n' deep." But they have no appreciation of the real risks—nor about what kind of terrain you can actually ski when the backcountry hazard is at "considerable" or even "high." The manufacturers are another Wiegele target: "One of them has a slogan 'Go wild.' But most of the equipment and clothing companies do absolutely no education, say nothing about the dangers."

Wiegele and several others launched the CSGA in 1990, modelling it after Europeanstyle apprenticeships. Prospective graduates require Canadian Avalanche Association courses, first aid, ski instructor certification, the CSGA guide's courses themselves, plus mandatory work experience. Becoming a Level III, the highest designation, can take 10 years. The CSGA has turned out about 300 graduates.

Skiing skills are stressed throughout the process because, explains Wiegele, "To be a heli-skiing guide you have to be good on skis. Your medium is snow and the main hazard is avalanches. We might land on 15 or 20 mountains in a single day. The skier has changed as well. Everybody trains athletically nowadays to be ready. It's not unusual to have 50-70 very efficient, trained skiers. So as a guide you have to be very good at peoplehandling, to guide those people safely without them feeling they're being held back and overmanaged." Historically, the CSGA was owned and controlled by Wiegele. It's currently being reconstituted as an affiliate of the Canadian Ski Instructors' Alliance, independent of Wiegele, to improve its industry credibility.

The CSGA training sessions seemed to reflect Wiegele's mindset of always pushing for better. I went out for a couple of days with Sayer, Don Schwartz, Barry Widas, the French experts and about 10 Level II trainees. The prospective Level IIs had all worked in helicopter or snowcat skiing as Level I "tail" guides, those who ski at the back to support the lead guide and help the guests.

What I observed were people serious about maximizing their expertise in the craft they clearly love. On a huge slope high on the Albreda Glacier in the northern Monashees, they practised dealing with every guide's doomsday scenario—a multiple avalanche burial—under realistic conditions. Some of us buried transceivers deep in the snowpack, then partially covered ourselves with snow to mimic injured, half-buried victims. Each trainee in turn had to organize and lead a mock rescue. Intensive de-briefing and criticism followed each round.

"It isn't just take the rucksack and go skiing anymore," comments Wiegele halfway through one of the training days. "We have to think in a truly professional way to sustain a worldclass business, one that can survive in hard times, recessions and world unrest. Who do we have to satisfy? Employees, families, guests, investors, government, insurers, the general public and the media." A lot of bosses. And in Wiegele's view, his industry is not quite measuring up: "There are inherent risks, but we have to fully dedicate ourselves to preventing an accident. That has to be our total focus. We have to do everything possible to get and retain the confidence of the general public. I believe the authorities in the provincial government are getting impatient."

Wiegele is also a staunch supporter of avalanche research. For several years in the '80s, his money and commitment singlehandedly kept Canadian avalanche research alive. He continues to host fieldwork by senior avalanche researchers such as Bruce Jamieson of the University of Calgary. "Mike's is a personality that constantly demands change," notes Sayer. "Things are never good enough, let alone perfect. He's spent hundreds of thousands of his own dollars on avalanche research, and maybe $1.5 million on the CSGA—the money seems to make no difference to him."

The next day we flew deep into the Cariboos, the other half of Wiegele's vast domain. Schwartz and Widas had some of the trainees, non-locals who barely knew the terrain, lead groups down a complex run containing blind alleys such as convex rollovers ending in cliffs. Later we practised pinpoint transceiver searches of deep burials nearly three metres down (another nightmare). Other sessions included crevasse rescue and map navigation. Later in the week the group would spend several days operating out of a backcountry hut.

The mountain rescue seminar and guides' training demonstrated the resources that can be mobilized by an operation the size of Wiegele's, if the owner is interested. Watching it was fascinating. It was stirring to feel the commitment and intensity of the students, which rubbed off on everyone. Still it was clear, from the uncompromising nature of the courses, that some would fail this round. Tough as that might be on the individual, in a job where mistakes can result in the ultimate failure, it was a good thing.

Tags: Albreda Glacier, backcountry skiing, Blue River, British Columbia, Bruce Jamieson, Canadian Mountain Holidays, Canadian Ski Guides Association, Canadian Ski Instructors' Alliance, Cariboos, CSGA, Hans Gmoser, heli-ski, heli-skiing, heli-snowcat skiing, helicopter skiing, heliskiing, Herb Bleuer, Mike Wiegele, Monashees, North Shore Search and Rescue, Recco