The Whistler Cup's Killer Kinder
---
no driver's licence required
by tobias c. van Veen from the Buyer's Guide 2012 issue.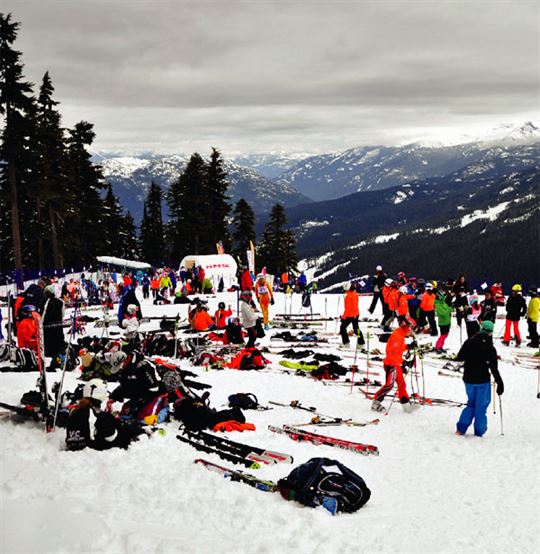 With Lady Gaga cranked from a stereo pitched precariously in the snowbank, a swarm of the spandex crowd performs the pre-race rituals: stretching, swinging legs around, some pantomime focus visualization, nervous chatter and, of course, a good deal of high-pitched giggling and massive grins as they cheer each other on.
This be the Whistler Cup, the biggest and baddest gathering of international-level Kinder I and II racers held in North America, and I am lurking around the start centre of the women's GS on an overcast weekend last April. Above the trees and across Singing Pass valley sits Blackcomb Mountain. Below me drops away the north-facing and cold Ptarmigan downhill course. Every 90 seconds or so another girl jumps up and down, wiggles some ice down her back to charge up and at the countdown leaps off toward a series of fast gates. These young women are at the top of their game, and the stats say that many who win here will go on to become podium champions in the FIS. If the gods of sport, injury and commerce allow it, they might even savour a striking chance at the Olympics.
So are these racer kids stressed to the nines? Helicopter parents hulking over sobbing 13-year-olds? Not even. As I wander around the start centre, dodging coaches, boot bags and skis laid out in the snow, I wonder how such a shindig of international proportions could possiblyoperate with so little anxiety.
Vancouver racer Kelly Steeves, with 14 years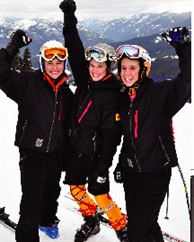 on this planet, went on to claim 3rd place in the K2 GS jokes with her Whistler teammate Rachel Vander Veen and Mia Henry of Fernie (4th place!) that the best part of racing is missing three weeks of school (including spring break, reminds Rachel). Mind you, every second of that time has been taken up with training. These Kinder throw down at least 99 days of gate-bashing each year, including summer training camps in Chile and a few competitions in Europe.
Years of training boil down to under two minutes of total race time where, for a teenage kid, racing is the most "exhilarating" thing in his or her life—like "flying on the ground," says Rachel, and a "rush of adrenaline," says Kelly. Of course, this is what they tell me, and barring things I won't ask and can't print anyway, I believe it. All three made the national team. They all want to race downhill, which is verboten for Kinder, but the golden handshake for Junior 1/2 qualifiers in the FIS. Next season, the successful K2s graduate onward to two new things: a driver's licence and the first international world circuit of the FIS, the Juniors Level One. Make the world circuit, and you can race with lungs screaming at speeds where no one—parent or copper—tells you to slow down.
With the help of Rio Tinto Alcan, the Whistler Cup is a veritable international institution in the Kinder race circuit. Some 19 years ago—the 20th anniversary hits during the Mayan apocalypse— coaches Joze Sparovec and Max Meier thought to themselves, "Hey, why don't we get the Euros to come over here ?" And so with the generous aid of sponsors, various levels of government and the collective efforts of countless volunteers, the Whistler Cup was born. For many of the world's young racers, the Whistler Cup is the showdown of the year. More than 50 racers aged 11-14 from 25 different countries size each other up for the years of competition to come. All of Australia, New Zealand, South America and the United States have qualifying rounds to make the Whistler Cup— and the Europeans send the cream of their crop.
For Keeley Tafel, K1 racer on Canada's BC2 team, all of this is now out of her mind. The 10-second mark is spoken in a soft voice. She opens her mouth and growls. One last time, she bends to her knees before the whip and hones her eyes down the course with a thousand-yard stare. With the countdown chant, she lets out a rebel yell, answered in kind by her teammates who crowd the blue fencing. Time for combat. Her eyes scream along with her heart as she lets loose in fierce determination, pushing hard for the first gate, and then whipping left around the first corner and quickly out of sight. She shows strong in 14th place.
What is the Whistler Cup? It's a week in Whistler's mountains with fast, new friends from across the globe, searing the sintered course with blades of steel, a bright beacon for its acers, the stuff of dreams and tender memories. And yes, history was made again as Canada claimed 1st place verall with 306 points, thanks to gold medals from Lambert "Mr. Consistent" Quézel (K2 Slalom) and Alex Uryga (K1 Slalom), a silver from Ryan Moffat (K1 Slalom) and two medals from Roni Remme—a gold in K2 Slalom and a silver in K2 Super-G—plus the many top-10 finishes of this new crop of crazy Canuck Kinder.
Results and info: www.whistlercup.com 20th Whistler Cup: April 6-8, 2012
Tags: Alex Uryga, Australia, Blackcomb, Canuck Kinder, Chile, downhill, Europe, Fernie, FIS, GS, Joze Sparovec, Juniors Level One, Keeley Tafel, Kelly Steeves, Kinder, Lambert "Mr. Consistent" Quézel, Max Meier, Mia Henry, New Zealand, Ptarmigan downhill, Rachel Vander Veen, Rio Tinto Alcan, Roni Remme, Ryan Moffat, Singing Pass, slalom, South America, Whistler, Whistler Cup