Reading Time:
8
minutes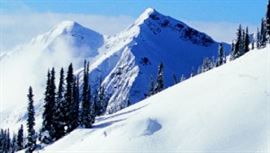 At Mustang Powder, everything reinforces this self-constructed reverie. At lift resorts, reality—crowds, traffic, concrete, roads— has a nasty way of thrusting itself into your experience. But at Mustang, deep in the Monashee Mountains — that "deep in" being a cliché if it weren't so true — reality got left far behind, either on the long snowy logging road or the steep grind by snowcat up the mountainside. Up here, the universe consists of skiing, getting ready for skiing, resting up from skiing, riding up the mountain in a snowcat to do some more skiing, drinking beer while waxing your skis, lounging around, enjoying a massage or hot tub—and talking about skiing, or dining after skiing. And finally, going to sleep looking forward to more skiing.
And what descents. It's hard to think of a bad place in B.C.'s burgeoning world of snowcat skiing. The concept on its face is amazing: take a large preserve of carefully selected terrain located in one of the province's numerous snowbelts, build a lodge and a network of trails, and then spend all winter prowling this terrain with one, two or at most three snowcats catering to 12 to 40 or so very lucky skiers. You need a barrelful of superlatives to describe such an experience.
Still, within this world, for reasons of terrain, weather and the personalities of the owners, there are greater and not quite as great places. And the standard keeps going up. A couple of years back I wrote that Chatter Creek, in the Rocky Mountains north of Golden, B.C., was the new gold standard of snowcat skiing. Following my visit to Mustang Powder late last February, where I rendezvoused with photographer Ryan Creary and Ski Canada editor Iain, I have to say that Mustang equalled that challenge. Perhaps it even raised the bar a tread-width.
******************
Fourteen of us have just hopped out of the snowcat's cabin and are engaged in the usual routine of peering about in the slight dizziness and bewilderment that comes from taking numerous twists and turns in a confined space, then suddenly having to lunge for our skis and attempting to avoid being the last one ready. Nick Holmes-Smith pulls me aside and starts gesturing to the south. The founder and owner, along with his wife, Ali, of Mustang is intensely proud of the vast, 125-sq-km domain he was lucky, canny and persistent enough to lease from the B.C. government.
From our wooded ridgetop we look across another rippling forested shoulder to a pair of peaks rising on the horizon. A broad couloir shoots between them, and other lines twist and curl amid massive rocky features. It looks straight out of the Alps. It's Anstey Peak, a mini-massif that forms one corner of Mustang. Awed, I stumble a few steps in that direction, as if I can bring it within my grasp. But it's something that must be left for later in the season and better snow stability.
No matter. Nick, a lifelong passionate skier who regularly tail guides, brings up the back of the group while the guide, Wade Bashaw, leads us through a screen of tight trees. It had been the only night of our visit when it didn't snow, and this morning the Monashees are simply sparkling, as if the mountains and trees and snow themselves are feeling impish and want us to know it. With good light and some settlement of the previous snowfall, we're in for a treat.
Wade proudly presents to us Carnivale, a huge open slope that descends, ramplike, at an almost impeccably even 36 or so degrees for, well, for a long way, basically for a whole run's worth of turns, since I can spot the pick-up track far below. Nick shoots down ?rst, the crafty devil. Our compatriots are fellows from various ?elds of business in Calgary, aged in their 40s through 60s. Dave, Rob, Warren and the rest push off one-by-one. They're solid skiers to a man, experienced and enthusiastic snowcat regulars. They bop up and down in the perfect snow, feet together in classic powder skiing style, cranking their turns as if each would earn a dollar.
At this point I had to recall my then recently published Ski Canada item on short versus long turns. The article argued that despite what you might see in today's ski movies, both new- and old-school style retains its place. Such as in the mostly tight trees we'd spent the previous day navigating with guide Heidi von Schoening. But here on Carnivale, I thought, a wide-open, manfully pitched slope with unexcelled snow and dazzling light, was there ever a better setting for long turns?
I pushed off, letting my brand-new Atomic Sugar Daddies accelerate to a whooshing rush, then casually pushed my feet out to one side. They ate up the slope in about two-dozen exhilarating turns. I merely rode along. Carnivale was, without question, my finest snowcat-skiing run. Seeing this shamelessly self-promotional performance, Wade caught the drift of things and proceeded to hurtle down, consuming nearly as much of the slope as the rest of the group combined. If each turn was worth a dollar, Wade would have been hard-pressed to buy a six-pack of beer.
Although it was a singular descent, these 450 vertical metres made up barely one-twelfth of our skiing day. Nick, as I said, loves to ski, and he knows his guests do as well. A big day at Mustang brings 6,000 vertical metres or even a bit more. Although last winter was only Mustang's first full season of operation, Nick and Ali are highly experienced operators. The couple, who are also passionate (ex- Olympian) equestrians and operate a ranch near Chase, east of Kamloops, founded another snowcat-skiing venture nearly a decade ago. This was Monashee Powder Adventures, also in the Monashees, but to the south, closer to Vernon. Nick and Ali, along with their subsequent partners Tom and Carolyn Morgan, built Monashee into a popular destination (featured in the December 2001 Ski Canada).
Already during my visit to Monashee nearly six years ago, Nick was secretly eyeing some higher, bigger, steeper and more remote terrain to the north of the Trans-Canada Highway between Revelstoke and Sicamous. Some of his friends had gone ski touring in this region, which had somehow been overlooked by heli-skiing operators and, unlike some areas, was not subject to a native land claim. Soon after that Nick and Ali began the arduous regulatory process.
Today, Mustang is the embodiment of their collective experience and values. And it shows in innumerable details. Like the well-designed drying and changing area right by the main entrance. And placing the lodge not down in the valley but high up in a basin at 1,770 metres. The results are a stupendous view of the Monashees, a short opening snowcat ride before the first run each day, and the ability to ski back to the lodge at day's end throughout the season. The lodge is remote enough to create the requisite wilderness atmosphere, yet still within a reasonable shuttle time from the highway. The multi- multiwinged, three-storey, timber-frame and winged, wood-sided lodge offers some of the finest overnight digs in snowcat-dom.
Nick's a big believer in providing a full skiing day, so everyone's rousted from beneath their comforters at 7:00 a.m. Actually Nick pretends he's on Mountain Standard instead of Pacific Time, so the day really kicks off at 6:00. The point is to put in a full eight hours out on the mountain. Some of the terrain is quite remote, like Mustang's broad glacier set amid two vast alpine cirques (which also breaks the Chatter Creek monopoly on glacier terrain).
This is where we were led on our next to last day—that time when skiing seemed to fill my universe—by Sylvain, another of Mustang's guides. The views, from gigantic icefalls on the main spine of the Monashees all the way to distant peaks of the southern Cariboos far on the western horizon, were simply stunning. The glacier itself was big, wide and long. It added still another element to Mustang's terrain, resulting in a variety more reminiscent of a small helicopterskiing area than the pure tree-skiing that's standard in the snowcat world.
Despite the glacier's mild pitch, I was almost quivering with excitement. Skiing this zone brought us within grasp of Mustang's most remote terrain, the fabled North Shore. It's the sort of terrain whose mention causes voices to drop into a reverential whisper, even among the guides. Those whispers had yielded little information beyond that the North Shore was north-facing, steep and long—some of my favourite adjectives. It was said to be even better than the Snake-area runs, terrain I had glimpsed from Carnivale and that nearly knocked me over. Sadly, time and avalanche instability kept us from skiing the North Shore.
It was an avid item of discussion back in the lodge. Dominic Baker, Mustang's young sommelier and barman, was keeping us well-supplied with cunningly chosen B.C. wines. Meanwhile, Art and Brian, two excellent powder skiers from Courtenay on Vancouver Island, had brought along a huge bag of freshly caught prawns from their home waters, which they kindly cooked up as an after-skiing snack. Pretty much all the guests had gathered round. The other snowcat consisted mostly of fellows from Saskatchewan—proving, if nothing else, that not all Saskatchewan skiers exclusively do roadies to Whitefish, Montana. As we discussed our various descents, as well as the ones that got away, the ones we saw looming in the distance and the ones that for us existed as yet only on the topo map tacked to the wall in the guides' room, we all agreed that it was great to be skiing at a place that held enough terrain for multiple visits' worth of exploration.
I awoke on what I would only later admit was my last day at Mustang, still deep in denial, imagining myself a staff member (dishwasher, chimneysweep, ski waxer), or perhaps clad in my special new "Gore- Tex of invisibility" that would allow me to ski forever. It had snowed all night, hard, and waves of enormous flakes continued to smother the lodge. The air virtually crackled with electricity, and half the guests could barely down their breakfast.
I'd been itching to ski something really steep, and while a massive snowfall is usually the time to dial things back in the backcountry, Sylvain was governed by the same impulse. We started on a run called Epaule: it was fairly steep, fairly treed and the snow was fairly deep. For the rest of the day all that really changed were the adverbs preceding steep, treed and deep. The adverbs progressed from enthusiastic to frenzied to completely out-of-control, illiterate and largely unprintable.
On several descents I found myself in that singular combination of gradient and snow quality that fused one with gravity, not so much skiing as performing a sustained controlled fall in a breaking wave of snow, bringing earthbound man as close as he can come to a bird in flight. At times the snow was one to two, yes two, metres deep. Our universe became a dimly lit, greyish world of oldgrowth forest—only God and Sylvain knew where we were, or the names of the runs. In the occasional open break the new snow would almost instantly sluff and we'd ride waves that seemed to gather to two to three metres of depth, accelerating down the fall line like those anvils dropped into cartoon canyons, until ducking beneath some huge cedar. It was utterly ridiculous. And it hurt to leave. Badly.
GETTING THERE: Access via meeting point at the Skyline Esso in Malakwa, on the Trans-Canada Highway near the site of where CPR of?cials hammered the last spike, 28 km east of Sicamous and 44 km west of Revelstoke. Transfer to lodge (about two hours) via school bus with big tire chains and snowcat.
NEAREST AIRPORT: Kelowna, an easy two-hour drive, has daily non-stop service from Toronto with WestJet as well as Vancouver and Calgary with several airlines. Powder Air has scheduled charters from Calgary to Revelstoke on Saturdays.
SNOW AND TERRAIN: Mustang lies in arguably Canada's snowiest zone, and records an amazing average of 2,000 cm falling in a typical season. Mustang's leasehold covers approximately 125 sq km.
LODGING: All guests stay in the luxurious and fully equipped, three storey timber-frame lodge (there's no day-skiing). Single- and double-occupancy rooms with private baths.
CAPACITY: 24 guests, two operating snowcats. Mustang has purchased new snowcats for this season.
PACKAGES: Three-, four- and ?ve-day packages available, with prices of $450 (low season) to $750 (high season) per day, inclusive except ski rentals, alcohol and gratuity.
MORE INFORMATION: 888/884-4666 or 250/679-8125; Mustang Powder