Reading Time:
7
minutes
From the Buyer's Guide 2011 issue
One corollary of big-mountain skiing is the way the terrain swallows up the people doing it. We had just crested a gentle saddle a few minutes' walk from the Diavolezza cable car terminal, and within moments my two companions had been rendered into microdots by the vastness around us. Mountain guide Peter headed straight down what looked like an ordinary pitch but soon proved longer than any fall line in Canadian ski country. Meanwhile, pro freeskier and photographer Sven Brunso traversed across the bowl and soon his dazzling bright orange coat and red helmet were lost against the backdrop of a massive cliff wall rising up the flanks of the Bernina Massif, one of Switzerland's most iconic mountain groups. Big terrain, huge features, massive vertical – and solitude. Welcome to St. Moritz.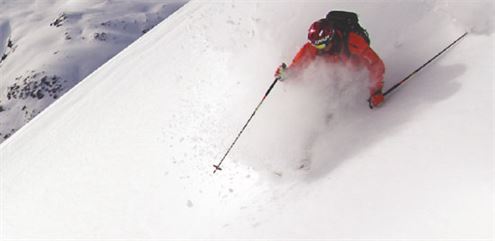 Back in 2001 Ski Canada editor Iain MacMillan and I stayed in a swank four-star hotel in the centre of St. Moritz. For four days we were knee- to waist-deep in storm snow but had barely a hint of a glimpse of the 3,500- to 4,000-metre peaks ringing the valley. The story we called "Judgment Day at St. Moritz" showed a resort that far exceeded its intermediate-skiing reputation and an on-mountain (or on-mountain only during fair weather) clientele that defied the fur-coats, pearl-necklace and leather-boot reputation the historic spa town had saddled itself with. This time, I was exploring the other side of the Engadine, literally and figuratively.
The morning's opener with Sven and Peter was Val d'Arlas, one of several classic off-piste routes spilling like the inverted arms of a starfish from the ridgetop of Diavolezza. The brief sidestep to the saddle provided a full Imax-style impression of the vast Bernina Massif rising from a flat basin glacier beneath the terminal. Val d'Arlas just goes and goes and goes, its pleasant valley run-out funnelling to a Nordic loipe heading back to the cable car base.
Opposite us rose the strangely isolated peak of Lagalb, shaped almost like an extinct volcano, skiable on three sides and with its own cable car providing perfect access. We skated along the Nordic loipe to the Lagalb base. Both mountains are essentially single-lift operations unconnected to the much larger lift systems—Corviglia and Corvatsch— at St. Moritz proper. Some would call that inconvenient—but it maximizes the off-piste and touring possibilities and keeps at a safe distance the "ski safari"-crazed Euros who crave cruising an endless succession of interconnected lifts. Lagalb and Diavolezza sit astride the historic Bernina Pass about 20 minutes' drive from St. Moritz, giving them a high base elevation of 2,100 metres and reliable snow. (At around 1,850 metres, St. Moritz is a very high elevation ski resort for the Alps.)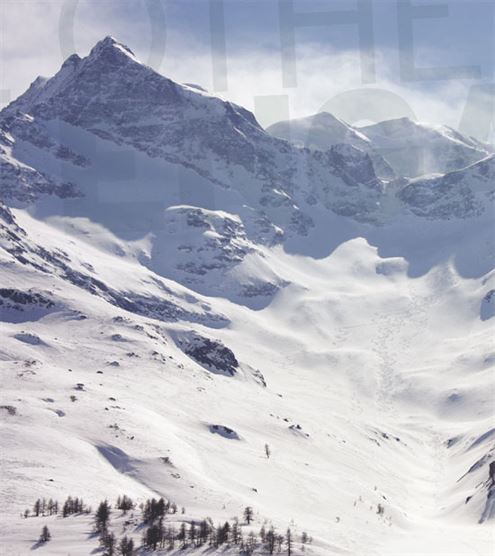 Lagalb also lets you combine its 800 lift-served vertical metres with a North America-style road run. Just by veering away from the corduroy outside the cable car terminal you find La Rösa, a set of formidable fall-line pitches down a broad convex flank. In spring you can literally dial in your choice of snow. Stay in the leftward gully and you usually find winter wind-sift or powder. Veer right and you feel the crisp smoothness of corn snow. Go way right and it's springtime mush. Great fun for pitch after pitch, until some isolated old larch trees signal that it's time to traverse out to the Bernina Pass road. The descent is well over 1,200 vertical metres. Sven and I took turns running the shuttle while Peter guided us on successive laps.
After skiing we stopped for the mandatory round of beers at the Bernina Haus. This ancient hospice has been in continuous business for more than 500 years—most of it as a life-saving way station for weary travellers traversing the pass, more latterly for thirsty skiers and hikers. The ambience is amazing—as were the enormous slabs of apple strudel smothered in vanilla sauce that Sven ordered up.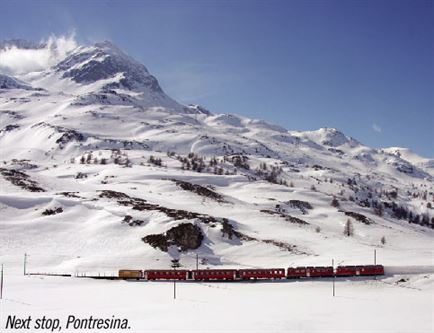 With its high valley floor at more than 1,500 metres, its isolation from the rest of Switzerland (as well as Italy and Austria) by numerous tight mountain passes, its string of shimmering lakes, its broad forested slopes rolling more than vaulting toward the surrounding peaks and its relatively sparse population, the Engadine is something of a world unto itself. Certain aspects are more evocative of B.C. than the French Alps or Valais in western Switzerland. The Engadine is simply lovely, and with ski areas strung from Maloja at its upper end on the Italian border down to Scuol near Austria, there's an enormous amount to explore.
The village of Pontresina illustrates what I call the "St. Moritz paradox." By history and reputation, St. Moritz is a place of over-the-top fancy hotels, dizzyingly expensive restaurants and shops, and mediocre lifts catering to a dilettantish ultra-posh clientele – the proverbial Greek shipping magnates and Iranian exiles plus their various mistresses and manservants. Mix in some youngish Eurofops and you have a not bad picture of the core village of St. Moritz.
But outside of there – up on the mountain, and in the more outlying villages like Celerina, Samedan and Pontresina – it's entirely different. It's about regular people who come here for regular motives: to ski and enjoy the mountains. They know St. Moritz offers some of the best skiing in the Alps, and that mid-scale accommodation packages are priced within the mainstream. To illustrate the point, Sven and I stayed at the Sporthotel Pontresina, a large and solidly three-star establishment that provided exactly what you'd expect of a mid-market European hotel. Pontresina is a pleasant village, essentially one long, narrow street of late Victorian-Edwardian era hotels, shops and restaurants. Pleasant, practical, no-nonsense – very Swiss.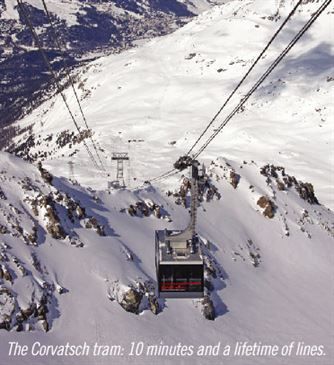 The main lift systems at St. Moritz proper are Corviglia and Corvastch. The former is a very modern interconnected system of high-speed chairlifts and superbly groomed pistes, plus plenty of adjoining freeride terrain. The latter is a more traditional European-style mountain anchored by a huge cable car rising more than 1,500 vertical metres to above 3,300 metres, among the highest lift-serviced points in Europe. The Engadine super lift pass (cheaper than any major North American resort lift ticket) covers all four mountains plus outlying areas like Maloja and Zuoz.
This creates a lifetime's worth of exploration and fun for any type of skier, from casual cruiser to committed carver to off-piste aficionado. And the region's off-piste is among the best in the Alps, everything from obvious piste-side slopes to hidden back valleys to genuine touring. Much of it is created by the very fact that the lift system isn't one big interconnect, but instead accesses numerous separate peaks, nearly all at or above 3,000 metres.
The Engadine is a favourite haunt of my good friend John Hogg, still the only Canadian ever certifi ed as a mountain guide in Switzerland by the Swiss. John's 30+ winters in the Alps have created an encyclopaedic mental database of literally thousands of great descents both near and far from the lifts. Truth be told, the snow wasn't great during the week of my last visit with everything including pea soup fog. John, by contrast, skied weeks of powder and corn snow last season, so I asked him to recall one great descent.
Val Bever is a great run that's not far from the lifts. We rode the Trais Fluors chairlift in the Corviglia system, then walked on skins for barely half an hour to the Fuorcla Valletta saddle. Our first turns were down several lovely northeast-facing pitches. It was the last week of February, the avalanche hazard was at 2 or moderate, and it had snowed 20 cm onto a soft base—and it was brilliant sunshine.
After those opening pitches we glided along a hanging valley, then traversed left, where we came to a huge, long open bowl of about 30 degrees—just fabulous powder the whole way. This variant is actually the Valletta di Beiva, and it takes you to the south end of the Albula train tunnel. By hanging skier's right along the creekbed toward the exit, we finished our descent with this wonderful portion of very steep tree skiing. It's great to time Valletta di Beiva so you get to the valley around lunchtime, or if you're staying in Pontresina, it also makes a great end-of-day run.
I have so many good routes mentally mapped out in the Engadine; it's just endless. Many of these runs are shaded by huge mountainsides and cooled by glaciers, so they hold perfect powder right to the end of the season. Others are amazing peak-to-valley corn snow runs where your last turns are basically onto the deck of your lunch stop.
Now that's the other side of the Engadine.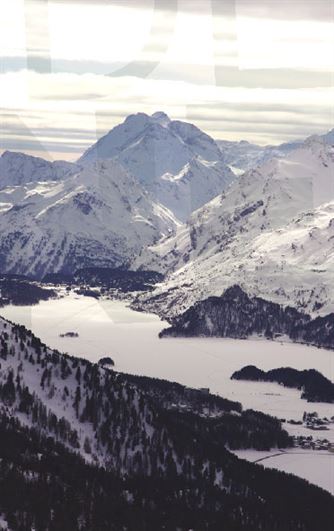 MORE ON THE ENGADINE
THE REGION
Long, isolated valley in southeast Switzerland's Canton Graubünden. Main villages are St. Moritz Bad, St. Moritz Dorf, Silvaplana, Surlej, Sils, Pontresina, Celerina, Samedan and Zuoz. St. Moritz has a long history of winter tourism dating to the 1850s.
THE LIFTS AND PEAKS
Largest lift system is Corviglia rising from St. Moritz Bad and Dorf and Celerina, followed by Corvatsch/Furtschellas at Surlej and Sils, Diavolezza and Lagalb on the Bernina Pass, plus Maloja and Zuoz. Engadine lifts climb six separate peaks rising to near or over 3,000 metres. Reasonably priced lift passes for individual mountains or the entire Engadine region are available.
ACCESS
Swiss International Airlines has non-stop fl ights to Zurich from Toronto and Montreal (www.swiss.com). Zurich is about 215 km or 2.5 hours' drive. (Milan is about 200 km or a 3-hour drive.) There is excellent Swiss rail service from the airport via Zurich, Chur and the Albula or Vereina train tunnels into the Engadine (travel time is about 4 hours). Bonus: Flying with Swiss (a Star Alliance member) allows you to check your bags in Canada and have them delivered directly to your hotel room.
HOTELS
St. Moritz is where European winter tourism began, and today the hotel standard is extremely high. There are more than a dozen four- and five-star hotels in the region, plus numerous three-stars, as well as family-run pensions in the smaller villages. We stayed at the Sporthotel Pontresina, www.sporthotel.ch
MOUNTAIN GUIDING
John Hogg, hoggjw@telus.net; 250/342-7313
TOUR OPERATORS
Merit Ski Vacations
Simply Swiss
The Vacation Station
Skican
Ski Europe
MORE INFO
St. Moritz
My Switzerland