Reading Time:
8
minutes
It's often surprising how many people in the ski world got their start in vertically challenged Ontario.
Ontario ski areas are not the steepest, their snowpack is not the deepest, their vertical is neither epic nor the stuff of legend. But if the outcry over the pandemic-induced shuttering of its slopes was any indication, there's plenty of love out there for the province's ski scene.
With 60-plus hills, resorts and clubs caught up in a four-week provincewide lockdown beginning on Boxing Day 2020, the #SkiON23 hashtag quickly rose to prominence as a show of support for a January 23 reopening. But it was not to be. Doug Ford and company extended the lockdown until February 16, dashing the hopes of resort operators and skiers alike, and giving rise to the ultimately successful #SkiON16 hashtag.
Across the Canadian ski community, there was an outpouring of sympathy for Ontario's plight (yes, even in Alberta).
After all, according to the Ontario Snow Resorts Association, it was the only jurisdiction in North America to shutter its slopes. To paraphrase the unofficial provincial anthem: Ontari-ari-ari-ouch!
"I couldn't see any reason to close the ski hills," said three-time World Cup winner Todd Brooker. "Close the lodges, sure, but keep the lifts running. Putting your boots on outside and going back to the car for lunch is exactly the way we did it when I was a kid, and it worked fine."
Pointing to the importance of outdoor activities in supporting physical and mental health, Selkirk Snowcat Skiing president Paul Osak said it was "a mystery to me why Dofo [Doug Ford] chose to close ski hills. Restricting skiing seemed like an extreme measure to me."
"Skiing at Lake Louise saved my family's COVID winter," said Kelly VanderBeek, who in 2006 became the first Canadian woman to reach a World Cup podium on home soil. "Because of that intimate appreciation for what we had in Alberta, I felt deep sadness for Ontario's closures knowing the impact it would have on its people, especially the kids."
The dismay felt by Brooker, Osak and VanderBeek was made all the more acute by the fact that all three discovered a passion for skiing in Ontario—at Blue Mountain, Craigleith Ski Club and Chicopee Ski Club, respectively.
With so many prominent members of Canada's ski community hailing from the Heartland Province, Ski Canada asked 10 of them to share their Ontario backstories.
•••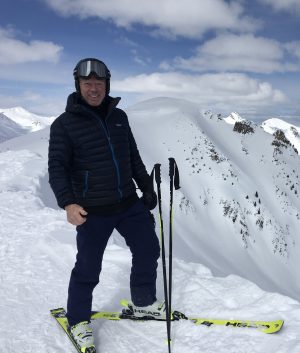 How has Ontario shaped your career in skiing?
A: "I had a chance to learn from the best. At that time, Ernie McCulloch was the head pro at Blue Mountain. I skied with him for a couple runs and got tips from him every day. Later I skied with Jurg Gfeller, another top coach and racer. It was a great way to start my career."
—Todd Brooker, winner of three World Cup downhills, including the famously fearsome Hahnenkamm
A: "How has Ontario not shaped my career would be a better question. I learned how to 'feel' the snow at my home club of Chicopee. With a small, short pitch, I learned how to carry my speed across the flats. The touch I developed for the snow was my superpower as a pro."
—Kelly VanderBeek, World Cup super-G specialist-turned-CBC Sports commentator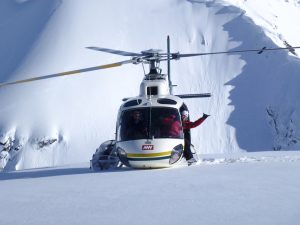 A: "I was so fortunate to grow up right beside the Chicopee Ski Club in Kitchener. My family owned the rental and retail ski shop there for 30 years, and my dad was the ski school director. When I was very young I thought Chicopee was the biggest hill in the world. I didn't know any different, and I skied it like it was a mountain. It was our mountain and we loved it. Ski clubs in Ontario have inspired many skiers to make a career out of their passion. I was one of them: In 1989 I moved to Whistler and taught skiing while I started my photography career."
—John Schwirtlich, photography and videography contractor for Mike Wiegele Helicopter Skiing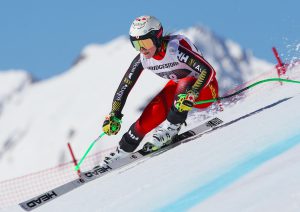 A: "I have always joked that when you grow up skiing in Ontario you don't have any distractions. We don't have the kind of powder, off-piste or big-mountain skiing that the West has, but what we do have is perfectly groomed snow, a lot of ice and fast chairlift turnarounds that allow for a lot of runs in a day. Skiing in Ontario you learn good fundamentals, and you get a lot of practice on ice. It definitely led me to become the ski racer I am now."
—Roni Remme, Alpine Ski Club product, earned her first World Cup podium in alpine combined at Crans-Montana in 2019
A: "I grew up learning how to deal with ice. Not much else available [in Ontario]…or on a World Cup downhill as it happens."
—Steve Podborski, Craigleith Ski Club product; the Crazy Canucks legend is now president and CEO of Parachute, a Toronto-based national charity dedicated to preventing serious and fatal injuries
•••
 What do you like best about Ontario's ski scene?
A: "The camaraderie and the absolute stoke that my friends and I would have for a powder day since they didn't seem to happen as often as we would like."
—Mike Rubenstein, general manager, Kicking Horse Mountain Resort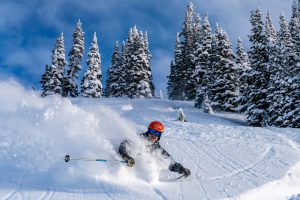 A: "Growing up skiing at Craigleith was a dream for a kid like me. From my earliest memories of classes and racing, I'd see the same faces year after year and it was this sense of community that enhanced my love of skiing. Each year many of our guests are friends and ski buddies from my old Collingwood stomping grounds who get to experience that same sense of community with us year after year."
—Paul Osak, Selkirk Snowcat Skiing president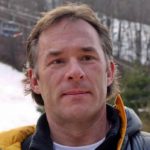 A: "I love that it can be fun for any skier at any level. For expert skiers, there are enough steeps to push your skills. At the same time, the hills in Ontario feel accessible to beginners. Moreover, Ontario après is the best because you have a mix of people who have just stomped off the hill to enjoy a well-earned pint. Honestly, there is no place that I'd rather be than at Jozo's or the Bullwheel at around 4:00 p.m. on the heels of a sunny Saturday in February."
—Dan Skelton, Blue Mountain president
A: "In racing, everyone knew everyone. There weren't many chalets or other places to stay. So people who owned chalets had friends stay over every weekend. And they had parties. It was really fun. It was a pretty small fraternity of skiers."
—Todd Brooker
A: "I love the atmosphere and passion that skiers have in Ontario. We may be small, but we are mighty! It is definitely a unique environment because it is such a community and there is a lot of family involvement. I love that when I was skiing on the weekends as a kid I would run into my whole family out there, my grandpa, aunt and uncle, cousins, and of course my brothers and parents."
—Roni Remme
•••
What's your favourite Ontario run, and why is it your favourite?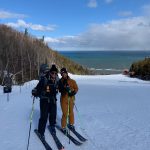 A: "That's an easy answer for me: Georgian Peaks, Rogers Run, left side all the way down. I grew up on that slope and to this day nothing feels better than making a few long, fast turns down that hill."
—Tyler Nella, World Cup downhiller and two-time Nor-Am Cup race winner
A: "Sugar Bowl at Chicopee, skier's right side. I used to love skiing right along next to the trees. Tree skiing is still my favourite type of terrain."
—John Schwirtlich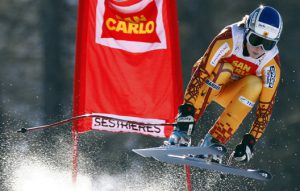 A: "Sugar Bowl at Chicopee Ski Club. I feel so much nostalgia for the old training hill, its old double chair and the memorably large start ramp that rivalled the pitch itself."
—Kelly VanderBeek
•••
Any memorable moments from skiing in Ontario you could share?
A: "I grew up on Forks of the Credit Road a couple miles from Caledon Ski Club. It is one of the few places where you park at the top and ski down! I loved snow days in high school since I could walk to the hill. It's a short one, but you learn how to use every inch and escape your parents!"
—Tim Dattels, Alpine Canada Board Chair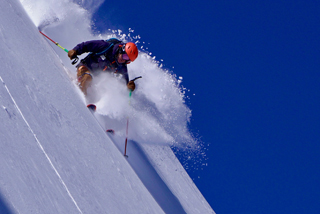 A: "Winning a Nancy Greene Ski League race at 11 years old. It was a miracle!"
—Steve Podborski
A: "My wife and I recently took our daughter out for the first time this past winter, which was pretty exciting. She seemed to like the chairlift and Skittles better than the actual skiing, but at least she was out there! My first time skiing was on the exact same hill [Georgian Peaks], which is pretty cool."
—Tyler Nella
A: "I have been at every Blue Mountain opening day since I was about 2, and nothing beats that kind of energy. From the lift operators to the diehards who will stand in line for nearly an hour to get first chair, everyone is excited and just happy to get back to their favourite season. Last winter we had two opening days due to the provincial shutdowns, and in a way it felt like getting two desserts!"
—Dan Skelton
A: "The night we climbed Tower 3 on the old triple at Craigleith and changed the "No Tucking" sign to "No F*#!ing," complete with an alien creature drawn in behind the guy in the tuck. It's especially poignant as my youngest sister, aka 'The Brat,' who was with us that night, succumbed to MS last year."
—Paul Osak
A: "I will always remember racing in Ontario and the crowds we had at the bottom. All the parents would be out cheering, no matter the weather, with cowbells and extra blankets or jackets for when we crossed the finish. Of course, it was also super-competitive, and I think that helped to push me and so many others to find success beyond ski racing in Ontario."
—Roni Remme
A: "I remember when a good old-fashioned Ontario storm would roll in and the wind would be howling. The lift operators would close the T-bars because they were swinging around in the wind. We would ski the T-bar line to get the fresh powder while the lift was closed. I always loved skiing the fresh snow, and still do at Wiegele's."
—John Schwirtlich
•••
Any thoughts on the 2020-21 closure of Ontario ski hills due to COVID-19?
A: "I felt for the industry in Ontario. I hope resorts are able to bounce back and start the recovery this winter. It was a privilege for us to be able to be open, and a privilege for guests to be able to ski and ride in the West."
—Mike Rubenstein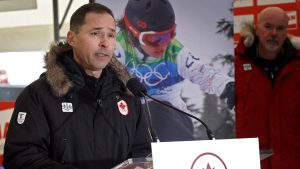 A: "If the choice was between going skiing and getting dead, I know the answer. After that it gets tricky!"
—Steve Podborski
A: "Trying to be glass half full…one real positive from the shutdowns was how Ontario ski areas came together as an industry. The Ontario Ski Resort Association and all member organizations communicated frequently and pooled resources to make sure our sport stayed a part of Ontario winters. That collaborative effort demonstrated the passion and commitment we have for skiing in Ontario."
—Dan Skelton
A: "Let's just look forward to next year and appreciate the value of being outside with friends and family enjoying our favourite sport."
—Tim Dattels