Reading Time:
17
minutes
When pulling together a winter's worth of feedback, we realized this new test has some valuable differences. The reviews are more thorough, personal and in-depth. The quality feedback allowed us to highlight what we think each ski is "best for."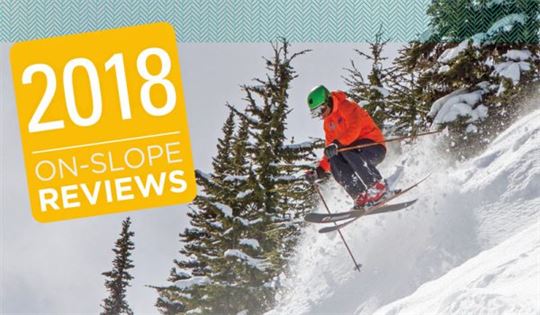 For nearly 40 years Ski Canada brought together the best brands of skis and the best testers for four or five days of dedicated ski testing. From those hard days of work, we produced the annual ski test. Last winter was a little different in that we sent teams of testers out to Canadian Ski Council and other industry demo events across the country and on longer reviews of next year's skis. While the feedback we gathered isn't as controlled as previous tests, this new methodology allowed us to test the same skis in different conditions and terrain. It also allowed testers more time to better evaluate a ski's strengths and weaknesses.
When pulling together a winter's worth of feedback, we realized this new test has some valuable differences. The reviews are more thorough, personal and in-depth. The quality feedback allowed us to highlight what we think each ski is "best for." Rather than test whatever the manufacturers offered up, we focused almost exclusively on brand-new skis or certainly skis with a serious technology tweak. Fewer skis meant we had more room to pack in the construction and technology story to link the skis' guts with performance. And rather than just focus on individual models, we could review whole families of skis at once, picking apart the technology and performance story to help explain the various models.
All that is to say, we're excited about the new direction of the Ski Canada On-Slope Reviews. We think data and information gathered are more useful and informative than ever. And this, we believe, will help you find your ideal ski more easily. That's what this whole thing is about. So, read on, talk to your favourite shop about demos—and then get skiing!
Part 1 – All-Mountain Skis
From bump lines to jump lines, hardpack to knee deep, All-Mountain skis are built to do it all. If you love to ski anywhere, anytime, or in any conditions, but can't afford three pairs of skis, look here.
Most of the skis we demo'd this year are part of a bigger family. Typically, manufacturers use the same build and general design for several models that will then vary just by waist width. And yes, each ski will perform slightly differently, but there are lots of similarities. We call out both in our reviews. But there are a few rules of thumb that rule ski behaviour.
The first is waist width. The All-Mountain category spans the spectrum from about 80mm to 105mm. Thinner models are better in drier areas (the East and Rockies) and if you spend more time in firm snow than in the powder. The wider models will float better in fresh snow, but won't carve as easily, so they're better for skiers living farther West or in snowy parts of the East, particularly if they're more interested in finding powder stashes than carving trenches.
The other rule of thumb is about metal. The more metal built into a ski, the stiffer that ski will be. Harder-to-flex skis tend to be higher performance, biting into hard snow better and feeling more stable at speed and landing jumps. But they're also, well, harder to flex, meaning they require more weight, energy and tech-nique to ski them.
One thing is for certain, no matter how many days you log, or how and where you turn, there's so much variety in the All-Mountain category that there's a perfect ski for you.
BLIZZARD * DYNASTAR * ELAN * FISCHER * FOON * HEAD * K2 * KASTLE * LINE * 93NORTH * NORDICA * PRIOR * SALOMON * VOLKL
BLIZZARD BRAHMA
BEST FOR:
Advanced all-mountain ripping
LENGTHS: 166, 173, 180, 187 * RADIUS: 19@180 * SIDECUT: 125-88-110 * $799

In one of the most exciting updates for this season, Blizzard took the well-loved All-Mountain pair of Bonafide and Brahma skis and detuned them just a little. The idea was to make them more approachable for more advanced skiers, who found the stiffness a bit hard to handle, without taking any of the performance away for experts. Blair Timmins, owner of Jasper's Edge Control, whose personal ski is the Brahma, was keen to test the 2018 version. "The new construction is noticeably easier to ski without taking anything away," he said. In both models, Blizzard removed some Titanal and added more carbon, both lightening and softening the skis. "It turns quicker and is super-responsive with lots of stability," noted Dave Degelman, store manager of Calgary's Ski West, of the Bonafide. "It's a true quiver of one." Both skis are more traditional in shape than the similar Blizzard Rustler you'll find in the Freeride section (see Ski Canada's Fall 2017 issue). With a flat, rather than slightly rockered tail, the Bonafide and Brahma tend to finish a turn more cleanly. While unidirectional carbon sheets—where the fibres run in only one direction—at the tip and tail help to reduce vibration. Ryan Stuart, SC's technical editor, found the Brahma "felt calm and strong in all kinds of conditions. In the bumps, it was soft enough in the tip not to buck me around, but strong enough underfoot to carve and pop. I couldn't find a top end on high-speed groomers, and in pockets of old powder at Jasper's Marmot Basin, it floated quickly and blasted through crud." If you take pride in your technique and like to ski hard and fast, both are good skis to choose. Pick the 85mm-underfoot Brahma if you love groomers or your hill gets less than 400cm per year. Snowier and pickier skiers should opt for the 98mm Bonafide.
DYNASTAR LEGEND 96
BEST FOR:
Demanding skiers, wherever they live
LENGTHS: 165, 171, 178, 186 * RADIUS: 17@178 * SIDECUT: 132-96-112 * $749

Dynastar combined its Freeride and All-Mountain ski lines into the Legend family of do-it-all skis. Though the six-model waist widths vary from 75 to 106mm, and the level of skiing required to handle them climbs accordingly, they all share the same construction. Called Powerdrive Free, it's a wood core vertically flanked, rather than horizontally sandwiched, with TPU, paulownia wood and an ABS sidewall. Dynastar says the soft, hard and dynamic layering gives the ski a playful and smooth feel. Our testers didn't ski the 76 or 80mm models, which are geared toward intermediate skiers, slower speeds and more on-piste skiing. The 84 model proved a versatile beast, equally happy on groomed runs as off-piste. "Easy initiation with comfort from start to finish in cruise turn shapes," reported Paul Cunnius from Banff. While the next size up, the 88, performed best at slightly higher speeds. "This ski has a huge sweet spot and soft flex that makes turn initiation easy," wrote Bob Brett at Whistler. "A great ski for mastering the off-piste." The 96mm model blew testers away with its go-anywhere abilities. "This ski has a strong carve-inspired shape, with a deep sidecut and a completely flat, very stiff tail," was Tyler Blamey's assessment. "It held itself afloat pretty respectably in deeper snow, was super-easy to manoeuvre through bumps and trees, and can charge hard with the best of them." When he jumped up to the chubby 106, he found it took a little more effort to turn. "However, this is rewarded with a way higher top end, both on- and off-piste," Blamey said. "I struggled to find the limits of this ski. The call between the 106 or the 96 would simply be whether there's a preference for soft or hard conditions, and how hard you want to work."
ELAN RIPSTICK 96
BEST FOR:
Advanced explorers
LENGTHS: 167, 174, 181, 188 * RADIUS: 18@181 * SIDECUT: 134-96-113 * $649

Back in the 1990s, you probably grew up coveting Elan skis. The brand has remained strong around the ski world but has drifted off the "first choice" radar of many Canadian skiers, including many of our testers. But once they got on a pair of Ripsticks, Elan's Freeride skis, they started to wonder what they'd been missing all these years. "Easy and quick-turning are the standout qualities for this ski," said Paul Cunnius. "As the ski ran through a wide variety of conditions, ranging from firm to loose and crud, it still remained stable underfoot. With a firm tail to balance, this ski provides a lot of options to enjoy a large range of mountain snow conditions with ease." The Ripstick comes in four widths, two that qualify it for the All-Mountain category, 86 and 96mm. Both are asymmetric in design, with a long inside edge and a shorter, more rockered outside edge. The dedicated right and left ski allows it to perform like two different precise models. "Stable at speed and versatile in turn shape," noted Mike Dempsey. Bob Brett found the Ripstick "very forgiving, and could turn on a dime and easily navigate most conditions." A good choice for strong intermediates as well as advanced skiers aspiring to take their skiing to the next level. "It's our secret weapon," said Steve Tuttle from Ottawa's Kunstadt Sports. "The Ripstick is really good value compared to other skis that perform as well."
FISCHER RANGER 98 Ti
BEST FOR: Full all-mountain performance
LENGTHS: 172, 180, 188 * RADIUS: 18@180 * SIDECUT: 132-98-122 * $849

Love at first turn. That's how Ryan Stuart felt about the Ranger 98 Ti after a demo at Whistler Blackcomb, not wanting to return it at the end of the day. "It was my favourite of all the skis tested last winter. I'm an expert skier, but don't have the power, technique or days on snow of some of the higher-end rippers out there. On the Ranger I felt like I had all the performance I want, with the forgiving nature I need. It carved like a much narrower ski than its 98mm waist, danced through untouched powder for a couple runs, felt stable at high speed, gripped on firm snow, weaved through the bumps and it allowed me to push through to an air-filled last run at the end of the day." This was backed up by everyone else who demo'd the ski. "It's our number-one-selling ski," said Ian McAdams from Nelson's Village Ski Hut. "Anyone can ski it, from intermediate to expert. It's fun all day on the groomers or in powder." Bill Lalonde, owner of Alpine Pro ski shop at the base of Blackcomb, was amazed at the performance: "I even took it out on a blue ice day and it carved everything." The Ranger 98 Ti is a milled-out wood core that's almost 80 per cent air. A sheet of Titanal adds power to the light weight, and a carbon-fibre tip cuts down on chatter. The sandwich construction gives the ski a low-profile look that belies its ability to float. In wind-packed and chopped-up heavy snow, the skis rode over it all like a hovercraft. For a lightweight ski, it felt nimble and intuitive but also surprisingly stable no matter where I took it.
FOON NEO
BEST FOR: Soft-snow lovers
LENGTHS: 157, 165, 176, 185 * RADIUS: 22@165 * SIDECUT: 134-101-118 *$1100

Foon Skis is a micro-brand making handmade skis, from locally sourced wood, in a home shop 45 minutes from Whistler. It's a cool local story with a sustainability message. Foon is a rare brand that uses a solid piece of wood, rather than glued strips. And it's the only brand using yellow cedar, a tree that only grows along the Pacific Coast at altitude. Its tight grain is naturally vibration absorbing. Each ski is made from one core piece, milled and then split, no glue or joins. The wood is then sandwiched with fibreglass and a graphite base. The sidewalls are urethane bonded at a molecular level, rather than glued, for durability. To handle the variables of coastal snow, the Neo has early-rise tip and tail, and a rocker profile that Foon says allows it to ski long and stable at speed or short and nimble when tight turning is called for. Shaped with a 101mm waist, they're a bit fatter than Bob Brett normally likes, but the lithe Whistler ski instructor is considering becoming a fat-ski convert. "The Neo has a big sweet spot that tames chop, powder and bumps, and even bends into a sweet arc in big GS turns," he wrote. "If you prefer to head off-piste any chance you get and rip big lines without sacrificing reasonable performance on-piste, the Neo could be the one."
HEAD KORE 105
BEST FOR: Having your powder and groomers, too
LENGTHS: 171, 180, 189 * RADIUS: 17.8@180 * SIDECUT: 135-105-125 * $824

If you're in the market for a new ski this year, one of the two Head Kore models should be on your demo dance card. This was the most talked about and praised ski by testers and shop owners alike. "Remarkably like a Head ski of old; a solid foundation to carve out of and definitely not a noodle," said Alex Messinis, co-owner of Edmonton's Sundance ski shop. "But the soft-snow performance is on par with skis from brands like DPS. It's really impressive and will appeal to a variety of skiers." The Kore family replaces the freeride Flight series, but is a total rethink focused on light weight without sacrificing downhill performance. Head started with one of the lightest wood cores, karuba. It added two sheets of carbon for torsional rigidity; Koroyd, a honeycomb structure, underfoot to dampen without weight; and graphene at the tip and tail to reduce swingweight. To trim more weight, Head skipped a graphic topsheet for a unique polyester laminate that's soft to the touch and looks stealth-fighter badass. The net result: the 171cm Kore 93 weighs 1.3kg, lighter than some dedicated touring skis and about 350g lighter than its Flight equivalent. "It's noticeably lighter than anything else," noted Arnold Schubert, owner of Gates + Boards in Barrie, Ontario. "Usually skis that light don't hold an edge. This is the exception." Testers skiing rock-hard conditions at Blue Mountain said the 93mm waist carved well and felt playful in the bumps. It would make a great all-mountain ski in the East and Rockies. "I think the quiver-of-one 105 is going to fly off shelves in the West. It's easy to initiate and quite versatile in different-sized turns and snow conditions," said Andi Ciotti after skiing it at the Canadian Ski Council's Demo Days at Blue Mountain.
K2 PINNACLE 95
BEST FOR: Western all-mountain
LENGTHS: 170, 177, 184, 191 * RADIUS: 17@184 * SIDECUT: 132-95-115 * $650

Honing in on the ideal all-mountain rocker and camber design, K2 perfected its popular Pinnacle 95 and 105 models for 2018. It also added an all-wood core in its value-priced 85. We didn't get a chance to ski the 85 or 88, but testers liked what they found when they clicked into the redesigned 95 and 105. Of the 95 Paul Cunnius said, "It has the stability of a big ski, and the ease and performance of turning like a smaller ski. A rare combination in today's big-ski world. This ski makes you feel fantastic!" As expected the 105 felt more at home in deep snow, where it offered plenty of float and the new design kept it nimble when needed, continued Cunnius: "Just enough early rise makes it quick and easy to turn when necessary, which comes in handy in trees and tight spots, but can still charge big arcs in the wide open." Erin Keam thought the 105 was the perfect powderhound ski: "Great ski for dropping cliffs and weaving through trees and pillows. Stable and powerful yet playful when going fast." Sean Lasseter with Corbetts Ski & Snowboard in Oakville, Ontario, was "pleasantly surprised at the edge grip and hold for a 95mm-waisted ski…it felt very solid and stable on a firm February eastern day at Blue Mountain." Lasseter found no shortcomings and further praised the 95 for its float and versatility "without sacrificing edge grip and hold." Ryan Stuart found both models had three personalities—in a good way: "Nimble and lively in the trees and bumps, a stable missile in chopped-up powder and a solid carver on soft groomers." Suited more to the playful skier who is as happy smearing turns as finishing them, the whole family is all about versatility. Choose the 85 if you ski the East, the 95 if you ski no matter when it last snowed, and the 105 if you live by the 15cm rule.
KÄSTLE FX85
BEST FOR: All-mountain performance without sacrifice on groomers
LENGTHS: 157, 165, 173, 181 * RADIUS: 17@173 * SIDECUT: 119-85-108 * $979

"This is your all-the-time ski," said Whistler local and Fanatyk Co Ski and Cycle manager Bernie Duval. "It carves like a carving ski and skis powder like a fat ski." He was speaking specifically of the FX95, one of his best sellers. In drier areas, the FX85 is a better bet. Either way, both models are redesigned for this year with a silver fir and beech wood core sandwiched between layers of fibreglass. Both also come in an HP version, which includes two sheets of Titanal for high-speed charging. Both versions "carve like hell," stated Duval. Choosing between them is just a matter of how fast you want to get there. Technically minded Ian March found the regular 95 plenty for him: "Solid on-piste, responsive off-piste, an awesome all-round Western ski. Floaty and surprisingly quick-turning for its solid feel in deep snow and cut-up crud. Back on-piste, it rips GS turns at speed with its damp, powerful, confidence-inspiring feel, making you want to lay out big arcs and risk your lift pass." Advanced and experts need only apply here, and definitely only powerful experts should try to reign in the HP versions.
LINE SICK DAY 94
BEST FOR: Turning the ski hill into a playground
LENGTHS: 172, 179, 186 * RADIUS: 17.6@179 * SIDECUT: 131-94-117 * $600

The Sick Day is all about making skiing so much fun that you can't help but skip work to play. To get there, Line started with an aspen wood core and then added Magic Fingers, carbon stringers inlaid into the wood. The wood keeps the skis fairly light, while the carbon adds edging power. "They've got a playful feel," said Alan Chow, owner of Toronto's Sport Swap. "The sweet spot is so large you can be lazy and still ski it well." No metal means the Sick Day has a softer flex pattern and lacks the torsional rigidity to really stand on an edge. Testers had fun smearing rather than carving, especially at the end of the turn and on firmer snow. "It's not great on ice," Chow added, "but awesome for everything else." And like just about every Line ski, the Sick Day is excellent value: in Ski Canada tests Line skis consistently impress testers, yet they often cost half as much as some of the competition. The Sick Day comes in three all-new mountain waist widths: 88, 94 and 104mm. Regardless of width, we recommend this ski for advanced, value-conscious skiers who hunt out soft snow and look at the ski hill as a playground, rather than a proving ground for laying technically perfect arcs.
93 NORTH THE ANDROMEDA
BEST FOR: A slackcountry inbounds one-ski quiver
LENGTHS: 166, 175, 184 * RADIUS: 18@175 * SIDECUT: 133-104-129 * $795

The first ski from the new Canmore-based brand, The Andromeda is named after a ski mountaineering peak off 93 North, the official name of the Icefields Parkway between Lake Louise and Jasper. The co-owners built it specifically for the variable conditions of the Canadian Rockies, from the windswept slopes of Nakiska to the back bowls of Lake Louise and even the steeps of Andromeda. With a 104mm waist, it's a little wider than most in the area would naturally gravitate toward for an all-mountain ski, but in our tests in firm conditions at Jasper's Marmot Basin, the pudgy waist was never a factor. As long as we were on our edges early, the maple and poplar wood core and carbon fibre stringer bit into hardpack with tenacity. It seemed to prefer fast to slow speeds, or maybe it just felt so smooth that we never shied from letting it run on edge. Short and snappy turns were fun, too. In the bumps, early-rise tip and tail kept the skis nimble. In moderate speeds it did feel a little ungainly and sluggish, and there was some tip flap bombing out on flat skis at speed. Our only other knock was durability. Within a couple days of hard skiing, the sidewalls of our pristine test boards were looking a little beaten up. 93 North said it's working on a tougher build for next year. That's a good thing, because this is a beautiful ski. The graphic—a bighorn sheep ram's head and funky mountain images on a blue background—was designed by Calgary artist Emily Beaudoin. It's original and badass-looking.
NORDICA NAVIGATOR 85
BEST FOR: Dividing your time evenly between the front and back
LENGTHS: 165, 172, 179, 186 * RADIUS: 16.5@179 * SIDECUT: 124-85-109 * $650

The men's equivalent of Nordica's Astral family for women, the Navigator has a beefier wood core, more width and the higher-end performance that comes with both. Where the Astral felt like an intermediate to advanced ski, the Navigator could handle any speed or terrain our testers could throw at it. "Stability in all transitions, and turnability that feels narrower-waisted," said Paul Cunnius. "Choose your turn shape and speed; this intuitive ski is with you everywhere." Its unique construction puts the Navigator in a category all its own, said Dave Degelman from Calgary's Ski West. "It's somewhere between a carver and an all-mountain. It's a different-feeling ski." Nordica borrowed the low upturn, but generous tip rocker from its freeride Enforcer skis, and the stiff square tail from the racing Dobermann line. Then it developed a new construction that combines a poplar and beech wood core with a sheet of Titanal that has hexagons punched out to cut weight. "Confidence-inspiring" was how Alan Chow from Toronto's Sport Swap described it. "It's stable and easy to pivot. It dominated anything I threw at it." Some testers thought the lightweight construction was too light, as though there wasn't enough ski underfoot to handle challenging conditions, but most were happy for the relief. Mix it all together and the conclusion is that this ski is probably best left to hard-skiing advanced skiers and technical experts. The Navigator comes in three models—90, 85 and 80—all directly related to their waist widths.
PRIOR PATROLLER
BEST FOR: Aggressive Western skiers
LENGTHS: 153, 161, 176, 184, 190 * RADIUS: 20@176 * SIDECUT: 135-100-118 * $1149

This made-in-Whistler ski lived up to its name. According to testers, it's a good choice for a solid skier who plays and works on his boards. That doesn't mean it's out of touch for the rest of us. Prior started with the geometry of a GS race ski and then added an extra 30mm of width from tip to tail. The Patroller has a 100mm waist, a radius that ranges from 14 to 22m through the five lengths (153 to 190), and plenty of early rise in the tip and tail. Prior built it starting with a full maple core and then lined up Titanal, carbon fibre and urethane sidewalls. Mix it all together and you get a ski that has enough shape to turn through tight trees, float through powder and crud, and rail an edge on hardpack. Testers were left looking down wondering if they were skiing something built in Germany or Austria. "A very versatile ski," said Ian March. "Carves powerful, bigger turns on-piste. It's solid yet turny and responsive in the bumps. Good float in powder with a preference for longer turns. Encourages aggressive skiing—a good thing!" Bob Brett found it had a dual personality, skiing long like a GS ski on-piste, yet tamed the crud and soft bumps easily when taken off-piste: "True to its name, this ski would be perfect for a big, burly patroller who is equally at home ripping big powder lines or dragging a toboggan down the groomed runs at mach schnell. I'd also highly recommend it for other aggressive, all-mountain carvers even if they don't have a white cross on their backs."
SALOMON XDR 84 Ti
BEST FOR: 70% on-piste
LENGTHS: 165, 172, 179, 186 * RADIUS: 15@179 * SIDECUT: 131-84-114 * $649

All-Mountain is a huge niche to fill. So, rather than be a jack-of-all-trades, Salomon focused on its new All-Mountain frontside skis. XDR comes in three waist widths: 88, 84 and 80mm. Leaning toward the "on" side of the on-piste/off-piste ratio, it still has plenty of playfulness and float. Salomon borrowed an early-rise tip and C/FX from its All-Mountain and Freeride skis. The combination of flax and carbon dampens vibration and feedback while keeping weight low. High-speed stability and hard-snow edge bite is maintained with a wood core and titanium sheet underfoot. On super-icy conditions at Tremblant, Alex Messinis, co-owner of Sundance Ski & Board Shop in Edmonton, said the 80mm version held its own: "Very easy to handle. It was really easy to turn anywhere. The early-rise shovel gave it good off-piste performance, too." She thought they'd be good skis for intermediate to advanced all-mountain skiers in the East, or if they live in the West and are just as happy skiing the piste as hunting for leftover powder.
VÖLKL KANJO
BEST FOR: A ski on which to advance
LENGTHS: 154, 161, 168, 175, 182 * RADIUS: 19.6@175 * SIDECUT: 123-84-104 * $699

Völkl is known for its stiff skis. The Kanjo is the exception to the reputation. It's one of the brand's skis that uses a stringer of Titanal instead of a sheet of metal. The softer flex allows the skis to hook into a turn easier, with a more playful feel and a more forgiving attitude all-round. Rather than having to be on top of the ski all the time, Whistler testers on the Kanjo could cruise if they wanted or wash out the end of the turn for fun. Surprisingly, that easygoing attitude was exclusive of performance. "Light and easy feeling, yet with surprising power!" wrote Ian March. "Crisp, responsive and with great energy. Initiation, edge grip and stability are all first rate. This bad boy encourages you to push the envelope." Erin Keam found the "softer tip and slightly stiffer tail made this ski most comfortable in bigger turns." Add an 84mm waist and testers figured the Kanjo leaned toward the frontside. Yes, it could handle any kind of terrain and aggressive speeds, but it felt most at ease linking smooth, round arcs on groomers and less steep mogul fields. In powder it planed nicely but lacked the power to push through tracked-up situations. The tester consensus is that this is a great ski for progressing intermediate and advanced skiers.