---
Light is right. For decades, the catch phrase of the self-propelled world drove R&D in just about every arena,
from mountain bikes to kayak paddles, running shoes to backcountry skis. Resort skiing, with its reliance on engines and electricity for doing the heavy lifting, largely ignored it as we focused on power, edge grip and dampness.
Things are changing. This year, for instance, just about every new ski shed weight from previous incarnations. Ski designers are ditching weight faster than boxers before a weigh-in. Designed carefully, a lighter ski is easier to initiate, turn and transition from edge-to-edge. Basically, lighter skis take less energy to ski. That means more laps, more hard skiing and longer days on the slopes. And, let's face it, an easier walk to and from the parking lot. No one can complain about that. So if you're grunting under the effort of pulling your skis out of summer storage, there's no time like the present to join the "light is right" movement.
Now you just need to figure out which ski to buy and we're here to help. Ski Canada gathered a group of 40 professional skiers at Marmot Basin in Jasper, Alberta, last March to test more than 120 pairs of skis in six categories. These are high-end skiers with the experience and knowledge to understand, and report back clearly, in what conditions and for what kind of skier each ski will perform best. After the snow settled, our team of men and women handed in more than 2,000 feedback cards. From their feedback we've produced the reviews you will find in this and the next two issues of Ski Canada.
But before you start reading the test reviews, we suggest you start with our advice on how best to use this guide and how to find skis that fit your skiing.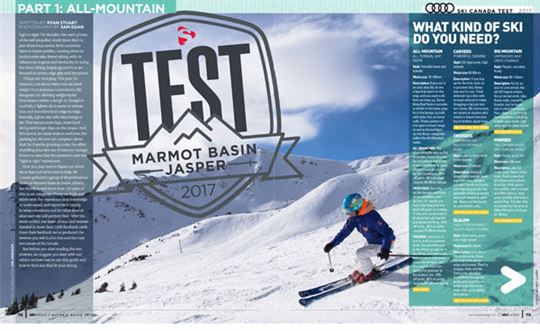 What kind of ski do you need?
ALL-MOUNTAIN
ALL TERRAIN, ANY SNOW
Style: Versatile turns and speeds
Waist size: 75-100mm
Description: Every run is on your play list, as are a few that aren't on the map, and you want a ski that can keep up. Something that floats in powder, is nimble in the trees, playful in the bumps, but still rails when the corduroy calls. These quivers-of-one span a broad range, so we've divvied them up into three categories within the All-Mountain realm.
ALL MOUNTAIN: The most versatile skis on the mountain, these skis are fun anywhere and in any snow conditions. A great choice if you ski no matter the conditions. 50% off-piste, 50% on-piste; roughly 80-90mm waists
FRONTSIDE: You only ski the bumps and trees when conditions are perfect. Or maybe you live in the East and only head off-piste on holiday. These skis excel in harder snow but can handle just about anything. 30% off-piste, 70% on-piste; roughly 75-85mm waists
FREERIDE: Let's face it, you're a bit of a powder snob. You probably live in the West, or only ski in the West, and want a ski that excels in soft snow, trees and bumps—but you want to have fun taking the groomer to the bottom, too. 70% off-piste, 30% on-piste; roughly 85-100mm waists
CARVERS
Powerful carving
Style: GS-type turns, high speeds
Waist size: 65-80mm
Description: If you line up for the first chair on a groomer day, these skis are for you. Think detuned race skis with enough sidecut to make dragging a hip just one turn away. Ski instructors, ex-racers or anyone who wants to leave trenches top to bottom, apply here.
CRUISERS
FUN SKIING ON MOSTLY GROOMED RUNS
Style: Easy-turning, moderate speeds
Waist size: 75-85mm
Description: Skiing is about being outside, soaking in the view, hanging out with friends and family and exploring the hill. You generally choose groomed runs over moguls or powder. Blues and blacks are on your dance card.
SLALOM
High-Performance short-radius turns
Style: Short turns, precision, high-speed
Waist size: 65-75mm
Description: In or out of the racecourse, these skis beg to be put on edge and turned. They're snappy, lively and demand your attention. Send them through the gates and expect to be amazed by their tenacious edge grip, agility and power.
BIG MOUNTAIN
UNTRACKED AND UNRESTRAINED
Style: Playful, versatile, floaty
Waist size: 95-110mm
Description: As far as you're concerned, the ski hill begins where the groomed ends. Like these wide, powerful boards, you're happiest in untracked snow. Your ultimate run would likely involve a cliff drop, a wide-open bowl, tight trees and no other tracks.
POWDER

Two snowboards, one for each foot

Style: Floaty, surfy, fun

Waist size: 100+mm

Description: Like the name says, these sticks make fresh snow feel effortless and a whole lot of fun. With generous widths, lots of rocker and little sidecut, they plane quickly and have a playful feel. Powder skis are tested by the pros at Mike Wiegele's Helicopter Skiing.

All-mountain, all-mountain freeride and all-mountain frontside Ski Canada Test reports are in the Buyer's Guide 2017 issue, in the SkiFinder app and will post online soon.

Tags: All-Mountain, alpine skis, big mountain, carvers, cruisers, powder, Ski Canada Test, ski reviews, ski test, ski types, slalom