Test 2015 – The Categories
---
 Ski Canada Test 2015 reports now online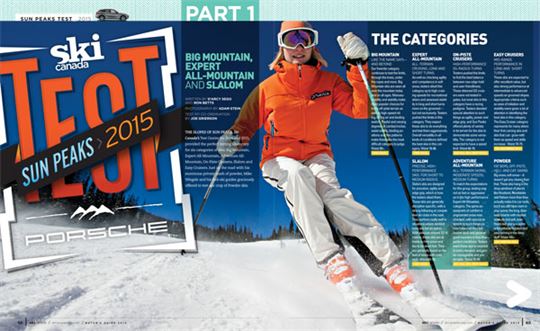 Like the name says—and beyond
Our freeride category continues to test the limits, through the trees, under the ropes and more. Big Mountain skis are seen all over the mountain today and on all ages. Manoeuvrability and stability make them popular choices for tricky off-piste terrain as well as high-speed riding, taking air and landing switch. Playful and varying degrees of camber/rocker, waist widths, binding positions and flex patterns make these skis the most difficult category to judge. Waist 90+.
 published in Buyer's Guide 2015 issue
All-terrain cruising, long and short turns
As well as checking agility and competence in soft snow, testers skied this category up to high cruising speeds for recreational skiers and assessed stability in long and short turns more on the groomed—but not exclusively. Testers pushed the limits in this category. They expect these skis to do everything and test them aggressively. Overall versatility in all kinds of conditions defined the best skis in this category. Waist 76-86.
 published in Buyer's Guide 2015 issue
Precise, high-performance skis 
for short to medium radius
Slalom skis are designed for precision, agility and edge grip, which is how the testers skied them. These skis are generally discipline-specific, with a strong following at competitive ski clubs in the east. They perform really well in situations where skidded turns are not an option. With sidecuts around 12-14 metres, these skis are at home on firm snow and like to be skied fast. They are generally found on the feet of skiers with solid skills. Waist 65-70.

 published in Buyer's Guide 2015 issue
High-performance GS-radius turns
Testers pushed the limits to find the best balance between raw edge hold and user-friendliness. These detuned GS cruisers were not tested in gates, but most skis in this category have a racing pedigree. Testers devoted special attention to such things as agility, power and edge grip, and Sun Peaks offered plenty of variety in its terrain for the skis to demonstrate some versatility. The category is not expected to have a speed limit. Waist 68-78. 

All-terrain skiing, moderate speeds, medium turns
To match the expectations for this group, testing was not as fast or aggressive as in the high-performance Expert All-Mountain category. The same assessment of comfort in ungroomed snow was checked, with special attention to such things as how balanced they felt (sweet spot) and general good manners in less-than-perfect conditions. Testers want these skis to respond to every demand, and also be manageable and predictable. Waist 75-85.
Mid-range performance in long and 
short turns
These skis are expected to offer excellent value, but also strong performance at intermediate to advanced speeds on groomed slopes. Appropriate criteria such as ease of initiation and stability were given a lot of attention in identifying the best skis in this category. The Easy Cruiser category represents for many skiers their first carving skis and skis that can 
grow with them as speed and skills increase. 
Waist 70-75.
Fat boys, off-piste, heli- and cat-skiing
Big snow, soft snow—it doesn't get any clearer than that. These skis hang in the shop windows of places like Rossland, Revelstoke and Nelson more than they actually make it to car roofs, but if you still have room in your quiver, the long, über-wide boards with modest sidecuts and soft, even flexes will give you some unforgettable flotation and easy turning in the deep stuff. Waist 105+.
---
Tags: Ski Canada Test, ski reviews, ski tests, Test 2015, test categories