Reading Time:
12
minutes
LIKE THE NAME SAYS—AND BEYOND
We're all just a bunch of snow-hungry frothers—winter junkies who watch weather maps and plan important life events around the possibility of the big dump. Our sport is weather dependent and prone to subtle changes in environmental conditions. If temps warm up midway through a storm, a perfect powder day becomes a struggle in boot-deep cement. If snow comes in with wind, then the cold smoke turns into crust and hardpack. What are the chances that your solid snowfall ends up dusting you and dumping one mountain range over?
Today's winter warriors need to possess the same level of preparedness and precision as Special Ops soldiers. Your gear needs to be properly tuned and readied, ski clothing laid out and winter tires on the car in October—just in case there's an early-season storm. Leave nothing to chance and you'll be getting faceshots while the rest of the world stares at their office cubicle walls.
So let's not forget the most important decision you'll make when hunting the elusive powder day. You don't want to be the person in the lift line on a narrow carving ski when everyone around you is ready to charge on skis built for the job. What you need is a pair of Big Mountain skis under your feet. You'll ski faster, more confidently and you won't be bringing a knife to a gunfight.
Atomic | Blizzard | Elan | Fischer | Head | K2 | Kastle | Line | Nordica | Salomon | Snoday | Stockli | Volkl
FIND SKIS using Ski Canada's interactive ski test tool – SkiFinder. Also available as a free app from the iStore & Google Play.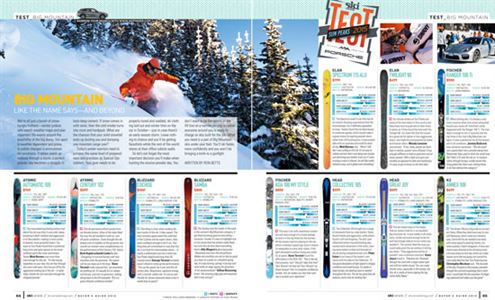 * Price includes binding  * Length tested at Sun Peaks
ATOMIC AUTOMATIC 109
$749
LENGTHS: 175, 182, 189*  *  SIDECUT: 135/109/125  *  RADIUS: 19.5 @ 189
BEST IN: EDGE GRIP
MEN: The overwhelming feeling testers had about this ski was that it was solid, damp (meaning it didn't chatter) and aggressive in its flex pattern, making it more suited to heavier, more powerful skiers. Our team at Sun Peaks found that it preferred long turns and open spaces to the more confined spots like trees and bumps. Tester Matt Barnes was more than man enough for this ski: "It's like having torpedoes on your feet; this ski fires through the snow with ease. Don't be put off by the aggressive-looking tip of the ski—it really helps initiate the turn and slice through the chopped powder."
ATOMIC CENTURY 102
$599
LENGTHS: 156, 164*, 172  *  SIDECUT: 129/102/120  *  RADIUS: 16 @ 164
BEST IN: Stability
WOMEN: This ski garnered uniform praise from our female testers. Most of the team liked the way the ski handled in both on- and off-piste conditions. Some thought the ski lacked a bit of stability on the groomed, but overall our women were complimentary on the performance of the Century 102. Here's Barb Kupferschmidt Linder's take: "Easygoing in crud and bumps with nice transition onto the groomers. The speed will let you keep up to the boys." Anne Terwiel really enjoyed this "go-anywhere, do-anything ski. It's equally fun on steeps and bumps, and nice on groomers, making skiing back to the lift enjoyable. This is a great off-piste confidence builder."
BLIZZARD COCHISE
$900?
LENGTHS: 170, 177, 185*, 193  *  SIDECUT: 135/108/123  *  RADIUS: 28.5 @ 185
BEST IN: STABILITY, LONG RADIUS (TIE)
MEN: One thing is clear when reading the test results of this ski: it likes speed. The men certainly appreciated the solid feel of the Cochise and as expert skiers, they were confident enough to let it run. One thing they all commented on was that the ski is not built for intermediate skiers—it needs a skilled pilot and not a timid one. Sun Peaks legend and long-time Ski Canada tester George Terwiel certainly wasn't afraid to ramp up the performance: "Turn up the speed, tip it over and this ski comes alive. Responsive, explosive energy with a smooth, stable ride. It's not as user-friendly for slower-advanced skiers since it works best at speed."
BLIZZARD SAMBA
$800
LENGTHS: 152, 159, 166*, 173  *  SIDECUT: 131/98/116  *  RADIUS: 19 @ 166
BEST IN: STABILITY
WOMEN: The Samba was the leader of the pack in the women's Big Mountain category. It got there by being good at everything—seriously. Usually it's easy to highlight one or two areas that the testers really liked, but with this ski they liked everything. Here's Ally Wagorn's glowing praise: "Absolutely love how this ski performs. Makes any condition you ski on feel as good as a beer on a patio on a bluebird spring day. It's easy-turning, springy in bumps and even holds an edge ripping the groomers. 'A' for awesomeness!" Gillian Browning loved "the amazing edge grip and response. Roll it over and go!"
ELAN SPECTRUM 115 ALU
$799
LENGTHS: 185*, 193  *  SIDECUT: 145/115/130  *  RADIUS: 20.4 @ 185
BEST IN: Initiation
MEN: The Spectrum wasn't a ski that had all our testers shouting superlatives from the mountaintops, but it definitely appealled to many. Testers found this ski liked slower to moderate speeds, which would make it a great choice for aspiring powder skiers rather than cliff-hucking pros. It was predictable with no surprises and could be skied all day. Matt Barnes said, "Wow! I felt like I was surfing on this ski. It's so easy to initiate and turn that I was flying over bumps and skimming over broken snow as if I were cruising a wave in Hawaii. Its soft flex made initiation easy, and it glided over everything."
ELAN TWILIGHT 90
$499
LENGTHS: 155, 164, 173*  *  SIDECUT: 129/90/114  *  RADIUS: 14.3 @ 164
BEST IN: INITIATION
WOMEN:  Our female testers at Sun Peaks are some of the best skiers in the country and they know how to push skis to their limits. It seems as if they found the limit with the Twilight 90. Our team felt that this would be a great ski for lighter or less-aggressive skiers, and might be overpowered by faster and heavier skiers. Wendy Lemoine commented: "A fun, lively, playful ski that's best in shorter, quicker turns off-piste. It has enough stiffness to hold on groomers and at lower speeds. With a light and open personality as opposed to dark and mysterious, it's easy to get to know on the first date."
FISCHER RANGER 106 Ti
$900
LENGTHS: 174, 182*, 190  *  SIDECUT: 138/106/124  *  RADIUS: 24 @ 182 BEST IN: LONG RADIUS
MEN: When testing skis, it's always a welcome surprise when one comes along that knocks your socks off. And that's what happened with the Ranger 106 Ti. The men liked it enough to sort it securely into the top three in the men's Big Mountain category. It was a performer for all the testers and in all conditions. Jeremy Badcock was certainly impressed: "This ski could turn a good skier into a powder-skiing hero. Remember they used to think the world was flat? Well, it IS with this ski on. In medium radius through bumpy, cruddy terrain this thing glided like there was nothing there. A ski that defined the category!"
FISCHER KOA 100 MY STYLE
$850
LENGTHS: 156, 166*, 176  *  SIDECUT: 131/100/123  *  RADIUS: 19 @ 176
BEST IN: INITIATION, AGILITY, SHORT RADIUS (TIE)
WOMEN:  This was a ski with unanimous consensus and was enough of a crowd-pleaser to land it in the top three for the women. All the testers had fun playing on this ski, which is always a good sign since it means it's adaptable to many skier styles. It felt light and playful without losing any stability at speed. Anne Terwiel found the affirmative in the KOA 100: "This is the ski that answers 'yes'! Should I take that line? Yes! Should I hit that lip? Yes! Should I rip those bumps? Yes! A complete confidence-builder, this ski makes you feel that nothing is outside your repertoire."
HEAD COLLECTIVE 105
$599
LENGTHS: 171, 181*, 191  *  SIDECUT: 146/105/128  *  RADIUS: 17.5 @ 181
BEST IN: INITIATION
MEN: The Collective 105 brought out a range of comments from our male testers. Some found it beefy and aggressive, while others found it soft and forgiving. The skis' park influenced centre-mounted binding also caused some dissension in the ranks, causing some testers to feel a bit forward on the ski during comparative test runs. Peter Eaton hit on many of the testers' comments with his take on the Collective: "It has good absorption at high speed in choppy conditions and small bumps. It's stable in large bumps, but steering input is needed throughout the turn. The ski has good fore-aft balance, and is nice for landing hits."
HEAD GREAT JOY
$599
LENGTHS: 153, 158, 163, 168, 173*  *  SIDECUT: 141/98/124   *  RADIUS: 14.3 @ 168
BEST IN: STABILITY, LONG RADIUS (TIE)
WOMEN: This ski ticked many of the boxes that our testers look for in an excellent big-mountain ski. It was stable in all conditions, nimble and quick enough to be fun and had enough sidecut to turn when you needed it. The women liked the way you could really push this ski without it letting you down. "Stay aggressive and be rewarded" was a common comment. Katie Joyce loved it: "Fabulous ski. Powered through the crud with a large sweet spot and soft but stable shovel. You can make shorter turns, especially in the bumps, but this ski is really at home ripping the big, white fluffy flakes."
 K2 ANNEX 108
$699
LENGTHS: 170, 177, 184*, 191  *  SIDECUT: 139/108/127  *  RADIUS: 23 @ 177
BEST IN: STABILITY, LONG RADIUS (TIE)
MEN: The Annex 108 put a big smile on our test-ers' faces. What they liked most was its nice soft-flexing tip, which made turn initiation easy. Some felt the ski needed to be skied with some speed to avoid tip chatter, but when pushed, it didn't disappoint. A few comments were directed at the ski being tuned a bit over-sharp on test day, which can make slower turns feel too grippy, but overall the men really liked the feel. Sun Peaks big-boy Christopher Nicolson said, "My favourite of the day. It's quick on the cruisers, powerful through the crud and surprisingly fast in short turns. I would take this ski anywhere. It's forgiving, balanced and makes you feel good."
 K2 POTION 98Ti
$650
LENGTHS: 163, 170*, 177  *  SIDECUT: 131/98/119  *  RADIUS: 18 @ 163
BEST IN: VERSATILITY
WOMEN: The Potion 98Ti will help take your Big Mountain game to the next level. Our female testers found it even-flexing, with a soft shovel for easy initiation, and an awesome all-rounder without being pushy or overpowering for most skiers. Anne Terwiel is a strong enough skier that she seldom gets pushed around: "This is a fun big ski that's easy to turn on groomed terrain and has a nice soft flex for off-piste. A great blend of flex and torsional stiffness makes it a winner as a big-mountain, go-all-over kind of ski. It's nice in the bumps, and the soft shovel makes it easy to start the turn."
KÄSTLE FX104
$1,099
LENGTHS: 174*, 184*  *  SIDECUT: 133/104/123   *  RADIUS: 26 @ 184 BEST IN: AGILITY
MEN:  Many testers commented on how easy the FX104 felt—and that's how a ski should feel. It would be best for a lighter, more agile skier who also had the cojones to power up when needed. Matt Barnes wrote: "This is a well-made ski. It's versatile and easy to initiate, which made skiing through the trees enjoyable. It arcs up nicely and wants to turn, and made skiing the chopped-up snow feel like butter." D'Arcy Sego added, "Fantastic! Fun and agile! Open it up and push yourself. A light, zippy ski that won't disappoint. It's even-flexing with a strong platform underfoot, and, yes, this baby carves anything!"
KÄSTLE BMX98
$979
LENGTHS: 158, 168*, 178*, 188  *  SIDECUT: 126/98/116  *  RADIUS: 24 @ 178
BEST IN: LONG RADIUS
WOMEN: Our female testers were surprised at how solid the BMX98 felt out of the start gate and how agile it was for a heavy ski. Tester Nina Gretzmacher was channeling her inner superhero on this ski: "It feels heavier underfoot but is very stable. The ski comes alive in bumps. It powers through anything, making you feel like a superhero." Wendy Reade wrote: "It's silky smooth in bumps and off-piste, and easy into the turn with enough tail grip to keep stability right to the end of the turn. The ski is versatile in short and long turns, but really shines in longer radius."
LINE SUPERNATURAL 100
$670
LENGTHS: 172, 179*, 186  *  SIDECUT: 132/100/121  *  RADIUS: 21.3 @ 179
BEST IN: EDGE GRIP
MEN:  The Supernatural 100 is what a baseball scout would call a five-tool player. That means it's a ski that does a number of things well, making it well rounded and a good choice for anyone trying to minimize the size of his quiver. It's a ski that would keep you happy all day, regardless of the conditions. Tester Kelly Blunden was happy after his test drive: "I think I just found my big-mountain SUV in a ski that's stable torsionally so you can carve, yet subtle enough that you feel the terrain through the middle of the ski. I could ski on this all day, no problem."
 LINE SOULMATE 98
$620
LENGTHS: 158, 165*, 172  *  SIDECUT: 132/98/123  *  RADIUS: 15 @ 165
BEST IN: AGILITY
WOMEN: The Soulmate 98 gets the job done well without taking things too seriously. It's a ski designed to help you turn the mountain into your own personal playground. If you're only interested in tipping and ripping and leaving pencil lines down the mountain, these might not be for you. But if you look at a mountain and see a fun canvas that just begs to be shred, look no further. Nina Gretzmacher found her soulmate: "The ski feels light underfoot but is actually very stable. It's full of life and energy. Easy turn-to-turn transition made for a smooth run. It feels floaty in the deep."
NORDICA NRGY 100
$800
LENGTHS: 161, 169, 177, 185*  *  SIDECUT: 136/100/120   *  RADIUS: 19.5 @ 177
BEST IN: EDGE GRIP
MEN:  This ski had our testers pulling their foot off the gas a bit. They felt that ideally the NRGy 100 liked moderate speeds and light- to medium-weight skiers. Some of the testers thought it would be really pleasing to less aggressive skiers since it might leave the kamikaze crowd wanting more performance. The always stylish Mike Dempsey had this to say: "A good ski to steer your turns on the groomers. It's great for medium-radius turns at medium speeds. Shorter turns and bigger, faster turns were more work. The sweet spot for me was at medium speed. A very pleasant ski to ride on."
NORDICA NEMESIS
$800
LENGTHS: 153, 161, 169*, 177  *  SIDECUT: 134/98/118  *  RADIUS: 17.5 @ 169
BEST IN: STABILITY
WOMEN: The underlying tones in the comments for this ski were power and strength. The women really liked the solid feel and the way the ski smoothed out the rough patches, but they were clear that it demands concentration and attention. It's powerful enough to handle the most aggressive skiers, but it needs some technical skill to really get the most out of it. Katie Joyce has the skills to pay the bills: "The power in this stiff but flexible ski made the crud and bumps a non-issue. It's surprisingly easy to manoeuvre through bigger bumps, but don't let it get away from you."
SALOMON Q-LAB
$899
LENGTHS: 176, 183*, 190  *  SIDECUT: 138/104/127  *  RADIUS: 20.5 @ 183
BEST IN: AGILITY
MEN:  The consensus from the male testers on the Q-Lab was that it was really light, nimble and easy to manoeuvre in the tight spots. The soft-flexing shovel and tail made initiating easy, and let the ski release nicely. It's best suited to a skier who's light on his feet but likes a ski to feel solid and stable. D'Arcy Sego was like a kid in a candy shop: "It's a party ski—the harder you play the happier you get. Rip and carve then pound over the edge into that deep snow. The rockered shovel makes this a super-fun powder puppy. Very playful ski."
SALOMON Q-103 STELLA
$749
LENGTHS: 158, 165, 172*  *  SIDECUT: 130/103/122  *  RADIUS: 23.3 @ 172
BEST IN: LONG RADIUS
WOMEN: After reading the testers' comments on the Stella, we're surprised they didn't score it the highest. Our test team found this a really easy ski to use. It might have lacked that little bit of aggressive nature that often makes a good ski become a great ski for chargers. Overall, the women liked the way it felt in most conditions, especially in short turns off-piste. Anne Terwiel commented: "How can a ski this big feel so small and agile? The rockered or early-rise tip makes it ski like a much shorter ski on firmer snow, but it engages in softer snow to promote a smooth, easy ride."
SNODAY POW WOW
$1,195
LENGTHS: 165, 171, 176, 181*, 186, 191, 196  *  SIDECUT: 140/106/132   *  RADIUS: 18 @ 181 BEST IN: INITIATION
MEN:  Snoday is a Canadian company building high-quality skis in limited quantities. Most custom ski-makers don't have the same R&D budget of bigger brands so they tend to be more experimental. The Pow Wow has a substantial amount of tip and tail rocker, making it more suited to soft-snow conditions. Our testers felt it lacked a bit of edge grip in firmer conditions, but it made up for that by being easy to pivot—think manoeuvrability in tight places, as D'Arcy Sego discovered: "Powder and small turns get this ski into the craziest places. Young big-mountain rippers who know that pillows are for mountains (not beds) will love this ski."
SNODAY ROGUE
$1,195
LENGTHS: 153, 159, 165, 171, 176, 181*, 186  *  SIDECUT: 140/104/133  *  RADIUS: 17.5 @ 181
BEST IN: INITIATION
WOMEN: Every ski in our test has its place, its area where it shines. For the Rogue that area was snow—and lots of it. Our testers were happiest with this Canadian-made ski off-piste. It lacked versatility on the groomers, but in deep snow it excelled, where it felt light, buttery and smooth. Wendy Reade, who spends as much time as anyone in soft snow, knows what she's talking about: "This ski shone off-piste. It's fun, forgiving in varied conditions, gave a smooth ride and was effortless to stay balanced. It was easy to start a turn on steeps off-piste, and the ski did the rest."
STÖCKLI STORMRIDER 95
$1,044
LENGTHS: 174*, 183, 192  *  SIDECUT: 131/95/120  *  RADIUS: 19.2 @ 183
BEST IN: EDGE GRIP
MEN:  When a ski has nothing but great comments, you know it's special. The Swiss-made Stormrider 95 topped the category for the men and had our testers raving. They felt that this was a ski that would appeal to the most aggressive skiers and more conservative skiers alike, which is rare. Christopher Nicolson found his ski: "It's funny how you can jump on a ski and it calls your name. This is my ski. It's exceptionally smooth and powerful, but it also initiates quickly and is amazingly stable. The ski didn't take any effort to turn, so a less-aggressive skier would feel confident as well."
VÖLKL MANTRA
$750
LENGTHS: 170, 177*, 184, 191  *  SIDECUT: 132/100/118  *  RADIUS: 23.7 @ 177
BEST IN: EDGE GRIP
MEN: The Mantra impressed the men with its solid, stable feel and the ability to satisfy our testers in all conditions, although they felt you couldn't be lazy on this ski. It's no one-trick pony, and would be a great fit for the skier who wants one ski to do it all. Take Jeremy Badcock's word for it: "A big-mountain ski that works surprisingly well on the groomers. This is for the GS racer who wants a powder ski in his quiver. It's a rewarding ski for the strong, technically sound skier, but it will chew you up and spit you out if you aren't on it 100 per cent."
 VÖLKL AURA
$750
LENGTHS: 156, 163* 170  *  SIDECUT: 132/100/118  *  RADIUS: 19.3 @ 163
BEST IN: INITIATION
WOMEN: The women liked the life and aggressive nature of the Aura, and found it was a great solid platform at speed. Short turns were fun, but they took a bit more work and attention. Gillian Browning felt as if this ski was custom-made: "It's definitely a BMW ski! It was great on the groomers, awesome off-piste and perfect in powder. I'm thinking this ski was built exclusively for me and the way I like to ski." Patty Goodhand found "stability unbelievable. It skis fast through all snow conditions with ease. It's light and playful—you'll have a blast on this charmer."