Test 2014 – On-Piste Cruisers
---
HIGH-PERFORMANCE GS-RADIUS TURNS
Let's face it, deep down we all like speed. Don't believe me? Name the gold medallist at the last Olympics, or any Olympics for that matter, in competitive walking. Don't worry, I had to Google it as well. Now name your favourite sprinter, downhiller, Formula One driver or the claim to fame of the Bonneville Salt Flats. Austrian Felix Baumgartner didn't gain notoriety for floating gracefully back to Earth; he broke the speed of sound by parachuting from space, for heaven's sake. See my point? I'm sure you'll agree with Maverick and me when we say, "I feel the need…the need for speed."
I've long believed that the best thing a skier can do, in terms of improving his technique, is to stretch the boundaries of his comfort zone. A big part of that is having the right ski for the job. Try stepping on the gas pedal of a ski that's too soft and it folds like a bad poker hand. Jump on a ski that's too stiff for your weight and you'll get tossed around like a Cessna in a thunderstorm. So having a ski that's the perfect combination of edge hold, turn radius and flex is akin to Clark Kent slipping into something a bit more comfortable. You'll feel, and ski, like a superhero. The skis in this category are your talisman, your weapon of choice, and your doorway to a whole new comfort zone.
Written by Ron Betts, technical editor, in Fall 2013 issue
Atomic | Black Crows | Blizzard | Elan | Fischer | Head | K2 | Kastle | Nordica | Ogasaka | Salomon | Volkl
Recommendations: tester recommendations for skier weight, ability, style and usual snow conditions. Use SkiFinder to speed your search.
Meet the Testers. Skiing bios and top 3 scoring skis for each tester.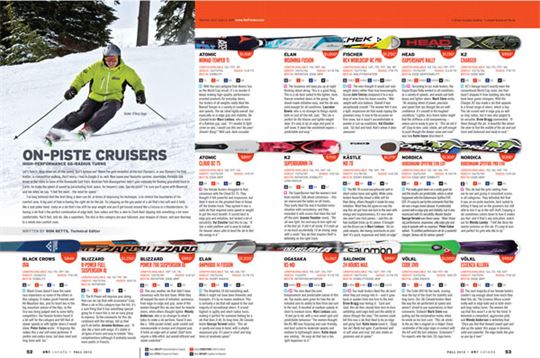 Atomic Nomad Temper Ti
LENGTHS AVAILABLE: 165, 173*, 181
SIDECUT: 124/73/104  *  RADIUS: 14 @ 173  *  $1108
BEST IN: Stability
MEN: With the race pedigree that Atomic has on the World Cup circuit, it's no wonder it keeps making high-quality, performance-oriented products for everyday skiers. Our testers of all weights really liked the Nomad Temper in a variety of conditions and speeds. The ski rated highly overall, but especially so in edge grip and stability. Ski Canada tester Marc Ledoux, who is more of a Batman guy, said, "If I needed to fight crime on skis, I would use this one! Ka-pow! Smash! Bang!" Well said, dark crusader.
Atomic Cloud D2 75
LENGTHS AVAILABLE: 148, 157*, 166
SIDECUT: 122/75/109  *  RADIUS: 12 @ 157  *  $891
BEST IN: Edge Grip
WOMEN: Our female testers struggled to find consensus with the Cloud D2 75. They thought it felt powerful and responsive, but liked it more on the groomed than in forays off the beaten track. They agreed it was a solid ski that required some speed or weight to get the most benefit. It scored best in edge grip and initiation, but lacked a bit of versatility. Val Cloutier had this to say: "It has a solid platform and is easy to initiate. For heavier skiers able to bend the ski to feel the energy in it."
Black Crows Ova
LENGTHS AVAILABLE: 162, 170, 178*, 184
SIDECUT: 125/85/112  *  RADIUS: 17 @ 178  *  $849
BEST IN: Stability
MEN: Black Crows doesn't have the same race experience as some of the others in this category. It makes great Freeride and All-Mountain skis, and its heart lies in the big-mountain arenas of the Alps, so the Ova was being judged next to some hefty competitors. Our heavier testers found it a bit soft for the category and felt that at slower speeds or with lighter skiers it would shine. Peter Eaton wrote: "A forgiving flex makes this a real soft-snow performer. It prefers mid-radius turns, but does short and long turns well, too."
Blizzard R-Power Full Suspension IQ
LENGTHS AVAILABLE: 160, 167, 174*, 181
SIDECUT: 120/72/104  *  RADIUS: 18 @ 174  *  $1250
BEST IN: Initiation
MEN: The R-Power will improve your skiing. How can we say that with assurance? Easy. When a ski in this category tops the list, it's a sure thing that it has something special going for it since this is not an easy group to impress. So the comments for this ski, combined with the ratings, tell us that you'll ski better. Jeremie Boiteau said, "It skis like a train with wings. It's stable in all types of turns and easy to initiate." Very complimentary (although it probably sounds more poetic in French).
Blizzard Power 700 SUSPension IQ
LENGTHS AVAILABLE: 160*, 167, 174
SIDECUT: 120/70/105  *  RADIUS: 14 @ 167  *  $950
BEST IN: Initiation, Edge Grip
WOMEN: This was another ski that didn't have consensus with the test team. While they all enjoyed the ease of initiation, quickness from edge-to-edge and grip, some of the women thought this ski was best for heavier skiers, while others thought lighter. Wendy Anderson, who is no stranger to what it takes to make a ski perform, found it was like a "little pocket rocket, quite nimble and manoeuvrable in bumps and chopped pow. It holds an edge well at speed. Short turns require a little effort, but overall efficient and stable underfoot."
Elan Amphibio 14 Fusion
LENGTHS AVAILABLE: 152, 160, 168, 176*
SIDECUT: 125/74/104  *  RADIUS: 15.7 @ 176  *  $1200
BEST IN: Short Radius
MEN: The Amphibio 14 did everything well. While it might not have been fireworks and trumpets, it's by no means mediocre. This is certainly a ski that will appeal to the vast majority of recreational skiers. It scored highest in agility and short-radius turns, making it perfect for someone looking for a ski that does it all. As long-time Ski Canada tester George Terwiel noted, "This ski is sporty and easy to bend, with a playful, responsive grip. It's good in short and long turns at moderate speed."
Elan Insomnia Fusion
LENGTHS AVAILABLE: 152, 158*, 166
SIDECUT: 125/74/104  *  RADIUS: 12.7 @ 158  *  $1000
BEST IN: Initiation, Edge Grip
WOMEN: The Insomnia will keep you up at night thinking about skiing. This is a good thing. This is a ski best suited to the lighter, more finesse-oriented skiers in the group. The shovel made initiation easy, and the ski was solid enough for all conditions. Lauralee Bowie, who is no stranger to things stylish, both on and off the hill, said, "This ski is perfect for the finesse and lighter-weight skier. It's easy to tip on edge and good in soft snow. It skied like windshield wipers—predictable and easy."
Fischer RC4 Worldcup RC Pro
LENGTHS AVAILABLE: 165*, 170, 175*, 180, 185
SIDECUT: 116/71/100  *  RADIUS: 17 @ 175  *  $1250
BEST IN: Agility/Initiation
MEN & WOMEN:    The men thought it would suit mid-weight skiers rather than true heavyweights. Aussie John Storey compared it to a nice drop of wine from his home country: "Mid-weight with nice balance. Overall it was exceptionally smooth." The women felt it was a light, responsive ski that made ripping the groomers easy. It rose to the occasion on firm snow, but it wasn't uncomfortable in powder or cut-up conditions. Val Cloutier said, "Go fast and hard, that's where it does awesome!
Head iSuperShape Rally
LENGTHS AVAILABLE: 149, 156, 163, 170*, 177*
SIDECUT: 131/76/109  *  RADIUS: 13.6 @ 170  *  $1130
BEST IN: Edge Grip/Stability
MEN & WOMEN:    According to our male testers, the iSuperShape Rally worked in all conditions, at a variety of speeds, and would suit both heavy and lighter skiers. Mark Stein wrote, "An amazing blend of power, precision and speed that rips through the arc with confidence. It's smooth in the roughest conditions." Lighter, less-fierce ladies might find the stiffness a bit overpowering—unless you're ready to give 'er. "This ski did it all! Easy to turn, solid, stable, yet soft enough to push through the deeper snow and crud" was how Katie Joyce described it.
K2 Charger
LENGTHS AVAILABLE: 165, 172, 179*, 186
SIDECUT: 122/74/106  *  RADIUS: 17 @ 172  *  $950
BEST IN: Edge Grip
MEN: K2's lineage hasn't exactly been the conventional World Cup route, but that hasn't stopped it from building skis that have been game-changers. With the Charger, K2 has made a ski that appeals to a broad range of skiers, which is key. This ski scored well in edge grip as well as long radius, but it was also judged to be versatile. Drew Bragg commented, "It flows through the arc. A beautiful flex allows the skier to find the middle of the ski and exit turns well balanced and ready to rock."
K2 SuperBurnin 74
LENGTHS AVAILABLE: 146, 153, 160*, 167
SIDECUT: 115/74/107  *  RADIUS: 13 @ 160  *  $700
BEST IN: Initiation, Stability, Long Radius
WOMEN: The SuperBurnin had the women's test team excited. Talk about consensus—this ski impressed the ladies on all fronts. They really liked the way it handled every situation with consistency, and they rewarded it with scores that blew the roof off the joint. Joanne Younker raved, "The ski was light, fun and easy to turn right out of the test pit. It did it all nicely. If it ends up in my truck accidentally, I'd be driving away with a smile." Any ski that inspires theft is definitely on the right track.
KÄstle MX 78
LENGTHS AVAILABLE: 158, 168*, 178
SIDECUT: 121/78/105  *  RADIUS: 16 @ 168  *  $1179
BEST IN: Short Radius
The MX 78 scored exceptionally well in short-radius turns and agility. While some testers found the shovel a little soft for their liking, others thought it made for easy initiation. What they did agree on was the way this ski got from one turn to the next with energy and responsiveness. It's nice when skis aren't one-trick ponies—and this ski had multiple tricks up its sleeve. It brought out the Bruce Lee in Marc Ledoux: "An on-piste weapon, like having nunchucks on your feet! It's quick, responsive and holds an edge."
Nordica Dobermann Spitfire EVO EDT
LENGTHS AVAILABLE: 152, 160, 168, 176*
SIDECUT: 126/74/109  *  RADIUS: 15.5 @ 176  *  $1300
BEST IN: Edge Grip, Stability
MEN: Put really good skiers on a really good ski and the results are predictable, which is what happened with the Dobermann Spitfire EVO EDT. It's easy to see by the comments that this ski was a huge crowd-pleaser. It predictably scored well in edge grip and stability, but it also impressed with its versatility. Master blaster George Terwiel was blown away: "Wow! Amazing performance, responsive, silky edge grip and easy to operate with no surprises." Peter Eaton added: "A certified performance ski for a powerful charger. Serious ski for serious speeds."
Nordica Dobermann Spitfire Pro EVO
LENGTHS AVAILABLE: 152, 160, 168*, 176
SIDECUT: 126/74/109  *  RADIUS: 14 @ 168  *  $1100
BEST IN: Edge Grip
WOMEN: This ski had the girls smiling from ear-to-ear and giving it consistent scores in all categories. They definitely felt that it was an on-piste machine, best suited to letting it hang out on the groomers but still able to mix it up in the soft stuff. Enjoying a ski sometimes comes down to how it makes you feel, and if that's any indication, watch out for Wendy Lumby: "I felt like Xena the warrior princess on this ski. It's easy to turn and perfect for girls who like to rip."
Ogasaka KS-MD
LENGTHS AVAILABLE: 155, 160*, 165, 170*
SIDECUT: 114/67/99  *  RADIUS: 15.7 @ 170  *  $1067
BEST IN: Initiation
MEN & WOMEN: The men liked the even temperament and predictable nature of this ski. Top marks were given for how the ski initiated and its ability to flow from one turn to the next. It excelled at medium speeds in short to medium turns. Marc Ledoux said, "A real joy to ski, with a nice sweet spot and predictable behaviour." The women thought the KS-MD was forgiving and user-friendly, and best suited to moderate speeds and medium to lightweight skiers. Katie Joyce was smiling: "An easy ski that has a fun, light happiness to it."
Salomon 24 Hours Max
LENGTHS AVAILABLE: 154, 162*, 170*, 178
SIDECUT: 120/72/103  *  RADIUS: 14.7 @ 170  *  $999
BEST IN: Men -Stability/Women – Edge Grip
MEN & WOMEN:   Our male testers liked this ski best when they put energy into it—and it gave back in spades from one turn to the next. Drew Bragg was feeling it: "Lock and load, this ski fires cleanly from turn-to-turn, exhibiting solid edge hold and the ability to dance through the chop." The women could tell this was a ski that liked to be on edge and going fast. Katie Joyce loved it: "Zippy, fun ski! Beefy but agile. It performed well in soft snow and crud, but also stable on groomers and at speed."
Völkl Code UVO
LENGTHS AVAILABLE: 161, 168, 175*, 182
SIDECUT: 122/76/104  *  RADIUS: 18 @ 175  *  $1000
BEST IN: Long Radius
MEN: The Code UVO hit the mark, scoring near the top of the chart for stability and long turns. Our Ski Canada testers liked the way the ski performed at speed and weren't afraid to use superlatives in their comments. Stalwart Mark Stein was pulling out the exclamation marks when he wrote on his test card, "This ski sticks to the arc like a magnet on a fridge! Every centimetre of the edge stays in contact with the hill until the turn releases. Screamers!" For experts who like fast, GS-type turns.
Völkl Essenza Allura
LENGTHS AVAILABLE: 144, 151, 158, 165*
SIDECUT: 125/75/96  *  RADIUS: 17 @ 165  *  $950
BEST IN: Edge Grip
WOMEN: The vast majority of our female testers couldn't say enough about how much they liked this ski. The Essenza Allura scored really well in edge hold and in both short- and long-radius turns. The women did say that this wasn't a ski for the timid. It demands a competent, aggressive pilot, and Wendy Anderson is definitely that: "Once you find that forward sweet spot and dial up the speed, this puppy is dynamic, solid and powerful. The edge holds like glue as you lay it over."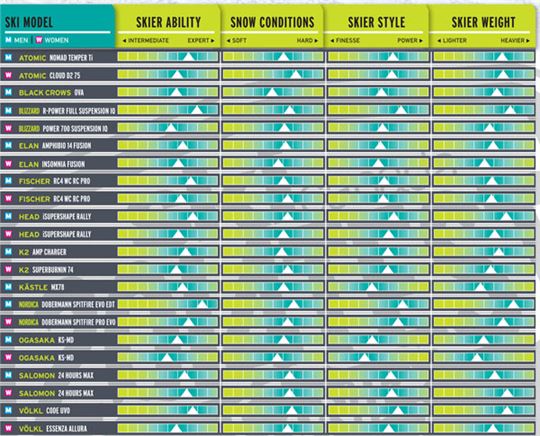 ---
Tags: Atomic Cloud D2 75, Atomic Nomad Temper Ti, Black Crows Ova, Blizzard Power 700 SUSPension IQ, BLIZZARD R-POWER FULL SUSPENSION IQ, Elan Amphibio 14 Fusion, Fischer RC4 Worldcup RC Pro, Head iSuperShape Rally, K2 CHARGER, K2 SuperBurnin 74, KÄstle MX 78, Nordica Dobermann Spitfire EVO EDT, Nordica Dobermann Spitfire Pro EVO, Ogasaka KS-MD, on-piste cruisers, Salomon 24 Hours Max, Ski Canada Test, ski reviews, ski test, Völkl Code UVO, Völkl Essenza Allura