---
MID-RANGE PERFORMANCE IN LONG AND SHORT TURNS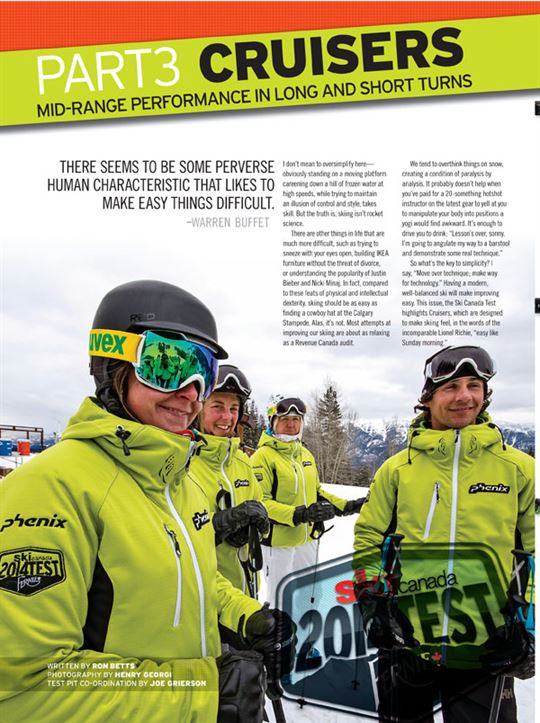 I don't mean to oversimplify here—obviously standing on a moving platform careening down a hill of frozen water at high speeds, while trying to maintain an illusion of control and style, takes skill. But the truth is, skiing isn't rocket science.
There are other things in life that are much more difficult, such as trying to sneeze with your eyes open, building IKEA furniture without the threat of divorce, or understanding the popularity of Justin Bieber and Nicki Minaj. In fact, compared to these feats of physical and intellectual dexterity, skiing should be as easy as finding a cowboy hat at the Calgary Stampede. Alas, it's not. Most attempts at improving our skiing are about as relaxing as a Revenue Canada audit.
We tend to overthink things on snow, creating a condition of paralysis by analysis. It probably doesn't help when you've paid for a 20-something hotshot instructor on the latest gear to yell at you to manipulate your body into positions a yogi would find awkward. It's enough to drive you to drink: "Lesson's over, sonny, I'm going to angulate my way to a barstool and demonstrate some real technique."
So what's the key to simplicity? I say, "Move over technique; make way for technology." Having a modern, well-balanced ski will make improving easy. This issue, the Ski Canada Test highlights Cruisers, which are designed to make skiing feel, in the words of the incomparable Lionel Richie, "easy like Sunday morning."
There seems to be some perverse human characteristic that likes to make easy things difficult.
-warren buffett
WRITTEN BY RON BETTS  *  PHOTOGRAPHY BY HENRY GEORGI  *  TEST PIT CO-ORDINATION BY JOE GRIERSON
Atomic | Blizzard | Elan | Fischer | Head | K2 | Line | Nordica | Ogasaka | Salomon | Volkl
Use SkiFinder to speed your search.

Atomic Nomad Smoke Ti
LENGTHS AVAILABLE: 157, 164, 171*, 178  *  SIDECUT: 124/76/105  *  RADIUS: 14.4 @ 171  *  $666
BEST IN: Long Radius
MEN: Easily one of the standouts among the Cruisers, it was exactly what a ski in this category should be. Predictable, versatile and enjoyable are all realistic targets. Most skiers on this type of ski will be challenged with balance. To fully appreciate the mountain, a ski with some forgiveness is best, and our testers felt the Nomad Smoke Ti would allow that. D'Arcy Sego said it best: "Amazing all-round ski. It's wide and stable underfoot but still easy to carve, and is smooth in all turn shapes and sizes."
Atomic Affinity Pure
LENGTHS AVAILABLE: 142, 148, 154*, 160  *  SIDECUT: 122/79/101  *  RADIUS: 14 @ 154  *  $666
BEST IN: Long Radius
WOMEN: To score well in any given category skis have to exceed, not just meet, expectations. This is an easy-cruising ski that did just that—maybe a bit too well. Our testers felt the Affinity did the job at moderate speeds and was soft enough to work well for most skiers, but they weren't blown away. Here's Anne Terwiel's take: "An easy-skiing ski that doesn't overpower or unbalance the skier. It's comfortable in either a skidded or edged turn. A friendly ski that will go the distance for you."
Blizzard MAGNUM 7.7 Ti SUSPENSION IQ
LENGTHS AVAILABLE: 153, 160, 167, 174*  *  SIDECUT: 123/77/105  *  RADIUS: 17 @ 167  *  750
BEST IN: Initiation
MEN: Most testers found the Magnum 7.7 Ti excelled in most areas and its test scores reflected a ski that was above average in the Cruisers category. The ski is not too aggressive that it would alienate the average intermediate skier. If you're looking for a ski that gives you room to grow and improve, then the Magnum hits the bull's-eye. Chris Candow had this to say: "This ski is great at cruising. Any skier will love it. Don't be afraid to ski off-piste—this ski will do it all!"
Blizzard VIVA 7.7 Ti SUSPENSION IQ
LENGTHS AVAILABLE: 146, 153, 160*, 167  *  SIDECUT: 121/77/103  *  RADIUS: 16 @ 160  *  $750
BEST IN: Initiation
WOMEN: Without a doubt the Viva 7.7 Ti was a solid performer—it checked all the boxes for performance and personality. It placed in the middle of the pack in terms of numbers, but it deserved a few bonus points based on the positive comments, like this one from Wendy Anderson: "Great fit for this category. It's kind and forgiving, and will catch and support you whether you're in the front seat or back, yet it's lively and dynamic when you pump up the intensity. For all conditions and terrain."
Elan AMPHIBIO 78 Ti FUSION
LENGTHS AVAILABLE: 160, 168*, 176, 182  *  SIDECUT: 127/78/107  *  RADIUS: 14.9 @ 168  *  $950
BEST IN: Edge Grip
MEN: The smiling consensus was that the Amphibio 78 Ti would best suit a less-aggressive skier. The weekend warrior who isn't out to break any speed limits but who does want a ski that will flex and carve at slower speeds will enjoy this ski. It should give its user a way to smooth out the rough spots and be more fluid and linked with their turns. John Storey's description was apt: "Nice weight, smooth ride, good in short- and medium-radius turns, and okay in long too. It's predictable and nicely balanced."
Elan Delight Qt
LENGTHS AVAILABLE: 140, 146, 152, 158*  *  SIDECUT: 126/76/103  *  RADIUS: 12.6 @ 158  *  $700
BEST IN: Initiation
WOMEN: There are skis that are better suited to a specific type of skier, and the Delight QT would be awesome for those who take their time, who aren't all about getting their run count into double digits for the day. If you're all about keeping the sport easy and not timing each lap, this one may be for you. Meagan Jones said, "The ski is light, turns easily and bends quickly, making it better in softer snow on gentler groomed terrain. It does not like to be pushed or powered through turns."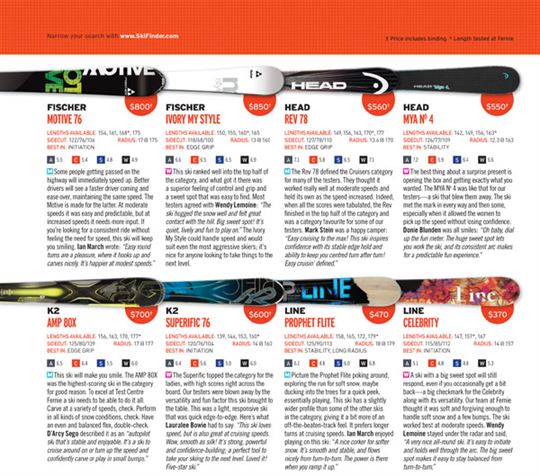 Fischer 

MOTIVE 76

LENGTHS AVAILABLE: 154, 161, 168*, 175  *  SIDECUT: 122/76/106  *  RADIUS: 17 @ 175  *  $800

BEST IN: INITIATION

MEN: Some people getting passed on the highway will immediately speed up. Better drivers will see a faster driver coming and ease over, maintaining the same speed. The Motive is made for the latter. At moderate speeds it was easy and predictable, but at increased speeds it needs more input. If you're looking for a consistent ride without feeling the need for speed, this ski will keep you smiling. Ian March wrote: "Easy round turns are a pleasure, where it hooks up and carves nicely. It's happier at modest speeds."
Fischer IVORY MY STYLE
LENGTHS AVAILABLE: 150, 155, 160*, 165  *  SIDECUT: 118/68/100  *  RADIUS: 13 @ 160  *  $850
BEST IN: EDGE GRIP
WOMEN: This ski ranked well into the top half of the category, and what got it there was a superior feeling of control and grip and a sweet spot that was easy to find. Most testers agreed with Wendy Lemoine: "The ski hugged the snow well and felt great contact with the hill. Big sweet spot! It's quiet, lively and fun to play on." The Ivory My Style could handle speed and would suit even the most aggressive skiers; it's nice for anyone looking to take things to the next level.
Head REV 78
LENGTHS AVAILABLE: 149, 156, 163, 170*, 177  *  SIDECUT: 127/78/110  *  RADIUS: 13.6 @ 170  *  $560
BEST IN: EDGE GRIP
MEN: The Rev 78 defined the Cruisers category for many of the testers. They thought it worked really well at moderate speeds and held its own as the speed increased. Indeed, when all the scores were tabulated, the Rev finished in the top half of the category and was a category favourite for some of our testers. Mark Stein was a happy camper: "Easy cruising to the max! This ski inspires confidence with its stable edge hold and ability to keep you centred turn after turn! Easy cruisin' defined."
Head MYA NO 4
LENGTHS AVAILABLE: 142, 149, 156, 163*  *  SIDECUT: 126/77/109  *  RADIUS: 12.3 @ 163  *  $550
BEST IN: STABILITY
WOMEN: The best thing about a surprise present is opening the box and getting exactly what you wanted. The MYA No 4 was like that for our testers—a ski that blew them away. The ski met the mark in every way and then some, especially when it allowed the women to pick up the speed without losing confidence. Donie Blunden was all smiles: "Oh baby, dial up the fun meter. The huge sweet spot lets you work the ski, and its consistent arc makes for a predictable fun experience."
K2 AMP 80X
LENGTHS AVAILABLE: 156, 163, 170, 177*  *  SIDECUT: 125/80/109  *  RADIUS: 17 @ 177  *  $700
BEST IN: EDGE GRIP
MEN: This ski will make you smile. The AMP 80X was the highest-scoring ski in the category for good reason. To excel at Test Centre Fernie a ski needs to be able to do it all. Carve at a variety of speeds, check. Perform in all kinds of snow conditions, check. Have an even and balanced flex, double-check. D'Arcy Sego described it as an "autopilot ski that's stable and enjoyable. It's a ski to cruise around on or turn up the speed and confidently carve or play in small bumps."
K2 SUPERIFIC 76
LENGTHS AVAILABLE: 139, 146, 153, 160*  *  SIDECUT: 120/76/104  *  RADIUS: 14 @ 160  *  $600
BEST IN: INITIATION
WOMEN: The Superific topped the category for the ladies, with high scores right across the board. Our testers were blown away by the versatility and fun factor this ski brought to the table. This was a light, responsive ski that was quick edge-to-edge. Here's what Lauralee Bowie had to say: "This ski loves speed, but is also great at cruising speeds. Wow, smooth as silk! It's strong, powerful and confidence-building; a perfect tool to take your skiing to the next level. Loved it! Five-star ski."
Line PROPHET FLITE
LENGTHS AVAILABLE: 158, 165, 172, 179*  *  SIDECUT: 125/90/113  *  RADIUS: 18 @ 179  *  $470
BEST IN: STABILITY, LONG RADIUS
MEN: Picture the Prophet Flite poking around, exploring the run for soft snow, maybe ducking into the trees for a quick peek, essentially playing. This ski has a slightly wider profile than some of the other skis in the category, giving it a bit more of an off-the-beaten-track feel. It prefers longer turns at cruising speeds. Ian March enjoyed playing on this ski: "A nice corker for softer snow. It's smooth and stable, and flows nicely from turn-to-turn. The power is there when you ramp it up."
Line CELEBRITY
LENGTHS AVAILABLE: 147, 157*, 167  *  SIDECUT: 115/85/112  *  RADIUS: 14 @ 157  *  $470
BEST IN: INITIATION
WOMEN:  A ski with a big sweet spot will still respond, even if you occasionally get a bit back—a big checkmark for the Celebrity along with its versatility. Our team at Fernie thought it was soft and forgiving enough to handle soft snow and a few bumps. The ski worked best at moderate speeds. Wendy Lemoine stayed under the radar and said, "A very nice all-round ski. It's easy to initiate and holds well through the arc. The big sweet spot makes it easy to stay balanced from turn-to-turn."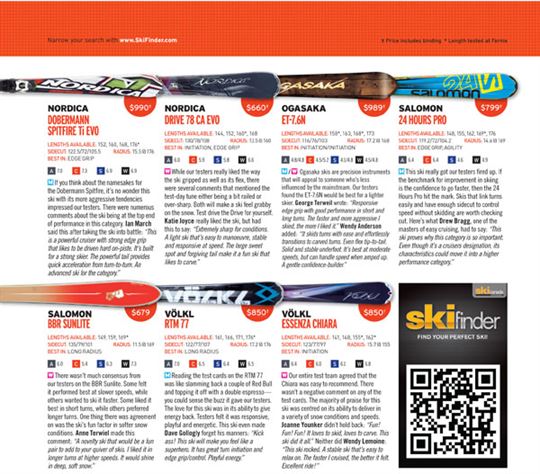 Nordica DOBERMANN SPITFIRE Ti EVO
LENGTHS AVAILABLE: 152, 160, 168, 176*  *  SIDECUT: 122.5/72/105.5  *  RADIUS: 15.5 @ 176  *  $990
BEST IN: EDGE GRIP
MEN: If you think about the namesakes for the Dobermann Spitfire, it's no wonder this ski with its more aggressive tendencies impressed our testers. There were numerous comments about the ski being at the top end of performance in this category. Ian March said this after taking the ski into battle: "This is a powerful cruiser with strong edge grip that likes to be driven hard on-piste. It's built for a strong skier. The powerful tail provides quick acceleration from turn-to-turn. An advanced ski for the category."
Nordica DRIVE 78 CA EVO
LENGTHS AVAILABLE: 144, 152, 160*, 168  *  SIDECUT: 130/78/108  *  RADIUS: 13.5 @ 160  *  $660
BEST IN: INITIATION, EDGE GRIP
WOMEN: While our testers really liked the way the ski gripped as well as its flex, there were several comments that mentioned the test-day tune either being a bit railed or over-sharp. Both will make a ski feel grabby on the snow. Test drive the Drive for yourself. Katie Joyce really liked the ski, but had this to say: "Extremely sharp for conditions. A light ski that's easy to manoeuvre, stable and responsive at speed. The large sweet spot and forgiving tail make it a fun ski that likes to carve."
Ogasaka ET-7.6N
LENGTHS AVAILABLE: 158*, 163, 168*, 173  *  SIDECUT: 116/76/103  *  RADIUS: 17.2 @ 168  *  $989
BEST IN: INITIATION
MEN & WOMEN:   Ogasaka skis are precision instruments that will appeal to someone who's less influenced by the mainstream. Our testers found the ET-7.6N would be best for a lighter skier. George Terweil wrote: "Responsive edge grip with good performance in short and long turns. The faster and more aggressive I skied, the more I liked it."Wendy Anderson added: "It skids turns with ease and effortlessly transitions to carved turns. Even flex tip-to-tail. Solid and stable underfoot. It's best at moderate speeds, but can handle speed when amped up. A gentle confidence-builder."
Salomon 24 HOURS PRO
LENGTHS AVAILABLE: 148, 155, 162, 169*, 176  *  SIDECUT: 119.2/72/104.2  *  RADIUS: 14.6 @ 169  *  $799
BEST IN: EDGE GRIP, AGILITY
MEN: This ski really got our testers fired up. If the benchmark for improvement in skiing is the confidence to go faster, then the 24 Hours Pro hit the mark. Skis that link turns easily and have enough sidecut to control speed without skidding are worth checking out. Here's what Drew Bragg, one of the masters of easy cruising, had to say: "This ski proves why this category is so important. Even though it's a cruisers designation, its characteristics could move it into a higher performance category."
Salomon BBR SUNLITE
LENGTHS AVAILABLE: 149, 159, 169*  *  SIDECUT: 135/79/101  *  RADIUS: 11.5 @ 169  *  $679
BEST IN: LONG RADIUS
WOMEN: There wasn't much consensus from our testers on the BBR Sunlite. Some felt it performed best at slower speeds, while others wanted to ski it faster. Some liked it best in short turns, while others preferred longer turns. One thing there was agreement on was the ski's fun factor in softer snow conditions. Anne Terwiel made this comment: "A novelty ski that would be a fun pair to add to your quiver of skis. I liked it in longer turns at higher speeds. It would shine in deep, soft snow."
VÖLKL RTM 77
LENGTHS AVAILABLE: 161, 166, 171, 176*  *  SIDECUT: 122/77/107  *  RADIUS: 17.2 @ 176  *  $850
BEST IN: LONG RADIUS
MEN: Reading the test cards on the RTM 77 was like slamming back a couple of Red Bull and topping it off with a double espresso—you could sense the buzz it gave our testers. The love for this ski was in its ability to give energy back. Testers felt it was responsive, playful and energetic. This ski even made Dave Gollogly forget his manners: "Kick ass! This ski will make you feel like a superhero. It has great turn initiation and edge grip/control. Playful energy."
VÖLKL Essenza Chiara
LENGTHS AVAILABLE: 141, 148, 155*, 162*  *  SIDECUT: 123/77/97  *  RADIUS: 15.7 @ 155  *  $850
BEST IN: INITIATION
WOMEN: Our entire test team agreed that the Chiara was easy to recommend. There wasn't a negative comment on any of the test cards. The majority of praise for this ski was centred on its ability to deliver in a variety of snow conditions and speeds. Joanne Younker didn't hold back: "Fun! Fun! Fun! It loves to skid, loves to carve. This ski did it all." Neither did Wendy Lemoine: "This ski rocked. A stable ski that's easy to relax on. The faster I cruised, the better it felt. Excellent ride!"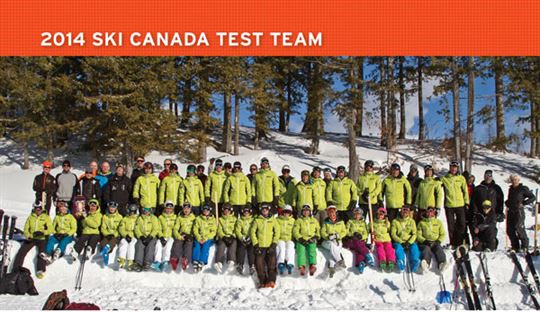 Ski Canada's decision to return to Fernie for Test Week last March was a no-brainer. With easy access to Calgary International Airport and even closer access to Cranbrook (where several of us started or finished a Powder Highway add-on trip), Fernie welcomed Ski Canada's gang of 80 testers, staff, manufacturers' reps, tuners, binding twisters, latch-ons and nefarious others. On cue, Fernie delivered a little of everything needed for Test Week, from powder and hardpack to sun and shade. On hill or in town, Fernie's culinary and hospitality reputation didn't disappoint. Special thanks to everyone who helped make Ski Canada Test Week such a success.
---
Tags: Atomic Affinity Pure, ATOMIC NOMAD SMOKE Ti, Blizzard MAGNUM 7.7 Ti SUSPENSION IQ, Blizzard VIVA 7.7 Ti SUSPENSION IQ, Elan AMPHIBIO 78 Ti FUSION, Elan Delight Qt, Fernie Alpine Resort, Fischer IVORY MY STYLE, FISCHER MOTIVE 76, Head MYA NO 4, Head REV 78, K2 AMP 80X, K2 SUPERIFIC 76, Line Celebrity, Line PROPHET FLITE, Nordica DOBERMANN SPITFIRE Ti EVO, Nordica DRIVE 78 CA EVO, Ogasaka ET-7.6N, Salomon 24 HOURS PRO, Salomon BBR SUNLITE, Ski Canada Test, ski reviews, ski test, VOLKL RTM 77