Reading Time:
11
minutes
All-terrain skiing, moderate speeds, medium turns
Technology and ski construction are bringing more and more attention to the Adventure All-Mountain category. Consider these skis your Triple A advantage. They're built for one purpose only: to do Anything, Anywhere, Anytime. Now doesn't that sound like a perfect date!
Of course, not every ski performs flawlessly in all conditions all the time, but the audacious skier needs a ski with consistent performance to dazzle the senses into overload. Adventure All-Mountain skis are made to open the door to possibilities. They are cleverly designed mid-fat skis with an all-purpose attitude. They make turn initiation easy, emphasize stability, grip hardpack and remain adaptable enough to effortlessly explore the off-piste mountain jungle. Mid-fat skis generally have a waist between 75-85mm.
Every year, as skiing evolves with hundreds of different ski designs, choices and brands hitting the market, Ski Canada testers emerge from across the country to congregate, this year in beautiful Fernie, B.C., for the purpose of helping you choose your best ski. Check out our testers' stats on page 56 as well as their favourite skis from Test Day. And before you read further, think about your current skis, how you ski and where you want to progress your skiing. Ready? Let's go ski!
written by D'Arcy Sego
Atomic | Black Crows | Blizzard | Elan | Fischer | Head | K2 | Kastle | Line | Nordica | Ogasaka | Salomon | Volkl
Recommendations: tester recommendations for skier weight, ability, style and usual snow conditions. Use SkiFinder to speed your search.
Meet the Testers. Skiing bios and top 3 scoring skis for each tester.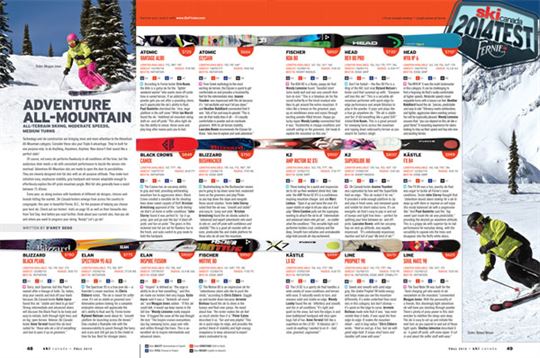 Atomic Vantage Alibi
LENGTHS AVAILABLE: 173, 180*, 187
SIDECUT: 132/98/118  *  RADIUS: 19 @ 180  *  $725
BEST IN: Initiation
MEN: According to Fernie tester Erin Keam, the Alibi is a gutsy ski for the "lighter weekend warrior" who wants more off-piste time in varied terrain. If an addiction to powder gets you out after a pounding storm, you'll appreciate the ski's ability to float. Paul Ouelette cherished the "nice, large platform in the soft snow." While Ian March found the ski "redefined all-mountain skiing both on- and off-piste." This ultra-light ski has the ability to smear, throw snow and play long after mama puts you to bed.
Atomic Elysian
LENGTHS AVAILABLE: 150, 159, 168*
SIDECUT: 128/95/117  *  RADIUS: 18 @ 168  *  $666
BEST IN: Initiation
WOMEN: From Greek mythology to the most exciting ski terrain, the Elysian is quick to get comfortable on and provides a trustworthy feel for the intermediate skier. Joanne Younker was impressed with the ski because it's "not excitable and won't let you down," and Heather Robilliard commented that it was "lots of fun and easy to operate." This is one ski that really does it all—it's equally comfortable in powder and on riverbank groomers. With its all-terrain stability, Lauralee Bowie recommends the Elysian for those "who love to explore and seek adventure."
Black Crows Camox
LENGTHS AVAILABLE: 167, 177*, 186
SIDECUT: 128/97/119  *  RADIUS: 20 @ 177  *  $849
BEST IN: Initiation
MEN: The Camox has an uncanny ability to grip and hold, providing exhilarating mountain fun to aggressive skiers. Black Crows created a sensible ski for shooting lines down sweet carpets of fluff. Kristian Armstrong approved of the "surfy-feeling ski that's at home in softer conditions." John Storey found it was perfect to "rip it up, jump, spin and go over the top! A blast off-piste, and fun on-piste." The gears in this rockered mid-fat are set for flawless fun in the fresh, and auto-switch to grip mode to hold the hardpack.
Blizzard Bushwacker
LENGTHS AVAILABLE: 159, 166, 173, 180*, 187
SIDECUT: 125/88/110  *  RADIUS: 19 @ 180  *  $750
BEST IN: Edge Grip
MEN: Bushwhacking on the Bushwacker means you're going to lay down some fast, exuberant turns on the groomers and play Plinko as you hop down the slope and navigate those secret stashes. Tester John Storey noted that the ski was "smooth and stable" and easy to "jump and slide." Kristian Armstrong found the ski ideally suited to "advanced and expert adventurers who want to ride on- and off-piste with confidence and stability." This is a good all-rounder with an even, predicable flex and stable platform for those who ski all over the mountain.
Blizzard Black Pearl
LENGTHS AVAILABLE: 152, 159, 166*, 173
SIDECUT: 125/88/110  *  RADIUS: 18 @ 173  *  $780
BEST IN: Initiation
WOMEN: Sorry, Jack Sparrow, but this Pearl is named after a lineage of bulls. So, ladies, drop your swords and kick off your heels because Ski Canada tester Katie Joyce found this ski "stable and liked to go fast." Strong intermediate and advanced skiers will discover the Black Pearl to be lively and easy to initiate, both through tight lines and on big, open terrain. Veteran Ski Canada tester Anne Terwiel found this ski best suited for "those who ski a bit of everything and love to open it up on groomers."
Elan Spectrum 95 ALU
LENGTHS AVAILABLE: 173, 180, 187*
SIDECUT: 135/96/110  *  RADIUS: 17.5 @ 180  *  $775
BEST IN: Initiation
MEN: The Spectrum 95 is a true pow ski—a freerider's cream machine. As Chris Ebbern noted, "The ski is meant for softer snow. It's not as stable on groomed runs." Adrenaline junkies looking for a complete endorphin release will appreciate the ski's ability to float and fly. Fernie tester Ryland Nelson raved about its "smooth platform for launching across the terrain." Elan created a floatable ride with the manoeuvrability to punch through the hairy and scary and still get you to the chalet in time for tea. Best for stronger skiers.
Elan Inspire Fusion
LENGTHS AVAILABLE: 152, 158, 166*
SIDECUT: 127/78/107  *  RADIUS: 14.9 @ 166  *  $900
BEST IN: Edge Grip
WOMEN: "Inspire" is defined as "the urge or ability to do or feel something," and this ski made our testers feel very happy. Katie Joyce said it was a "fantastic all-round ski," and Meagan Jones added: "If this ski could talk, it would say keep mama in the fall line." Wendy Lemoine really enjoyed how "it hugged the snow all the way through the turn." The Inspire cruises everywhere, rips big sweeping turns, pops over rolls and rattles through the trees. This is an excellent ski to inspire intermediate and advanced skiers.
Fischer Motive 80
LENGTHS AVAILABLE: 161, 168*, 175, 182
SIDECUT: 122/80/110  *  RADIUS: 17 @ 175  *  $950
BEST IN: Edge Grip
MEN: The Motive 80 is an impressive ski for "adventurous skiers who like to push the limits," according to Chris Ebbern. Goggle up and buckle down because Jeremie Boiteau found the ski to shine in the bumps and float over jumps. He raved about how "the rocker makes the ski feel so much shorter than it is." Peter Eaton described it as "fun and very playful." This ski is quick edge-to-edge, and provides the perfect blend of stability and high-energy snappiness to keep advanced to expert skiers motivated to rip.
Fischer KOA 80
LENGTHS AVAILABLE: 147, 154, 161*, 168
SIDECUT: 122/80/110  *  RADIUS: 15 @ 161  *  $850
BEST IN: Short Radius
WOMEN: The KOA 80 is a floaty, peppy ski that Wendy Lemoine found "handled short turns really well and was very smooth from turn-to-turn." This is a fabulous ski for the social butterfly or the timid rosebud who likes to get around the entire mountain. It rides like a breeze on the groomed, pops up on windblown snow and eases through exciting powder-filled terrain. Happy-go-lucky ripper Wendy Lumby commented that it was "trustworthy in choppy conditions and smooth sailing on the groomers. Get ready to explore the mountain on this one."
Head Rev 80 Pro
LENGTHS AVAILABLE: 156, 163, 170, 177*, 184
SIDECUT: 130/81/112  *  RADIUS: 14.8 @ 177  *  $735
BEST IN: Edge Grip
MEN: Don't be fooled—the Rev 80 Pro is a King of the Hill. Just read Ryland Nelson's tester card that summed up with: "Everyone will love this ski!" This is a versatile all-mountain performer with quick edge-to-edge performance and ample flotation to play in the powder. It pops and plays like a true go-anywhere ski. "The ski is stable and fun. It did everything like a good SUV," stated Erin Keam. This is a great present for sweeping turns across the mountain and ripping down sidecountry terrain as you search for Santa's sleigh.
Head MYA No 6
LENGTHS AVAILABLE: 142, 149, 156, 163*, 170
SIDECUT: 128/79/110  *  RADIUS: 12.4 @ 163  *  $710
BEST IN: Edge Grip
WOMEN: The MYA N° 6 was the multi-taskmaster in this category. It can be challenging to find a forgiving ski that's really comfortable at higher speeds. Moderate speeds mean enjoyable turns with a luxury-car feel. Heather Robilliard found the ski "precise, predictable and easy to ride." Vibrancy meets exhilaration, and lighter, aggressive skiers wanting serious fun will be especially pleased. Wendy Lemoine assures that "you can depend on this ski like a good friend." A rewarding experience for skiers looking to step up their speed and hop into new and exciting terrain.
K2 AMP Rictor 82 XTi
LENGTHS AVAILABLE: 163, 170, 177*, 184
SIDECUT: 127/82/112  *  RADIUS: 17 @ 177  *  $900
BEST IN: Edge Grip
MEN: Those looking for a quick and responsive ski to stir up their weekend shred-fest, take note: the AMP Rictor 82 XTi is a confidence-inspiring mountain charger. Just ask Marc Ledoux: "Open it up and tame the crud. It's super-stable on edge to let you step on it and play." Chris Candow pulls out the superglue, wanting to attach the ski to all "intermediate and advanced skiers who get out…no matter what the conditions." This versatile high-end performer tackles crud, corduroy and the deep. Smooth turn initiation and unshakeable edge hold provide all-day excitement.
K2 SuperGlide 80
LENGTHS AVAILABLE: 139, 146, 153, 160*, 167
SIDECUT: 127/80/109  *  RADIUS: 13 @ 160  *  $800
BEST IN: Short Radius
WOMEN: Ski Canada tester Joanne Younker was captivated by how well the SuperGlide held an edge: "This ski rocked it for me." It provided a wide enough platform to zip and play in fresh snow, and remained quick and nimble for short-radius turns. It's an energetic ski that's easy to pop in and out of bumps and tight tree lines—perfect for splitting your time between on- and off-piste. Lauralee Bowie, with her uncanny hop-on-and-go attitude, was equally impressed: "It's unbelievably responsive, reactive and full of pep! My kind of ski!"
Kästle FX 84
LENGTHS AVAILABLE: 160, 168, 176*, 184
SIDECUT: 122/84/110  *  RADIUS: 18 @ 176  *  $999
BEST IN: Edge Grip
MEN: The FX 84 was a fun, punchy ski that was eager to tackle all Fernie's snow conditions. Tester John Storey thought that "adventure-bound skiers looking for a ski to keep up with them or improve on will enjoy this nicely balanced ski with a progressive flex." And Paul Ouelette said the "big sweet spot made the ski very predictable," providing the desired go-anywhere attitude. This is a grippy ski with superior tip-to-tail performance for everyday skiing, with the versatility to squeak into the trees and disappear into the fluffy white abyss.
Kästle LX 82
LENGTHS AVAILABLE: 156, 164, 172*, 180
SIDECUT: 127/82/109  *  RADIUS: 16 @ 172
BEST IN: Initiation
WOMEN: The LX 82 is a sporty ski that handles a wide variety of snow conditions and terrain with ease. It naturally wants to turn, and remains solid and stable on edge. Wendy Lumby found the ski "effortless and smooth, and fun in all conditions." It's light and quiet on the snow, but lock the edges in and even bulletproof hardpack will slice open bags full of fun. Anne Terwiel felt like a superhero on the LX 82: "A fabulous ski! I could do anything I wanted to on it—fast, slow, groomed, ungroomed."
Line Prophet 98
LENGTHS AVAILABLE: 165, 172, 179*, 186
SIDECUT: 132/98/123  *  RADIUS: 17 @ 179  *  $670
BEST IN: Initiation, Edge Grip, Stability
MEN: Sweet and smooth with solid edge grip, the stable Prophet 98 holds energy and helps make you see the mountain differently. It's wider underfoot than most skis in this category, but don't dismay—it's quick on the edge to carve. Jeremie Boiteau made note that it was "way more nimble than it looks. It was rapid-fire from edge-to-edge. It makes the mountain bleed—and in long radius." Chris Ebbern wrote: "Hold on and go. A fun, fast ski with great edge hold. It snaps short turns and handles soft snow with ease."
Line Soul Mate 98
LENGTHS AVAILABLE: 158, 165*, 172
SIDECUT: 132/98/123  *  RADIUS: 15 @ 165  *  $620
BEST IN: Initiation
WOMEN: The Soul Mate 98 was built for the "hard-charging girl who wants to ski everywhere on the mountain," commented Meagan Jones. With the personality of a freeski, this shockingly light adventure ski will have you slashing through powder. There's plenty of pony-power in this sled-wrecker to redefine the steep-and-deep. The ski is easy to set up and initiate the next turn as you squirrel in and out of those tight spots. Shelley Johnston described it as "a great off-piste, soft-snow ripper. It cut in and about the softer stuff with ease."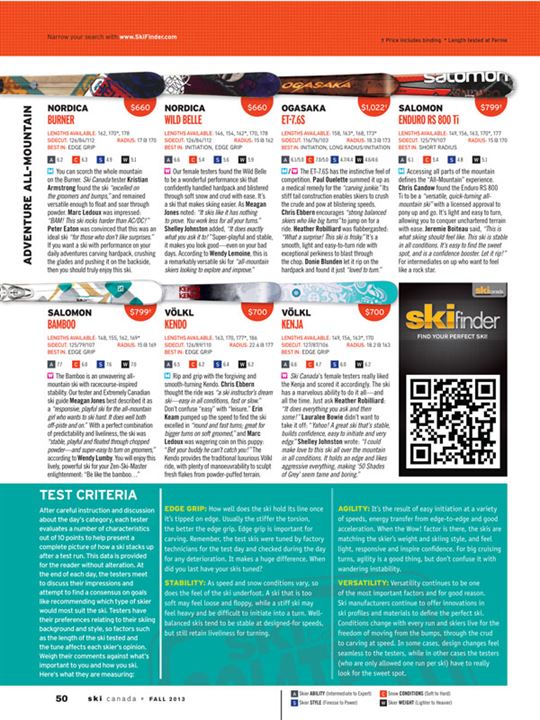 Nordica Burner
LENGTHS AVAILABLE: 162, 170*, 178
SIDECUT: 126/84/112  *  RADIUS: 17 @ 170  *  $660
BEST IN: Edge Grip
MEN: You can scorch the whole mountain on the Burner. Ski Canada tester Kristian Armstrong found the ski "excelled on the groomers and bumps," and remained versatile enough to float and soar through powder. Marc Ledoux was impressed: "BAM! This ski rocks harder than AC/DC!" Peter Eaton was convinced that this was an ideal ski "for those who don't like surprises." If you want a ski with performance on your daily adventures carving hardpack, crushing the glades and pushing it on the backside, then you should truly enjoy this ski.
Nordica Wild Belle
LENGTHS AVAILABLE: 146, 154, 162*, 170, 178
SIDECUT: 126/84/112  *  RADIUS: 15 @ 162  *  $660
BEST IN: Initiation, Edge Grip
WOMEN: Our female testers found the Wild Belle to be a wonderful performance ski that confidently handled hardpack and blistered through soft snow and crud with ease. It's a ski that makes skiing easier. As Meagan Jones noted: "It skis like it has nothing to prove. You work less for all your turns." Shelley Johnston added, "It does exactly what you ask it to!" Super-playful and stable, it makes you look good—even on your bad days. According to Wendy Lemoine, this is a remarkably versatile ski for "all-mountain skiers looking to explore and improve."
Ogasaka ET-7.6S
LENGTHS AVAILABLE: 158, 163*, 168, 173*
SIDECUT: 116/76/103  *  RADIUS: 18.3 @ 173  *  $1022
BEST IN: MEN -Initiation, Long Radius | WOMEN -Initiation
MEN & WOMEN:   The ET-7.6S has the instinctive feel of competition. Paul Ouelette summed it up as a medical remedy for the "carving junkie." Its stiff tail construction enables skiers to crush the crude and pow at blistering speeds. Chris Ebbern encourages "strong balanced skiers who like big turns" to jump on for a ride. Heather Robilliard was flabbergasted: "What a surprise! This ski is frisky." It's a smooth, light and easy-to-turn ride with exceptional perkiness to blast through the chop. Donie Blunden let it rip on the hardpack and found it just "loved to turn."
Salomon Enduro RS 800 Ti
LENGTHS AVAILABLE: 149, 156, 163, 170*, 177
SIDECUT: 125/79/107  *  RADIUS: 15 @ 170  *  $799
BEST IN: Short Radius
MEN: Accessing all parts of the mountain defines the "All-Mountain" experience. Chris Candow found the Enduro RS 800 Ti to be a "versatile, quick-turning all-mountain ski" with a licensed approval to pony up and go. It's light and easy to turn, allowing you to conquer unchartered terrain with ease. Jeremie Boiteau said, "This is what skiing should feel like. This ski is stable in all conditions. It's easy to find the sweet spot, and is a confidence booster. Let it rip!" For intermediates on up who want to feel like a rock star.
Salomon Bamboo
LENGTHS AVAILABLE: 148, 155, 162, 169*
SIDECUT: 125/79/107  *  RADIUS: 15 @ 169  *  $799
BEST IN: Edge Grip
WOMEN: The Bamboo is an unwavering all-mountain ski with racecourse-inspired stability. Our tester and Extremely Canadian ski guide Meagan Jones best described it as a "responsive, playful ski for the all-mountain girl who wants to ski hard. It does well both off-piste and on."  With a perfect combination of predictability and liveliness, the ski was "stable, playful and floated through chopped powder—and super-easy to turn on groomers," according to Wendy Lumby. You will enjoy this lively, powerful ski for your Zen-Ski-Master enlightenment: "Be like the bamboo…"
Völkl Kendo
LENGTHS AVAILABLE: 163, 170, 177*, 186
SIDECUT: 126/89/110  *  RADIUS: 22.6 @ 177  *  $700
BEST IN: Edge Grip
MEN: Rip and grip with the forgiving and smooth-turning Kendo. Chris Ebbern thought the ride was "a ski instructor's dream ski—easy in all conditions, fast or slow." Don't confuse "easy" with "leisure." Erin Keam pumped up the speed to find the ski excelled in "round and fast turns; great for bigger turns on soft groomed," and Marc Ledoux was wagering coin on this puppy: "Bet your buddy he can't catch you!" The Kendo provides the traditional luxurious Völkl ride, with plenty of manoeuvrability to sculpt fresh flakes from powder-puffed terrain.
Völkl Kenja
LENGTHS AVAILABLE: 149, 156, 163*, 170
SIDECUT: 127/87/106  *  RADIUS: 18.2 @ 163
BEST IN: Edge Grip
WOMEN: Ski Canada's female testers really liked the Kenja and scored it accordingly. The ski has a marvelous ability to do it all—and all the time. Just ask Heather Robilliard: "It does everything you ask and then some!" Lauralee Bowie didn't want to take it off: "Yahoo! A great ski that's stable, builds confidence, easy to initiate and very edgy." Shelley Johnston wrote: "I could make love to this ski all over the mountain in all conditions. It holds an edge and likes aggressive everything, making '50 Shades of Grey' seem tame and boring."
Narrow your search with www.SkiFinder.com