Reading Time:
3
minutes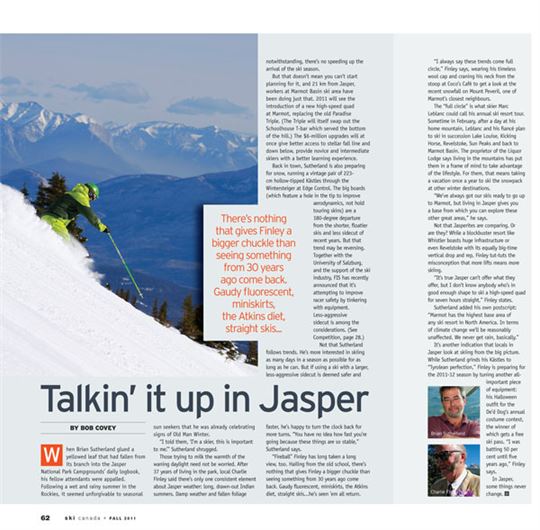 BY BOB COVEY
When Brian Sutherland glued a
yellowed leaf that had fallen from
its branch into the Jasper
National Park Campgrounds' daily logbook,
his fellow attendants were appalled.
Following a wet and rainy summer in the
Rockies, it seemed unforgivable to seasonal
sun seekers that he was already celebrating
signs of Old Man Winter.
"I told them, 'I'm a skier, this is important
to me.'" Sutherland shrugged.
Those trying to milk the warmth of the
waning daylight need not be worried. After
37 years of living in the park, local Charlie
Finley said there's only one consistent element
about Jasper weather: long, drawn-out Indian
summers. Damp weather and fallen foliage
notwithstanding, there's no speeding up the
arrival of the ski season.
But that doesn't mean you can't start
planning for it, and 21 km from Jasper,
workers at Marmot Basin ski area have
been doing just that. 2011 will see the
introduction of a new high-speed quad
at Marmot, replacing the old Paradise
Triple. (The Triple will itself swap out the
Schoolhouse T-bar which served the bottom
of the hill.) The $6-million upgrades will at
once give better access to stellar fall line and
down below, provide novice and intermediate
skiers with a better learning experience.
Back in town, Sutherland is also preparing for snow, running a vintage pair of 223-cm hollow-tipped Kästles through the Wintersteiger at Edge Control. The big boards (which feature a hole in the tip to improve aerodynamics, not hold touring skins) are a 180-degree departure from the shorter, floatier skis and less sidecut of recent years. But that trend may be reversing. Together with the University of Salzburg, and the support of the ski industry, FIS has recently announced that it's attempting to improve racer safety by tinkering with equipment. Less-aggressive sidecut is among the considerations. (See Competition,Fall 2011.)
Not that Sutherland
follows trends. He's more interested in skiing
as many days in a season as possible for as
long as he can. But if using a ski with a larger,
less-aggressive sidecut is deemed safer and
faster, he's happy to turn the clock back for
more turns. "You have no idea how fast you're
going because these things are so stable,"
Sutherland says.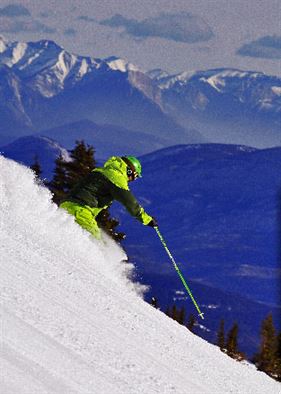 There's nothing that gives Finley a
bigger chuckle than seeing something
from 30 years ago come back.
Gaudy fluoresent, miniskirts,
the Atkins diet, straight skis…
"Fireball" Finley has long taken a long
view, too. Hailing from the old school, there's
nothing that gives Finley a bigger chuckle than
seeing something from 30 years ago come
back. Gaudy fluorescent, miniskirts, the Atkins
diet, straight skis…he's seen 'em all return.
"I always say these trends come full
circle," Finley says, wearing his timeless
wool cap and craning his neck from the
stoop at Coco's Café to get a look at the
recent snowfall on Mount Peveril, one of
Marmot's closest neighbours.
The "full circle" is what skier Marc
Leblanc could call his annual ski resort tour.
Sometime in February, after a day at his
home mountain, Leblanc and his fiancé plan
to ski in succession Lake Louise, Kicking
Horse, Revelstoke, Sun Peaks and back to
Marmot Basin. The proprietor of the Liquor
Lodge says living in the mountains has put
them in a frame of mind to take advantage
of the lifestyle. For them, that means taking
a vacation once a year to ski the snowpack
at other winter destinations.
"We've always got our skis ready to go up
to Marmot, but living in Jasper gives you
a base from which you can explore these
other great areas," he says.
Not that Jasperites are comparing. Or
are they? While a blockbuster resort like
Whistler boasts huge infrastructure or
even Revelstoke with its equally big-time
vertical drop and rep, Finley tut-tuts the
misconception that more lifts means more
skiing.
"It's true Jasper can't offer what they
offer, but I don't know anybody who's in
good enough shape to ski a high-speed quad
for seven hours straight," Finley states.
Sutherland added his own postscript:
"Marmot has the highest base area of
any ski resort in North America. In terms
of climate change we'll be reasonably
unaffected. We never get rain, basically."
It's another indication that locals in
Jasper look at skiing from the big picture.
While Sutherland grinds his Kästles to
"Tyrolean perfection," Finley is preparing for
the 2011-12 season by tuning another
all-important piece of equipment:
his Halloween outfi t for the
De'd Dog's annual costume contest,
the winner of which gets a free
ski pass. "I was batting 50 per
cent until five years ago," Finley says.
In Jasper, some things never change. ❄