---
TWO DISABLED SKIERS TACKLE THE B.C. BACKCOUNTRY AT SELKIRK SNOWCAT SKIING
BY Mikey Nixon
PHOTOS Steve Shannon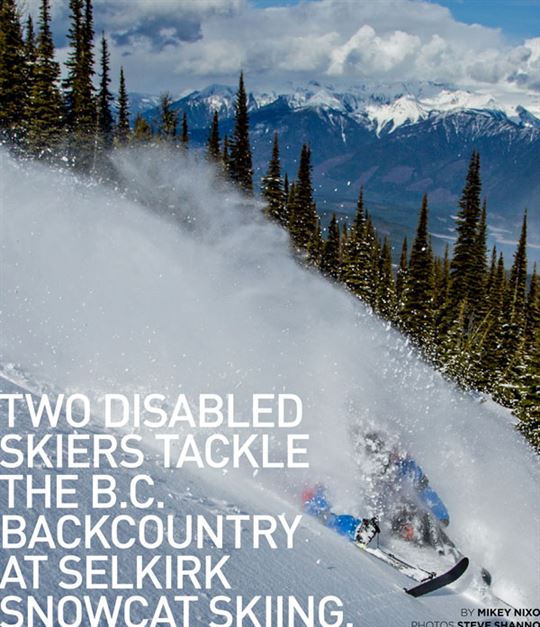 What do you get when you send a paraplegic and a lady with MS on a two-day cat-skiing trip together? You get a lot of jokes—terrible ones—told between some of the best ski runs that either of them have ever had.
And you get Karen Osak, a 52-year-old national account manager for CBC who's been battling multiple sclerosis for the last 24 years, smiling and laughing so hard that she's almost falling out of her sit-ski. Why wouldn't she, really? Not only is she meeting and skiing with Josh Dueck for the first time, the 35-year-old Paralympian is along to give notes on Karen's first-ever backcountry ski experience.
Beyond being a Paralympic silver medallist (2010) and an X-Games gold medallist (2012), Josh has completely altered people's perceptions of what's possible on a sit-ski. He's taught himself to lay out massive backflips, stomp enormous cliffs and carve soulful slashes on backcountry powder runs. He's also really good at answering the call when people contact him, which is what sprouted the idea for this trip to Selkirk Snowcat Skiing, formerly Selkirk Wilderness Skiing, the world's first snowcat operation.
Josh's friend Andrew Pool (or Pool Boy as he came to be known over the course of the two days) has also tagged along. He's the handsome young fellow who gets to ski behind Karen to help steer with the handle on the back of her sit-ski, making sure she doesn't go careening into the trees at the bottom of our sub-alpine ski runs. This is a daunting new task for the 24-year-old freestyle ski coach.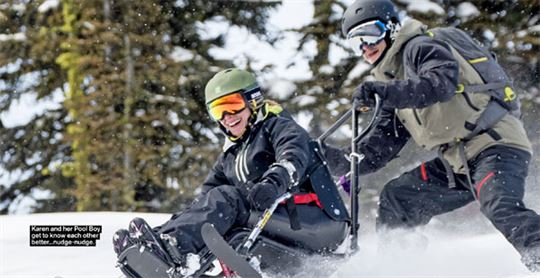 And then there's Paul Osak, or Ozie as Karen calls him, as do his staff at Selkirk Snowcat Skiing. It's his second year as the new owner/lodge operator at Selkirk, a backcountry snowcat operation that's roughly 120 km north of Nelson, B.C., and, quite simply, he's taking the chance to do something really special for his younger sister.
"This trip is about people whose passion revolves around skiing, not letting their disability get in the way of that passion," explains Ozie.
Anyone who's ever been cat-skiing knows that jokes make up a large portion of the banter in the cab on the way up. No subject is off-limits on most trips, including this one, with punchlines that include midgets, pirates, ski guides and just a touch of VD. And the jokes are serving a different purpose this time around. They're helping distract Karen from the fact that she's getting tossed into the deep end of the B.C. backcountry.
Before the trip, I didn't realize that Karen would be sit-skiing. I knew she had MS, but was out of the loop as to her preferred mode of downhill travel.
"Ohhhh, you're sit-skiing," I said when I finally met her and put it all together.
"He's sit-skiing," she said, pointing at Josh. "I'll be sitting in the back of the cat—crying."
Sarcasm is a huge part of Karen's sense of humour. But it also serves as a coping mechanism for her debilitating disease. She walks with a cane and a broken gait, citing her agonizing leg pain as the number-one offender in a laundry list of life-altering symptoms.
"Every day, I feel like I've climbed Mt. Everest with a fridge on my back," she states matter-of-factly.
Her feet burn with the heat of neuralgia, and the spasticity of her lower half is what made her give up traditional skiing roughly eight years ago. "And this one's really fun," she adds. "Whenever my body temperature gets too high, I lose all the vision in my right eye."
''When you have to give up one thing… You take up another''
In spite of all this, Karen skis every weekend back in Ontario at her home hill, Horseshoe Valley. She states proudly (and with a touch of annoyance) that she's way more active than most of her able-bodied friends. She also rows and plays the drums, both of which help her mind-body connection immensely.
"When you have to give up one thing," she explains. "You take up another."
You can also reimagine the sport you love and adapt it to your own specific set of circumstances, which is what Josh did after he overshot a tabletop and severed his spinal cord in 2004. While most people would see that as the end of their ski career, Josh strapped himself to a sit-ski and started givin'er "faster than somebody would have turned around an ACL injury."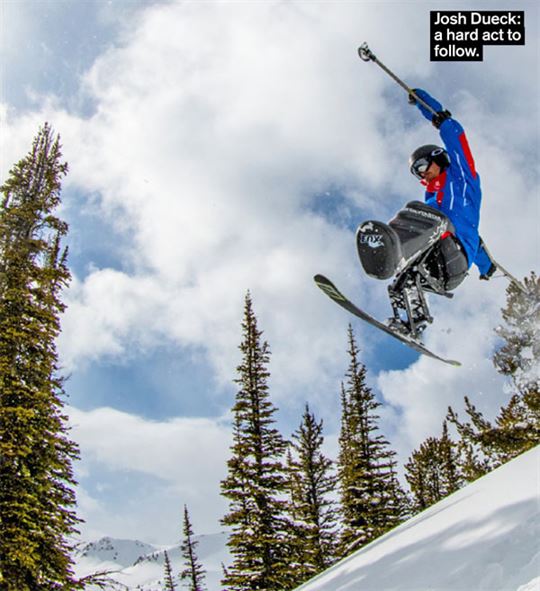 Of course, that hasn't been without its challenges; Josh has had a handful of backcountry days in the last few years and he's learned (the hard way) to set reminders for himself to address his bodily functions. So we set a 1:45 check-in call from the lodge for both days that we're out on the mountain.
As an advanced sit-skier, Josh uses what's referred to as a mono-ski system, which isn't to be confused with skiing's embarrassing single-planked counterpart. He literally has one ski (a Salomon Rocker2 108) attached to the bottom of his rig as opposed to two.
Karen, on the other hand, is on a bi-ski system, which is more conducive to beginner and intermediate skiing. Her set-up has been loaned to her by the kind folks at Silver Star Adaptive Snow Sports. Silver Star is Josh's home mountain. And when SSASS heard what we were up to at Selkirk, it didn't hesitate to set Karen up with the proper gear.
At least we think it's the proper gear. But just to be sure(ish), we put a backpack in Karen's rig for a trial run to see if Andrew can actually steer the thing through the powder snow.
"Once I saw that the pack had survived, I figured I'd be fine," says Karen, laughing after the fact. "I figured what's the worst that can happen? So what, you fall down in the snow. That's the whole point in learning."
Last winter's weather and conditions were rough for everyone in the B.C. and Alberta snow business. That being said, our visit that started April 2 was timed well when a series of convective storms had come in cold and laid down a perfect cushion of mid-winter fluff for Karen to learn in.
When done right, powder has a knack for inspiring confidence, which factors into Karen and Andrew syncing up within their first three turns of skiing together. They work as a unit to find their rhythm through the silky Selkirk snow, barking instructions at one another like a two-person bobsleigh team and co-ordinating their lefts and rights through the curvaceous terrain.
And the best part of the day? When Andrew steers Karen toward a windlip and the two of them send what's undoubtedly the first tandem air between a sit-skier and her ski assister in the B.C. backcountry.
"We were going off jumps!" recalls Karen. "I never used to go off jumps!"
Of course, it's not just Karen who's pumped. We all are, especially Ozie, who's looking on with a bemused concern that only an older brother could muster. But Karen's not ready to let a metre-high air be the culmination of her sit-ski experience. She wants to ditch Pool Boy and make a few turns on her own.
This goes poorly at first, with her chair catching the snow almost instantly and spinning her into high-side wipeouts that make all of us nervous. Finally (after strapping Pool Boy into the sit-ski for the sake of the experiment), we realize that it's got nothing to do with Karen and everything to do with the fact that the bi-ski isn't the right style of sit-ski for the conditions, nor does it match up with Karen's level of expertise.
Karen listens intently to the advice that Josh offers in the cat on the way home at the end of the day, the focal point being that she needs to scrap the bi-ski and click a single ski onto the bottom of her rig.
After a restless sleep, Karen wakes up feeling like she's been "hit by a train." But she's dressed in her ski gear and ready to tackle the progression from two skis to one. Once we're on the mountain, we leave her strapped into her rig between runs so she doesn't have to walk through the snow. We just carry her in and out of the cat, like we do with Josh.
We're a strange assortment of humans, rumbling through the backcountry and sharing laughs like people who have known one another for years. But that's what skiing does; it brings people together. And it can shine light in the darkest corners of our lives, which is certainly what it's done for Karen and Josh.
"When I first found skiing, it wasn't just something I loved, but I felt like it was something I needed," says Josh. "It's good for my heart and soul, which is good because otherwise I'd probably be dead."
Maybe that's why Karen and Josh became such instant friends. They're two people who have chosen the light of experience over the darkness of defeat (and it doesn't hurt that they both share the same sense of humour).
As much as Josh would like to be the one on the back of Karen's ski, coaching her through every single movement, he does what he's done for countless other skiers across North America. He leads by example, a beacon of hope who inspires people to dig just a little bit deeper.
It's absolutely incredible watching Josh unleash himself on Selkirk's terrain. He moves like a Jedi on a Speeder Bike through the forests of Endor, slashing turns, popping off every pillow in sight and immersing his whole body in the snow. Nobody gets faceshots like a person on a sit-ski.
Karen's taking notes. And the mono-ski is allowing her and Andrew to tackle more difficult terrain with precision and speed, hitting a few more tandem airs along the way and ripping through the trees like a duo possessed.
In spite of the amazing dynamic she has with Andrew, sit-skiing is something she wants to master on her own. But every time Pool Boy lets go, Karen goes down. And in some cases, she goes down hard, cursing and muttering as we all do our best to lift her back up.
On the last run of the day, Andrew lets go of her about 100 metres above the cat road. We all stop breathing for a second, collectively worried that Karen might pop out of her ski and start tomahawking toward the bottom of the run.  But that doesn't happen. Everything's silent instead, save for the sound of Karen's ski cutting through six unassisted pow turns at the farthest edge of Selkirk's tenure.
We all erupt in a symphony of hoots and hollers, especially Ozie, who knows better than any of us how big this is for his little sister.
"Someone's capabilities are limited only by their lack of imagination," he explains afterwards. "If you can dream it, why not at least try and make it happen?"
"I'm not sure about everyone else, but I had goose bumps," says Pool Boy when we discuss the trip a few weeks later. "There was a lot of soul in the cat that day."
Not to mention all those terrible jokes…
Tags: backcountry, heli-snowcat skiing, Josh Dueck, mono-ski syatem, Selkirk Snowcat Skiing, Silver Star Adaptive Snow Sports, sit-ski