Reading Time:
5
minutes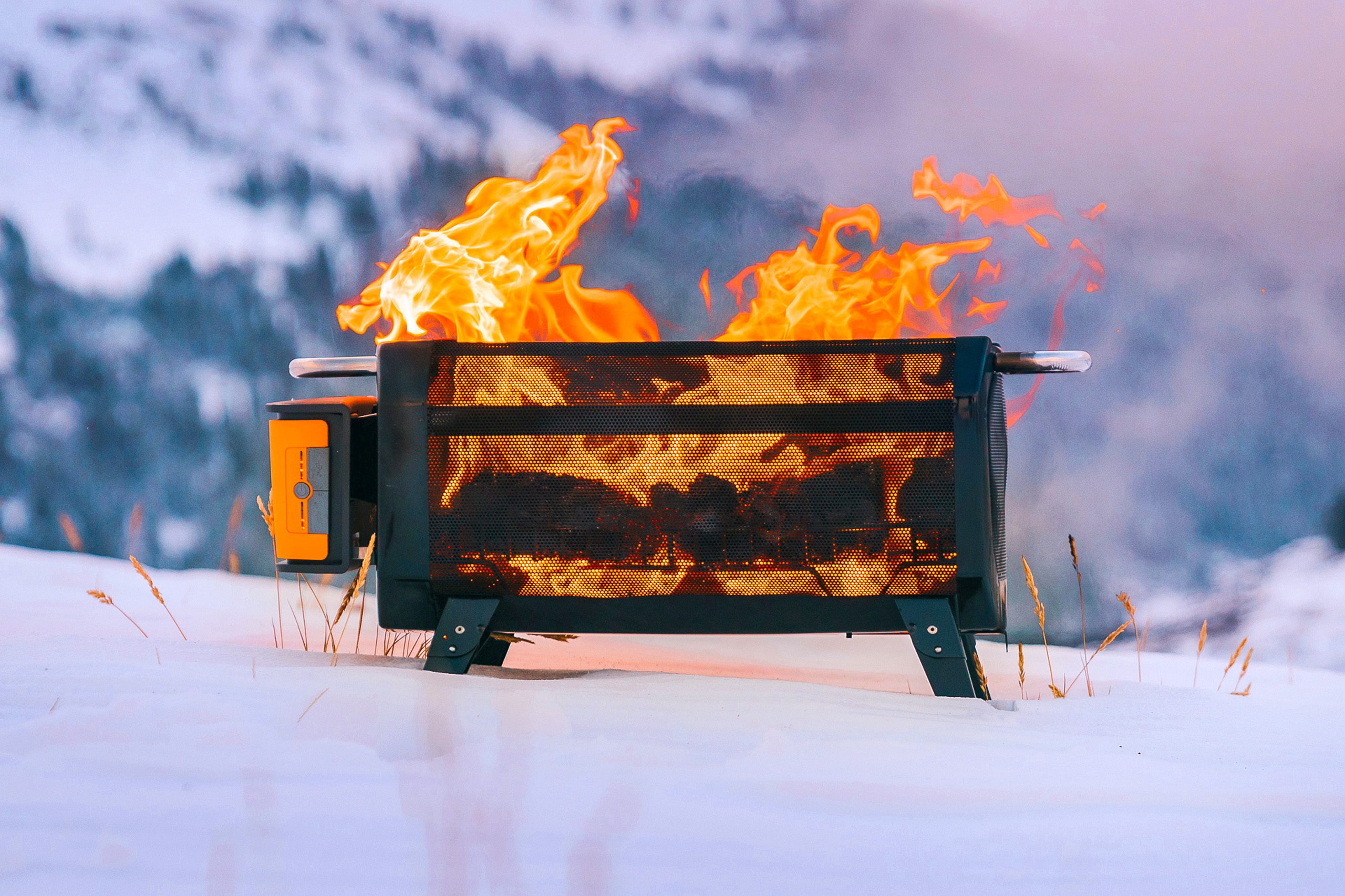 During the pandemic, skiers were forced to après-ski outside. If that sounds like a first-world problem, then smokeless firepits were part of the first-world solution. Adam Bisby went headed outdoors in winter to test two firepits: the Solo Stove and Biolite's FirePit+. Here are his pros and cons:
The inaugural autumn of COVID saw backyard fire pits fly off store shelves faster than snowflakes off Cam Alexander's helmet. Now, like many of the outdoor accoutrements that found new markets during the pandemic, many of these instruments of incineration are sitting idle.
In my experience, those that have endured are simply better than the smoky, rusty bowls that have become yard-sale and curbside mainstays. My s'mores sessions around a friend's Solo Stove, for instance, both warmed my cockles and left only the faintest smell of woodsmoke on my Sears poncho.
Those good times prompted me to research other smokeless fire pit options, at which point I discovered that manufacturers were courting a new audience: tailgating skiers.
It made sense: During the pandemic, many snow-seekers were forced to après-ski outside of lodges shuttered by social-distancing measures. If that sounds like a first-world problem, then smokeless fire pits, several of which are designed to grill après-ski snacks, were part of the first-world solution.
As a dedicated barbecuer and staunch critic of overpriced burgers, this was a trend I felt I could embrace even after COVID restrictions were lifted. So I acquired review units of both the Solo Stove, along with a "Grill Cooking Bundle" add-on, and Biolite's "FirePit+ Complete Cooking Kit." Then, over consecutive February weekends, I put them to the test in the slopeside parking lots of Ontario's Glen Eden and Hockley Valley ski areas.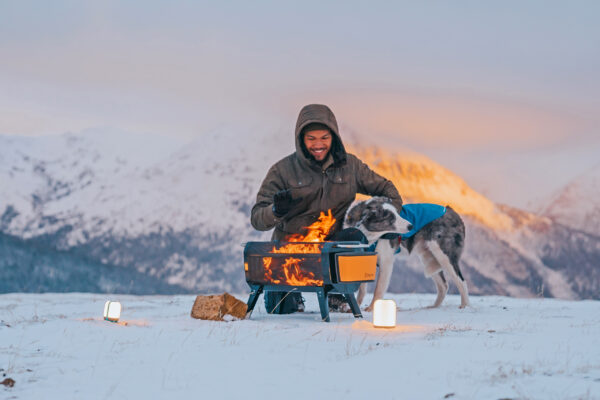 Solo Stove
The gear
The "Bonfire Cast-Iron Grill Cooking Bundle 2.0" includes:
A cylindrical Bonfire fire pit made of stainless steel and measuring 35.5 centimetres high and 49.5 cms in diameter
A removable base plate and ash pan
A ring-shaped stand to protect surfaces under the pit (in my case a parking lot snow bank)
A circular grill and "hub" that positions the grill over the flames at a viable cooking distance
Setup and startup
The Bonfire started exactly like a campfire built using the log-cabin method. A back issue of Ski Canada and two handfuls of dry kindling went up like nobody's business. A few logs later, a roaring fire was achieved in less than five minutes, at which point I added the hub and grill.
The grilling
Turns out I chose exactly the wrong grillables. The Bonfire's open flame was ideal for searing grill marks into our jerk chicken drumsticks and balsamic-marinated pork tenderloin, but the slow-and-low treatment these items require was difficult to achieve without a lid and a more enclosed heat source. We were forced to shift the fare to the edge of the grill to avoid burning it, which was more laborious and time-consuming than expected. Next time, I'll go with faster-cooking fare such as burgers, veggies or pre-cooked ribs.
Pros
Eye-catching flames that tumble and twirl inside the stove. The Solo Stove's "Airflow Design" pulls oxygen in through the bottom of the unit, pushes it upward between two walls of stainless steel, and then forces it out through upper vent holes
Very little smoke
The cast-iron grill is of superb quality
Cleanup is easy, especially in a ski area parking lot where there's lots of snow for quickly extinguishing the fire
Cools down quickly once extinguished
Cons
Poor menu selection notwithstanding, the Solo Stove is really only suitable for fare that only needs searing quickly
The hub, while essential for cooking, makes it difficult to attend to the fire
Even when emptied of ash and rinsed with melted snow, the Solo Stove made my SUV smell like an ashtray. A better option would involve lashing it to the roof or securing it to a trailer-hitch cargo rack. It's too big for a hood ornament, although that would be pretty badass
Biolite FirePit+
The gear
Biolite's "FirePit+ Complete Cooking Kit" comes with:
A hibachi-esque FirePit+ with removable grill grate and lid
A pre-seasoned cast-iron griddle
A knife, tongs, spatula and storage case
The setup and startup
Similarly ensconced in the scenic lot at Hockley Valley Resort, I installed the Firepit+ fuel rack in the wood-burning position, filled it with paper and kindling, snapped its four metal legs into place, clipped on the USB-rechargeable airflow pack, and as instructed placed it on the level (and snowy) ground beside my vehicle.
Using a barbecue lighter to ignite the paper, I grabbed my smartphone, called up the free Biolite app, connected to the airflow pack via Bluetooth, and cranked the fan inside the pack up to "turbo." This sent oxygen whooshing through the built-in perforated tubes surrounding the lit paper and kindling, and set the fire ablaze in a matter of seconds. By feeding the fire with ever-larger pieces of wood, a viable cooking source was achieved in less than 15 minutes, at which point I dialled the fan speed down to its lowest setting and carefully slid the grill into place.
The cooking
Given my culinary missteps with the Solo Stove I played it safe and went with burgers. This worked out very well, as using wood to cook with the FirePit+ yielded a very hot grill. The rectangular griddle allowed me to kick the patties up a notch with bacon and sauteed red onions and mushrooms. Using charcoal to cook with the FirePit+, as I found out in a subsequent backyard session, yields lower heat and more versatile grilling.
Pros
If you've ever wanted to control fire with your mind — and who hasn't — using the BioLite app to control burn rate is about as good as it gets
This unique level of control is also great for cooking
The unit's mesh body provides a view straight through the flames, just like an open campfire
Very little smoke, especially on the "turbo" fan setting
The high-sided griddle is of excellent quality
Cons
The slide-in griddle was awkward to install and surprisingly flimsy compared to the robust grill
While the unit was fairly easy to empty using a slide-open ash door, it was fussier to clean than the Solo Stove
The fan is not noiseless, with the turbo setting adding a disruptive whir to fireside quiet time
Verdict
For après-ski ambiance and marshmallow roasting, the Solo Stove has the edge. For culinary versatility and control, it's the Biolite hands down.