Reading Time:
3
minutes
Far from the present and correct world of the
Canadian RMT, there lurks another form of
corporal entertainment: the dodgy massage.
BY LESLIE WOIT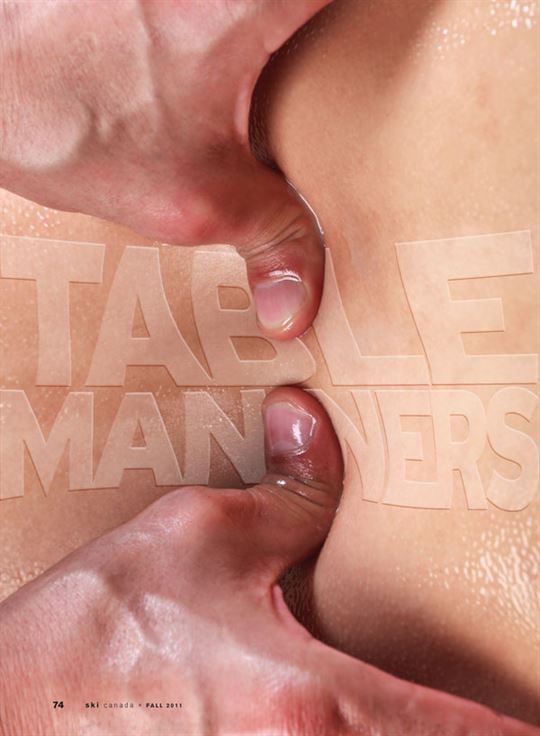 Cranky, sore, mad muscles. What's a
saggy-legged skier to do? Both
good science and new-age claptrap
tell us the same: a mid-ski-week massage
brings tendons, muscles and soft tissue back
from the dark side. Circulation pulses, lactic
acid dies a death, and we roll off that not-at-all-
inexpensive bed more relaxed and ski-ready
than ever. Pure finger-fuelled magic.
Some of my most invigorating and health-giving
massages have been in Canadian
resorts. Whistler's Four Seasons stands out. The
therapist was capable, took direction well (I
like maximum pressure, it contrasts nicely with
the rest of my life), and sufficiently trained
in a physiotherapy sort of way to recognize
how knee surgery had impacted my muscle
development and to treat it accordingly.
But that's Canada for you. Venture overseas
and you, too, may find that all après-ski
massages are not created equal.
My basement-room treatment
was ministered
by a short, squat
and, it must be
said, smelly man
wearing track
suit bottoms,
flip-flops and a
hair shirt.
Some seek it, others have perviness thrust
upon them. Freaky massages, I can reveal,
are alive and well in distant ski resorts.
Among my more memorable ones, Turkey
takes the prize. After a few days of skiing
in Palandöken, just west of Mount Ararat, I
braved the offer of a massage to be taken
in our hotel. My basement-room treatment
was ministered by a short, squat and, it
must be said, smelly man wearing track suit
bottoms, flip-flops and a hair shirt. I kept
my undies on and my eyes shut. The room
was not much bigger than the wooden table
I was lying on, face down, so when his oily
hands moved my arms above either side of
my head, I remember thinking, "Oh, there's
the table leg."
Same trip, a few days later, further hijinks
ensued at the swank hotel we'd moved to.
Another woman and I skipped first course
at dinner to squeeze in a sweat in a real (if
newly built) Turkish hammam. First-timers,
we had no idea what to expect, nor what
to do when a man came into our steamy
marble-lined room and beckoned me to
follow. Now in a tiny sauna-type closet big
enough for one, my naked body was washed,
scrubbed and massaged—in the way one
might massage a dirty floor. It was all slightly
mortifying, but probably more so for him, a
Muslim, being paid to cleanse a female who
was by defi nition uncleansable. Then, just as
I was thinking maybe this was normal and
stop being so Canadian, in walked a man in
a three-piece woollen suit to embark in a
shouting match with the cleaner. I will never
know what was going on, but I'd never been
more uncontaminated.
Zoom hundreds of miles southwest to
Bulgaria, to the burgeoning resort of
Pamporovo, a cheap destination popular
with penny-pinching Brits and the odd Greek
skier. My friend Janet and I plumped for the
$10 massage in an underground strip mall
beneath our grim Stalinesque hotel. Ushered
behind a dirty curtain by a busty peroxide-blond
woman, we undressed and levered
ourselves skeptically onto two side-by-side
hospital gurneys draped in grey sheets of
questionable heritage. Janet got the blonde
and, natch, I got the man with the lit
cigarette between his lips. He kept it there
for the duration, ashing my back when he
wasn't popping out to answer the phone, or
talking to other customers and treating them
to a full view of the two of us spread out
deshabille and disported. The low point had
to be when his stinky smoker hands rubbed
what smelled like hemorrhoid cream all over
my face. Finally released, Janet and I sat
up—and both tables collapsed. Blue Cross
wouldn't cover the claim.
You have to look harder, but indignity
is also to be found on the Continent, of
course. Like the 30-minute massage in
the Tirol, also from a man, of which 27
minutes dealt strictly with my backside. Or
in a five-star Val Gardena spa hotel; when
I turned down the offer of those ridiculous
paper panties, my Italian-speaking masseur
obviously thought he had a live one. I
undressed and got under the sheet, and
when he came back moments later, off came
the sheet and there began my first massage
with not only no pretense of cover, but with
some seriously unorthodox legs-in-the-air
manoeuvres. I can't be sure he didn't turn
up the next morning, serving us breakfast
in the dining room. Still, it's all in the
name of Ski Canada research—and healthy
circulation. ❄