Slip and Sip at Sun Peaks
---
Skiing Sun Peaks during its wine festival is a perfect pairing.
by OAKLAND ROSS; photos: SAM EGAN in Winter 2018 issue
There I was, stumbling through the grey drear that is Toronto in January, when my phone rang. Ski Canada editor Iain asked if I could put my book writing aside for a few days to head to Sun Peaks.
Bummer, right?
But wait. It gets worse. It turned out that this proposed Western ski trip of mine was to coincide with the 19th annual iteration of the Sun Peaks Winter Okanagan Wine Festival, which meant that there would be (a) great wine, (b) great food, and (c) probably some more of that wine.
Plus snow. And sun.
Skiing and wine. On someone else's budget.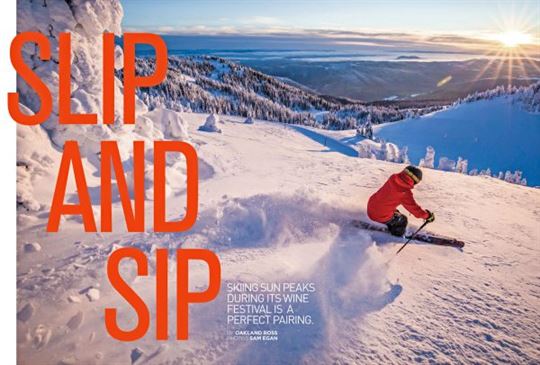 So it was that I soon found myself airborne, en route to Vancouver. There, I boarded a compact Bombardier Q400 bound for the neat and tidy airport at Kamloops. As nearly as I could tell, all the other passengers were Australian, yammering away in their rowdy Down Under drawl, sounding like so many humanoid kookaburras. Who were these people? Did they not realize that Sydney is roughly 12,482 km back thataway?
On the ground, I joined my fellow passengers on a shuttle bus that was to cart us up the mountain road to Sun Peaks, a resort composed partly of fermented grape juice and partly of frozen H20. Just to be friendly, I nodded at the couple seated next to me.
"Fair dinkum, mite," I said proudly in my best Aussie accent.
I must have got it wrong, because they both just stared at me, uncomprehending. The shuttle's engine roared, and we were off.
***********************************************************************************
I checked into the Sun Peaks Grand Hotel in the quaint, Euro-flavoured ski-in, ski-out, ski-through village. Later that afternoon I ambled down to a ski shop and struck up a conversation with some of the employees, all of whom spoke in that distinctive Australian twang that seems to be ubiquitous in B.C. ski country. I told them I once went skiing in Australia—at a place called Thredbo in the Snowy Mountains. I told them that when you fall while on skis in Australia, you don't say, "I fell." You say something like, "I stacked it a beaut." They nodded politely. Maybe they didn't appreciate my first-hand knowledge. I nodded back. "Ripper."
''Sun Peaks = Nancy Greene. May it never be otherwise. ''
Just then, a woman in a bright red parka and a white toque marched inside, causing quite a stir, even among the younger store patrons, most of whom had not yet been born—in fact, their parents had probably not yet been born—when she was scooping up Olympic medals and World Cups like so many baby wallabies back in the late 1960s. Of course, the woman in question was Nancy Greene Raine, among the greatest athletes in Canadian sports history and now almost a permanent fixture at Sun Peaks, where she is director of skiing. I decided a more apt title might be "legend-in-residence." She graciously posed for a tumult of selfies before I introduced myself.
As for the abundance of Australians at Sun Peaks—a phenomenon evident among both the staff and the guests—Nancy explained that it's a two-way street. Come January each year, hordes of summer-seeking Canucks flock to beaches like Bondi near Sydney, while winter-craving Aussies wind up here at Sun Peaks. "For every Aussie you see here," said Nancy, "there's a Canadian in Australia." In other words, trans-Pacific free trade in action.
For the last nine years, Nancy has been something of a migrant, too. Appointed to the Senate in 2009, she now divides her time between Ottawa and her home high in the B.C. Interior. On weekends, however, and sometimes during the week as well, she is a constant presence at Sun Peaks, almost as ubiquitous here as an Australian accent. That, at least, was my experience. During my three days at Sun Peaks, I kept bumping into her (maybe she was following me?) at breakfast, lunch—she favours a midday veggie burger—on the slopes, at wine tastings, dinner…
I get it, though. Sun Peaks = Nancy Greene. May it never be otherwise.

Among those who have skied both Sun Peaks and Whistler Blackcomb, there's a pretty clear consensus that Whistler is glitzy, and immense, while Sun Peaks is homey, kind of folksy, sunny and, um, less immense. In fact, the resort seems to take a perverse sort of pride in billing itself as Canada's second-largest ski area. Meanwhile, the hominess claim seems demonstrably true. People hereabouts do tend to know and remember one another. Old friends renew acquaintances unexpectedly.
"It's low-key, unpretentious," confirmed middle-aged visitor Rick Delahunt, a native of, you guessed it, Sydney, Australia. "There aren't shops selling Tiffany jewellery or Bulgari watches." He told me that his fellow Aussies here at Sun Peaks tend to be down-to-earth folk, which partly explains why so many of them flock to this particular neck of the B.C. geography each winter. "The snow is reliable, too," added Helen Batt-Rawden, Delahunt's wife.
This conversation unfolded in a large ballroom at the Sun Peaks Grand Hotel, the venue for a "Taste of Sun Peaks" event, part of the Okanagan wine festival that was well underway by then. The bacchanal was billed as "an evening of small-plate creations paired with eight British Columbia wineries," including Hester Creek, Moon Curser, Bartier Brothers and several others.
The wine poured freely, vocalist Kira Saenger and guitarist Peter Thorne of 100 Mile House performed a series of folk-rock or blues numbers, and it wasn't long before Nancy made her inevitable appearance. She, along with husband, Al Raine, who is mayor of the Sun Peaks "resort municipality" (population: 600), eventually gravitated my way, but this did not have much to do with me. It seemed that Nancy and Al were already well acquainted with Delahunt and Batt-Rawden, further corroboration—if further corroboration were needed—of Sun Peaks's reputation as an intimate sort of place for sliding down mountains.
"Where else," said Batt-Rawden, gesturing at Nancy and Al, "can you ski with this one and her husband?"
Hell, at Sun Peaks, I could barely avoid them!
*************************************************************************************
The ski area once known as Tod Mountain has some unique marketing advantages. Sun Peaks claims bragging rights for the province's most sunshine and drier, lighter snow, not to mention shorter lift lines—if there are lift lines at all. I spent three days skiing at Sun Peaks during the wine festival and the only place I had to wait in line—and even then only briefly—was at the base of the Sunburst Express, which carries you about two-thirds of the way up. Everywhere else, I just coasted to the loading ramp and climbed straight on, every damned time.
I can also attest to the lightness of the snow, thanks mainly to Sydney Johnsen, a Sun Peaks ski guide who led a small group of good skiers on an afternoon exploration of Tod Mountain, one of three skiable faces at Sun Peaks—the other two are Sundance and Mt. Morrisey. The snow on Tod had been wonderful only that morning—several centimetres of frothy new powder—but a few hours of wind press had changed all that, turning the snow hard, cruddy and not much fun to ski. No worries. With conditions deteriorating on Tod, Johnsen's suggestion to ski more south-facing (and therefore softer) Morrisey was a good one.
So we did. Mt. Morrisey had been shielded from the wind that day, and we were soon sailing down a succession of steep, sparsely gladed cruising runs, all topped with a modest but welcome covering of soft and quiet new snow as dry and flocculent as a pillow of down.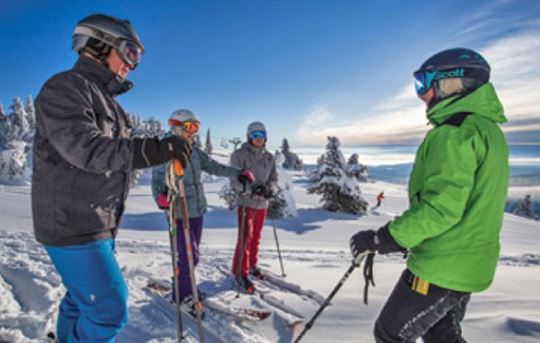 There's a Thursday evening tradition at Sun Peaks: a fondue dinner at the Sunburst Bar & Eatery at the top of the Sunburst Express chairlift with live music, food and…did someone mention wine?
I headed up with three new mates, including a pair of foreign visitors who were not Australian but British—Alicia Haque and Matt Hutch, who now live in Vancouver where they run an adventure website (golivexplore.com). The fondue was great, and the ambiance was, let's say, loud. But the do-it-yourself descent—in the dark, on skis, with strap-on headlamps (admittedly, not very powerful) that were handed out by a team of Sun Peaks employees. The logistics were explained to us in advance by a thickly bearded ski guide who spoke English (I think) with a reverberating accent that quickly identified him as yet another member of that rare breed at Sun Peaks—someone who is not Australian. He was Scottish, I believe.
Meanwhile, a thick nighttime cloud settled over Tod Mountain. The resulting murk merely served to make the experience more magical—a strung-out constellation of hazy lights winding down a long meandering trail called 5 Mile. The trek took about half an hour to complete, and my group rounded out the evening at Bottoms, a raucous pub at the base village where, for just one night, wine was abandoned in favour of beer.
The next morning I had a few last hours to spend on the snow. The sun was out and we hit the trails, storming down a succession of long winding runs off Sunburst Chair. The sunlight was certainly welcome, especially since the resort had been socked in by dense clouds during much of my time there—something of an anomaly considering that Sun Peaks boasts having sunshine for about half its daytime hours or roughly 2,000 hours a year.
As it turned out, the bright skies did not last long. A flotilla of grey, snow-filled clouds bellied their way into the upper mountain. We rode to the top of the Crystal chair where we unloaded and set out on a traverse toward Gil's Area, a succession of bowls and glades that until recently has been considered off-piste. They say the view is sensational from the top of Gil's but, to be honest, I couldn't say. All I could see that morning were mounds of snow—maybe half a metre of unskied powder—on a descent that dropped sharply away amid a stippling of rime-covered snow ghosts. Soon we were plunging through a dense grey mist and those eerie coniferous groves, riding a pile of unfurling powder until we eased our way onto 5 Mile and then onto Homestead for a long race to the base village.
''I was in a bit of a hurry, intent on participating in a final oenological event ''
To tell the truth, I was in a bit of a hurry, intent on participating in a final oenological event—a session featuring expert pairings of Okanagan wines with diverse types of locally crafted, specialty chocolate. The offerings were to include a legendary 2009 Cabernet Sauvignon from Fairview Cellars. A single-vintage fermented from a one-off hail-damaged grape, The Wrath, as it is known, was to be coupled with chocolate laced with cherries.

Beneath a bright, resurgent sun, I raced down Tod, aiming to beat the Australians to the tasting table, never mind their legendary lust for all things vinous and confectionary. Besides, there was a good chance I'd catch another glimpse of Nancy. At Sun Peaks, you can pretty much count on it.

Tags: BC, British Columbia, Featured, Nancy Greene, Sun Peaks, Sunburst