RYAN REPORT – Sun Peaks to spend $60-million
---
The highlights of Sun Peaks Resort's $60-million investment plan, announced on Tuesday, is a new lift, more uphill capacity and two groomers.
"These efforts are all part of our overall Master Development Plan and 2018 will definitely be a big year at Sun Peaks," said Darcy Alexander, Vice President and General Manager.
The new lift is as much village access as skiing focused. The $4-million four passenger, fixed grip quad will help skiers get to and from the East Village area, adding more ski-in, ski-out accommodation. With a top elevation of 1,535 metres it will also provide access to a bunch of blue and green runs that are rarely skied now.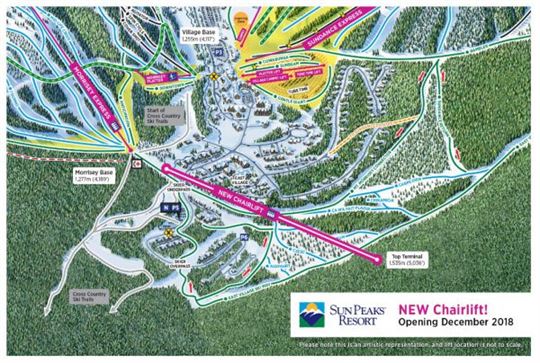 "The new lift is something we are really pleased to add to the mix for next winter and it will greatly enhance our industry leading ski-in ski-out design," says Alexander.

A makeover of the Sun Peaks Grand Hotel and Conference Centre is an even larger investment. The reno will improve 221 rooms at a cost of $7-million. The hotel upgrade and new lift should be complete by December 2018.

Other investments planned for the offseason include: 30 percent more capacity on the Sundance Express, the resort's busies lift; two new snowcats; construction of a multi-purpose facility; and several real estate projects.

RYAN REPORT is a frequent web post by Ski Canada magazine's technical editor, Ryan Stuart.

Tags: B.C., BC, British Columbia, Sun Peaks, Sun Peaks Grand Hotel