Reading Time:
7
minutes
The Austrian national ski team ?chose Sun Peaks years ago to kick-start ?its season
''I'm so hot," Maria Holaus says, brushing a wave of long blond hair over her shoulder and settling into a comfy leather chair in the lobby of the Delta Sun Peaks Resort. "I'm very excited."
I assume, correctly, that this Austrian beauty from Brixen is talking about her skiing. Keeping a spot on an alpine ski racing team ?that has more athletic depth and strength than the Pittsburgh Penguins is no mean feat and 26-year-old-Holaus, with a string of respectable top-20 downhill and super-G results to her credit so far in her career, is hoping for a breakout year on the World Cup ?circuit. Getting there requires rigorous and disciplined training; here's a snapshot of the Austrian team's schedule.
After World Cup racing concludes each April, the racers take a few weeks off to recover, relax, visit family and friends, and do some?light dryland conditioning. Come July it's back on skis to start carving and banging gates on the glaciers of Zermatt. A month later the Austrians pack their bags for a long flight to catch the tail end of a New Zealand winter, where they spend the entire month of August on the snow at Mount Hut. Then it's back to Europe for more dryland and on-slope training. By late October, 50 to 100 male and female racers, coaches and support staff are once again getting their passports stamped and checking in for a transatlantic to Vancouver, followed by a regional hopper to their final destination of Kamloops and nearby Sun Peaks, which is where I catch up with Holaus and the rest of her teammates.
For the Austrian national team November is time to plant the Austrian flag at Sun Peaks. For plebeian skiers like me, November is a month of waiting—a time mostly spent slavishly monitoring snow reports for opening?day announcements or, at best, dodging rocks on a desperate, early-season snowpack at the local hill. For the Austrian national team, and its considerable entourage of coaching, technical, medical and therapeutic staff, it's time to plant the Austrian flag at Sun Peaks.
Except for the light crowds of shoulder-season skiers sliding around on mostly man-made snow, this elite European team essentially owns Sun Peaks for the month of November. In fact, Austrian has been the lingua franca at this B.C. Interior resort since 2005 when the Hermanator and his teammates started making Sun Peaks their? final training stop before the North American World Cup season-openers at Lake Louise and Aspen.
For Holaus, Sun Peaks offers a sweet combination of relative anonymity and hospitality. After all, in Austria, World Cup racers are often fêted like rock stars. Sports writers and commentators are at the ready to deconstruct and analyze every tweak of a racer's thigh muscle or knee ligament. Gear and clothing sponsors make their own demands, and fans often show up by the hundreds just to watch them train. On the one hand it's great to have the support, but on the other it can add to the mounting pressure of the World Cup pre-season. Not so at Sun Peaks. Sure there's the regular cycle of media attention, when writers like me show up to snoop around, and the public is definitely curious and chuffed to be riding the same chairlift as famed Austrians Herman Maier, Benjamin Raich and Renate Goetschl. However, let's face it, Canadians, as fond as we are of snow, are no match for Austrians when it comes to worshipping the sport of ski racing.
"It's nice here at Sun Peaks. People are interested in us but it's so laid-back. On our day off, when I walk around Kamloops, nobod y?knows who I am," Holaus says with a shy smile.
Beyond the focus and concentration that this anonymity allows the racers, there's something else that Holaus and her compatriots love about Sun Peaks: the crisp, dry interior snow. Ski racers spend a disproportionate amount of time sliding across snow and become intimately attuned to its varying consistencies, subtle nuances and?elusive character. Holaus calls Sun Peaks snow in November "aggressive," which translates into cold, hard and fast—just the kind of conditions in which she thrives.
"You can turn faster here and make a better carve," she says, comparing the snow favourably to the softer, higher-humidity stuff that continental Europe tends to serve up pre-season.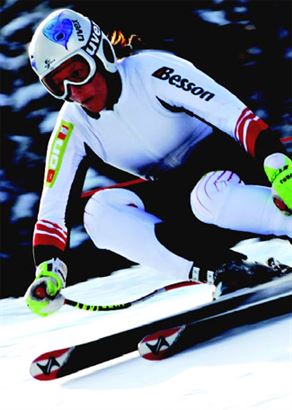 There's no doubt that management at Sun Peaks likes the Austrians as much as the Austrians like Sun Peaks. Securing the five-year training deal, which will be up for renewal after the 2010 Games, was a bit of a coup for the resort. The deal came with a considerable financial investment from Sun Peaks, including snowmaking, a new triple chair to service the so-called Nancy Greene International Race Centre on the run dubbed OSV, or Osterreichischer Skiverband (Austrian Ski Federation). For its efforts, Sun Peaks's early-winter shoulder season receives a considerable financial boost in terms of hotel bookings and restaurant meals, not to mention more than a few column inches of gratuitous publicity by just having this legendary Euro ski team in residence. The Austrians, in turn, get to enjoy exclusive access to the Nancy Greene International Race Centre, without the distractions of European media and other racing teams jockeying for training space.
"We've spent about $3 million on snowmaking, ski run modifications and the Elevation ski lift that serves that area," says ?Darcy Alexander, president and general manager of Sun Peaks Resort. "These facilities serve the Austrian team exclusively in November."
The contract with the Austrians expires next year, but Alexander hopes the Austrians will stick around beyond 2010. And 2010 is exactly what Holaus and a lot of other World Cup racers are?focused on these days. She looks at her watch; time to head up to the race centre. The Austrian men, including Herman Maier and his personal handler, have vacated Sun Peaks and are already in Lake Louise doing training runs for the season's inaugural downhill, leaving behind just the Austrian women, as well as a foursome of?female Swiss racers on a training exchange.
I arrange to meet Holaus up at the race centre then head outside the hotel and make for the Shuswap Chair. Coaches have set a turny super-G course on OSV. Today is equipment testing day—trying out skis and boot combinations, ski boot cants and wax— and is therefore as much about the ski techs as it is about the skiers. The atmosphere is laid-back and I'm able to talk my way onto OSV, duck under the rope and ski down for a course inspection. Halfway to the bottom I skid to a stop next to Kurt Mayr, one of a phalanx of coaches positioned at intervals along the?course. Mayr shares Holaus's appreciation of the training conditions at Sun Peaks: better snow than the Alps and an exclusivity that gives the team the luxury of staying extremely focused while their competitors face the distractions of home. Even the U.S. came up short for the Austrians in terms of providing an ideal venue for early-season training.
"We used to train at Beaver Creek in Colorado, but it was too busy," Mayr says. "We'd have only between 9:00 and 11:00 a.m. to train and if it snowed we'd miss our training session. Here we have the whole run to ourselves and all day to use it. It's perfect."
This season, Mayr says, snow conditions have been perfect. Cold temperatures have allowed Kevin Bendick, Sun Peaks's outside operations director, and his team to groom OSV into just the kind of steel-hard snow that racers love but most of us would want crampons and an ice axe to negotiate.
Mayr's radio crackles. The first racer is up. Seconds later a skier in skin-tight red and white carves over a buffed roll then roars past, her body cutting like a juggernaut through the November air. I'm told this is Austrian veteran and elder stateswoman Renate Goetschl. Anytime you can get this close to World Cup-caliber? skiers on-course, the sheer power and strength are breathtaking. There are no chattering skis, no nervous speed-checking, just one seamless arc after another as the force of gravity is harnessed by the body and transmitted invisibly through the muscle fibres. If it weren't for the sound of steel edges cutting hard snow, you would think they were flying above the snow, jet-powered. A few more skiers roar past at 30-second intervals, among them downhill specialist and Olympic medal hopeful Andrea Fischbacher. At the bottom of the course where OSV converges with the 5 Mile, ski techs commiserate over skis, boots and bindings, like scientists in white lab coats. A few more skiers rip the course, disguised in racing suits, helmets and goggles. Then Holaus sails past, long blond hair flowing out of her helmet. I catch up with her at the bottom of the course.
"I love speed," she tells me while getting on the chair, as if it's not already obvious. When Holaus goes skiing for fun back home in the Alps, she heads off-piste. Ripping around at the resorts with her racing buddies is simply dangerous, she says with a laugh—they go too fast and the people crowding the slopes are like canned sardines and move too slowly. "Next year I want to try heli-skiing in Alaska," she says.
Holaus allows herself this brief moment of daydreaming about more frivolous pursuits on skis. From now, through the 2010 Games and until the end of April, it will be all business. Today concludes the Austrian's seasonal tenure at Sun Peaks. Tomorrow Holaus and? her teammates will check out of their home away from home at Sun Peaks—the technical specialists bound for Aspen, the downhill and? super-G racers headed to Lake Louise. With the Austrians gone, the Nancy Greene International Race Centre and OSV will return to local ski clubs. Whether or not they'll be back next November for another round of early-season training remains to be seen. If they do return, it will suit racers like Holaus just fine.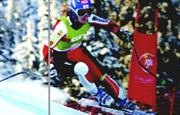 AUSTRIANS TO WATCH
These days the Austrians are in touch with the powerful Swiss team. The Austrian men definitely have speed. Michael Walchhofer and Klaus Kroell are currently ranked 1st and 2nd in downhill, while technical specialist Benjamin Raich is 2nd in overall points with well-rounded results in slalom, GS, super-G and downhill.
Kathrin Zettel leads the Austrian women with a 4th overall ranking, propelled by podium finishes in both slalom and GS.? Elisabeth Goergl isn't far behind at 8th in total points and 4th in?GS. Meanwhile, Andrea Fischbacher leads the way in downhill with a firm grip on 2nd spot and a 10th overall ranking.