Reading Time:
10
minutes
A Porsche, a helicopter and condos fit for a king—for a pair of low-rent ski bums, it was an assignment to end all others.
by Pat Lynch    Photos Gary Davidson  from Buyer's Guide 2015 issue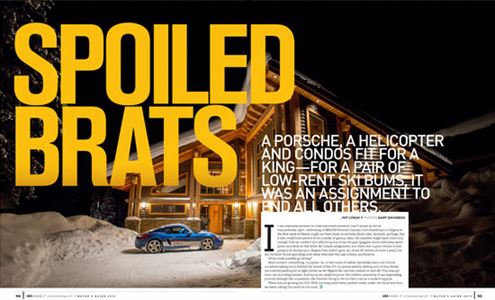 It was somewhere between the third and fourth doughnut that I decided my editor was probably right—delivering an $80,000 Porsche Cayman from Kamloops to Calgary in the first week of March might not have been an entirely idiotic idea. Quixotic, perhaps, but it also could have proved to be a stroke of genius. Sure, the roadster might have been tiny enough that we couldn't actually bring any of our ski gear (goggles, boots and some spare gitch excluded) on this killer Ski Canada assignment, and there was a good chance it was going to be dumping on Rogers Pass (which gets, oh, about 10 metres of snow a year), but we did have brand-spanking-new snow tires and this was a fancy-ass Porsche.
What could possibly go wrong?
Short answer: everything, I suppose. So, in the name of safety, my buddy Gary and I found ourselves taking turns behind the wheel of the 275-hp sports-mobile, sliding around Sun Peaks' ice-covered parking lot in tight circles as we flipped the traction control on and off. This was science, not screwing around. And try as we might to prove this vehicle unworthy of our impending journey through the mountains, the Porsche clung to the ice like a cat on a scratching post.
There was no getting out of it. With our long underwear packed neatly under the hood and boot, we were taking this mofo on the road.
Road trips don't often leave a ton of time to lounge about, but sometimes one needs to make exceptions. Once we'd completed our doughnut, er, road-safety session, we parked the little German beast in the heated belly of the Delta Sun Peaks and retired to our two-bedroom luxury condo to sip local brews on the sun-soaked terrace, which, pleasantly, overlooked Sun Peaks' tidy Euro-style village.
Hold on a minute. Did I fail to mention that the Porsche was only the beginning of this over-the-top ski adventure? Sorry, my bad. But it's true. In addition to rolling in a ride worth more than double the average Canadian's annual income, Gary and I were upgraded in accommodations, sampled some high-end dining and, surprise of surprises, scored a little heli-ski action along the way. But we'll get to all that later.
We were instead focused on Sun Peaks, where we spent our Friday evening on a three-restaurant tour starting with local cheeses paired with Okanagan wines at Voyageurs, a bistro known for its French-Canadian flair and slightly obsessive fascination with Canadian history. This was followed by scallops and prawns with risotto, rack of lamb with creamy garlic mash and tender organic chicken paired with herbed potatoes at Mantles, an elegant, yet casual, restaurant within the Delta Sun Peaks. Everything was delightful, and yes, I know you hate us right about now. But such is the price of living large, and Gary and I were willing to pay the cost. So for dessert, we popped over to The Steakhouse for a fresh fruit crumble and several glasses of cold, sparkling German wine.
I woke up the next morning dressed for the hot tub that I never made it into, wrapped in a robe and lying on top of the sheets. (Thank God they were of sufficiently high thread count.) Excessive? Perhaps, but we weren't going to let such worries bring us down. Instead, we pushed through the shame of our newfound faux-wealth and spent Saturday exploring some of the 126 runs (including 14 glades) of B.C.'s second largest resort under cloudless skies.
From the steep black- and double-black diamonds accessible off the Burfield Chair (an old-school behemoth that gives you plenty of time to think about your next run on the way up), to the tasty trees off the Crystal Chair's eight-km cat-track near Rice Bowl and the long, playful rollers like I Dunno off the newer, north-facing Morrisey Chair, Sun Peaks has range.
It's enough to make a guy's feet sore, which is why Gary and I ended up sitting face-to-face in The Sun Peaks Spa with our toes soaking in warm, mineralized water and a pair of young women waiting to deliver our first-ever pedicures. For the record, the experience sparked the following mix of strange feelings: ticklishness, arousal, ickiness, pain, pleasure and confusion. Also, I'm not gonna lie: it felt a little gay. (Not that there's anything wrong with that.)
But after a day pounding hardpack in tight, sweaty boots? I'll pay to have my tootsies squeezed tenderly again and again and again.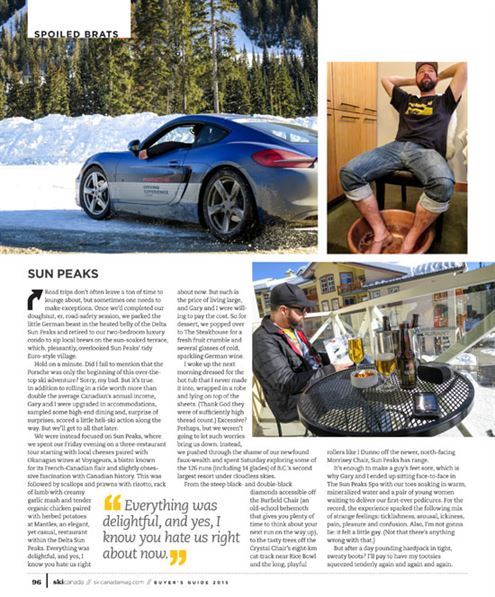 I awoke the next morning before my alarm clock. Not because I was having difficulty reconciling my machismo with last night's pedicure action, but because this was to be another first for both Gary and me: it was heli-day.
We'd driven three-and-a-half hours through the darkness from Sun Peaks to the Sutton Place Hotel at Revelstoke Mountain Resort (RMR) the night before, an easy cruise on dry roads, the Porsche gobbling up the clicks as we headed east. And for all the luxuries we'd grown accustomed to at Sun Peaks, our pad at the Sutton Place was next-level stuff: seven-metre-high ceilings, a gigantic granite-and-stainless steel kitchen and windows looking down over the gondola lift line. We both agreed: We'd found the Porsche a good home.
An hour after the alarm, we were scarfing down a hearty buffet breakfast at the Coast Hillcrest Hotel, a short shuttle ride from the Sutton Place and home base for Selkirk Tangiers Heli Skiing, the company that was about to pop our heli-cherries. Outside the valley-view windows, helicopters disappeared into the clouds with a thump-thump-thump…
We remained serious for our orientation session that prepped us for any possible backcountry emergencies and soon enough were clambering aboard a Eurocopter A-Star, Selkirk's semi-private bird that accommodates but four guests and a guide.
You didn't think we were going to ride with the masses, did you? All those sweaty strangers crammed into an 11-guest Bell 205, poaching the precious lines that we so richly deserved? Puh-lease!
We flew instead with a selection of Selkirk's finest: Jeff Honig, the lead guide and all-round good-duder; a young tailgunner named Steve; and Chad Hemphill, RMR's avalanche forecaster—all three transplanted Ontarians. They managed to squeeze in eight runs for us over the course of a day; all told, we skied about 16,000 vertical feet of pow.
Epic is one way to describe it. Life-altering is another.
Imagine the best snow you've ever skied, then triple its depth and take away any visible tracks for as far as you can see. Roll in gnarly mountain vistas that 99.9 per cent of humanity will never cast their eyes upon, add a dash of danger (both on the slopes and flying over them), and strike a category off your bucket list. We tore through gently mounded powder fields, cut straight lines through steep chutes, carved up and down virgin valleys and left nothing but figure eights on giant, untouched bowls. We huddled for a hot lunch at midday, high in the Selkirk Mountains, and did it all over again in the afternoon. It was going to be hard to ever ride inbounds again.
Until, of course, we woke up the next morning at RMR and peeled back the curtains. The gondola, which doesn't fully open until 8:30, was lined up 130 people deep at 7:10. It was going to be an epic resort pow day after our heli-day-to-end-all-pow days. I decided at that very moment that if the Porsche had anything to do with our luck so far, I'd be spending two-years' salary on one promptly upon my return to Onterrible.
From the top of the gondola we headed straight for the summit on the Stoke Chair, hopping right off and directly over to a set of steep and deep trees off Jalapeno, a black diamond that's recently had its trees opened up a bit. We were getting faceshots on the first run. The snow was still coming down hard and we circled back to head for the North Bowl, dropping in after a short traverse off the Stoke Chair through Sweet Spot, an entryway into the bowl that lived up to its name.
With 1,700 metresof vertical on offer, RMR is a beast. We made hop turns in massive inbound bowls, rode fast tree lines off the Ripper Chair without ever crossing a track, cut back to the frontside to pound black diamonds like Vertigo and Pitch Black, and cruised through 30 cm of fresh on mellow blues like Wooley Bully and the tail end of the rolling Snow Rodeo. I've never skied inbounds powder like we skied that day at RMR. So as it turned out, heli-skiiing hadn't ruined me for lift-accessed ski lines.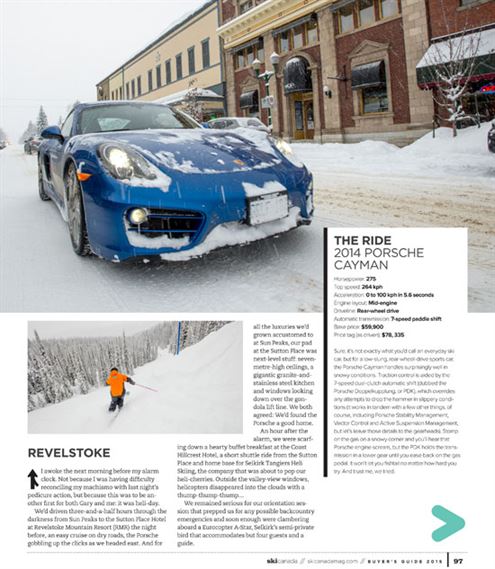 Go big or go home
Selkirk Tangiers Heli Skiing ís more than 200,000 hectares borders Mt. Revelstoke and Glacier National Park, an area that gets pounded by 10 to almost 20 metres of snow every year, fluffy stuff that falls on a variety of wide-open glaciers, ginormous alpine meadows and old-growth forests. Wanna rip some steep chutes? They can take you there. Looking for some chill alpine cruisers? They know where to find íem.
Selkirk, which has been flying in the region for 35 years, has 200 named runs ranging from 500 to 2,200 vertical metres (for context, Whistlerís vertical is 1,530 metres). The choice is yoursÖwell, your guideís, natch.
They offer single and multi-day packages and two flight options: semi-private helis for four guests at a time (Eurocopter A-Stars) or bigger birds that hold up to 10 guests (Bell 205s), both of which come with guides who are members in good standing of the Association of Canadian Mountain Guides and/or the International Federation of Mountain Guides Association.
No frills two-day packages start at $1,794 with unlimited runs (early season).
It's only 150 km from Revelstoke to Golden, which is peanuts when you're driving a car that's capable of clocking 264 km/h. On dry roads. In daylight. In the summertime. On a German autobahn. None of which were in the cards for us.
Instead, we zipped out of Revelstoke—after two full days of exploring RMR and a full day of backcountry heli—just as the snow began to fly and the light called it quits. So that 90-minute cruise turned into almost three hours in a snowstorm as I carefully steered the muscular little scrum-half over Rogers Pass, shamefully letting the odd AWD Subaru blast by, ski bums scornfully sneering at us through their sticker-covered windows.
The thing was, even with those kinds of road conditions, I could've let the Porsche off the leash. It handled amazingly well in the snow. But, cough, cough, for Gary's peace of mind, I opted not to, and instead exercised a little bourgeois restraint that got us to Golden—and our most epic accommodations of the trip—without allowing the two of us to die in some godforsaken snowbank near the Continental Divide.
We arrived in darkness to find ourselves staring at a five-bedroom, multi-million-dollar timber frame chalet that was, appropriately, prepped for our arrival. Groovy, gentle tunes spilled out of the satellite radio, and the heated floors were warm underfoot. This was the kind of place where one might find a mature Axl Rose kicking back after a day on the hill, bikini-clad babes lighting his cigars while servants bring fresh glasses of champagne to the side of a bubbling hot tub. Instead, Gary and I squabbled over the master bedroom (sorry, dude), made a pot of spaghetti and settled into our humble abode for the final few days of luxury living.
We woke up on the Thursday morning to—surprise!—snow falling from the heavens and the distant boom of explosives clearing slides in the alpine. I'd been to Kicking Horse years earlier, back before the village was, well, very villagey and long before the monster chalets we were staying in had even been built. But I was still stoked to hook up with a guide and get reacquainted with the place, especially since all that falling snow (I know, I know, it was terrible!) compromised our visibility in a significant way.
Wil Comrie, the amiable winter sports school director at Kicking Horse, led the way around the hill all morning, starting with fresh tracks down the Flying Dutchman, a black diamond in the gondola-accessed Bowl Over, to steep tree runs on Redemption Ridge and top-to-bottom burners that made me wonder how close the nearest defibrillator might be. We broke for lunch at the Eagle's Eye Restaurant, a soaring timber frame with an enormous stone fireplace perched at the top of the gondola, where we noshed on grilled elk burgers and seared tuna with pickled ginger and daikon slaw, all washed back with tall pints of Belgian-style wheat beer.
By the time we headed out again, fresh snow had filled in most of the morning's tracks. As Wil said, laughing after we charged down a treeline near the Stairway to Heaven Chair, "Today's been awesome, but tomorrow's gonna be faceshots with ball tickling all day long." Sage words from a man who knows his hill.
As predicted, the next day was better than the first, with 20-plus cm of fresh falling overnight. On wobbly legs, Gary and I rode it out, exploring the chutes and steeps of CPR Ridge and the Fuez Bowl before finding our sweet spot, running loops on the Stairway to Heaven Chair, mining Redemption Ridge for all the fresh tracks we could manage. This was day six and it definitely felt like it.
We drove the Porsche into Golden that night for a feed at the Whitetooth Mountain Bistro, where we dove into a six-course food and wine pairing that included fresh quail egg and crispy pork belly salad, roasted Skuna Bay salmon, braised beef cheek with a cauliflower pomme purée and a variety of the region's best wines. I ate and drank it all, leaving poor designated-driver Gary to get us back up the hill, all the while resisting the urge to call him Jeeves as we climbed up the darkened switchbacks.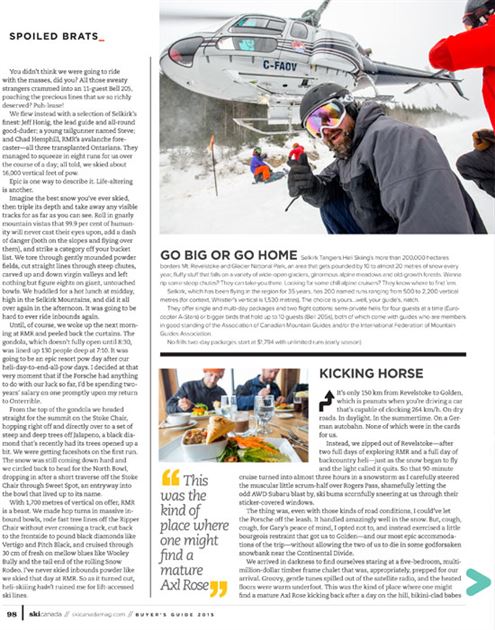 LAST EXIT
The snow stopped before the lifts did that Thursday afternoon, and by the time we'd packed up the Porsche Friday morning (a feat aided greatly by our experience playing Tetris), the air had warmed significantly and indeed above-zero temps were in the forecast.
Somehow we'd hit powder for five out of six days straight, only to have the snow turn to slush the moment we pointed our ride to the airport. Lucky, I guess. Spoiled, for certain.
We drove out of Golden onto a dry Hwy 1, alternately cruising at the speed limit and flagrantly flouting it as we zoomed toward Alberta, past the snow-covered peaks at Lake Louise and Banff, through the foothills into the rolling farmland west of Calgary, the mountains disappearing behind us like the identities we'd assumed for one extravagant week.
Later that day, as I turned the key on my salt-stained GMC Jimmy, deep in the Toronto airport parking garage, I realized there's something to be said about living large: Take notes as you go, 'cause it ain't gonna last.
I drove home in traffic on Hwy 401, just another schlub with stories to tell.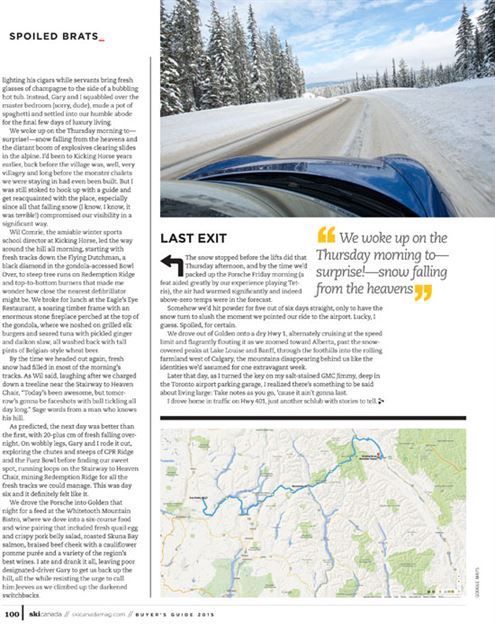 The ride
2014 Porsche Cayman
Horsepower:275
Top speed: 264 kph
Acceleration: 0 to 100 kph in 5.6 seconds
Engine layout: Mid-engine
Driveline: Rear-wheel drive
Automatic transmission: 7-speed paddle shift
Base price: $59,900
Price tag (as driven): $78, 335
Sure, it ís not exactly what you'd call an everyday ski car, but for a low-slung, rear-wheel-drive sports car, the Porsche Cayman handles surprisingly well in snowy conditions. Traction control is aided by the 7-speed dual-clutch automatic shift (dubbed the Porsche Doppelkupplung, or PDK), which overrides any attempts to drop the hammer in slippery conditions (it works in tandem with a few other things, of course, including Porsche Stability Management, Vector Control and Active Suspension Management, but let's leave those details to the gearheads). Stomp on the gas on a snowy corner and you'll hear that Porsche engine scream, but the PDK holds the transmission in a lower gear until you ease back on the gas pedal. It won't let you fishtail no matter how hard you try. And trust me, we tried.