RYAN REPORT – Too much snow closes Mount Washington
---
---
Apparently it can snow too much. Just ask Mount Washington Alpine Resort where 80 centimetres overnight on Saturday, January 20 made it impossible for the mountain to open on Sunday.
Already the week before had been a good one at the Vancouver Island resort; their snow base had doubled in six days. Saturday dawned benignly, but forecasters were predicting the incoming storm was going to be a beast. Snow-forecast.com predicted 70 centimetres just for Saturday night.
So no one was surprised when it started to snow moderately at noon on Saturday. The winds picked up and so did the accumulation. A foot fell by 3:30, leaving many cars stuck in the parking lot. The ski resort armed its employees with every shovel available to help get people moving. Night skiiers said their tracks filled in by the next run. Meanwhile, the access road down the mountain was a slow moving parking lot as the snow ploughs struggled to keep up. Many cars were abandoned at the resort and on the road.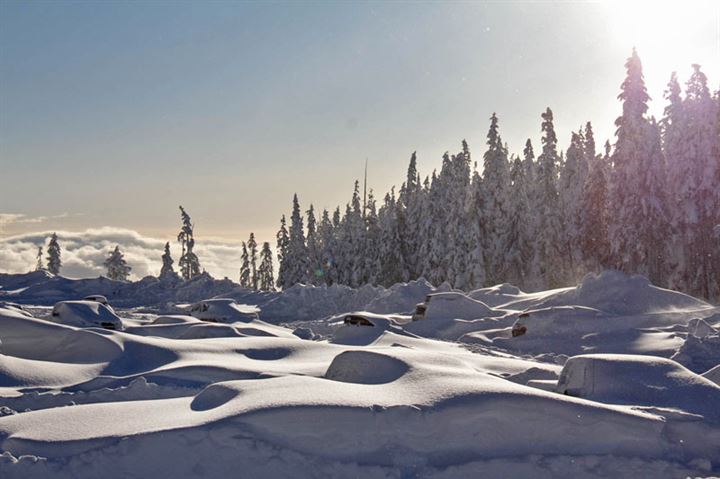 The storm raged all night. At 6 a.m. the resort was advising skiers not to come up to the mountain, even if they could; the road was closed. By the time the storm finally blew itself out around sunrise the ski hill had made the hard decision not to open on Sunday. They knew it would take most of the day to dig lifts out and manage the avalanche danger.

In total Mount Washington received 125 centimetres in 48 hours, 80 of it overnight on Saturday. The snow base tripled in one week to just shy of three metres.

On Monday the resort opened to blue skies and a bunch more snow in the forecast.

RYAN REPORT is a frequent web post by Ski Canada magazine's technical editor, Ryan Stuart.

Tags: Mount Washington, Ryan Report