RYAN REPORT – Help break snow angel world record this weekend
---
Be part of an attempt to break the Guinness World Record for the most snow angels at the same time on Saturday February 3. Taking place at multiple locations across the country simultaneously the effort is in support of Canadian Ski Patrol Day 2018 and is sponsored by Helly Hansen.
"Canada's ski patrollers are Canada's guardians on the snow," said Colin Saravanamuttoo, CEO and president of the Canadian Ski Patrol. "Helping to break the record for most snow angels is a great way for the skiing and boarding community to celebrate the people who look over them on the snow."
The attempt takes place at 1 pm Eastern Time, (11 Mountain, 10 Pacific) at participating ski hills: White Hills Ski Resort, Poley Mountain, Dagmar Ski Resort, Brimacombe, Devil's Glen Country Club, Osler Bluff, Alpine, Little Cataraqui Creek Conservation Area, Batawa Ski Hill, Mission Ridge Winter Park, Mount Sima, Vista Ridge and Kicking Horse Mountain Resort.
The current record is 15,851 simultaneous snow angels.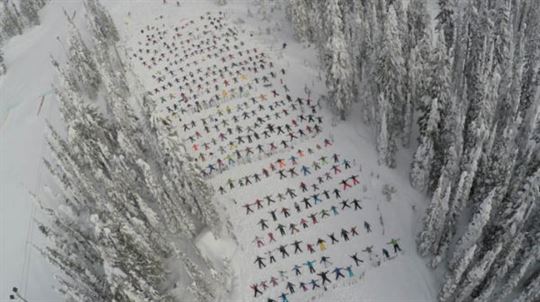 RYAN REPORT is a frequent web post by Ski Canada magazine's technical editor, Ryan Stuart.

Tags: Canadian Ski Patrol System, CSPS, Helly Hansen, Ryan Report