Reading Time:
6
minutes
PRECISE, HIGH-PERFORMANCE SKIS FOR SHORT TO MEDIUM TURNS
Slalom skis are the shortest of the test ski bunch, but with more sidecut allowing for quick turns and solid edge grip. As a bonus users get a confident performance machine that loves a burst of speed. Its hourglass shape accelerates with a predictable bam-o-rama, "oh yes, baby, one more turn please" attitude.
This specialized category oozes technical ability. The world's best slalom racers use aggression, strength and agility to make their way down shorter,
tight courses, creating an exciting alpine event. And the recreational skier benefits from the slalom design and technology through its ability to transition power from turn-to-turn, dial in tight lines and kiss ski chatter goodbye. If you want technical performance and enjoy laying deep arcs, this is your category.
WRITTEN BY D'ARCY SEGO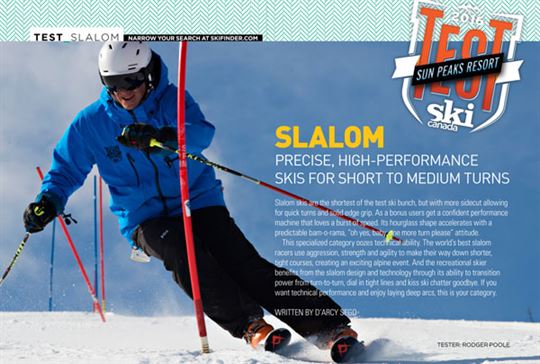 Atomic | Blizzard | Elan | Head | Nordica | Ogasaka|Salomon | Stockli | Volkl
FIND SKIS using Ski Canada's interactive ski test tool – SkiFinder. Also available as a free app from the iStore & Google Play.
ATOMIC REDSTER DOUBLEDECK 3.0 SL
$1,099?
LENGTHS: 153, 159, 165*, 171  *  SIDECUT: 125.5/69/111  *  RADIUS: 12 @ 165
BEST IN: STABILITY
MEN: You'll get a consistent feel through the entire turn and not a single spanking when you're done. Kristian Armstrong found "this peppy speed machine quick edge-to-edge with lots of rebound, offering an exciting predictable ride." Go hard, go strong and wiggle this enchilada into ripper mode, enabling you to tidy tight lines in bumps for an onslaught of fun. Getting down and dirty has never been so much fun. Ian March felt "strong experts" would squeeze the most red juice out of this ski. It's ultra-quick and precise so you can enjoy your ride. Stronger, more accomplished dudes will get the most out of it.
ATOMIC REDSTER EDGE SL
$899?
LENGTHS: 150, 157*, 164, 171  *  SIDECUT: 121/70/107   *  RADIUS: 11.1 @ 157
BEST IN: INITIATION
WOMEN:  Sporty perfectionists will appreciate the sensational edge grip and the tidy-tight torsional stability. As tester Anne Terwiel commented, "It's as fast as lightning; real rippers without a hint of nervousness." For the athletic performance-minded rider looking for solid on-piste accomplishments, the Redster Edge needs serious consideration. There's a broad sweet spot providing ease and forgiveness, yet it showcases superiority when paring your arcs of energy into the hardpack. "Your inner tough girl will love this ski and the power it has. It delivers stability and comfort in all turn shapes and sizes," stated Wendy Lumby.
BLIZZARD SRC
$1,149
LENGTHS: 156*, 160, 165*, 170, 175  *  SIDECUT: 121/70/106  *  RADIUS: 13 @ 165
BEST IN: EDGE GRIP MEN / EDGE GRIP, SHORT RADIUS (TIE) WOMEN
MEN & WOMEN:   Call the SRC the weekend bread slicer since it carves short turns with precision. Ian March wrote on his test card: "There's total confidence to go hard; it feels like knife blades on the hard snow." Nina Gretzmacher enjoyed this sugared-up ride that's "responsive, easy to initiate and loves speed. You'll feel as if you're on a springboard." Let it loose, tip it over, it rips anywhere: ice, bumps, chopped-up powder, and even that snotty snow. You get World Cup performance with the bonus ability to change up turn radius and dial up speed with no complaints and no bucking. The skilled pilot will be highly rewarded.
ELAN SLX FUSION
$1,099?
LENGTHS: 155, 160, 165*, 170  *  SIDECUT: 123/69/107    *  RADIUS: 12.4 @ 165
BEST IN: EDGE GRIP
MEN: Superior torsional stability provides a strong platform for unadulterated acceleration. Tester George Terwiel found it "a pure slalom race ski with lock-on edge grip; it turns like lightning, is quick and agile, and well suited for a racecourse." The sweet spot is well-defined, and when you're on it you'll find a playful, fun ride with an exuberant amount of rebound. Versatile enough for short- and medium-radius turns, it's the purchase deal for someone who enjoys his time on the groomers and hardpack. Mike Dempsey noted that "lighter, precise experts who like the edges" will get the most out of this one.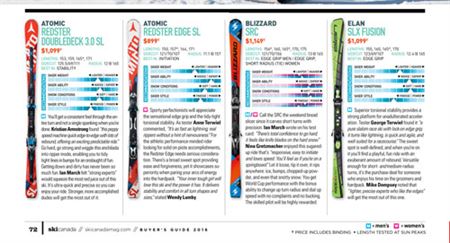 ELAN SPEED MAGIC FUSION
$899?
LENGTHS: 145, 150, 155*, 160, 165  *  SIDECUT: 120/69/103   *  RADIUS: 11.7 @ 155
BEST IN: AGILITY, SHORT RADIUS (TIE)
WOMEN: The Speed Magic Fusion is tight, powerful and easy to control, delivering a magical dream-fusing exhilaration when carving short turns on softer snow. There's a surprising amount of versatility packaged into one sweet little bundle. "For a predominantly slalom ski, it's nice all-round too. I had no problem making it do GS turns," commented Anne Terwiel. It's ideally suited for lighter riders who just want to tip it over and go for a fun ride. The cruisability comes from the sweet spot just slightly to the rear. Tester Katie Joyce found "this ski nimble, stable and responsive. Once you figure it out, it's easy to love."
HEAD WC REBELS i.SL RD
$1,149
LENGTHS: 156*, 158, 165*  *  SIDECUT: 119/66/104   *  RADIUS: 12 @ 165
BEST IN: SHORT RADIUS / SHORT RADIUS
MEN & WOMEN:   Super fast and sophisticated, the i.SL will finally let you experience burning rubber in the snow. Tester and Whistler legend Kelly Blunden was excited on this one: "Can you say fun? The ski is full of energy and gives immediate feedback from one turn into the next. Throw it out there and it arcs right back." This is a snow stick that makes good turns better, letting you rip the crud and chop like a tiger tearing into a baby lamb. Jill Sagan found a dynamite ride that craves fluidity through the turn: "Exhilarating! It's very quick underfoot and moves without hesitation into the next turn."
NORDICA DOBERMANN SLR EVO
$1,379?
LENGTHS: 156*, 160, 165*, 170  *  SIDECUT: 121/70/106   *  RADIUS: 12.5 @ 165
BEST IN: EDGE GRIP MEN / STABILITY, SHORT RADIUS WOMEN (TIE)
MEN & WOMEN:   The Dobermann SLR EVO will let you rip the frontside and tame the terrain. This stimulating dog cuts in and out of a turn with ease. It's forgiving, playful and delivers an exuberant amount of fun. Ski Canada tester Kristian Armstrong summed it up perfectly when he wrote, "It's snappier than a wet-towel fight. This ski is so much fun and it just screams performance." This Dobermann takes charging hard to a whole new level. "What a pleasure! I could rip around on this ski all day and never get bored. It's zippy, fresh and fun," commented Shelley Johnston.
OGASAKA TRIUN SL
$1,168
LENGTHS: 155*, 160, 165*  *  SIDECUT: 120/67/101    *  RADIUS: 12.9 @ 165
BEST IN: SHORT RADIUS / INITIATION (TIE)
MEN & WOMEN:   Designed to ski fast attack lines, the Triun SL consistently delivers amazing performance with its ability to pop in and out of a turn with comfort and control for a smooth, playful ride. Mike Dempsey liked how "easy it is to turn. It's forgiving and there's so much performance." With a quick snap, the ski will burst to life in a racecourse. The arc is incredibly steady and predictable, with absolute compassion from one turn to the next. According to Wendy Lumby, "This ski is easy to manoeuvre and will make you feel like a pro. It's stable and trustworthy when pushing it to go faster."
SALOMON X-RACE LAB SL
$1,049
LENGTHS: 157*, 165*  *  SIDECUT: 117/65/101.5    *  RADIUS: 12.5 @ 165
BEST IN: SHORT RADIUS MEN / EDGE GRIP, STABILITY WOMEN (TIE)
MEN & WOMEN:   The X-Race Lab provided a wicked ride with responsive acceleration and outstanding intuitive on-piste functionality that will power though any course. Kelly Blunden found "there's such good pop to spring you into the next turn; the recreational racer will rip on the hard snow." With so much performance you need to stay focused and drive the ski forward. "You will not outperform the ski," noted Christopher Nicholson. You'll find it to be a genuine racer, but definitely not a punisher. Anne Terwiel added, "It's quick edge-to-edge and able to hold a clean arc to drive through the turn without throwing you off your game."
STÖCKLI LASER SL
$1,299
LENGTHS: 150, 155, 160, 165*, 170  *  SIDECUT: 119/66/99    *  RADIUS: 12.9 @ 165
BEST IN: SHORT RADIUS
MEN: The Laser SL dispenses meticulous carving ability at high speeds in tight-radius arcs. This is a beautiful Swiss-made etching machine, with solid, powerful edges that set high up in the turn for the most demanding skier. Most riders will find it smooth and forgiving, but it can get a bit snappy and commands respect and attention. It's quick and responsive, with a stiff tail to keep the energy moving. Ian March felt it was well suited for the "strong expert racer" who likes precision. George Terwiel commented that well-balanced riders will receive "solid performance and stability with good zip out of the turn."
VÖLKL RACETIGER SPEEDWALL SL UVO
$1,249?
LENGTHS: 150, 155*, 160, 165*, 170  *  SIDECUT: 123/68/104  *  RADIUS: 12.7 @ 165
BEST IN: EDGE GRIP, SHORT RADIUS men / EDGE GRIP, STABILITY women (TIE)
MEN & WOMEN:   With wood in its core, this carver burns hot. Tester Rodger Poole suppressed the hill with this baby pacifier: "It's grippy and holds an amazing edge for pure relentless fun." The ski has a scrupulous knack for short turns, marvellous versatility when rolling out big turns, and is one delicious crud buster. This is one stable ride! Nina Gretzmacher found her soulmate: "It's aggressive, responsive, snappy and fun. Full of life and energy, it likes to go fast and rip down the hill." It holds an edge like a dream, accelerates beautifully through the arc and leaves you with a happy monkey grin.