Reading Time:
2
minutes
Kia Sorento and Sportage –
Capable, fun and affordable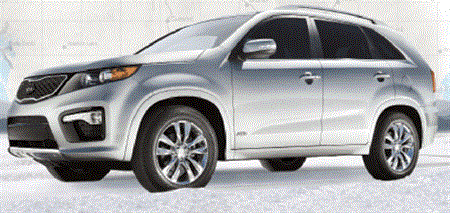 Skiers expect a lot from their vehicles. They drive long distances on two-lane roads in the worst winter weather. They want to pack their friends and family and all their alpine gear into the vehicle. They demand reliability. Road conditions that keep most people off the roads are just what skiers are looking for.
Let's take a look at Kia. Kia launched in Canada in 1998, a relative newcomer to this market, so it may come as a surprise to know that Kia, part of Korean auto giant Hyundai, makes vehicles skiers should check out – the Sorento intermediate size SUV and Sportage compact crossover.
Kia knows what catches attention in today's auto market. The Sorento and Sportage have the rugged good looks of a European SUV, but at a fraction of the cost. The exterior ammenities include 17″ alloy wheels. Inside there's room for up to 7 passengers with a third row of seats, although that eats significantly into luggage space. A huge panoramic sunroof and a nifty voice-activated phone and music centre are available in their top end models.
The Sorento offers two engine choices – a new 2.4-litre gasoline direct injection (GDI) four-cylinder rated at 191 horsepower (Sorento LX and EX) and a 3.5-litre, 276-horsepower V6 that powers Sorento LX-V6, EX-V6, EX-V6 Luxury and SX models. Both engines come with a standard 6-speed Steptronic automatic transmission for smooth, fuel efficient performance.
Sportage is available with two four-cylinder powerplants – a responsive 2.4-litre engine rated at 176 horsepower (Sportage LX, EX and EX Luxury) and a turbocharged 2.0-litre GDI engine that packs a 260-horsepower punch in the Sportage SX. Add in the confident traction of available DYNAMAXTM Intelligent AWD – that automatically engages whenever wheel slippage is imminent – and you've got a performance package that provides real all-weather and off-road capability.
Safety? Both the Sorento and Sportage were named a Top Safety Pick by the Insurance Institute. Both vehicles have six airbags, a four-wheel-disc anti-lock braking system (ABS), electronic stability control (ESC) and a traction control system (TCS) as standard equipment.
Now get this. The Sportage MSRP starts at about $20,000 and the Sorento about $30,000. If you've shopped around the SUV and crossover market lately you'll know that these are very competitive prices. Owning the vehicle that gets you to your favourite ski area in comfort, safety and style isn't going to break the bank (and cut back on your ski trips). Kia Sorento and Sportage belong among Skiers' Wheels.